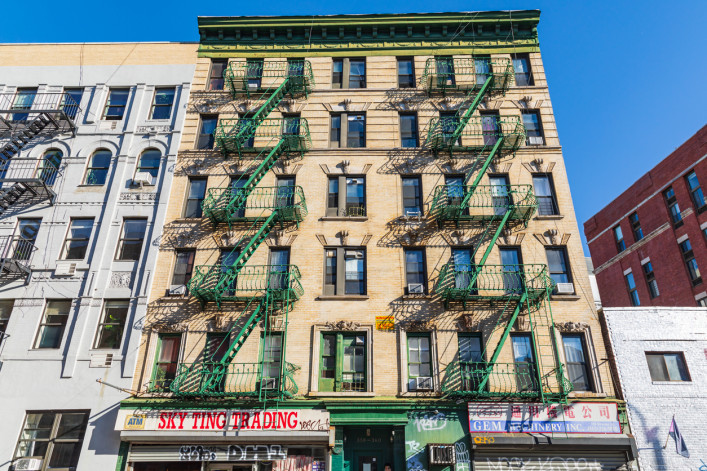 Stay in your apartment and pay an extra $1,000 (or more) each month—or try your luck and look for a cheaper apartment somewhere else? That's the very upsetting dilemma faced right now by many New York City renters with leases up for renewal.
Landlords are trying to bring rents up for current tenants to match what they could get on the market and brokers tell Brick that many increases for current tenants are in the 30 percent range. For example, an apartment where tenants are paying $3,000 a month are being asked to pay $4,000 when they renew their lease. Some hikes for renewals are even higher—as much as 50 or 60 percent more.
It's a far cry from the typical 3 to 5 percent rent increase that NYC market-rate renters are used to grumbling about.
Why are the increases so steep? The simple explanation is because they're being lifted from unusually low ranges—low for NYC rents anyway.
Renters who got a Covid discount are seeing their renewal rents yanked up to the going rate for new leases. For high-end apartments, that means back to pre-pandemic rents. Now that demand is surging—hello bidding wars for rentals—landlords of market-rate apartments see an opportunity to make up for their losses during the slow months of the pandemic, when apartments were empty or renting for much less.
Rent increases as high as 60 percent
Consider two NYU students that David Mendivil, an agent at Corcoran, is working with: They were renting a Midtown East apartment for $2,700 a month. Mendivil says the building is "full service but not luxury." They recently received a lease renewal notice with new rent of $4,500. Ouch.
If they turn it down, they may be out of luck. There's nothing available at their former rent in Midtown. If they want to stick to their budget, Mendivil says they will need to look far Uptown.
That's not the only example of an extreme rent hike Mendivil has seen. He's also working with a family of four who moved to New York City from Utah during the pandemic, landing a three bedroom in Midtown for $5,200. It was an amazing deal for a NYC apartment, Mendivil says, although to the family it seemed very high, and so they were not expecting the increase they just received. The new rent? $8,225.
And so they are hunting for a new place. "Three bedrooms are really difficult to find so we're looking in Washington Heights," Mendivil says. They're also scratching amenities off their list and focusing on walk-ups.
Some renters are in "shock," Mendivil says, but not all. Some renters expected an increase. Mendivil tried to prepare his clients to consider their pandemic deal "a short-term opportunity to try a new place" and be prepared to move at renewal time.
Renters with mom-and-pop landlord appear to be faring better. He says they're getting smaller increases than renters in large buildings because small landlords are more inclined to try to avoid tenant turnover.
'Don't move to spite your landlord'
Arezu Sohn, an agent at Corcoran, says she's hearing about tenants facing increases of $1,000 on top of their $3,000 monthly rent. Naturally, some are freaked out.
It's easy to respond emotionally when faced with a big rent increase. But you need stay calm and do the math—that means checking out what's on the market and factoring in the cost of moving.
"I tell people, 'don't move out just to spite your landlord. You'll spite yourself,'" Sohn says.
And you will likely face a bidding war if you're trying to rent in many parts of Manhattan and Brooklyn.
"I just listed an apartment at $2,900 and it went to a bidding war and rented at $3,255 two days later," she says. The apartment is a 600-square-foot studio, she adds.
Some renters are weighing whether they can push back. One longtime renter told Brick she received a lease renewal letter with a rent increase of nearly 10 percent but is hoping to negotiate a smaller increase in order to stay in the apartment.
How did it get this bad?
Newcomers who streamed into the city to take advantage of once-in-a-lifetime low rents (at least low for NYC) during the slowest months of the pandemic got incredible deals. Those leases are coming up for renewal now.
Beginning around March 2021, as rents appeared to hit bottom, there was a surge of apartment hunters signing longer leases to lock in those low rents, according to the Elliman Report. In May, Manhattan landlords saw the highest number of new lease signings since Elliman's tracking began in 2008—which was the beginning of a pattern of new records being broken each month for lease signings.
Late summer and early fall of 2021 was when many renters who left the city during the pandemic returned en masse in anticipation of schools and offices reopening. That when rents really started to spike and inventory plunged—and bidding wars started, setting the stage for the situation now.
Break with the pack
So if you decide on moving (after all, your salary probably didn't take a 30 percent leap) where should you go? Sohn says renters on a budget who want to remain in the city need to look beyond prime Manhattan and Brooklyn.
"Everyone wants to be Downtown"—but this herd mentality is hurting renters by creating bidding wars, Sohn says.
Renters are not the only ones being priced out—new, small businesses can't get a foothold in Manhattan, Sohn points out, bringing up the ongoing debate of whether Manhattan has lost its cool as result of the pandemic—or the wealthy folks who are driving everyone else out.
"How cool will Manhattan be if emerging chefs can't afford to open a new restaurant without a ton of backing?" she asks. "That's not the case in the outer boroughs, which is why you find cool things to do in out-of-the-way neighborhoods."
In other words, now is when renters "can turn lemons into lemonade," Sohn says.
Pro Tip:
Looking for a more affordable rental? Or maybe a landlord who is flexible about guarantors, pets, or "flexing" a space with temporary walls?  Put your search into the capable hands of The Agency, a tech-savvy real estate brokerage founded by a pair of Yale grads in response to the frustrating apartment-search experiences of classmates and colleagues. The Agency will charge a broker's fee of 10 percent of a year's rent on open listings instead of the usual 12 to 15 percent if you sign up here. Bonus: The agents at The Agnecy are a delight to deal with.
Where to look for cheaper rents
According to the most recent data from REZI, a rental listings and apartment application site, asking rents in NYC are up 30 percent, says Tom Smith, chief revenue officer. And so that gives you an indication of just how high renewals are, he says. "Renewals tend to follow the prevailing market rent," he says.
But that increase isn't uniform across the city.
Rents in the Bronx and Queens rents are increasing at slower rates and in some cases are even flat compared to last year, Smith says.
The neighborhoods of Kingsbridge and Riverdale show a slight decrease in rents from last year, while Jamaica and Kew Gardens are flat compared to last year, Smith says.
"These neighborhoods have incredible deals," he says. There are lots of new, ground-up buildings in Jamaica, he adds.
Rents in Upper Manhattan are increasing more slowly, so consider neighborhoods like West Harlem, Inwood, and Washington Heights, where you'll find apartments asking "closer to pandemic rents," he says.
Heading across the Hudson River might also be a solution. Rents in places like Jersey City and Hoboken tend to be lower than NYC—and you can find apartments in new buildings with amenities like pools and roof decks.
Brick Underground articles occasionally include the expertise of, or information about, advertising partners when relevant to the story. We will never promote an advertiser's product without making the relationship clear to our readers.