Best of Brick
One year later, renters are 'frantic' to return to NYC. Their old apartments are already too expensive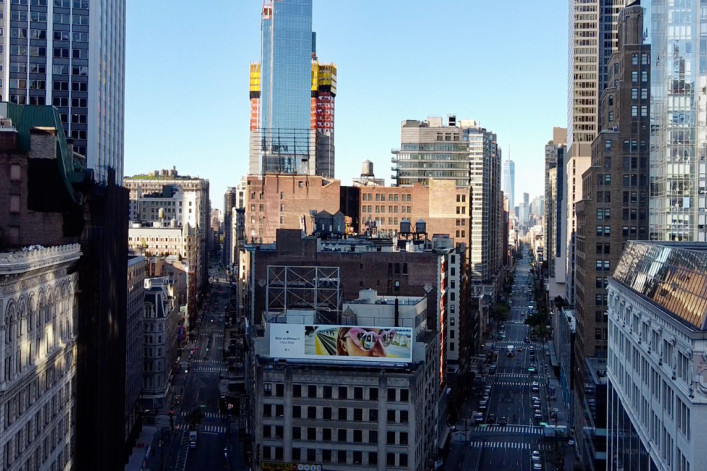 Imagine wanting to ease back into your New York City life after being away for a year. You scan apartment listings and see your old place is available. Sounds like a great coincidence, right?
That's what happened to Ranee Soundara, who let her apartment lease lapse during the pandemic, and was hoping to return to the city in October. There was only one problem: The place is "now almost 25 percent more than what I paid last year, which is insane," she tells Brick. She's looking elsewhere—including other cities.
She's not the only one having a tough time. Many renters are finding it painfully more expensive and stressful to land an apartment in the city now as result of so many trying to do the same, a phenomenon occurring even though many companies have delayed office reopenings. It's created a huge demand for apartments that's been ongoing since Covid-19 vaccines became widely available. 
---
[Editor's note: An earlier version of this post was published in October 2021. We are presenting it again as part of our winter Best of Brick week.]
---
For buildings and neighborhoods with strong demand, rents are on the rise and concessions—like free months and paid broker fees that landlords used to entice renters during the recent slowdown—have evaporated.
Perhaps even more frustrating: Renters say when they tour apartments, they find themselves competing with upwards of 10 other renters—and getting priced out in bidding wars for rentals—a sign of just how competitive this market is. 
Pro Tip:
Need help renting the perfect apartment in the perfect neighborhood? Looking for a landlord who is flexible about guarantors, pets, or "flexing" a space with temporary walls?  Place your search into the capable hands of The Agency, a tech-savvy real estate brokerage that's helped hundreds of Brick Underground readers find their ideal NYC apartments.. Bonus: The agents at The Agency are not only a delight to deal with, they will charge a broker's fee of 10 percent of a year's rent on open listings instead of the usual 12 to 15 percent if you sign up here. 
Searching in a 'panic'
Another renter (who is also an agent) searched for seven months to find a new place, starting in March, with the hopes of being settled before her daughters started school in the fall. The family had left the city during the pandemic.
"By June the rental market was on fire and I was in a panic to find something quickly," says Allison Sprouse, an agent at Compass. She encountered bidding wars at the listings she saw, with as many as 12 or more competing offers. The apartments went to the renters bidding hundreds over the asking rent.
"I felt even more defeated that as an agent I couldn't find a home for myself and my family, even with insights and the relationships that I had. The rental market is hard for everyone," she says.
Even her old neighborhood was getting pricier, she says.
"I was watching the market extremely closely and rents rose beyond pre-pandemic numbers. I couldn't believe it when the apartment next to mine in my old neighborhood, Windsor Terrace in Brooklyn, was on the market for $1,500 more a month than what we were paying. It had the same layout as our old place, with three bedrooms and 1.5 baths, and it was rented within a couple of days."
Ultimately, she says, "Although our search was exhausting, in the end we found the perfect home for our family. I encourage those who are currently looking for a home to not lose heart, open your search parameters, and stay diligent."
Lack of available listings
A major part of the problem is a decrease in available apartments. According to data from StreetEasy, the number of rentals on the market is the lowest it's been since the pandemic began in March 2020, with the exception of a blip right after the pandemic started when the city was locked down.
For example, for the week that ended March 8th, 2020, just prior to the pandemic, there were 16,649 available apartments. For the week ending September 20th, 2020, when landlords had lots of vacant apartments on their hand during the height of the pandemic, there were 48,753 available apartments. Recently, for the week ending September 26th, there were 15,541 available apartments.
All that demand is likely to embolden landlords to raise rents.
"What renters need to keep in mind is that the drop in inventory likely means that the recovery of rental prices will follow shortly—rents are already rising and may surpass pre-pandemic levels soon," says Nancy Wu, an economist at StreetEasy.
A 'frustrating' hunt
Another Brooklyn renter, Mara Moss, recently spent two months looking for a new apartment—much longer than she had ever spent on an apartment search. She described her recent hunt as "frantic and frustrating."
Moss has lived in Greenpoint for about six years, most recently with roommates in a four-bedroom apartment. All lost their jobs during the pandemic and split up. Moss headed to a sublet temporarily. At the end of the summer, she landed a new job at an environmental non-profit and started hunting for an apartment of her own.
Finding an apartment had never been an issue before. Now, the speed at which apartments were turning over was discouraging. Apartments were gone six hours after being listed on StreetEasy. Landlords also had new income requirements.
"I needed to make 50 times the rent instead of 40," she says. "The rules are a lot."
She saw a listing for a rent-stabilized studio apartment on Trulia. It had been up for only a day, with "two sketchy, blurry photos."
It was on a street Moss had lived on. She considered that the apartment might be in terrible condition, or maybe the listing was a scam. She went to see it anyway and it turns out it was neither—but there were 12 people looking at it, and eight submitted applications.
But she got lucky: Her application was accepted and she moved in on September 1st. "I feel deeply lucky to have found something within my budget," she says
How to navigate a landlord's market
Hunting for apartment right now? There are some ways to make the process slightly less painful.
Sprouse says make sure you have your paperwork ready (W2, tax returns, employment verifications) saved in an organized manner on your desktop so that when you find a place you are ready to jump on it quickly. Read up on what you need to have ready before you start your search.
You can avoid future rent increases by focusing your search on rent-stabilized apartments. But you need to be persistent, because landlords don't always advertise this status and tenants tend to hang on to them. For more intel, check out Brick's guide to rent-stabilized apartments.
You can save money upfront by skipping the broker's fee and concentrating your search on no-fee apartments and leasebreaks. Brick updates this list of best websites for no-fee apartments each year.
Divide and conquer by finding a larger apartment and sharing it with roommates. Don't have roommates? There are websites that will match you. Doing your own roommate search? Be sure to ask these questions. Some landlords may allow you to create an additional bedroom so you can add another roommate—but be sure to check to follow the rules.
Lease up for renewal? Negotiate and try to lock in longer terms. Landlords would much rather keep a good, reliable tenant than put a place on the market and find someone new. Here's how to negotiate a lease renewal.
Be flexible about where you live. It's a big city, and there are many areas outside prime Manhattan and Brooklyn where the rental market is not cutthroat. Living in the outer boroughs doesn't necessarily mean giving up on amenities either. Look for larger, new developments—that's where you're most likely to strike a deal.
Brick Underground articles occasionally include the expertise of, or information about, advertising partners when relevant to the story. We will never promote an advertiser's product without making the relationship clear to our readers.