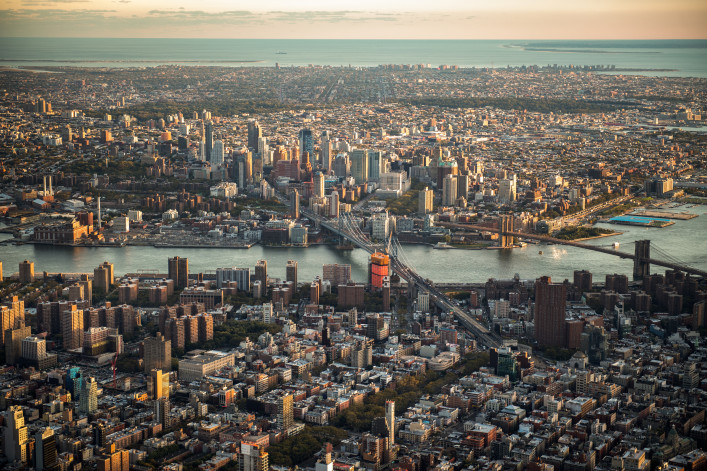 Lots of New Yorkers are leaving the city in the wake of the pandemic—but their loss can be your gain, making now a good time to score a deal on a new rental apartment, especially if you are flexible about where you live in the city.
You can get a deal because landlords are grappling to fill empty apartments. Rents in NYC are dropping, and the number of available rental apartments and leases with free months or other deals hit record highs in September, according to The Elliman Report for Manhattan, Brooklyn, and Queens rental markets.
---
[Editor's note: An earlier version of this post was published in October 2020. We are presenting it again here as part of our holiday Best of Brick week.]
---
Of course some neighborhoods are even more affordable for renters than others. If you don't need to move to a specific neighborhood—maybe you're moving to the city for the first time and your choice of neighborhood is pretty wide open, or maybe your job has gone permanently remote, freeing you to live anywhere—then you have even more leeway to get a deal on a new rental.
To help you with your search, we asked the data analysts at RentHop, a listings site, to find the most affordable neighborhoods for renters in each borough (with apologies to Staten Island, which was not included because of low inventory). RentHop pulled 2019 median rent for one-bedroom apartments in the three least expensive neighborhoods in each of the five boroughs. (Considering the impact of the pandemic—you may be likely to score some concessions, although those are generally offered for pricier apartments) and possibly even lower rent than the medians listed here. We also talked to a few local brokers to learn what they're seeing on the ground. Here's what we learned.
Pro Tip:
Make the move to a more affordable neighborhood and save on the broker's fee by putting your search into the capable hands of Triplemint, a tech-savvy real estate brokerage founded by a pair of Yale grads in response to the frustrating apartment-search experiences of classmates and colleagues. Triplemint will charge a broker's fee of 10 percent of a year's rent on open listings instead of the usual 12 to 15 percent if you sign up here. Bonus: The agents at Triplemint are a delight to deal with.
Where to find deals in Manhattan
If you want to find the most inexpensive neighborhoods to rent in Manhattan, you are going to have to head to the far northern reaches of Manhattan—so be prepared to spend a lot of time on the subway, or in an Uber, if you like hanging out in other parts of the city.
According to RentHop, the three most affordable neighborhoods to rent in Manhattan are Marble Hill (median one-bedroom rent is $1,695), Inwood ($1,750), and Washington Heights ($1,850).
Inwood and Washington Heights are particularly bustling right now, according to Heather Huff, an agent with Bohemia Realty Group, which has an office in Washington Heights. Both neighborhoods offer easy access to the 1 and A trains, and both have access to parks, where you can socialize more safely. 
Inwood has Inwood Hill Park and Fort Tryon Park, plus cultural sites you can experience outdoors, like the Cloisters and the outdoor park space at the Dyckman Farmhouse. Washington Heights offers access to Highbridge Park, Riverside Park, and Riverbank State Park. (For more intel on these neighborhoods, read Brick's "Washington Heights vs. Inwood: Which neighborhood is for you?")
Marble Hill is an outlier here—it remains officially part of Manhattan but not physically on Manhattan Island after being cut off by Spuyten Duyvil Creek (Bronx residents will tell you that the distinction is meaningless, that the area is culturally part of the Bronx.) 
Marble Hill was previously one of Brick's "5 best Bronx neighborhoods to check out." Our writer notes that commercial development had picked up along the main drags of 231st and 238th streets in nearby Kingsbirdge. The 1 stops at 231st Street, and the Metro-North stops in Marble Hill, making the area a more transit-friendly option than Riverdale.
Huff says that demand for rentals in these neighborhoods is high: College students are looking for three- to four-bedroom shares, and singles and couples are looking to trade up. "There is so much inventory on the market right now," she says.
You'll likely be able to skip the broker's fee here. More landlords have been paying broker fees this year than previous summers. Some are even offering one or two months free for your first year.
As for amenities, Huff and her coworkers have seen a lot of requests for outdoor space, in-unit washer/dryer, and units that are big enough to work from home. No surprises there.
"I think this pandemic has really made our clients think about the type of amenities that are truly important to them," she says.
Where to find deals in Brooklyn
Three south Brooklyn neighborhoods top RentHop's list for most affordable neighborhoods for rentals: Dyker Heights (median one-bedroom rent is $1,600), Georgetown ($1,600), and Bath Beach ($1,625). The abutting neighborhoods of Dyker Heights and Bath Beach are right on Gravesend Bay, with several parks and beaches, plus single-family homes with outdoor space. Georgetown is more solidly residential, but does offer several neighborhood parks.
You're more likely to own a car here if you want to get around the city—and it's not that hard to find parking. As Brick noted in "The best Manhattan and Brooklyn neighborhoods for buyers or renters who own a car" South Brooklyn areas have suburban-style houses with driveways and even garages. Plus you can even find more plentiful on-street parking here.
Bath Beach is named after the spa town in England, according to the Brooklyn Eagle, which offers a color description of the area's Victorian homes and the path along the shoreline with a view of the Verrazano-Narrows Bridge.
Dyker Heights, known by New Yorkers for its over-the-top Christmas decoration displays, is predominantly residential but does offer waterfront green space at the popular Dyker Beach Golf Course and Dyker Beach Park. The closest subway station is the D train's 79th Street station, which is about a 15-minute walk to Dyker Heights.
Georgetown, a small residential subsection of Bergen Beach, is located on the Paerdegat Basin. It's a very small, car-friendly area, unfamiliar to even longtime Brooklyn residents. But as this Brooklyn Paper article points out, there are houses with driveways and a shopping center (with a parking lot) on Ralph Avenue with national chains and a B47 bus stop.
Where to find deals in Queens
RentHop finds that the three most-affordable neighborhoods in Queens are Glendale (median one-bedroom rent is $1,600), Middle Village ($1,600), and Rockaway Beach ($1,625).
The landscape for renters is different in Queens than Manhattan. Donna Demkowicz, a broker who owns her own firm in Middle Village, says that most of the activity she's seeing in her area (which also includes Glendale, Maspeth, Ridgewood, and Bushwick) is driven by people looking for one-bedroom apartments—perhaps because previous roommates left the city, or because they're working from home and want to have the privacy of their own place.
"A lot of three-bedrooms and house rentals are just sitting around," she says.
Activity is down somewhat, but while landlords are adjusting by lowering rents, they're not yet offering the types of freebies you might expect. "They still don't even want to offer to pay the commission! It's terrible," Demkowicz says. "They could have their apartment empty for a year and they don't want to pay it. But there are a few who [do]."
To help renters out, Demkowicz's brokerage has been offering some discounts on broker fees. And she's offering a special deal for our readers: Mention Brick Underground and you'll get a discount.
Glendale is situated between Forest Hills, Middle Village, and Ridgewood. As a Glendale resident told Brick in "Dead end: What it's like to live in Queens surrounded by cemeteries," the area is mostly residential and is surrounded by cemeteries. 
Forest Park and Forest Park Golf Course are on the edge of the neighborhood and you can find a mix of local and chain stores at The Shops at Atlas Park. You'll likely have to take many local buses because the closest subway station is the M's Fresh Pond Road station, which is a 16-minute walk to the center of the neighborhood.
Middle Village is a quiet residential neighborhood that is surrounded by cemeteries, the Long Island Expressway, and Woodhaven Boulevard. Andres Soto, senior managing director of Modern Spaces, told Brick in "What to know if you want to live in Middle Village, Queens," that there are many second- and third-generation families living here. For green space, there's Juniper Valley Park and Middle Village Playground. The closest subway station is the M's Metropolitan Avenue station, which is a 22-minute walk to the center of the neighborhood, so expect to drive or take buses.
Rockaway offers a lot of waterfront green space with popular beaches like Rockaway Beach and Jacob Riis Park. The Rockaway Peninsula has seen a lot of development in recent years, with a new boutique hotel, The Rockaway, and many bars and restaurants along the boardwalk.
A lifelong Rockaway resident told Brick that the neighborhood is a good fit if you're looking for more space and access to nature. (To learn more about living here, read Brick's "My peaceful Rockaway neighborhood is the reason I'm staying in NYC" and "From Astoria to Rockaway Beach: Leaving a raucous social life for the peace of the ocean.")
Where to find deals in the Bronx
Maria Porco-Rosa, a broker at Prime Realty Group, hasn't seen much in the way of landlord concessions. Not in Pelham Bay, anyway, which ranks as one of RentHop's most affordable neighborhoods in the Bronx, with one bedrooms going for a median price of $1,550 a month (also on the list are Wakefield ($1,500), and University Heights. ($1,550).
"Pelham Bay is a highly sought-after location for renters," Porco-Rosa says. 
As we wrote in our January guide of neighborhoods to check out in the Bronx, Pelham Bay has a unique mix of urban and suburban architecture, with quaint brick and wood-frame houses lining side streets, and new multifamily developments near the 6 line and along Bruckner Boulevard to meet the demand from a surge of new arrivals in recent years. One New Yorker shared his experience of moving to the neighborhood in "From Murray Hill to Pelham Bay: Gaining more space for one-third the rent." He was disappointed in the restaurant and bar scene, but the sense of community and friendly neighbors won him over.
Most of the recent transplants are seeking modern studios, one-, and two-bedroom apartments, according to Porco-Rosa, drawn by easy access to the 6 train and the public transportation hub at Pelham Bay Station, which offers transfers to bus routes including the Q50, the Bx12 SBS, and Bee-Line into Westchester County. Not to mention wild, beautiful Pelham Bay Park, the largest public park in New York City.
Wakefield similarly offers easy access to the suburbs and Hudson Valley—it borders Westchester County and has the city's third-largest park, Van Cortlandt. It's also well-connected via public transit, with stops for the 2 and 5 trains and the Metro-North Harlem line in the neighborhood.
Over on the western side of the borough, the one-square-mile neighborhood of University Heights is clustered around Bronx Community College. The housing stock is largely older multi-unit homes, newly constructed townhouses and rentals, and co-ops. The 4 train and the Metro-North Hudson line stop in the neighborhood, and Interstate 87 (Major Deegan Expressway here, changing to the New York State Thruway once you hit Yonkers) runs along the western edge of the neighborhood, offering easy access to the city and the rest of the state by car.
Brick Underground articles occasionally include the expertise of, or information about, advertising partners when relevant to the story. We will never promote an advertiser's product without making the relationship clear to our readers.