Looking for a serene suburban-like neighborhood with a family-friendly vibe that's just 30 minutes from Manhattan? Try Middle Village in Queens. In this week's Buy Curious, Andres Soto of Keller Williams and Justyna Brzezinski of BOND New York tell you why this quiet Queens neighborhood could be right for you.
The question:
I happened upon Middle Village and thought it seemed like a great place to raise my young family. Can you tell me more about it?
The reality:
"Middle Village is a residential neighborhood that's green and quiet, partially because it's surrounded on three sides by cemeteries," Soto says.
Burial grounds in the area include the Lutheran All Faiths Cemetery, where Donald Trump's parents, Fred and Mary Anne MacLeod Trump, are buried; the 71-acre Mount Olivet Cemetery; and St. John Cemetery, the final resting place of mobsters John Gotti, Carlo Gambino, and Lucky Luciano.
Where is it?
Middle Village, which was named for its location as the midway point between Williamsburg, Brooklyn, and Jamaica, Queens, is a two-square-mile residential neighborhood in Queens that is bordered on the north by the Long Island Expressway, on the east by Woodhaven Boulevard, on the south by Cooper Avenue, and on the west by Mount Olivet Cemetery.
"Nobody outside of Queens knows anything about Middle Village unless they once lived nearby," Soto says. "While I can't speak for those living in Middle Village, they probably like it that way."
Who lives here?
As of the 2010 U.S. Census, the population of Middle Village was 37,929—74 percent white, 0.9 percent African American, 0.1 percent Native American, 8.1 percent Asian, 0.2 percent other races, 0.8 percent from two or more races, and 15.8 percent Hispanic or Latino.
According to Soto, "Germans were the first to settle [in Middle Village], followed by Jewish immigrants and later, by Italians. Now I'd say it's more of a Russian and Polish [neighborhood]."
Some young families have been moving to the area, but, he notes, "that's most likely because they've been living in or were born in this neighborhood and don't want to move away from their now older family." In fact, it's quite common in Middle Village for older residents to pass houses down to their children, meaning that there are many second- and third-generation residents.
What types of housing are available?
Housing in Middle Village is mostly single-family houses, with many one- and two-story attached homes, and a handful of small 1980s-era condo buildings, but "there's rarely any inventory in those buildings," Brzezinski says.
There are also a number of two-family and three-family homes that many people use as income-generating properties. "One bedrooms can rent for $1,650-$1,900 a month, depending on finishes, and two to three bedrooms can rent for $2,000-$2,600 a month," Brzezinski says.
As for new construction? There isn't any. "There's no space for new developments," Soto says.
What's pricing like?
The median sales price for the second quarter of 2018 was $748,000, according to Jonathan Miller, president and CEO of Miller Samuel, a real estate appraisal and consulting firm. That's up 2.1 percent from the same period last year, when the median was $732,500, and up a mammoth 45.2 percent from the same period in 2013, when the median was $515,000.
A search of StreetEasy revealed just 27 properties for sale in Middle Village, ranging from a $1,600,000 seven-bedroom, five-bath house at 66-63 69th St. to a $208,888 one-bedroom, one-bath co-op at 86-05 60th Rd., #2E.
Brzezinski says that in her experience prices for single-family houses in the area will start at around $850,000, prices for two-family houses will start at $1,000,000, and prices for three-family houses will start at $1,400,000.
What's the transportation situation?
"Public transportation options are limited, so most residents drive," Soto says.
For those who'd rather not be behind the wheel, there's also the M train at Metropolitan Avenue, which takes about a half hour to get to Midtown. Local buses such as the Q38 and Q67 also run frequently, as do express buses, including the QM24 and QM25.
What is there to do?
Not much other than "live peacefully," Soto jokes.
Getting serious, he notes that locals frequent Juniper Valley Park, a 55-acre park built in 1930 that has tennis, handball, basketball, shuffleboard, and bocce courts, baseball fields, a running track, a roller-hockey rink, and a turf football/soccer field; and Middle Village Playground, which has handball courts, basketball half-courts, a bocce court, swings, and modular play equipment.
There's also the Middle Village Veterans Triangle, which celebrates the veterans of Middle Village who fought in World War I, World War II, the Korean War, and the Vietnam War.
What's the restaurant/nightlife situation?
Middle Village is not known for its nightlife by any stretch of the imagination, since, as Brzezinski explains, "everything closes by 10 p.m."
There are, however, lots of places to grab a bite, including Villa Erasmo, an old-school Italian eatery; Panepinto Bakery and Café, a bakery and sandwich shop that also makes custom cakes; Andy's Delicatessen, a German-style deli with a huge selection of sandwiches; Phillies Pizzeria Restaurant, a neighborhood fave that often has live entertainment; and K'antu, a Peruvian restaurant known for its ceviche.
How about grocery stores?
"You'll find more small mom-and-pop markets scattered here than large commercial chains," Soto says.
Locals like Village Barn Fresh Market, a full-service grocery store that is housed in a building that looks like a barn.
Check out these listings in Middle Village: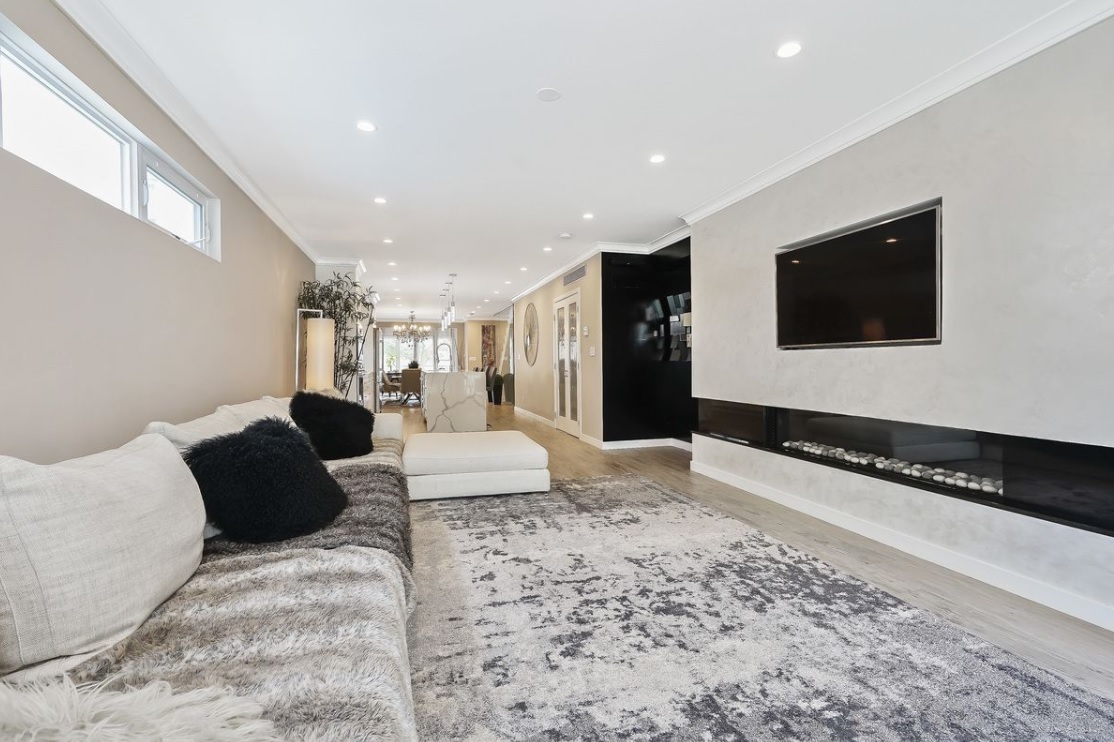 66-12 79th Pl.
Listed for $1,299,000, this 70-foot-long three-bedroom, one-and-a-half bath single-family house was remodeled three years ago and now has new plumbing, electric, walls, floors, windows, and a new roof. There is radiant heating on the first floor and in the bathrooms, a 7-foot fireplace, a floating staircase, and stainless steel appliances and an 11-foot waterfall-style quartz island in the kitchen. There's also an outside deck that overlooks a 1,400-square-foot yard.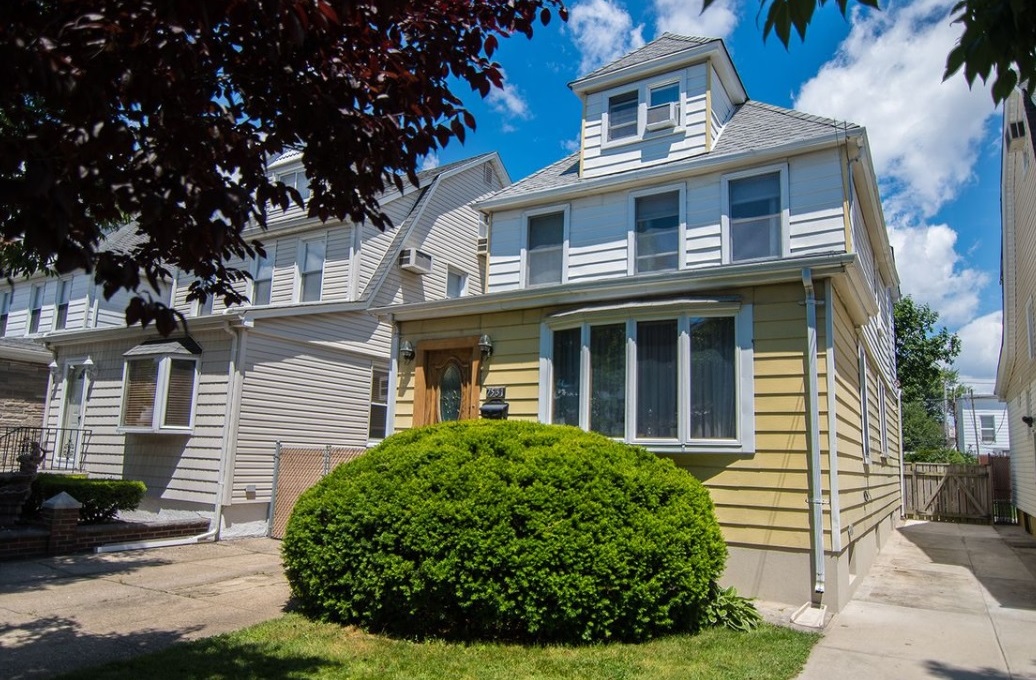 Priced at $1,098,000, this 2,250-square-foot five-bedroom detached house has two full bathrooms, two half-baths, tons of closet space, a large living room, hardwood floors, recessed lights, and an eat-in kitchen with stainless steel appliances, granite countertops, and a built-in wine cooler. It also features a large attic, a basement with high ceilings, central air, an energy-efficient gas heating system, and a private driveway.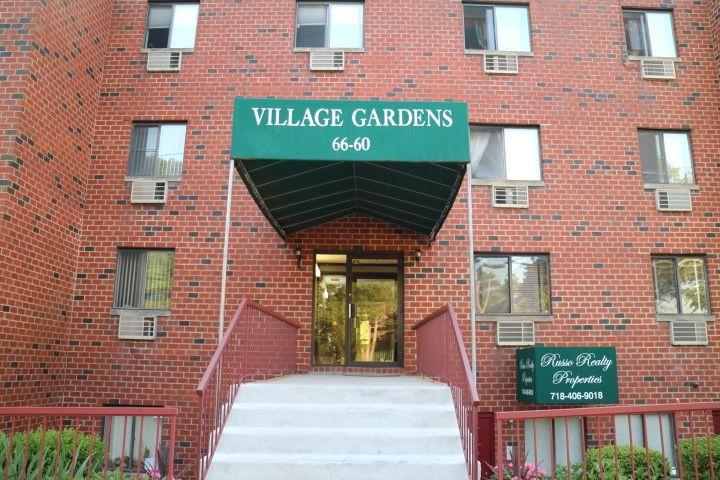 This 657-square-foot one-bedroom, one-bath condo is in Village Gardens, a building with an on-site laundry room, available storage, and available parking. It's listed for $409,000. Common charges are $285 a month; annual taxes are $2,481.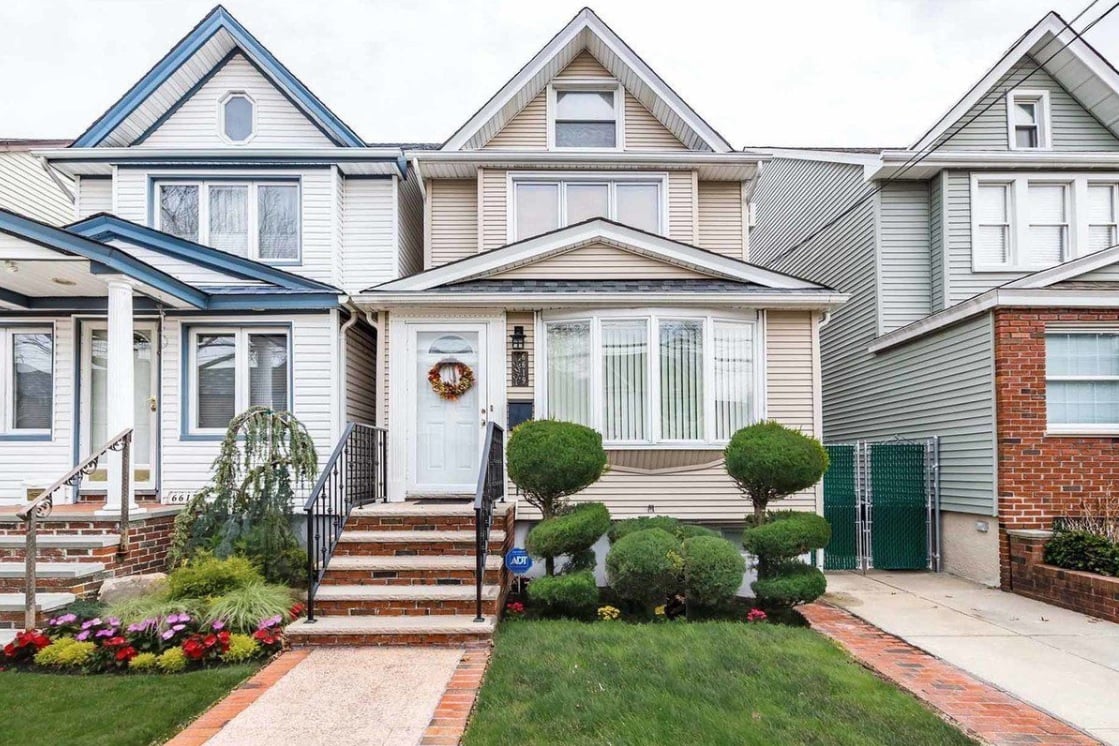 Listed for $899,000, this four-bedroom, one-a-half-bath one-family detached house offers a private driveway, a one-car garage, a backyard with an above-ground pool, and a basement. The first floor has an enclosed porch, an open layout, a large living room, a formal dining area, maple hardwood floors, a half-bath, and an eat-in kitchen. The second floor has three bedrooms, a full bathroom, cherry wood floors, and a full staircase leading to a finished attic where the fourth bedroom is located.
Brick Underground articles occasionally include the expertise of, or information about, advertising partners when relevant to the story. We will never promote an advertiser's product without making the relationship clear to our readers.