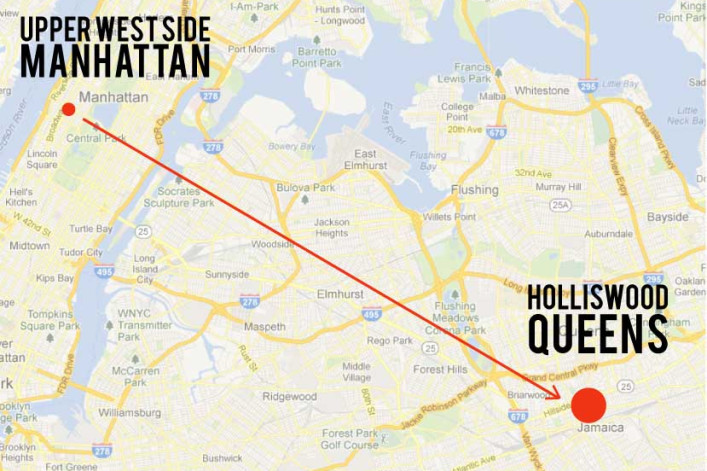 I lived on the Upper West Side for eight-and-a-half years before moving to Holliswood, Queens about nine months ago. My husband and I lived in three different rentals in the West 90s and 100s.
Our last apartment was a two-bedroom, two-bathroom on 94th and West End Avenue. We were paying $3,850.
Several factors contributed to our desire to move. We didn't want to rent anymore and realized we couldn't afford to stay on the Upper West Side. Our older son was about to start first grade and we didn't want him to have to start somewhere and end somewhere else. We found a private religious school that we liked in Queens.
Also, everything was getting too expensive. It wasn't just the rent -- things like classes and little league for the kids were cost-prohibitive.
We had friends who lived in Holliswood and we saw that it was a really nice, suburban neighborhood that was close enough to urban amenities like the subway (the F) and more dense urban shopping.
We also appreciated that the houses come with city property taxes as opposed to suburban taxes. We wanted a balance between the city and the suburbs and we got it.
We bought a four-bedroom house with a large backyard (and our monthly payments are still less than our rent was). There are also co-ops and rentals in the neighborhood.
I love having a house and a backyard. It's so nice to have the space and not all be on top of each other. The kids' toys are in the basement, which is their playroom, and not in my living room. As soon as the weather turned nice, they were outside.
Sometimes the kids say they miss the Children's Museum, but we have so many great things to do here, too. I love the Hall of Science, which is about 15 minutes away, and we have Cunningham Park right across the street. We took our kids to the Big Apple Circus there recently, my son plays T-Ball there and sometimes, on weekends, my husband goes bike riding in the park.
And I LOVE that I don't have to worry about parking anymore. I used to have to schedule my supermarket shopping around alternate side parking. Not anymore. We have a FoodTown that's within walking distance but I usually like to drive to Fairway in Douglaston or to Trader Joe's in Forest Hills, which are all about 15 minutes away. You'll notice I say everything's 15 minutes away.
Union Turnpike is actually five minutes away (a 15-20 minute walk) and has everything. Lots of restaurants, a supermarket, a gym, nail and hair salons, Barnes and Noble, the library (the librarians already know my kids) and some independent stores like Carol School Supply that sells educational toys (and was featured in the Times' Metropolitan section a few months back), a shoe store, banks etc. There's a health food store near that on 73rd Ave., too.
Everything is cheaper here--supermarkets, restaurants, gym memberships, babysitting, etc.
I'm a stay-at-home mom, so I don't commute, but my husband takes an express bus to get into the city. I drive him to the stop and door-to-door it takes a little less than an hour from our house to his office in downtown Manhattan (the subway would take more like an hour and 20 minutes). Of course, that's a lot longer than his commute was from the Upper West Side, which was about 30 minutes. He's not thrilled about it, but still thinks the benefits outweigh the negatives.
Generally, my husband doesn't see my kids on weeknights, but that was the case when we lived in the city anyway. He works long hours, so they were always asleep by the time he got home.
One thing I really like about Holliswood versus real suburbs outside the city is that it feels a lot more diverse, and my kids are surrounded by different kinds of people. Our neighborhood has an Orthodox synagogue, a mosque, a hindu temple and a sikh temple.
People always ask me if I miss living in Manhattan and honestly, I don't. I miss my neighbors (my in-laws lived down the hall), but I love it here. The city was great when my two boys were little. I felt I could get out of the house easily, but now that my kids are older, I'm very happy that we've made the move.  For instance, when it's raining, I don't have to drag two whining kids down the street. And if it's not a nice day, they don't feel cooped up inside anymore. Since activities are cheaper, we do more of them now, too.
Does it feel far away from Manhattan? Yeah, it really does. Our life in Manhattan feels like such a different time. But luckily my kids have had an easy adjustment and they're really happy, too.
---
Transitions highlights New Yorkers' first impressions as they transition from one  neighborhood to another. Want to tell us your transition story? Drop us an email.
Related:
Moving to NYC? Here's a crash course in finding an apartment here
Yorkville to Ridgewood: Some conveniences are gone, but mom-and-pops (and space!) make up for it
Upper West Side to Park Slope: Affordable outdoor space, fewer bankers and lawyers, and you can always see the sky
Brick Underground articles occasionally include the expertise of, or information about, advertising partners when relevant to the story. We will never promote an advertiser's product without making the relationship clear to our readers.