Transitions
Williamsburg, Brooklyn to Sunnyside, Queens: Goodbye hipster haven, hello half-price rent, nicer neighbors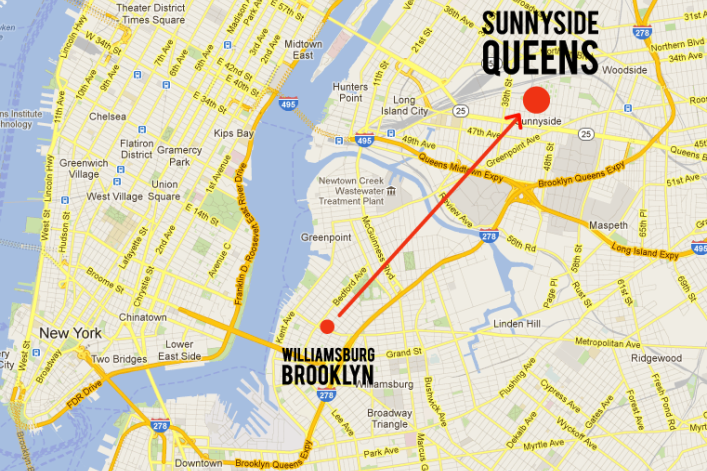 My boyfriend and I decided to leave Williamsburg 10 months ago because the rent was so high and because we weren't crazy about the neighborhood. Our apartment was nice enough—an 800-square-foot one-bedroom in a new luxury building with a beautiful roof deck and gym. But our rent was $3,300.
My boyfriend decided to make a career change and anticipated a lower salary, so we wanted a lower rent and figured we wouldn't miss our rich "hipster" neighbors and the thin walls of the apartment that made it possible for us to hear our neighbor's TV.  
Also, in the 14 months we lived in our Williamsburg apartment, we got to know only one neighbor. There didn't seem to be any sense of community at all in the building—not even an elevator greeting or a hold-the-door hello.
We looked at least 100 rentals in Manhattan and Brooklyn before considering Sunnyside, Queens.
I remember one horrible day in particular when the temperature was 100 and we looked at 22 apartments. From 9 in the morning until 9 at night we dragged ourselves from place to place but didn't see anything that was just right. We looked in Harlem, Morningside Heights, Bushwick, Greenpoint, downtown Brooklyn. Nothing. Apartments were either too small, too expensive or both.
Then a friend who lived in Sunnyside and was loving it said she'd take us around with her car to see what was available.
I wasn't optimistic.  I had lived there for a year when I first moved to NYC from Ireland a decade ago.  Back then, the neighborhood was safe enough but had no spark.  This time around though,  I couldn't believe how much had changed. The streets were lively, lots of young families were out strolling; there were restaurants, cafes, bars and shops that were nowhere to be seen when I first lived there.
In Sunnyside we found exactly what we wanted, on the third floor of a building that I'm guessing was once  a school. Our one-bedroom is 1,300-square-feet—twice as big as just about anything else we saw. We needed a place at least as large as the one we were leaving—my boyfriend moved his furniture over from Australia and we were determined not to part with any of it.
Our apartment has high ceilings, loads of sunlight, a huge walk-in closet, an eat-in kitchen with brand new appliances. And our rent is only $1,750.  The street is quiet and tree-lined and our neighbors are all friendly.
With such a dramatic drop in rent, we've already put some money in savings and look forward to taking some vacations that wouldn't have been possible before.
Moving to Sunnyside hasn't meant a sacrifice in our commute to our jobs. I work near Wall Street. The 7 train is a block and a half from here and I can take the 4/5 from the 7 for a 35-minute commute; and the G32 bus gets me across the bridge to 59th Street and Lexington Avenue in 15 minutes. When we lived in Williamsburg, I took a water taxi that took 15 minutes but cost $4 each way. If I wanted to take the train, I walked 10 minutes to a 40-minute ride on the L to the 2 or 3.
There's plenty of shopping and nightlife to suit us. We're an easy walk from a large supermarket, a movie theater that plays recent releases, cafes and restaurants. Our current favorite bar/restaurant is The Dog and Duck with a comfortable outdoor patio, a mellow crowd and live music.
There are fewer cafes and restaurants in Sunnyside but they are cheaper and less crowded, and they serve many more young moms than hipsters.
Compared to hipstery Williamsburg, in general the people are much friendlier, and there's more of a mix of old and young on the streets.
Would I recommend Sunnyside to others? Absolutely. In fact, in about two or three years we hope to buy an apartment and this is where we plan to look.
---
Transitions highlights New Yorkers' first impressions as they transition from one neighborhood to another. Want to tell us your transition story? Drop us an email.
Related posts:
Astoria to Alphabet City: Escape from the N/Q trains
Then & Now: Stranded in Sunnyside, with room to party
Lower East Side to Astoria: Nightlife for the 30-something set at last
A move-by-move neighborhood guide for the people, buy the people
How to find a rent stabilized apartment in NYC
8 best websites for finding a no-fee apartment in NYC
Rejected by a landlord lately? Want to get that apartment faster? Here's your secret weapon (Sponsored)
Brick Underground articles occasionally include the expertise of, or information about, advertising partners when relevant to the story. We will never promote an advertiser's product without making the relationship clear to our readers.