According to Duke Ellington's 1942 signature tune, the A train was "the quickest way to Harlem," but the jazz legend didn't mention that the express train was also one of the best ways to get to two other equally historic Upper Manhattan neighborhoods: Washington Heights and Inwood.
These areas share a border and residents there are proud—and protective—of what makes their respective neighborhoods special: Lower real estate prices, cultural flavor, and access to the outdoors. (In Inwood, residents say a controversial rezoning plan will not do enough for affordable housing). Despite their strong similarities—sales prices and rents in both are, on average, lower than elsewhere in Manhattan—there's a lot that sets them apart and for you to consider if you like the excitement of Manhattan but want some breathing room and character. 
Which is why we decided to have the two neighborhoods face off. Other articles in our Neighborhood vs. Neighborhood series include Park Slope vs. Windsor Terrace, Kensington vs. Ditmas Park, Tribeca vs. Battery Park City, Astoria vs. Long Island City and Astoria vs. Forest Hills.
Washington Heights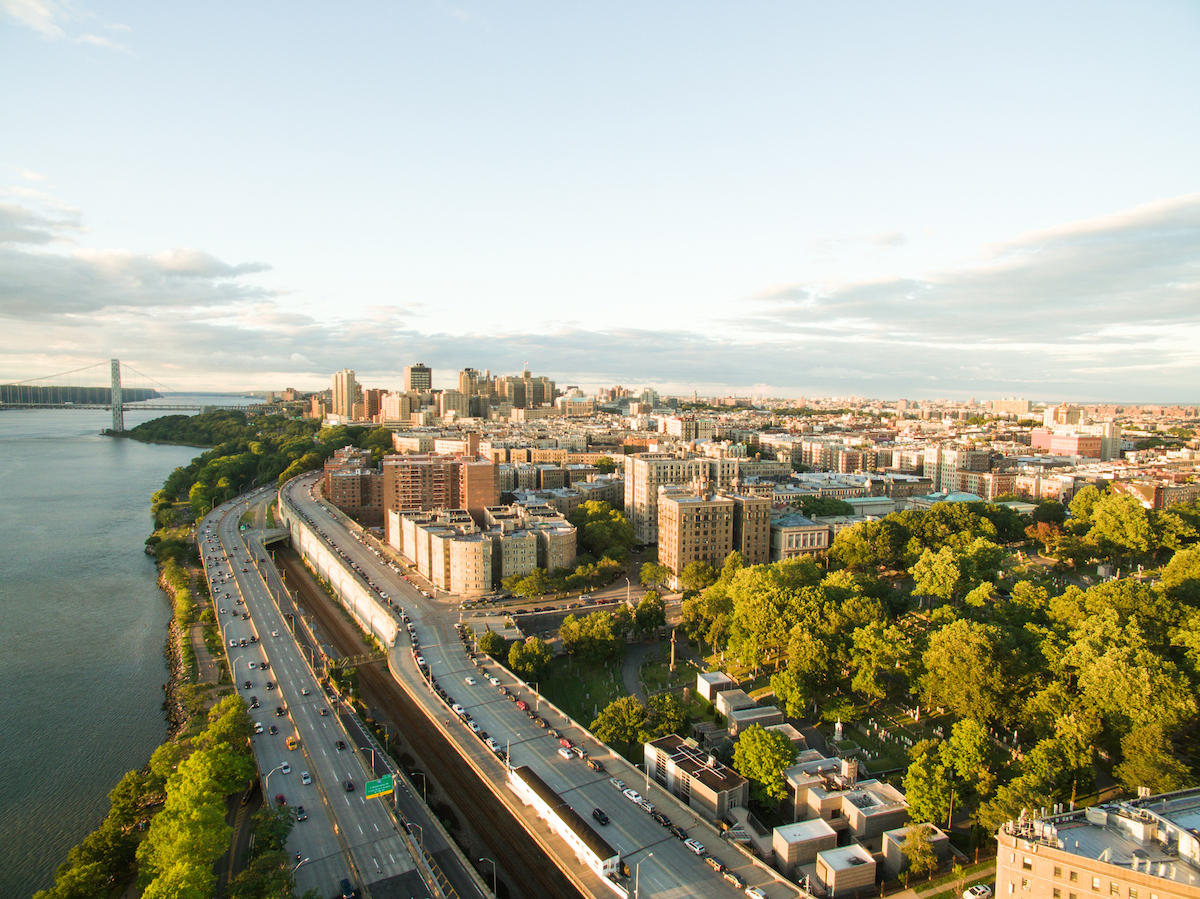 Neighborhood boundaries: 155th Street to the south, Dyckman Street to the north, the Hudson River to the west, and the Harlem River to the east. 
Median sales price: $480,000 
Median rent: $2,000
Living: Washington Heights has the distinction of being Manhattan's highest natural elevation, which is memorialized in Bennett Park, the site of George Washington's Fort Washington encampment during the American Revolutionary War. So you can see where the neighborhood's name comes from—and why you'll find so many hills and "step streets" (and steep ones at that) throughout. 
Real estate prices in Washington Heights have long been among the lowest in Manhattan, but they've begun ticking up in recent years as gentrification seeps in, and New Yorkers seek out less-expensive or bigger apartments, better transit options, and more open space. 
The latter is something Washington Heights has an abundance of—there's lots of green space to be enjoyed for biking, walking, and running along the Hudson and Harlem Rivers, and far less of the towering buildings found elsewhere in the borough. In November, ground broke on the 22-story Radio Tower & Hotel on 181st Street, which will be one of the neighborhood's tallest buildings and its first major mixed-use development in five decades. 
The overall vibe of the neighborhood is vibrant, lively and diverse, with a mix of new families and professionals, students attending nearby Columbia University and City College, and longtime Hispanic and black communities. (The neighborhood also ranked third in Brick Underground's list of the 10 best neighborhoods for college grads last year.)
On the negative side: There are also tensions surrounding gentrification and complaints about noise. For example, long-time renters, who contribute to making the neighborhood desirable for newcomers, are being pushed out by increasing rents. And, it seems those newcomers take issue with how boisterous the area can be thanks to block parties and other events: Based on the number of calls to 311, data shows it's often one of the noisiest neighborhoods in the city. 
Housing: Though you'll find a number of beautiful, historic brownstones and walk-ups, most of Washington Heights' housing stock consists of renovated prewar buildings. Median rents range from $1,668 for a studio to $2,751 for a three bedroom, while median sales prices run $435,000 for a one bedroom to $540,000 for three, StreetEasy says, but it doesn't have any available data on studio sales prices.
The Department of Buildings' map of active construction currently shows a handful of active permits that will bring hundreds of new units to the area, but the neighborhood has seen less new luxury development than booming elsewhere in the city. But last fall, the Highbridge opened on 167th Street, and many of its 39 condos were quickly snatched up, Patch reported then. 

Eating and shopping: While you'll find some chain stores and restaurants, you won't find big-name or higher-end retailers in Washington Heights. There's a large number of largely Hispanic-owned mom-and-pop-shops, bodegas, and restaurants on just about every block, and especially along main thoroughfares like Broadway and 181st Street.
One notable neighborhood anchor is Coogan's, an Irish pub on Broadway and 169th Street, that's been serving the diverse residents of Washington Heights for more than three decades. The beloved spot was nearly lost last year when its landlord, nearby NewYork-Presbyterian Hospital, wanted to up its monthly rent by $40,000, but a deal was struck after an outpouring of support from the community and longtime patrons like Broadway superstar Lin-Manuel Miranda.
Transportation: Washington Heights residents can get A express trains at 168th Street and Broadway; at 175th, 181st, and 190th streets and Fort Washington Avenue; or the C local train at 155th Street and St. Nicholas Avenue, 163rd Street and Amsterdam Avenue, and 168th Street and Broadway. (A trains will stops at those stations if they're running local.) The 1 local is also available at Broadway and 157th and 168th streets (that latter is closed for elevator replacement until January 2020); St. Nicholas Avenue and 181st and 191st streets; Dyckman Street and Nagle Avenue; and 10th Avenue and 207th and 215th streets. 
The George Washington Bridge Bus Station offers service to New Jersey, Rockland County, New York, and more. 
Area gems: A big neighborhood attraction is Fort Washington Park, which runs along the banks of the Hudson from 155th Street to Dyckman Street. Inside the 160-acre park is a pedestrian and bike path, sports fields, and fields for barbecues and parties in warmer months. Just under the GWB, you'll find one of the city's last surviving (and arguably cutest) lighthouses, the aptly named Little Red Lighthouse, which was immortalized in a 1942 children's book. 
Fort Tryon Park in Hudson Heights, the northern portion of the neighborhood that borders Inwood, is another popular destination—and one of the prettiest (and hilliest) parks in the city. It offers breathtaking views of the Hudson River, GWB, and the New Jersey Palisades, as well as walking paths, beautiful gardens, and the Cloisters, a branch of the Metropolitan Museum of Art filled with medieval art, artifacts and lots of stained glass.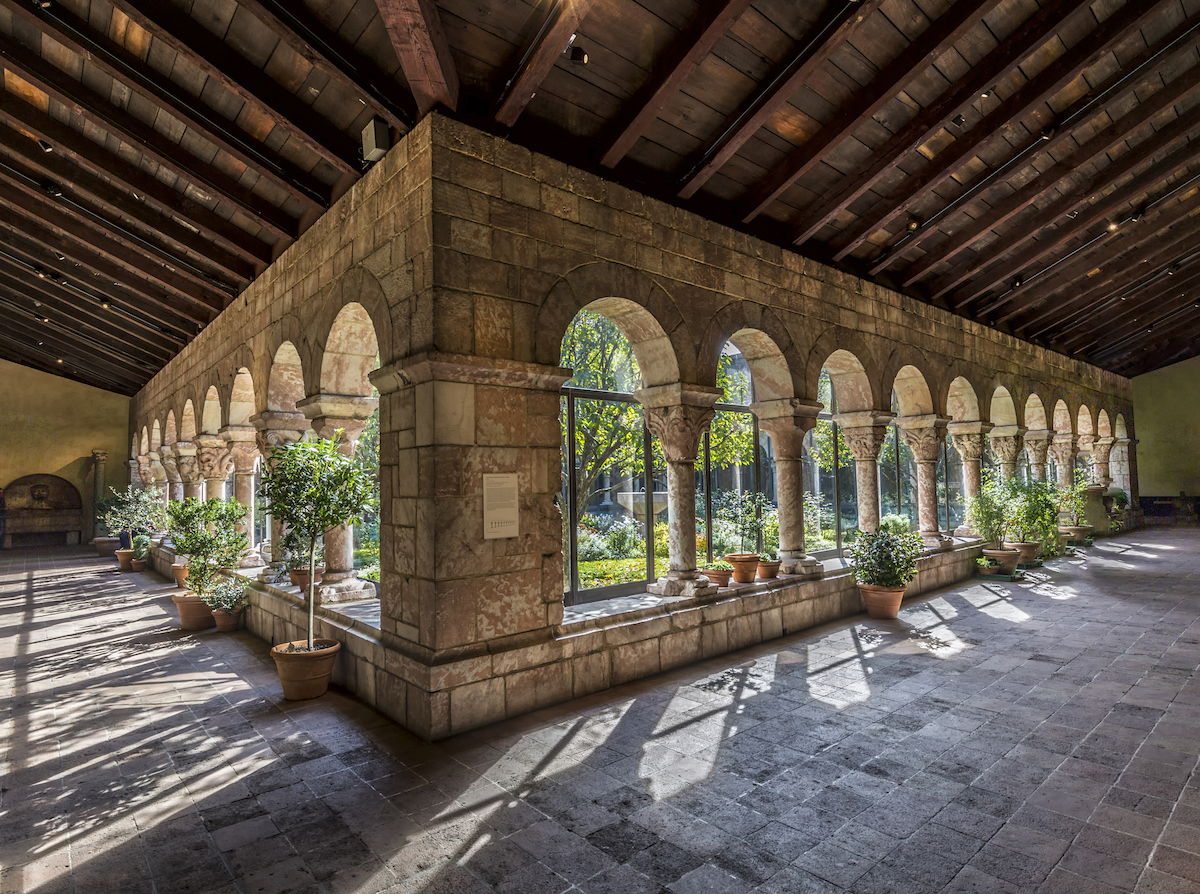 The oldest house in Manhattan, the Morris-Jumel Mansion, is between 160th and 162nd streets and was a temporary headquarters for George Washington in 1776. It's now a museum—and where Miranda wrote some of his Broadway smash, "Hamilton." 
Another site worth visiting is Trinity Church Cemetery and Mausoleum which is technically part of Hamilton Heights but does run along the neighborhood's southern border of 155th Street. The hilly expanse, which is split down the middle by Broadway, offers stunning views of the Hudson—and a great history lesson as many notables are buried there. Permanent residents include former Mayor Ed Koch, many Astor family members, naturalist John James Audubon, and "Law & Order" and "Dirty Dancing" star Jerry Orbach. 
 
Celebrity: Before she moved to the South Bronx in sixth grade, rapper Cardi B lived in Washington Heights. She still visits her grandparents who live in the neighborhood—and even did a W interview and photoshoot in their apartment last year.
Inwood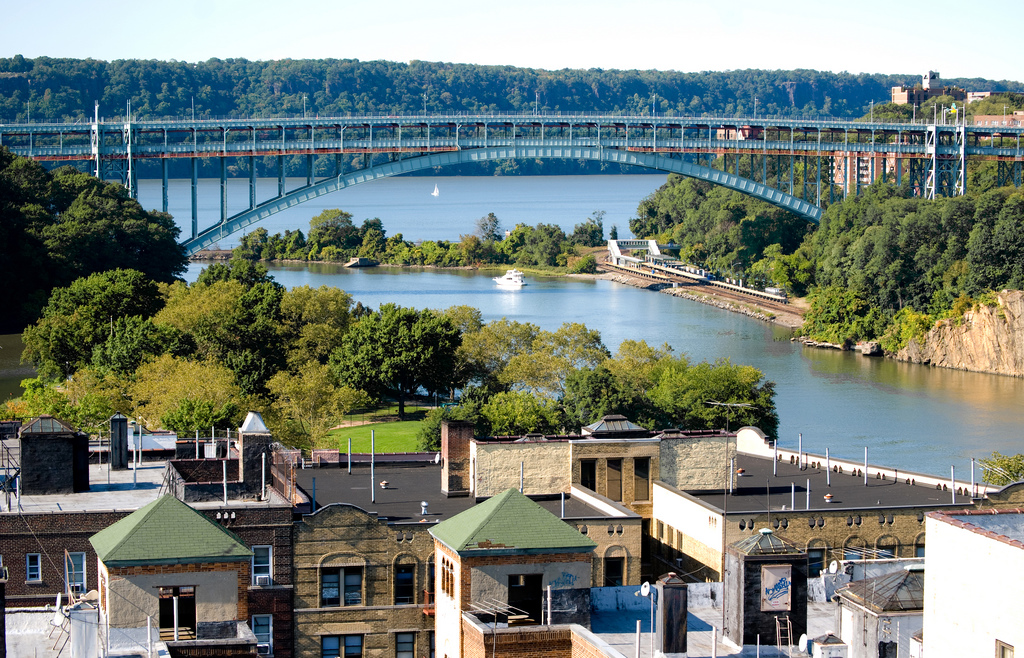 Neighborhood boundaries: Harlem River to the north and east, Hudson River to the west, Fort Tryon Park and Dyckman Street to the south 
Median sales price: $460,000
Median rent: $1,450
Living: It doesn't get more "Uptown" on the island of Manhattan than Inwood. However, it's not the borough's northernmost neighborhood as many think. That designation belongs to Marble Hill, which is technically considered part of Manhattan, even though it is physically connected to the Bronx due to a rerouting of the Harlem River in 1895. 
Inwood, too, plays an important role in the city's history. Legend has it that Peter Minuit bought Manhattan from the Native Americans under a tulip tree in Inwood Hill Park in 1626, something that's commemorated by Shorakkopoch Rock, which sits where that tree stood for centuries until a storm took it down in 1933.
Because Inwood is at the top of Manhattan Island and therefore a bit of a trek from the usual borough attractions, it's often off the radar for many visitors, giving the neighborhood a very small-town, family-friendly vibe where everyone knows everyone.   
The area remains predominantly Dominican, you'll find local businesses where employees exclusively speak Spanish, especially in areas east of Broadway. The western side of Broadway has long been an affluent section of the neighborhood due to its higher elevation and parks. Students from Columbia University often look to the neighborhood because of its lower rents and space. Plus, the school's athletic fields have been in Inwood since 1921, and a giant blue and white "C" has been painted on the cliff just across the Harlem River since 1952.
Though the DOB's map of active construction currently shows far less development in the works in Inwood, compared to Washington Heights and the rest of NYC, the City Council last summer approved a rezoning in the area east of 10th Avenue that aims to keep Inwood "an affordable, attractive neighborhood for working and immigrant families," the NYC Economic Development Corp. says.

The plan will invest more than $200 million into the neighborhood, creating 1,600 affordable units, and preserve 2,500 such units in Inwood and Washington Heights. Other plans include creating two waterfront parks, rebuilding and renovating existing ones, and making street improvements for pedestrians and cyclists. Additionally, a new library with 175 affordable apartments and centers for STEM education and job training will be created. 
 
Residents strongly opposed the rezoning, fearing it would make Inwood less affordable, and, in turn, displace longtime residents—and the culture of this close-knit community.  
Also on the negative side: Inwood's identity has become a hot-button issue. As in Washington Heights, newer, more affluent residents are less tolerant of Inwood's longtime communities and their way of life, such as socializing outdoors at night. As a result, certain parts of the neighborhood have consistently been named one of the noisiest in the city, according to 311 complaint data. Many residents who invested time and energy in the neighborhood—and stayed when drugs and gangs flared in the 1980s—by opening businesses and raising their families here consider the complaints a slap in the face.
Housing: Mostly low-rise, with single-family homes and apartment buildings eight stories or less. Median asking rents are $1,600 for a studio, $1,750 for a one bedroom, $2,272 for two bedrooms, and $2,612 for three. The median asking sales price for a one bedroom is $370,000, and a two bedroom is $599,000, StreetEasy says. 
Eating and shopping: There are very few chains in Inwood, with the main shopping district areas on Dyckman, Broadway, and West 207th Street mostly filled with mom and pops. 
Known for its sandwiches (but offering plenty of other Cuban-Dominican dishes), Floridita Restaurant draws residents 24-hours a day, while Tryon Public House at Broadway and Thayer Street offers a view of the Cloisters in neighboring Washington Heights, craft beers, and gastropub fare.
Transportation: Inwood residents can grab the A express train at 207th Street or Dyckman Street along Broadway, or the 1 local train at Dyckman Street, 207th Street, or 215th Street along 10th Avenue. The Metro-North's Hudson Line is just across the Broadway Bridge in Marble Hill, and there are several MTA bus lines.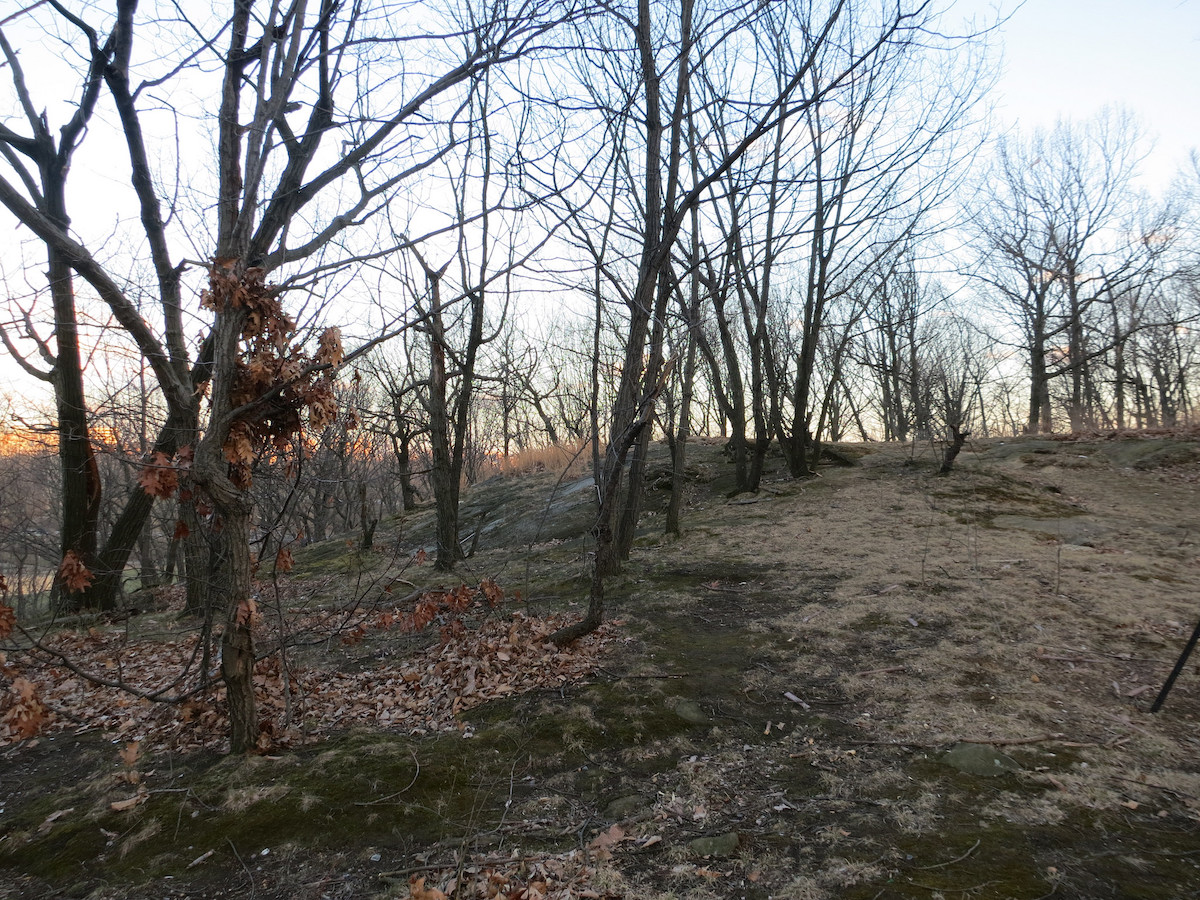 Area gems: Inwood has no shortage of green space, especially as it shares Fort Tryon Park with Washington Heights. Its largest park, Inwood Hill Park, has another claim to fame beyond Peter Minuit's purported big real estate buy 400 years ago: It's home to both the last remaining natural forest and salt marsh in Manhattan.  
Shifting glaciers created many caves and valleys that are still found in the park, and the city's Parks Department says remnants from the Native Americans who once used the land are still being discovered today. Winding trails leading to cliffs that overlook the Hudson are in frequent use, as are its many playing fields, especially during baseball season. The park is a bird-lover's paradise as well, and there is much flora and fauna you won't find anywhere else on Manhattan anymore. Plus, its dog run is a beloved part of the neighborhood that even has its own website.
Celebrities: While Lin-Manuel Miranda's Tony-winning first play, "In the Heights," detailed life in Washington Heights, he grew up in Inwood. He still lives Uptown, in Hudson Heights, that sub-neighborhood of Washington Heights. WNYC radio talk show host Brian Lehrer also resides in Inwood. 
Brick Underground articles occasionally include the expertise of, or information about, advertising partners when relevant to the story. We will never promote an advertiser's product without making the relationship clear to our readers.