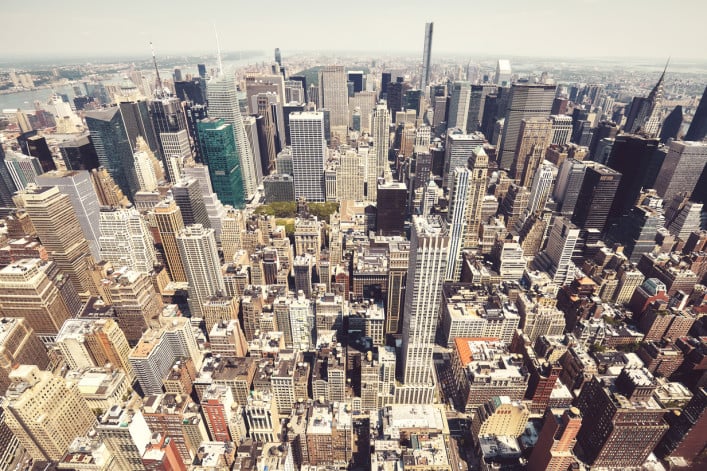 No one ever said moving to New York City right after college was easy—at least, no one of ordinary financial means. But like thousands of grads before you, you will likely make it work by sharing the rent with roommates, adding temporary walls to more easily split the rent, and living farther away from central Manhattan neighborhoods to find bigger spaces and lower prices.
Before you start looking, it will help immensely if you know how to search for a place in one of the most complicated and frustrating real estate markets in the world, so be sure to bookmark our How to Move to New York City guide, a goldmine of New York-style practical wisdom. Next, to zero in on reasonably (for New York) priced neighborhoods that you may actually enjoy living in, consult Brick Underground's 2018 list of the best neighborhoods for recent grads, below. 
---
[Editor's note: This story was first published in June 2018. We are presenting it again here as part of our summer Best of Brick week.]
---
First, the methodology: We asked Localize.city—a new AI-powered website that helps renters and buyers predict what life will be like at any address in New York City by examining current and future construction, livability, community and safety—to calculate affordability based on median rents for one-bedroom apartments provided by rental search site RentHop and median price-per-room data from Roomi, which specializes in roommate matching.
In addition to affordability, Localize.city factored in each neighborhood's commute to Midtown and the Financial District, nightlife options, popularity among twenty-somethings, bikeability, and safety as well as the quality of open space, neighborhood character, and new development. The last factor takes into account current construction, which could negatively impact quality of life, and completed construction, which brings new amenities and could impact pricing in the neighborhood. The stars represent a five-point scale, with five being the best. 
To learn about other neighborhoods popular among the post-college crowd that did not make this year's cut, such as the East Village, Lower East Side, Williamsburg, and Bushwick, consult our previous guides from 2017, 2016, and 2015.
Below, our top 10 picks for New York City neighborhoods that offer affordability, good times, commutes you can live with, and more.
1. Bedford-Stuyvesant, Brooklyn
Affordability: ✭✭✭✭
Commute: ✭✭✭✭
Young population: ✭✭✭✭✭
Bikeability: ✭✭✭✭
Safety: ✭✭
Nightlife: ✭✭✭✭
Median one-bedroom rent: $2,072
Median room rent: $999
Bed-Stuy topped our list for the second year in a row: It continues to offer a wide range of draws for recent grads beyond a manageable price point.
"Bed-Stuy has become one of the most popular spots in Brooklyn for twentysomethings, who were priced out of places like Williamsburg. You can still find a room for less than $1,000 a month, but it probably won't be like this for long. The hip neighborhood is gentrifying and becoming more expensive at a rapid pace," says Localize.city urban planner Beth Kancilia.
It's also is really a community-driven neighborhood, says Nailah Graves-Manns of DJK Residential: "Walk around and you'll find coffee shops, bars, volunteer centers, and lots of community gardens."
The center of the neighborhood has iconic Brooklyn brownstones and townhouses, while the edges are seeing new developments with more amenities, particularly along Lafayette, Myrtle, the Lexington side toward Broadway, and on Fulton, adds Graves-Manns. There also are a few prewar apartment buildings.
Brick Underground's
Gross Rent Calculator
What's this?
Some New York City landlords offer a free month (or more) at the beginning or end of a lease. The advertised rent is the net effective rent.  The net effective rent is less than the amount you will actually have to pay --- known as your gross rent --- during your non-free months.
Brick Underground's Gross Rent Calculator enables you to easily calculate your gross rent, make quick apples-to-apples comparisons between apartments and avoid expensive surprises. All you'll need to figure out your gross rent is 1) the net effective rent, 2) the length of your lease, and 3) how many free months your landlord is offering.  [Hint: Bookmark this page for easy reference!]
To learn more about net effective versus gross rents, read What does 'net effective rent' mean?.
Months
If the landlord is offering partial months free, enter it with a decimal point. For example, 6 weeks free rent should be entered as 1.5 months.
It's an area where tenants get to know their landlords, because they often live in the same building. This can make people feel more comfortable, says Darnell Thornton of Citi Habitats.
One bedrooms start at about $1,850, two bedrooms at about $2,250, he adds. The typical starter apartment on the lower-priced end will be in a two- or three-family house, "will be renovated with new appliances and floors (but not necessarily new cabinets), and have an updated bathroom." On the higher end, you'll find places that have been gut renovated.
Nightlife options continue to expand. Thornton says Bedford and Tompkins Avenues and Halsey Street are hubs for young adults. Graves-Manns says LunÁtico on Halsey is a great place for good food and live music that "feels like Paris." It also offers a Sunday gospel brunch that "young people are definitely checking out." And the popular Mama Fox relocated from Williamsburg earlier this year.
Bed-Stuy has a strong bike culture, says Thornton. But if you depend on the subway for your commute, you'll want to stick to the edges of the neighborhood. To the south are the A and C trains to Manhattan, but be forewarned that the C train is often rated as one of the worst in the system, with regular delays. For those near the Bushwick border, there's the J, M, and Z, which can take you to the Financial District or Midtown, and will see expanded service after the L train goes offline for construction in 2019. As will the G train—the only line in the system that does not enter Manhattan—which cuts through the western end of the neighborhood, providing service between Long Island City and Kensington.
2. Ridgewood, Queens
Affordability: ✭✭✭✭
Commute: ✭✭✭✭
Young population: ✭✭✭
Bikeability: ✭✭✭
Safety: ✭✭✭
Nightlife: ✭✭✭
Median one-bedroom rent: $2,060
Median room rent: $925
Also making its second appearance in a row is Ridgewood (moving up from #4 to #2), not least because it's attracting young professionals being priced out of neighboring East Williamsburg and Bushwick. Rentals make up about 75 percent of the market, says Corcoran's Gabi Svec, who has lived in the neighborhood for 16 years.
Most options are in prewar six-family buildings near the Brooklyn border, and two- or three-family buildings deeper into Queens. Many of the apartments are railroad style—without a hallway separating rooms. There is not a lot of new construction…yet. But landlords have been renovating apartments as tenants leave and converting the older one-bedroom railroad units into two bedrooms (with added hallways), says Douglas Elliman's David Eisenberg. These are going for about $2,100-$2,400 a month, says Svec, while three bedrooms, particularly if renovated, range from $2,700 to the low $3,000s, adds Eisenberg. It's also still possible to find pre-renovated one bedrooms for about $1,300.
Though quieter than neighboring Bushwick, Ridgewood is seeing new cafes, bars, restaurants, juice bars, and yoga studios open in recent years near old standbys that remain popular with the diverse area, adds Svec. There also are Italian, Polish, Balkan, Asian, and a large variety of Latin American restaurants. Gottscheer Hall is a throwback to when the neighborhood was mainly German.
The L and M lines service the neighborhood, making for a relatively easy commute across 14th Street in Manhattan on the L, and through the Lower East Side, Greenwich Village and up Sixth Avenue in Midtown on the M. There's concern though with the L train shutdown coming in April 2019, when new bus routes will shuttle straphangers to Manhattan. The M recently received upgrades, and service will be expanded while the L is under repair.
3. Washington Heights, Manhattan
Affordability: ✭✭✭✭
Commute: ✭✭✭✭
Young population: ✭✭✭
Bikeability: ✭✭✭
Safety: ✭✭✭
Nightlife: ✭✭
Median one-bedroom rent: $1,750
Median room rent: $985
Washington Heights is a large neighborhood tucked between Hamilton Heights and Inwood. It also includes the sub-neighborhood Hudson Heights.
"With crime at record lows and a 30-minute commute to Midtown, the median monthly room price of $985 is hard to beat in Manhattan," says Grace Klein, a Localize.city urban planner. "While parts of the neighborhood, especially north of George Washington Bridge, lack access to large supermarkets, you can make up for it with Dominican takeout and small markets galore."
The A, C, and 1 trains service the neighborhood, making it easy to travel along the west side of Manhattan. "It's very accessible and within easy access to collegiate communities, including Columbia, City College, and the Manhattan School of Music," says Erin Whitney of Bohemia Realty Group, who lives in the neighborhood. It's also very bike friendly, with the Hudson River Greenway along the river. Other green spaces include Bennett Park, with the highest point in Manhattan, Harlem River Park to the east, and Fort Tryon Park to the north.
The housing stock consists of mainly prewar rentals, brownstones in various stages of renovations, and some new construction, says Whitney. Apartments make good shares, since they come with three, four, or even five bedrooms. She has been seeing three bedrooms for under $2,700, but some on the higher end going for $3,000 or more.
The area has a strong Dominican community, with plenty of Latin restaurants and groceries. But there also are long-time favorites like Coogan's restaurant and bar, on Broadway between 168th and 169th streets, which was recently saved from closing because of a rent hike. Newer places have been opening, particularly along Broadway and 181st Street, including Saggio with handmade pasta and a courtyard, and Uptown Garrison Coffee, which turns into a pizza place at night, says Whitney.
4. Astoria, Queens
Affordability: ✭✭✭
Commute: ✭✭✭✭
Young population: ✭✭✭✭
Bikeability: ✭✭✭✭✭
Safety: ✭✭✭
Nightlife: ✭✭✭✭
Median one-bedroom rent: $2,070
Median room rent: $1,050
Of all the Queens neighborhoods in our list, Astoria is arguably the most well-known. Though prices have increased since this neighborhood made our list in 2015, it still offers good value for recent grads, and they don't have to sacrifice their lifestyle as the area teems with a great diversity of restaurants, bars, and shops—as well as beer gardens. "No matter where you are, nine times out of 10 you'll find a great restaurant," says Elliman's Eisenberg, who lives in the neighborhood. "Some of the best ones are on 30th Avenue, Broadway, and Ditmars."
"The area is also becoming known for its brunch spots," drawing diners from other neighborhoods, says Steve Lelekidis of Modern Spaces. For these reasons and more, it's why people tend to stay in Astoria once they move there, he adds.
Most of the apartment stock will be in prewar buildings or private homes, though there are new luxury developments going up, which are on the higher end of the price ranges. Studios are around $1,600-$1,800, one bedrooms from $1,800-$2,200, two bedrooms from $2,200-$2,600, and three bedrooms from $2,800-$3,200, says Lelekidis.
The M and R trains cut through the area's southeast corner, but the main lines are the N and W, which run north through the neighborhood, with access to Midtown in 15-20 minutes. Note that all five stations are either undergoing or about to undergo major rehabilitation work, says Localize.city's Klein. However, there's "good bike infrastructure, including Citi Bike, which recently expanded here."
Culturally, Astoria is home to the Museum of the Moving Image, the Noguchi Museum, Socrates Sculpture Park, Kaufman Astoria Studios, and the Steinway & Sons factory, which offers tours from September through the end of June.
5. Concourse, the Bronx
Affordability: ✭✭✭✭✭
Commute: ✭✭✭✭
Young population: ✭✭
Bikeability: ✭✭✭✭
Safety: ✭✭
Nightlife: ✭✭
Median one-bedroom rent: $1,325
Median room rent: $850
The only Bronx neighborhood to make this year's list is also a repeat from last year, as it continues to offer great value for recent grads—and it's only one stop from Manhattan on the B, D and 4 express trains. All stop at the neighborhood's most famous building, Yankee Stadium. A typical reaction from newcomers to the landmark is: "I didn't know it was so close," says Ariela Heilman of Halstead Property.
Other landmarks include the Bronx courthouse and the Bronx Museum of the Arts. And after years of renovations, the former Bronx General Post Office on 149th Street is slated to open later this year as a retail, commercial, and community hub, says Heilman. From June to November, the Bronx Borough Hall Greenmarket is open on 161st Street. The neighborhood also claims four green spaces: Franz Sigel Park, Macombs Dam Park, Joyce Kilmer Park, and Mullaly Park.
As a historic district, there won't be tall developments, adds Heilman, so "there's a tremendous amount of light and air." The area features several Art Deco buildings, particularly along the Grand Concourse. Some are rental buildings, but several are co-ops that allow rentals. If you have a month or more to look for a new place—because for sublets you have to go through board approval—you can find amazing deals, adds Deb Miller, also of Halstead.
Their office currently has a three bedroom, two bathroom with a formal dining room and living room subletting for $2,725. "That's a lot of value," says Heilman.
RJ Lennon of Citi Habitats describes an entry-level apartment as being in a prewar elevator building with larger rooms than you'd find in Manhattan. Studios range from $1,200-$1400, one bedrooms from $1,600, and two bedrooms from $1,800 and up, he says.
Investors have been developing the area near the stadium in recent years, adds Lennon. "There are shopping areas, restaurants, a lot of things that make it attractive for a young person economically and from a social standpoint. There's even a Starbucks." While that's true, the restaurants are mostly sports bars or chains, and the Starbucks is two blocks east on 161st Street in Concourse Plaza (which also houses a movie complex and is technically in Concourse Village). But the expanded nightlife options of Harlem are just a short bike or subway ride away across the East River.
6. Sunset Park, Brooklyn
Affordability: ✭✭✭✭
Commute: ✭✭✭✭
Young population: ✭✭
Bikeability: ✭✭
Safety: ✭✭✭
Nightlife: ✭✭✭
Median one-bedroom rent: $1,775
Median room rent: $900
The neighborhood has been booming in recent years, thanks to a $1 billion investment plan for the waterfront's Industry City, a 35-acre complex of industrial, office, and retail space with a focus on creative entrepreneurs. It now houses an extensive food hall that will soon see a branch of the beloved Middle Eastern grocery store Sahadi's.
But that hasn't changed the makeup much of this diverse area, which includes several Latin American stores, restaurants and food trucks, particularly along Fourth and Fifth avenues, and a large Chinatown along Eighth Avenue—great for grads on a budget.
"There are a growing number of artisanal businesses at Industry City, as well as the mega-popular Brooklyn Flea and Smorgasburg, and events like trivia nights and art classes. Bars and nightlife options are expanding, but it's also a pretty quick hop to Gowanus for Sunset Parkers who are looking for more options," says Localize.city's Kancilia.
Most of the apartments are in prewar rental buildings, usually walk-ups, or in townhouses, either on the ground floor or the top floor, says Peter Bracichowicz of Corcoran Group. The average price for a two bedroom is $2,300. One bedrooms start at $1,500 farther from the area's namesake Sunset Park, to $1,900 near it, he says.
Transportation includes the D, N, and R lines. The Financial District is pretty accessible, but Midtown is a bit more of a slog unless you are near the D. Cyclists will be happy to know there are Citi Bike docks near the waterfront, and a new bike lane is going in along Fourth Avenue. When completed, the lanes will stretch to Atlantic Avenue. A ferry stop at the Brooklyn Army Terminal provides rides to Wall Street, as well as to Red Hook, Brooklyn Bridge Park, and Dumbo.
7. Sunnyside, Queens
Affordability: ✭✭✭✭
Commute: ✭✭✭✭
Young population: ✭✭
Bikeability: ✭✭✭
Safety: ✭✭✭✭✭
Nightlife: ✭✭
Median one-bedroom rent: $1,977.50
Median room rent: $978
Debuting this year on our list is Sunnyside, the Queens neighborhood bordering Long Island City and Astoria. While it doesn't have as many nightlife options as either of those areas, new restaurants and bars are opening, and it has a good variety of ethnic food, adds Beth Hopp, of Citi Habitats, who lives in the neighborhood. "There's Indian, Himalayan, Japanese, Chinese, Mexican, Caribbean," along with traditional Italian restaurants and great Irish pubs. Many can be found along Skillman Avenue and Queens Boulevard.
And then there's the commute: "Outside of the South Bronx, Sunnyside and Woodside are the only neighborhoods that have a 30-minute commute to Midtown and a median room price under $1,000," says Localize.city's Klein.
The area has "really rich character," with mainly prewar buildings and classic brick rowhouses, but they're low-rise, so there are views of the Empire State Building and the Chrysler Building from the tree-lined streets, says David Eisenberg of Douglas Elliman. Plus, apartments get a good amount of natural light and have large closets, adds Hopp.
Sunnyside, however, is not exactly undiscovered by newcomers. Of all the Queens neighborhoods in our list this year, it has seen the biggest increase in rents year-over-year, says Eisenberg, as people begin to move in after getting priced out of nearby neighborhoods. There are mainly two bedrooms available, starting at $2,100 and going to about $3,500. One bedrooms can range from $1,500-$2,100, while three bedrooms will start at about $3,200, he says. People pay a premium to live in the historic district of Sunnyside Gardens, which has one of the city's two private parks, the other is Gramercy in Manhattan.
The 7 train runs through the middle of the neighborhood with two stations, making it a quick commute to both the east and west sides of Midtown and connections to most of the Manhattan train lines at Grand Central Terminal and Times Square. One thing to note: The 52nd Street station is slated to undergo an extensive renovation in 2019, but it's unclear if the station will close during construction, per Localize.city. Also, the city is considering adding protected bike lanes along Skillman and 43rd avenues.
8. Flatbush, Brooklyn
Affordability: ✭✭✭✭
Commute: ✭✭✭✭
Young population: ✭✭
Bikeability: ✭✭✭✭
Safety: ✭✭✭
Nightlife: ✭✭✭
Median one-bedroom rent: $1,800
Median room rent: $950
Flatbush is one of the few Brooklyn neighborhoods with access to Manhattan in about 30 minutes on the B and Q lines near 18th Street, or the 2 and 5 lines on Nostrand Avenue, with median room rents below $1,000. But rates are rising as renters are getting priced out of other areas and are beginning to migrate southeast in the borough.
A majority of the rental stock is in prewar buildings, with large floorplans, high ceilings, detailed moldings, and great finishes, says Linda Nader of Citi Habitats. There often will be a common courtyard. About half are in walkups and half in elevator buildings.
As in other neighborhoods gaining in popularity, as tenants move out, landlords are renovating and adding stainless steel appliances, as well as stairways to the rooftop to offer outdoor space, says DJK Residential's Graves-Manns, who recommends researching the history of your apartment because it might still be rent stabilized. Some landlords are chopping up those generous floorplans to create second or third bedrooms. But there are still price points for every demographic and budget, adds Nader, with the average one bedroom going for $1,850, and two bedrooms for $2,300-$2,500. But she's seen some one bedrooms reach as high as $3,000 in new luxury buildings.
There's a strong Caribbean community in the neighborhood, with restaurants and bakeries from the region throughout, including Haitian, Jamaican, and Trinidadian. Mexican restaurants have joined the mix the past few years, too. All are great for the post-grad budget. But for a coffeehouse, café or new bar scene, you'll have to head west along Church Avenue to Prospect Park South or on Cortelyou Road to Ditmas Park, or north to Prospect Lefferts Gardens, where Graves-Manns recommends Zombie House, Mango Seed, and Risbo.
For shopping, the area has a fair share of outlet stores, include ones for the Gap, Old Navy, and Nike. The area around Brooklyn College in the southern part of Flatbush has more retail options, including a Target. The college also hosts cultural events and performances, as does the renovated Kings Theater on Flatbush at Tilden Avenue, which draws national and international acts.
9. East Harlem, Manhattan
Affordability: ✭✭✭
Commute: ✭✭✭✭✭
Young population: ✭✭✭✭✭
Bikeability: ✭✭✭✭✭
Safety: ✭✭
Nightlife: ✭✭
Median one-bedroom rent: $2,339
Median room rent: $1,200
Once an Italian enclave, East Harlem—north of 96th Street on the East Side—became home to many Puerto Ricans beginning in the mid-20th century, and now also includes immigrants from several other Latin American and Caribbean countries. The area is chock full of restaurants and food trucks offering these varied cuisines at bargain prices. New coffee shops and cafes are also opening near the subway stations.
"East Harlem's vibrant streets are flush with community gardens, murals, and street art," says Localize.city's Kancilia. There's also the renowned El Museo del Barrio, which celebrates the area's diverse cultures, on Fifth Avenue at 104th Street, across from Central Park. It is currently being renovated and will reopen in the fall.
The neighborhood is one of the most affordable in Manhattan, but prices in the southern end are rising, along with new developments and access to the (relatively) new Q train station at 96th Street and Second Avenue, which whisks passengers to Midtown in less than 15 minutes. The Lexington Avenue line is the main transit artery, with the 6 train stopping every six to seven blocks. The 4 and 5 express trains are at 125th Street. Both the Lexington and Second Avenue lines provide easy access to the Upper East Side for more robust nightlife options. And Citi Bike expanded into the area in 2017, with nearly two dozen new bike stations between 110th and 128th streets.
Prices cover a broad range, depending on whether the apartment is prewar or new construction, and renovated or not.
"Roommates are paying from $800-$1,200, which is a fraction of what you'd pay downtown," says Michael Jeneralczuk, CEO of Citi Habitats's Undorm Team, which specializes in finding housing for students and recent graduates. "No other neighborhood with close proximity to Midtown and downtown offers pricing like that."
As new rental buildings opened, landlords in prewar buildings began renovating apartments as tenants vacated, particularly the past two years, adds Jeneralczuk. They're putting in stainless steel appliances, as well as washers and dryers, and high-end finishes. What they lack are the amenities of the new buildings, which come with elevators, doormen, and often furnished rooftops.
Safety issues have been a stigma for the neighborhood, but statistics have continued to improve in recent years.
"For those saying no because of that, I tell them to just try it," says Jeneralczuk. "Every neighborhood has its crazies. [It's] as safe as being anywhere else in Manhattan."
10. Clinton Hill, Brooklyn
Affordability: ✭✭✭
Commute: ✭✭✭✭✭
Young population: ✭✭✭✭
Bikeability: ✭✭✭✭✭
Safety: ✭✭✭
Nightlife: ✭✭✭
Median one-bedroom rent: $2,539
Median room rent: $1,210
Though some readers might raise an eyebrow at the inclusion of Clinton Hill in this list because of its higher median prices, the neighborhood has a young vibe with two colleges within its boundaries: Pratt Institute and St. Joseph's. Trendy new restaurants, bars, and coffee shops are opening on Myrtle Avenue to the north and Fulton Street to the south, with a few additional options along Lafayette and Dekalb avenues and the side streets.
The housing stock is mostly brownstones in the center, with new buildings going up along Myrtle and Fulton, and a few converted industrial spaces. The average two bedroom will range from $2,500-$3,000, but can reach $4,000 in the new buildings with more amenities, says Maggie Regan of Citi Habitats. A typical starter apartment will likely be a two bedroom railroad unit in a multifamily buildings, often without laundry or other perks. To remain competitive, landlords in older buildings are starting to offer dishwashers and stainless steel appliances, she added. Graduates with jobs starting in the higher income brackets will have options in the newer full-service buildings.
The G train runs east and west through the center of the neighborhood, making downtown Brooklyn, Bed-Stuy and Williamsburg easily accessible. The C train stops at Fulton between Clinton and Washington avenues in the southern section of Clinton Hill, offering additional access to downtown Brooklyn before heading into the Financial District and then up the west side of Manhattan. Both train lines are slated for upgrades including new cars for the C, longer trains on the G, and additional service for both to ease crowding.
If those lines don't suite your tastes, Regan suggests "don't be a snob and be ready to ride the bus, because there are a ton of great bus options." She also noted the bike friendliness of the area, with multiple Citi Bike stations, designated bike paths, and plenty of places to lock your wheels.
Brick Underground articles occasionally include the expertise of, or information about, advertising partners when relevant to the story. We will never promote an advertiser's product without making the relationship clear to our readers.