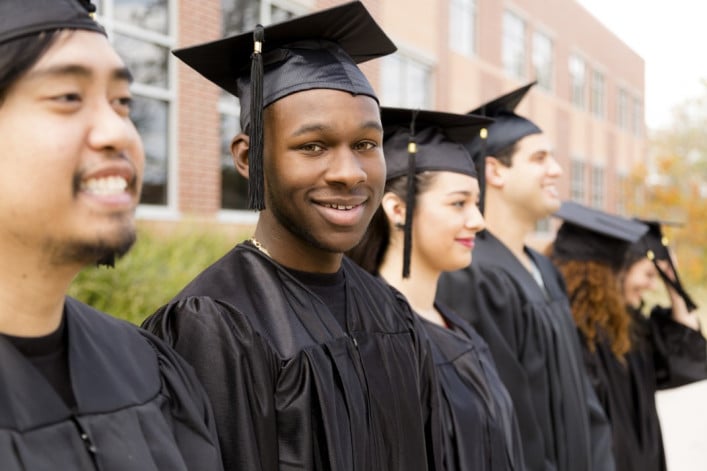 So you're ready to emerge from the college bubble and join the thousands of grads who relocate to New York City every spring. Contrary to what Taylor Swift would have you believe, New York hasn't necessarily been waiting for you: Exciting as the city is, it isn't exactly accommodating to the uninitiated. The good news is that while NYC is in a constant state of flux, there are still plenty of neighborhoods where newcomers can settle in and start to feel at home.
[This story was first published on May 2, 2016.]
To create this year's list of the best corners of the city for college grads, we started with data from StreetEasy on the neighborhoods in the five boroughs with the most affordable median rents for studios and one-, two-, and three-bedrooms. According to Alan Lightfeldt, StreetEasy's data scientist, since many new grads are making entry-level salaries in their fields, they should prioritize parts of the city that fit modest housing budgets. "Neighborhoods in East Brooklyn, Northern Queens and South Bronx check off most—if not all—of the boxes on a recent graduate's list: affordability, accessibility, and neighborhood buzz," he says.
Still, for some post-grad newbies, affordability isn't the number one priority, notes Phil Lang, co-founder of TripleMint, a real estate brokerage (and Brick Underground partner) that has placed thousands of recent grads in their first NYC apartment.  "There are people who are already making a good living, and what they care about is proximity to work," Lang says. "Convenience is really important for a lot of college grads, since they don't know the city yet." He adds that grads also often seek certain amenities in their neighborhoods, like plenty of eating and shopping options; parents, meanwhile, are more focused on safety. 
Pro Tip:
Need help finding the perfect apartment in the perfect neighborhood--or a landlord inclined to be flexible about guarantors, work history, rental history, or "flexing" your space with temporary walls?  Put your search into the capable hands of Triplemint, a tech-savvy real estate brokerage founded by a pair of young Yale grads in response to the frustrating apartment-search experiences of classmates and colleagues. Triplemint will charge a broker's fee of 10 percent of a year's rent on open listings instead of the usual 12 to 15 percent if you sign up here.  Bonus: The agents at Triplemint are a delight to deal with.
This in mind, we asked NeighborhoodX, a start-up that provides neighborhood-level intel to buyers, renters, and investors, to dig into price points and commute times to the Financial District and Midtown for several neighborhoods. Finally, Peter Goldey of WitLytic.net crunched the numbers for us on crime data, as well as restaurant counts, in those same areas.
The result: our shortlist this year of the top 10 neighborhoods for college grads. But, this being NYC, you will likely have to make some kind of concession: No one neighborhood gets five out of five stars on all our criteria. In other words, the place with the best nightlife won't also be the most affordable, and cheaper spots may mean a longer commute. But rest assured, you still have plenty of choices.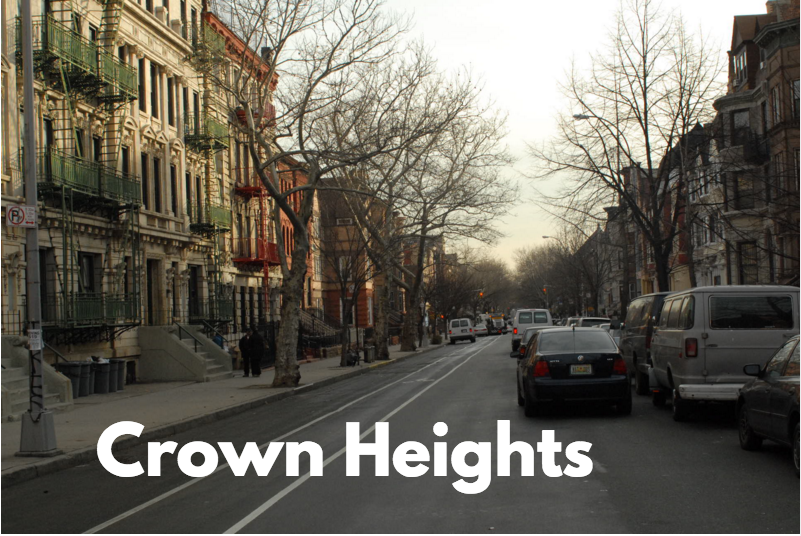 1. Crown Heights (Brooklyn) Amid the ever-changing NYC landscape, Crown Heights is one of the few repeats on our list this year. The central Brooklyn neighborhood is still hot: back in 2014, the New York Times announced the area was having its moment; according to AMNY, the neighborhood is still affordable, but it's nightlife scene is on fire, leading some locals to worry that pricey new developments will soon prevail. Nonetheless, Robert Bell, an agent with Compass, says college grads shouldn't assume they're priced out quite yet, given its plentiful housing stock featuring affordable, older residential rental buildings. Bell says the area is "youthful, vibrant, and has a sense of the changes going on"—namely, the new entertainment options popping up, particularly along Franklin, Bedford, and Nostrand Avenues. Check out Mayfield, for instance, a Southern-influenced New American restaurant, or King Tai, a bar with a 1940s Miami theme.
You have your choice of trains as well, with access to the 2, 3, 4, and 5 along Eastern Parkway delivering you to the Financial District in half an hour, though expect a longer journey to work if you're in Midtown (44 minutes). You're also within a quick trek to all the outdoor space and culture you could want at nearby spots like Prospect Park and the Brooklyn Museum. Safety-wise, the neighborhood has a somewhat high rate of 15.6 crimes (including violent and non-violent) per 1000 locals; by contrast, Manhattan's sleepier Yorkville has a rate of only 5.7 crimes per 1,000 people. 
Nightlife: ♥♥♥♥
Affordability: ♥♥♥♥
Cool factor: ♥♥♥♥
Convenient enough for friends to actually visit: ♥♥♥
Parent approved: ♥♥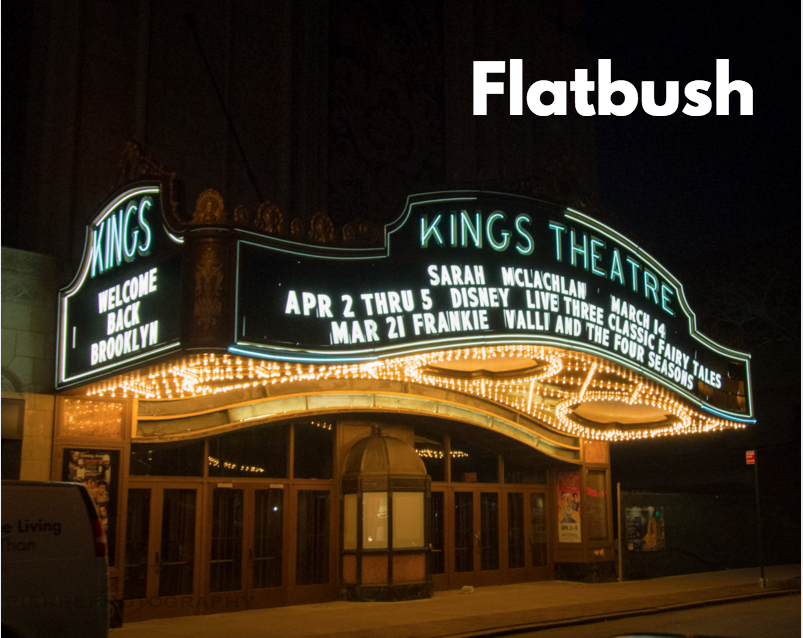 2. Flatbush (Brooklyn) Flatbush is one of the last bastions of affordability near Prospect Park; one-bedrooms start at $1350, and three-bedrooms can be found for as low as $1,850. It's a solid option for grads on a budget, says Phil Lang.
Brooklyn College's location at the southern edge of Flatbush may make it a smooth transition for those still craving a college town vibe. And to the west, architecture buffs can explore the micro-neighborhood of Victorian Flatbush, where the gorgeous, sprawling homes were built around the turn of the century. (Go inside some of the houses via this photo set from Gothamist.)
Restaurants abound—there are 675 in the area that's just over one square mile—with tons of West Indian and Caribbean eateries along Flatbush Avenue. For entertainment, one option is seeing a concert at the Kings Theatre, a baroque old movie palace restored last year and now a music venue bringing in major acts—in fact, the theater will be hosting a number of Grammy award winners in a festival next month.
Whether you work downtown or in Midtown, your commute will be less of a schlep than it is from many other Brooklyn neighborhoods, thanks to access to the B and Q trains. And though Flatbush went through a rough patch during the crack epidemic of the 1980s and early 1990s, nowadays the neighborhood's crime index--represents the combined risks of rape, murder, assault, robbery, burglary, larceny and vehicle theft--is 47, considerably below the national average of 100.
Nightlife: ♥♥♥
Affordability: ♥♥♥♥♥
Cool factor: ♥♥♥
Convenient enough for friends to actually visit: ♥♥♥
Parent approved: ♥♥♥
Pro Tip:
Did you know newly constructed rent-stabilized apartments have strict limits on rent increases? This means you can save big year-over-year compared to market-rate renters. For example, if you make between $95,898 - $167,570, you could save up to $122,432 in rent over five years on a 2-bedroom apartment through the 5203 Center Blvd lottery program. Learn how much you can save at hunterspointsouthaffordablehousing.com and apply before the lottery closes on August 16th.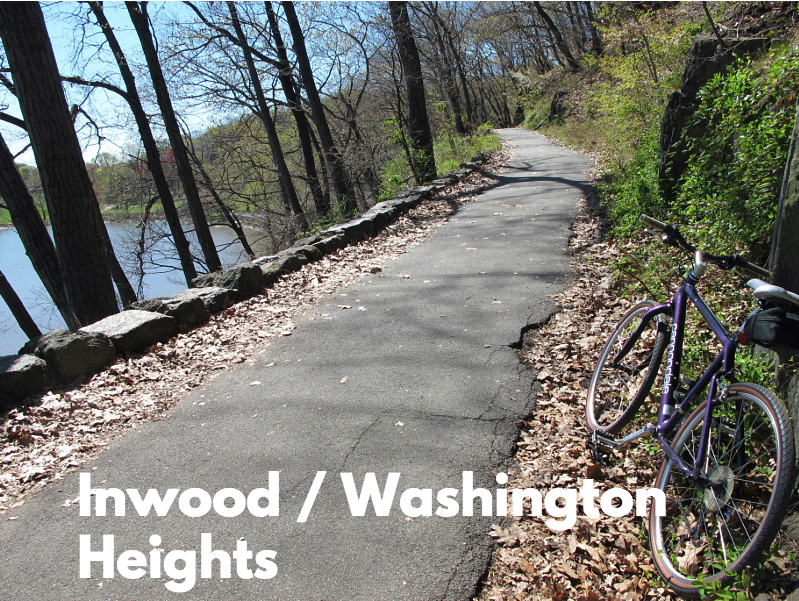 3. Inwood / Washington Heights (Manhattan) Our other repeat region from last year, these northernmost neighborhoods of Manhattan remain under-the-radar—a puzzler to us, given their affordability, diversity, and proximity to tons of green space. Santiago Steele, an agent with Citi Habitats, characterizes Inwood and Washington Heights as a multicultural area with a relaxed vibe, perhaps due to its abundant open spaces: Fort Tryon Park is home to medieval art museum the Cloisters, and Inwood Hill Park includes the city's last old-growth forest. Furthermore, "lots of two-bedrooms are available now, for as low as $1700 to $1800," he says.
Fans of the outdoors will be well served here, as well as those looking for a place with a more refined, small town feel. Some newbies to the city have the perception that Inwood and Washington Heights are far from the action, but in fact, the commute time to Midtown ranges from 28 to 35 minutes. "People who don't know about it think it's too far, but people who live there don't want to move," Steele says.
And while you won't find the kind of nightlife you would downtown, he adds that the area around Broadway and 207th Street has a college vibe, with new restaurants and coffee shops moving in. Plus, parents will be pleased that the sleepy aura extends to safety: the neighborhood's crime index, which measures the combined risk of all crimes, is well below the national average: 49 for Washington Heights, and only 33 for Inwood.
Nightlife: ♥♥
Affordability: ♥♥♥♥
Cool factor: ♥♥♥
Convenient enough for friends to actually visit: ♥♥
Parent approved: ♥♥♥♥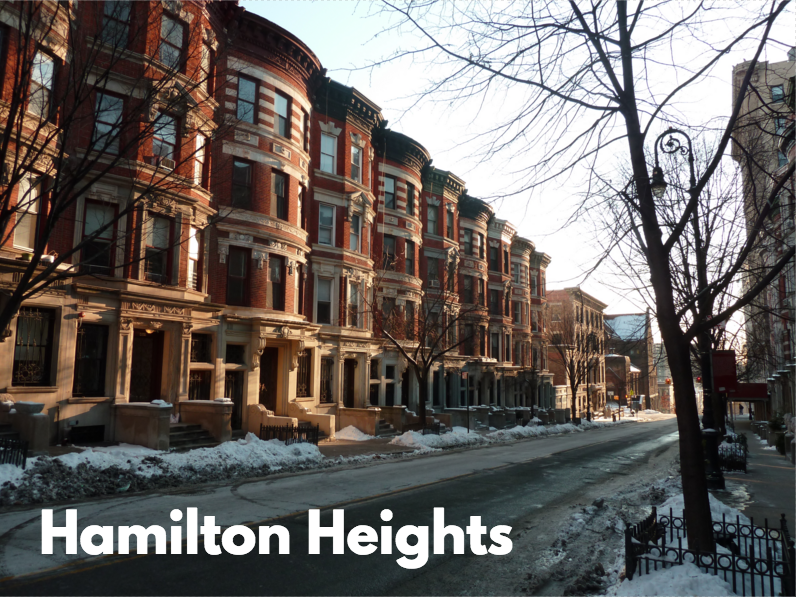 4. Hamilton Heights (Manhattan) When shelling out hundreds for tickets to Lin-Manuel Miranda's smash hit just isn't enough, there's always relocating to Alexander Hamilton's namesake neighborhood. When the founding father lived here, the area was far more bucolic; today, it's full of young people, thanks to the presence of City College and nearby Columbia University. Steele calls Hamilton Heights "an area to watch," citing the emergence over the past five years of a promising restaurant and bar scene, particularly around 149th Street and Broadway.
Architecture buffs will have much to explore within the micro-neighborhood of Sugar Hill, a historic district known for its elegant rowhouses, as well as on the City College campus, which features neo-Gothic architecture. With access to the 1, A, B, and C trains, you can make it to Midtown in less than a half hour, but "get in while it's still affordable," Steele advises. "Hamilton Heights is hitting that tipping point." Indeed, studios now range from $1250 to $1625 per month; safety-wise, the crime rates are similar to those of Inwood and Washington Heights.
Nightlife: ♥♥♥
Affordability: ♥♥♥
Cool factor: ♥♥♥
Convenient enough for friends to actually visit: ♥♥♥
Parent approved: ♥♥♥♥
Brick Underground's
Gross Rent Calculator
What's this?
Some New York City landlords offer a free month (or more) at the beginning or end of a lease. The advertised rent is the net effective rent.  The net effective rent is less than the amount you will actually have to pay --- known as your gross rent --- during your non-free months.
Brick Underground's Gross Rent Calculator enables you to easily calculate your gross rent, make quick apples-to-apples comparisons between apartments and avoid expensive surprises. All you'll need to figure out your gross rent is 1) the net effective rent, 2) the length of your lease, and 3) how many free months your landlord is offering.  [Hint: Bookmark this page for easy reference!]
To learn more about net effective versus gross rents, read What does 'net effective rent' mean?.
Months
If the landlord is offering partial months free, enter it with a decimal point. For example, 6 weeks free rent should be entered as 1.5 months.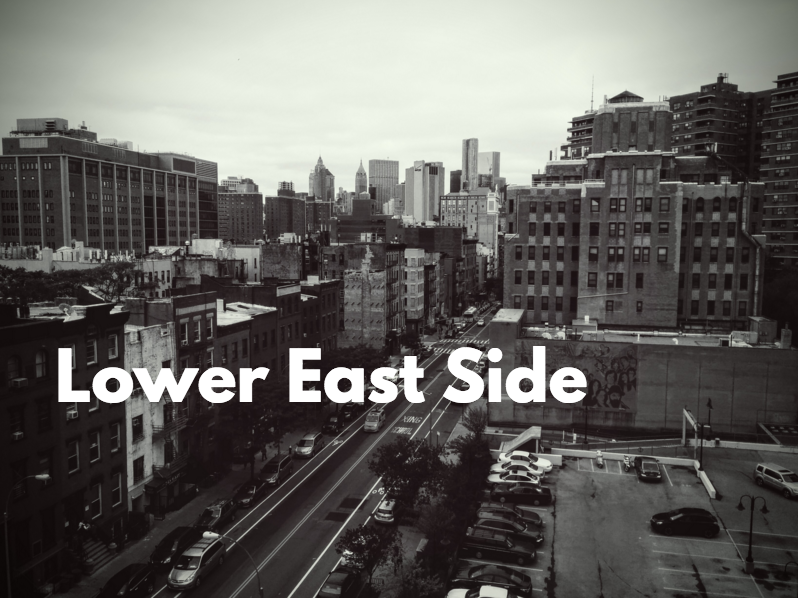 5. Lower East Side (Manhattan) Though the Lower East Side is experiencing a development boom, it's not all luxury, high-rise condos. The neighborhood still has its share of tenement buildings that haven't been revamped to the nines, which means relatively reasonable price points for college grads. (That said, the LES' median rents rank the highest among the places we looked at.) Robert Bell calls the LES "extraordinarily vibrant," thanks to its rich history as an immigrant stronghold, as well as its nightlife, which rivals that of any other corner of the city.
Essex is lined with bars like Beverly's, which doubles as an art gallery, and the street will soon be home to the massive Essex Crossing development. Restaurants like Dirt Candy, a vegetarian mecca, abound, but so do old school spots like community center ABC No Rio. And for a true glimpse into the LES's past, there's the Tenement Museum, where you can get a sense of what life was like in the neighborhood 100 years ago.
On the con side, as is often the case in areas where people are partying, crime can be an issue, with 15.2 crimes per 1000 residents, as per WitLytic's data—but according to NeighborhoodX, your commute will be a breeze if you work in Midtown (20 minutes) or the Financial District (17 minutes)  
Nightlife: ♥♥♥♥♥
Affordability: ♥
Cool factor: ♥♥♥♥♥
Convenient enough for friends to actually visit: ♥♥♥♥♥
Parent approved: ♥♥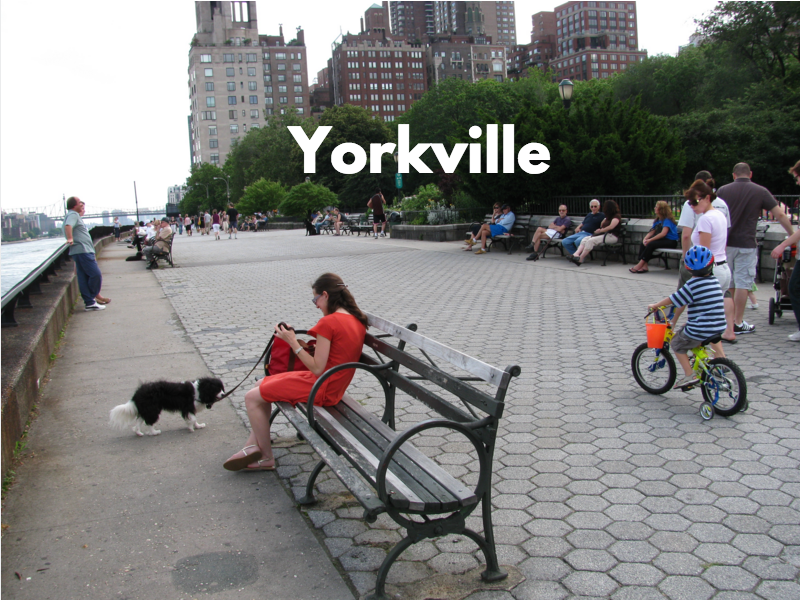 6. Yorkville (Manhattan) Yorkville, the Upper East Side neighborhood stretching from 79th to 96th Streets, and from FDR Drive to Third Avenue, also offers rents that are relatively affordable (by Manhattan standards.) Though the UES may come off as a bit stodgy, one major benefit of its old-school vibe is safety: Yorkville has the lowest total crime index of all the neighborhoods listed here, and violent crime is virtually nonexistent. And to further puncture the area's uptight rep, Steve Hallerman, an agent with Citi Habitats, points out that Yorkville landlords tend to be fairly liberal. "They're not as strict as you'd find in neighborhoods like Gramercy, where they're looking for a certain income and years of work experience," he says.
Pro Tip:
To rent an apartment in New York City, most landlords require you to earn an annual salary of at least 40 to 45 times the monthly rent. If you don't—or if you're an international employed person, self-employed, non-employed with assets, retired, or an international student or US student—you'll need to find a guarantor for your lease who earns at least 80 times the monthly rent and lives in New York, New Jersey or Connecticut.  Or you can turn to Insurent Lease Guaranty.  Accepted at more than 4,700 buildings across the city representing over 475,000 apartments, Insurent Lease Guaranty is a quick and easy way to get the apartment you want. Click here to learn more.
Moreover, the area isn't all that sedate, says TripleMint's Phil Lang: "The Upper East Side, for all of its reputation as a quiet place, has a big nightlife area," he says. Hallerman agrees: "On First, Second, and Third Avenues, you'll find plenty of bars, restaurants, and places with outdoor seating in the spring and summer," he says. WitLytic's data bears this out, revealing 492 restaurants in the area. It's a great neighborhood for outdoorsy types, too, Hallerman says, thanks to the presence of Carl Schurz Park, a lovely green space on the East River that features paths for walking and biking, as well as several dog runs.
If you live all the way to the east, it can be a bit of a haul to get to the train—though expect that to change soon, with the long-awaited Second Avenue Subway opening its first stops this winter. In the meantime, if the 4, 5, and 6 trains are too far for your liking, many locals use the York Avenue bus line, which runs down to 57th Street before heading to the west side.
Nightlife: ♥♥♥
Affordability: ♥♥
Cool factor: ♥♥
Convenient enough for friends to actually visit: ♥♥♥♥
Parent approved: ♥♥♥♥♥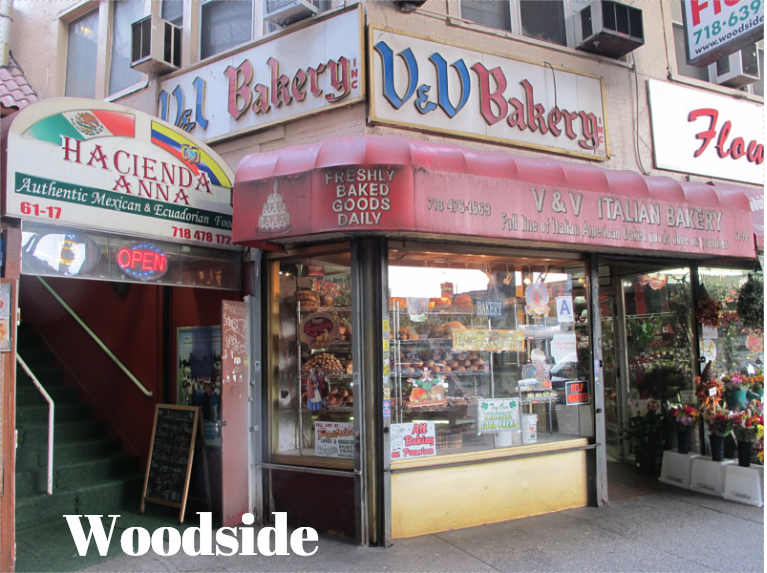 7. Woodside (Queens) Nearby Queens neighborhoods like Astoria, Long Island City, and Sunnyside have garnered plenty of interest, but Woodside is also worthy of consideration: Though a little pricier than Flushing, it's still within the reach of many college grads seeking apartment shares, with two-bedrooms starting at $1800. Centrally located in the borough, it's also a quicker journey into Manhattan: You can catch express 7 trains from 61st Street and reach Midtown in 30 minutes, and the Long Island Rail Road will bring you to Penn Station in 10 minutes.
Considered one of the most diverse neighborhoods in Queens, Woodside's local scene has been made vibrant thanks to different waves of immigrants who have settled here. You'll find a number of traditional Irish pubs like Donovan's, celebrated by publications like Time Out New York and Eater as serving one of the best burgers in the city, and eateries representing a wide range of cuisines, including Sripraphai, deemed the Holy Grail of Thai food by Zagat. Head north on Roosevelt to explore Little Manila and all its Filipino groceries and restaurants, or check out the Mexican food trucks under the 7 train.
Woodside's spirit of inclusion is perhaps best represented in its annual St. Pat's for All parade, which invites the entire community to celebrate the Irish holiday. And the welcoming vibe seems to extend to safety, too: The neighborhood has the second-lowest total crime rate of the places on our list.
Nightlife: ♥♥♥
Affordability: ♥♥♥♥
Cool factor: ♥♥
Convenient enough for friends to actually visit: ♥♥♥
Parent approved: ♥♥♥♥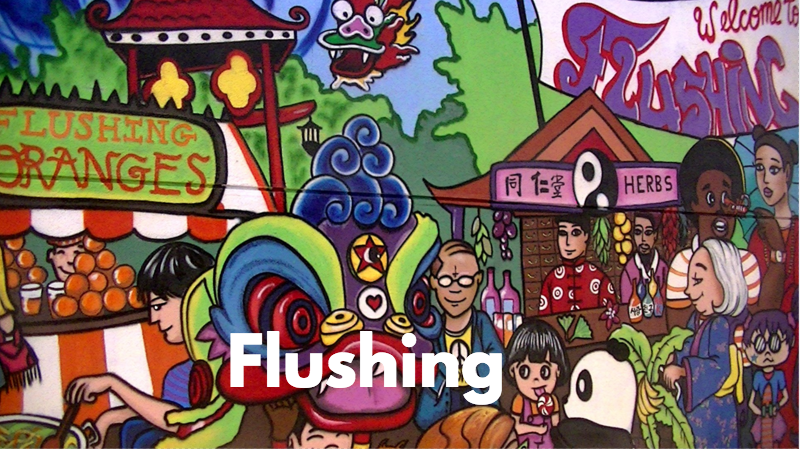 8. Flushing (Queens) Located at the very end of the 7 line, Flushing can seem light years away from the action. But in fact, the commute to Midtown takes no longer than it does from Crown Heights, and if you catch an express train, you can be at Grand Central within a half hour. There's also a Long Island Rail Road stop for quick access to Penn Station, and shuttle services like this one that deliver you from Manhattan's Chinatown to Flushing for $3.00. Even better, studios in Flushing start at $1,200 per month, the cheapest on our list.
And the neighborhood has plenty of its own buzz: With 749 restaurants in town, Flushing boasts the most eateries of all the areas we looked at. Diana Sun, a broker with Douglas Elliman, says that this aspect of Flushing is perfect for college grads who aren't inclined to do a lot of cooking. "There are so many different Asian cuisines, open all around the clock for all budgets," she says. (Eater's restaurant map will give you a good sense of where to get started.)
Beyond eating, cheap entertainment can be found in "hole-in-the-wall karaoke places where a group of friends can go and sing and have drinks all night without breaking the bank," Sun says. And when you need to jog off all eating and imbibing, hit the trails at Flushing Meadows Park.
Flushing is a populous and bustling area, but that shouldn't give parents much cause to worry: With only 7.6 crimes per 1,000 people, the area is fairly low-risk.
Nightlife: ♥♥♥
Affordability: ♥♥♥♥♥
Cool factor: ♥♥♥
Convenient enough for friends to actually visit: ♥♥
Parent approved: ♥♥♥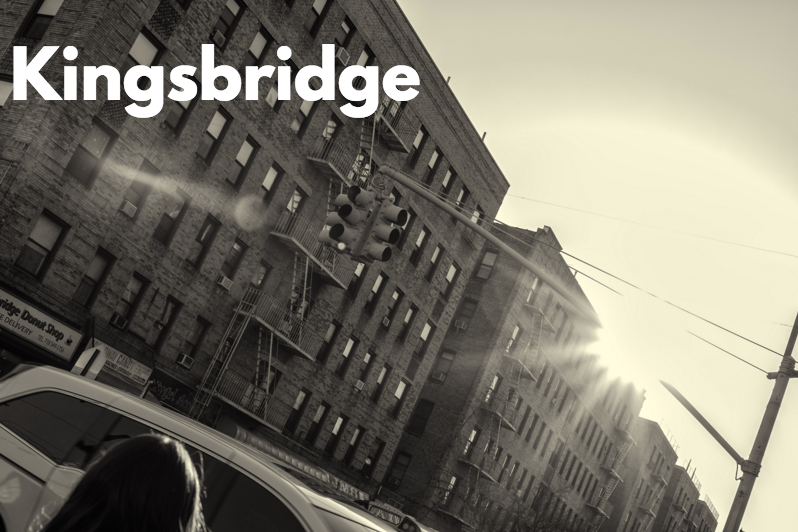 9. Kingsbridge (The Bronx) Though Kingsbridge is a bit further to the northwest of buzzier South Bronx, Rupinder Singh, a broker who specializes in the area, says it's also generating interest these days. Kingsbridge's proximity to the city, not to mention its affordability, is attracting young renters and buyers, Singh says: "Instead of being in a box in Manhattan, over here you get a bigger apartment with beautiful views."
One of the area's benefits, rather unique in NYC, is ease of parking, so if you can't part with your car, Kingsbridge is worth considering—plus, it has easy access to the Major Deegan Expressway. The train commute can be a haul if you work downtown, and the trip to Midtown takes about 43 minutes on the 1, but there's access to the Marble Hill Metro-North stop, 20 minutes from Grand Central.
Singh says college grads looking to move in with roommates can find three-bedrooms for as low as $2200 per month, which is likely why the neighborhood has a significant percentage of residents ages 20 to 24 (over 7 percent, compared to 5 percent on the Lower East Side.) Singh says he's noticed new retail and restaurant development along Broadway; one popular spot is Leche y Miel, a Latin American eatery that nabbed the attention of the New York Times. Broadway also leads directly to Van Cortlandt Park, a massive green space popular with runners for its trails and hills. And safety-wise, Kingsbridge ranks right in the middle of the areas Brick looked at, with an average of 10 crimes per 1000 people.
Nightlife: ♥♥
Affordability: ♥♥♥♥♥
Cool factor: ♥♥
Convenient enough for friends to actually visit: ♥
Parent approved: ♥♥♥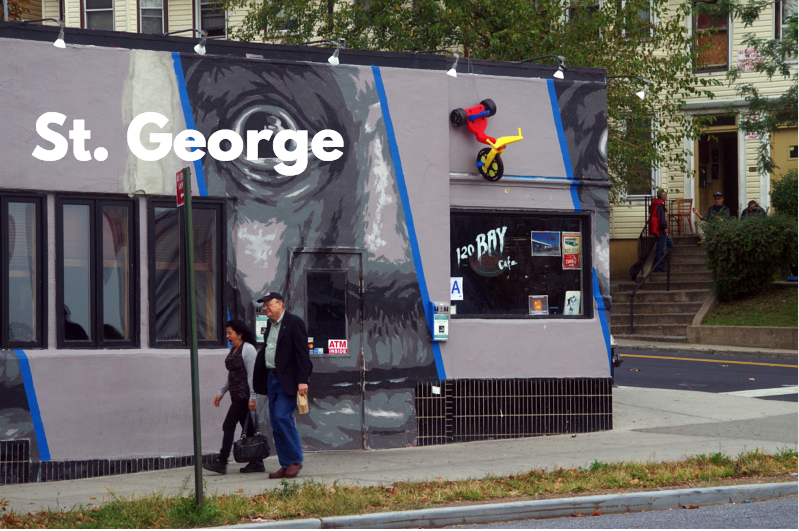 10. St. George (Staten Island) Sneering at Staten Island is a beloved NYC pastime, but the waterfront neighborhood of St. George has plenty to recommend it. With easy access to the (free) Staten Island Ferry, which heads to Manhattan every 15 minutes during rush hour, locals who work in the Financial District have a relatively quick commute to work—though if your job is in Midtown, it can turn into a trek.
The housing stock is quite varied, with a mix of standalone homes and apartment complexes, though that may shift soon: A massive redevelopment project will bring retail, a hotel, and the world's largest Ferris wheel to St. George's harbor, which is anticipated to draw in plenty of tourists, and perhaps new interest from residents of other boroughs.
The complex will include more entertainment options, but for now locals content themselves with the restaurants and bars around the waterfront, including places like Enoteca Maria, an Italian joint where a different "nonna" (grandmother) cooks the meals each night. Another selling point? Proximity to the borough's beaches in the summer. If you're not convinced, check out this essay from a Millennial who made the move from Brooklyn to Staten Island.
One downside worth noting, though, is the crime rate: St. George has the highest ratio of crimes of the neighborhoods listed here, with 17.9 per 1,000 people.
Nightlife: ♥♥♥
Affordability: ♥♥♥♥
Cool factor: ♥♥
Convenient enough for friends to actually visit: ♥
Parent approved: ♥♥
Before you go, explore NeighborhoodX's interactive charts of median rents in each neighborhood:
Studios
One-bedrooms
Two-bedrooms
Three-bedrooms
Related: 
From campus to city: your all-access guide to moving to NYC after graduation
The 8 best websites for finding a no fee rental apartment in NYC
5 ways renting in NYC is unlike anywhere else 
Rejected by a landlord lately? Want to get that apartment faster? Here's your secret weapon [sponsored]
Welcome to the first episode of the Brick Underground podcast: My First Apartment
Brick Underground articles occasionally include the expertise of, or information about, advertising partners when relevant to the story. We will never promote an advertiser's product without making the relationship clear to our readers.