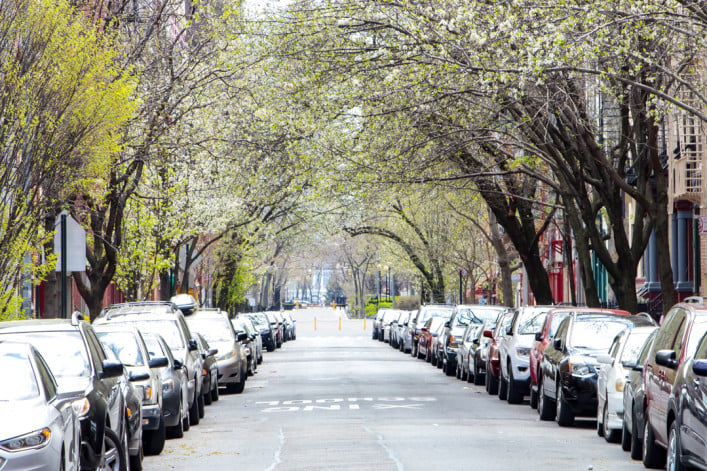 As any one who has circled (and circled, and circled) an ever-widening radius of blocks looking for a parking spot will tell you, few New York City rituals are as maddening—especially late at night. Apparently, the process also taps into our reptilian brain, triggering the most basic flight or flight instincts and aggression. Which is why, if you've got a car and you're thinking about moving to a certain neighborhood, it's important to assess the on-street parking situation. 
[Editor's Note: This is the first of a four-part series that will examine the best and the worst neighborhoods for on-street parking in Brooklyn, Manhattan, Queens and the Bronx. This story was first published in June 2018. We are presenting it again here as part of our summer Best of Brick week.]
We asked Localize.city—a new AI-powered website that helps renters and buyers predict what life will be like at any address in New York City by examining current and future construction, livability, community and safety—to dig into the data to determine the best and worst neighborhoods for on-street parking in the borough of Brooklyn. 
Weighted factors the Localize data-science and urban planning teams considered to identify neighborhoods' scores included street parking regulations, which vary from district to district (alternate side, no parking or standing rules, meters); parking ticket rates (the number of parking tickets per capita in the last six months); parking complaints (calls to 311 regarding blocked driveways, double-parked cars, blocked hydrants), and car ownership based on 2016 census data. 
A caveat: of course, it's all relative. Which means even places where it's easier to park aren't completely hassle-free. And if you live in places like Park Slope, you don't even crack the dismal top 10 because while you have it bad, other people have it even worse. 
So consider this a useful, data-backed guide, but if you're serious about moving to a new neighborhood, head over there and check it out yourself. Obviously, you should drive.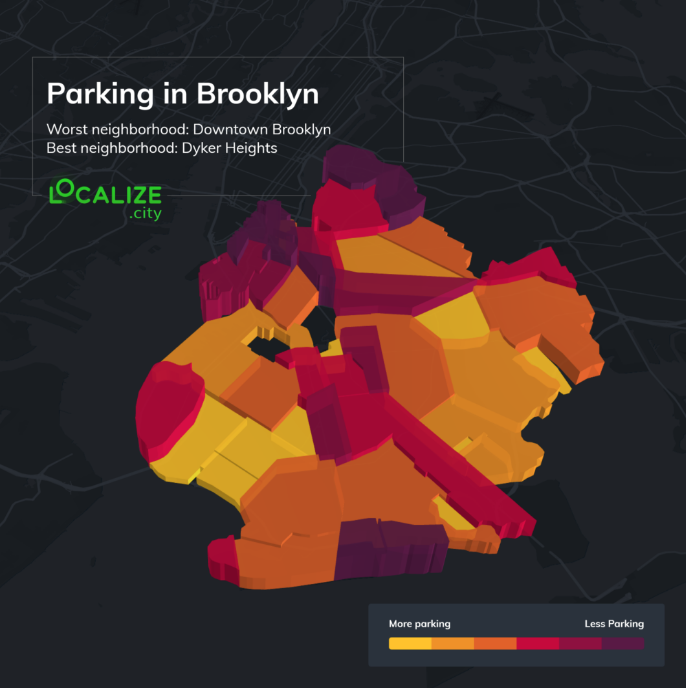 The good: Brooklyn neighborhoods with the best on-street parking
1. Dyker Heights
2. Bath Beach
3. Mapleton
4. Bensonhurst
5. Brownsville
6. Prospect Park South
7. Bedford-Stuyvesant
8. Windsor Terrace
9. Bergen Beach
10. Canarsie
Many people make the decision to live farther from Manhattan (and their jobs) for more space and lower housing costs, and while neighborhoods in west and southern parts of Brooklyn are served by public transit to varying degrees, many people in these areas own cars, where a fair amount of private parking serves them well. 
"In the 'suburban' communities in the southern and western parts of Brooklyn—like Dyker Heights, Bath Beach, Bergen Beach, and Flatlands—owning a car is often a must for those who work Downtown," says Localize.city data scientist Michal Eisenberg. "While there is an abundance of street parking spots and most residents have private driveways or garages, parking here is not without tension. Parking-related complaints are relatively high."
Neighborhoods such as Bedford-Stuyvesant and Brownsville score high thanks to a mix of available street parking, lower car ownership rates, and good access to public transportation, making life without a vehicle easier. 
The bad & the ugly: Brooklyn neighborhoods with the worst on street parking
1. Downtown Brooklyn
2. Boerum Hill
3. Prospect Heights
4. Brooklyn Heights
5. Cobble Hill
6. Carroll Gardens
7. East Williamsburg
8. Greenpoint
9. Brighton Beach
10. Fort Greene
Congrats DoBro. You have the dubious distinction as the hardest place to find street parking in Brooklyn! Localize cites a perfect storm of an increasinly dense commercial hub and a rapidly burgeoning residential population. And while the area is served very well by public transportation, income levels also support car ownership. 
Throw in a major traffic generator like the nearby Barclays Center, and the surrounding neighborhoods also take a heavy hit from the spillover. Among them: Boerum Hill, Prospect Heights, Brooklyn Heights, Cobble Hill, Carroll Gardens, and Fort Greene. 
Heading east, Greenpoint and East Williamsburg also face parking woes, thanks to high commercial and residential populations. 
Shocked you don't see your congested neighborhood on this list? Take comfort in knowing that not only could it be worse, for some,  it is worse. 
Brick Underground articles occasionally include the expertise of, or information about, advertising partners when relevant to the story. We will never promote an advertiser's product without making the relationship clear to our readers.