When New Yorkers aren't obsessing about real estate, they're usually preoccupied with the trains. And if you're a Manhattanite who happens to own a car (but not a place to put it), then add parking to that list of obsessions.
As part of our ongoing series looking at the best and worst neighborhoods in New York City to find street parking (you can read the first installment dedicated to Brooklyn here) we now turn our attention to the borough that's perhaps the thorniest when it comes to this topic: Manhattan. 
As with our Brooklyn street parking deep dive, we consulted with Localize.city—a new AI-powered website that helps renters and buyers predict what life will be like at any address in New York City by examining current and future construction, livability, community and safety. The Localize data-science and urban planning teams considered the same weighted factors to identify neighborhoods' scores: street parking regulations, which vary from district to district (alternate side, no parking or standing rules, meters); parking ticket rates (the number of parking tickets per capita in the last six months); parking complaints (calls to 311 regarding blocked driveways, double-parked cars, blocked hydrants), and car ownership based on 2016 census data. 
It's important to remember that all of these lists are relative; the top spot to find on-street parking (Roosevelt Island) is the easiest compared to the snarl of Midtown, but could very well be challenging compared to a less-congested place in another borough, and certainly, traditional suburbia. Of course, if you're thinking of making a move to a new Manhattan neighborhood and finding a place to park regularly is important to you, consult our list, and then hop in your car and check it out for yourself.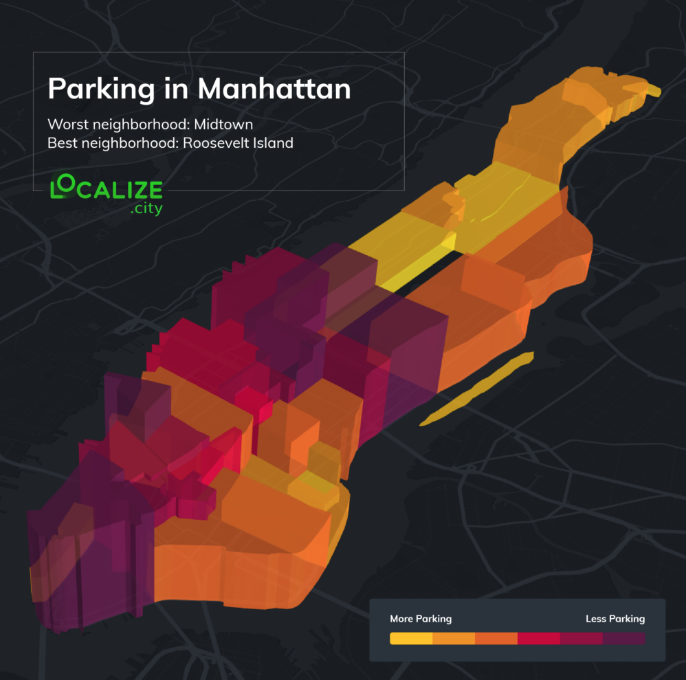 The good: Manhattan neighborhoods with the best on-street parking
1. Roosevelt Island
2. Central Harlem
3. Marble Hill
4. West Harlem 
5. Stuyvesant Town
6. Upper West Side 
7. Morningside Heights
8. Inwood
9. Washington Heights
10. Battery Park City
The data, as they say, is clear: if you want an easier time finding street parking, go north. Seventy percent of the neighborhoods on the "best" list are above West 59th Street, with northwestern areas such as Washington Heights, Inwood, West Harlem, and Marble Hill making the strongest showing. 
"As in all of the boroughs, areas in Manhattan that had less prominent commercial activities had fewer parking issues," says Localize.city data scientist Michal Eisenberg. "That's why Upper Manhattan neighborhoods ranked high on the list." She notes that while residents of Central Harlem still get a fair amount of tickets, a mix of good transit options and low car ownership rates make this spot easier than most to find street parking. 
Communities such as Stuyvesant Town, Battery Park City, and Roosevelt Island, are also on the list, thanks to factors such as relative isolation, and easy access to transit, with many residents also walking to work. Roosevelt Island claims the top spot thanks to conditions that discourage car ownership (just one narrow bridge connects it to Queens), and a garage that serves the island, freeing up space on the streets.
The bad: Manhattan neighborhoods with the worst on-street parking
1. Midtown
2. Midtown South
3. Financial District
4. Chinatown
5. East Midtown
6. Soho
7. Hell's Kitchen
8. Murray Hill
9. Tribeca
10. Flatiron
Arguably the worst of the worst in all of New York City, Midtown Manhattan lives up to its reputation as a parking nightmare by not only taking the top spot, but also claiming #2 with Midtown South, and #5, with Midtown East. All that commercial activity, plus major transit hubs like Grand Central, Port Authority and Penn Station, which don't allow permit parking on their perimeters, and bus stops, which eat up even more spaces, mean there few places to park on the street, and so the area receives the dubious distinction of receiving high scores for both parking tickets and complaints. 
It's a similar story downtown, with congested neighborhoods like Soho, Tribeca, and Chinatown, that last of which Localize.city urban planner Alon Goldstein files under "almost impossible" when it comes to finding available street parking. If there's a surprise here it's the Financial District's ranking—one of the areas of the city more recently "colonized" by New Yorkers looking for housing—at an "impressive" number three. 
"The Financial District is getting worse for residential parking as more residents have moved in. It's one of the fastest growing communities in the city, with widespread conversion of office space," Goldstein notes.
Brick Underground articles occasionally include the expertise of, or information about, advertising partners when relevant to the story. We will never promote an advertiser's product without making the relationship clear to our readers.