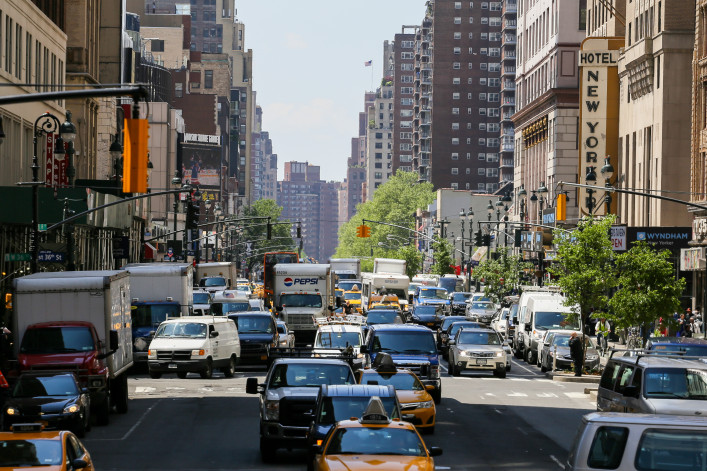 Keeping a car in New York City is not a simple decision. On the one hand, it can represent freedom—for example, the ability to shop without delivery hassles or get out of town on a whim and without consulting a train schedule. 
But on the other hand—there is so much more aggravation involved in owning a car here than in other places. Nothing about owning a car is easy here. Think about it: Can you squeeze finding parking, fighting traffic, and moving your car for alternative street parking into your schedule? (One Manhattanite's rules for keeping a car in NYC include avoiding the super cheap garages that are so far away you'll be paying for cabs just to get to your car.) 
If you're new to New York City, you may be used to owning a car like these newcomers, and it may be hard to give it up.
So to own or not to own? To help you weigh that decision, here's a look at the main issues you'll face as a car owner in NYC.
---
[Editor's Note: A previous version of this post was published in March 2017. We are presenting it again with updated information for August 2021.]
---
Parking, parking, and more parking 
Street parking: Unless you live in Staten Island or alongside a cemetery (no slight meant to SI), finding quick and easy street parking will become something of an obsession. It's even more tricky since outdoor dining took away thousands of spots. Brick took a look at the best neighborhoods in Manhattan, Brooklyn, Queens, and the Bronx for on street parking so you can get a sense of much time you'll spend circling the block when you get home. Essentially the denser the neighborhood (with apartment buildings vs. houses) the fewer the spots for on-street parking.
Garages: The biggest hurdle to owning a car in New York City versus other areas is the prohibitively high cost of garage parking. If you're looking to buy an apartment that comes with its own spot, the average price for a single parking space in recent years has been about $280,000, according to the New York Times. One buyer says he bought a $1.175 million apartment and paid cash for the $125,000 parking spot. Renting a spot in buildings with garages can run from $150 to $500 depending on the neighborhood. However at new developments in the outer boroughs, you can find buildings that waive parking fees as a concession to lure renters.
The average cost of monthly parking in a commercial garage in Manhattan is $570, and in Brooklyn is $280, according to a quick survey of parking rates. (Manhattan residents who rent parking spaces in Manhattan are charged a tax of 18.375 percent, which includes an NYC surcharge tax of 8 percent. Some may be exempt from paying this surcharge.)
Anyway you slice it, you'll be paying as much as most people in other cities pay in rent for the privilege of keeping your car indoors. But if you're able to time your parking seasonally, most garages will sign you on at a lower monthly rate in the spring and summer, when fewer people are parking in the city, then raise rates during the colder months when business is busier.
Alternate side: If you opt to skip the garage, know that what you save in cash you'll pay for in time and hassles, thanks to the city's notoriously tricky alternate-side parking system. (You can sign up for daily updates via email, Twitter, or on the NYC311 app.) Your life will involve getting up early to move your car on street cleaning days (or circling for a spot the night before), digging it out when there's been a snowstorm, and anecdotally, a very high likelihood of incurring expensive parking tickets.
Be advised: Some neighborhoods, especially in Manhattan, have more street-cleaning days than the other boroughs. For instance, one Quora user wrote that friends tend to budget $1,000 per year for towing and ticketing costs. Parking in winter will be a hassle, too, as you'll have to figure in extra time to dig out your car. The good news is that alternate-side parking is suspended, sometimes for an entire week—maybe longer—when the city is buried by a blizzard, but that also means more snow to clear out, especially when plows clear the roads and—you guessed it—bury your car with freshly shoveled snow. 
Outsourcing via app: As difficult as the parking situation can be, the one upside is that a number of apps and services have increased in recent years to make the process easier. Brick recently rounded up six apps and services to help you find discounted parking, including Neighbor, SpotHero, DropCar, ParkMe, Pango, and Park NYC.
Insurance
Bankrate pegs New York as the third-most expensive state in the U.S. for car insurance rates. It reports that drivers in New York pay an average of $1,062 annually for minimum coverage car insurance and $2,321 annually for full coverage. You can compare insurance rates and get tips on reducing your rate. One piece of advice—improve your credit score, and you may see a reduction in your premium!
Be prepared to live in a gas desert
There are few gas stations left below 96th Street in Manhattan, so be prepared to go out of your way when it comes time to hit the pump. Or go hybrid or electric, and spare the planet a little. Parking garages and new developments increasingly come with charging stations these days.
—Earlier versions of this article contained reporting and writing by Virginia K. Smith.
Brick Underground articles occasionally include the expertise of, or information about, advertising partners when relevant to the story. We will never promote an advertiser's product without making the relationship clear to our readers.