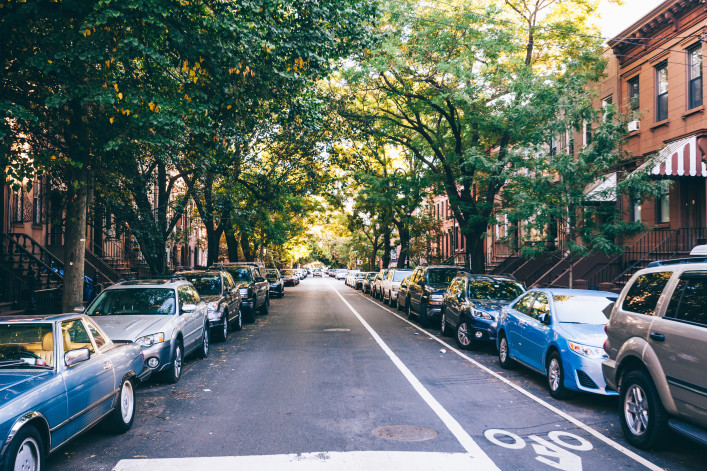 Finding street parking in New York City can be like an Olympic sport, and it's gotten more difficult these days for several reasons: Many New Yorkers bought cars during the pandemic, lots of New Yorkers are working from home (and are not moving their cars), plus outdoor dining has taken away thousands of parking spots. And even if you do find a spot, you're only good until you have to move your car for street cleaning.
One solution is to use a parking garage, but those can be expensive, especially in NYC. Fortunately, there are apps like Neighbor and SpotHero and websites that help you find parking spots in garages and other places—even in your neighbor's driveways—at discounted rates.
Another solution: If you're looking for a new apartment, focus your search on buildings with parking. Just keep in mind that you might have to pay an extra fee for the parking spot and some buildings have wait lists. 
Keep reading for Brick's suggestions on apps and websites to find parking in NYC so having a car is a bit less of a headache.
The lowdown: Neighbor helps you find parking spaces that are being rented out by, well your neighbors! This means that if there's a house or apartment building nearby where the owners don't use their driveway or garage, you can rent it from them. It has a renter guarantee that covers up to $25,000 of damage to your car while it's parked in your rented spot. The site also lets you know how big the space is, if it's covered (no bird poop on your ride), how often you can access the vehicle, and if there's security. Both long- and short-term options are available.
Locations: You can find parking spots across New York City, but when searching for spots, there seems to be more availability in areas where there are more single- or multi-family buildings.
Pricing: Neighbor claims to be up to 50 percent cheaper than other parking options. Brick found spots starting as low as $100 a month. Some offer 50 percent off your first month. Be sure to watch out for the service fees. 
The lowdown: SpotHero describes itself as a parking reservation service with hourly and monthly options. It partners with garages to offer you discounted rates. You can search for spots by location, dates, and with filters like valet, garages, on-site staff, and wheelchair accessibility. It also offer parking passes at airports and stadiums
Locations: There are parking spots across all five boroughs, but a quick search shows that the most options are currently available in Manhattan.
Pricing: Pricing varies on your reservation and there is also a service fee and sometimes an oversize fee if you have a larger vehicle. Brick found monthly parking in Queens for as low as $199 and in Manhattan for as low as $400.
The lowdown: DropCar partners with popular garages in New York City to offer you the best rates through a monthly membership. You get a dedicated parking space with unlimited access plus access to their valet services. It has a pricing protection program so you don't pay more if the garage's rates increase. 
Locations: DropCar partners with garages in all boroughs except Staten Island with most of the garages are in Manhattan and Brooklyn. 
Pricing: Monthly memberships vary by garage and Brick found monthly parking in Midtown for $419 plus tax and in Long Island City for $289 plus tax. There is an additional $84 charge if you drive a Tesla, "exotic car," or oversized vehicle. 
The lowdown: ParkMe is powered by Inrix, which aggregates parking information and pricing from several sources. It helps you find the cheapest and closest parking spot near your destination with daily and monthly options. And it also tells you how full a garage is and other factors like if there is security, lighting, or bike parking. And you can reserve spots at certain garages by paying in advance on the app with your credit card. 
Locations: There are over 240,000 locations across 16,000 cities including all of New York City's boroughs. 
Pricing: There are hourly rates starting as low as $5 in Manhattan, depending on the length of your reservation. 
The lowdown: Pango helps you find and pay for street and garage parking. It notifies you when your parking is about to expire so you can extend your stay and avoid getting a ticket. And if you do end up with a parking violation ticket, you can pay it via their app. It also can help you find parking at shopping centers, hospitals, and stadiums.  
Locations: It is available in more than 100 cities including New York City.
Pricing: The app is free to use and parking varies by location. You might have to pay a convenience fee. Pango Save is $3 a month if you want notifications when your parking time is up.
The lowdown: Park NYC was launched by the Department of Transportation in 2016. It doesn't help you find parking spots, but it makes paying for metered parking a lot easier. You can pay for your parking spot via the free app, which alerts you if you're running out of time, and you can extend your time remotely.
Locations: The app is now available at all metered parking spots in New York City.
Pricing: The app is free to use and the cost for parking is the same as if you were paying at the meter. You can preload money into your ParkNYC Wallet and set up auto-fill to make payment easier.
Brick Underground articles occasionally include the expertise of, or information about, advertising partners when relevant to the story. We will never promote an advertiser's product without making the relationship clear to our readers.