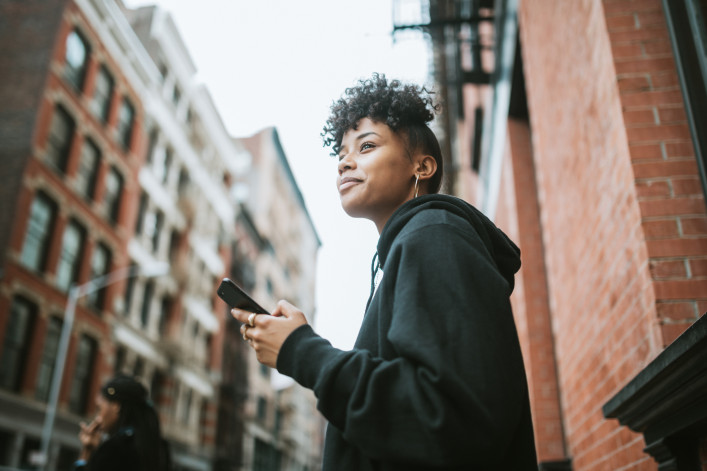 These days there are apps for just about everything: Food delivery, connecting with your neighbors, and now, Covid-19 vaccine passports. When you live in New York City, especially now, it's good to know which apps can make your life a bit easier.
If you need to know if an event you're attending has specific restrictions or want your grocery or takeout orders delivered contactless—there's an app for that. Most of these apps change with the times (have you updated your phone recently?) and it's especially important to regularly update your apps so you have the latest features. Some of these apps also have premium subscriptions and memberships so you can get the most out of the apps you depend on.
---
[Editor's note: An earlier version of this post was published in October 2020. We are presenting it again with updated information for October 2021.]
---
Keep reading for our picks of apps that you need to download to make living in New York City run a little smoother. (Want more apps? Brick Underground has rounded up transit apps to help you navigate the city like a pro, and rental apps that help find your next place in NYC.) 
Stop the spread of Covid 
Covid-19 has changed almost all facets of life, like having to show proof of vaccination if you want to attend just about anything in the city: Large events, indoor dining, Broadway shows, and even museums. There are two official apps that you can download to get into these events: New York's Excelsior Pass and NYC COVID SAFE, which is part of the city's Key to NYC, the city's initiative to get people vaccinated and requirement to attend indoor events. You can upload a photo or your vaccination card and/or negative test results to both apps.
There's also Covid Alert NY, which shares current infection rates across the state and has a feature that will alert you if you've spent more than 10 minutes within six feet of someone who tests positive for Covid-19 if they also have the app, you both had Bluetooth enabled, and they allow their results to be shared.
Get back out into the city 
Broadway and other events are slowly returning to the city—but be prepared to show proof of vaccination, wear a face mask, and social distance when you attend them. Most events and shows are also operating under limited capacity so you might have a harder time scoring tickets.
If you're looking to attend a free event in NYC, 1iota gets you tickets to talk show tapings, live recordings, and other free events. The app also lets you know if the production has specific Covid requirements. And if you're ready to finally see a show on Broadway again, tkts is a good app to get discounted tickets. Right now, there are only a handful of shows with discounts on the app, and most require you to visit their Times Square kiosk to purchase tickets. 
Connect with your neighbors—and neighborhood
If you're spending more time in your neighborhood these days,  it's good to know what's happening around your block and connect with neighbors who can help you or you can help during these uncertain times. NextDoor is a social media platform for your block—you can only read and post about topics happening around the neighborhood you designate. If you use Reddit's app, you can also find New York City and neighborhood threads about what's going on around your neighborhood (Pro tip: It's good for local restaurant recommendations and the scoop on neighborhood drama). 
Know what's going on around NYC 
There's a lot going on in the world these days so having an app that curates all of the breaking news helps keep you up to speed. For local news, check out Patch (you get hyper-local news specific to your neighborhood), Apple News (you can choose what topics you want to get news alerts for and there's Apple+, a paid subscription that gives you access to tons of publications), Flipboard, and of course New York Daily News, New York Post, and The New York Times. 
Be aware of nearby crime 
The city is certainly not as dangerous as it was decades ago, when Times Square was seedy and not so family-friendly, but crime has gone up in certain parts of the city. To help, there are apps that can help you monitor your home and neighborhood. There's Neighbors by Ring, which uses activity recorded by residents' Amazon's Ring Video Doorbell Pro and uploads it to the app for neighbors to see, and the crowdsourced app Citizen, which alerts you of any nearby crime. 
Fair warning: Once you download these apps, you will get what seems like a disturbing amount of notifications about crimes taking place nearby. You may want to turn off notifications and check the app when you have concerns.
Get your food, booze, and groceries delivered
New York City is a foodie's dream, so it's essential to check out all of your options when you're ordering in, especially locally-owned restaurants that could use your support. There's a ton of food delivery apps out there, including the granddaddy Seamless and also Postmates, where you can have more than just food delivered, plus Caviar and Uber Eats. For booze, your local wine and liquor store might have their own app, but you can also download Minibar and Drizly to get alcohol delivered to your front door. 
Going grocery shopping isn't nearly as fraught as it was at the height of the pandemic, but if you don't have time to deal with lines, or you're high risk and prefer to stay inside, apps like Instacart and Fresh Direct will bring your groceries to your front door.
When ride-sharing is your best bet 
There are a lot of transportation options in NYC and the subways are being cleaned more, but if you want to avoid a crowded train during rush hour, or you're traveling between hard-to-reach places, ride-sharing is your best bet. 
Uber and Lyft are two of the most popular ride-sharing apps in NYC, and they all have Covid guidelines for you and your driver (your Uber driver might be separated by a sheet of plastic and you also have to wear a face mask). Just keep in mind that costs and wait times for rideshares have gone up. Tip: If you're patient, Lyft has a feature that gives you a cheaper rate if you're willing to wait a bit longer, and sometimes the car shows up sooner than expected anyway. 
—Earlier versions of this article contained reporting and writing by Virginia K. Smith
Brick Underground articles occasionally include the expertise of, or information about, advertising partners when relevant to the story. We will never promote an advertiser's product without making the relationship clear to our readers.