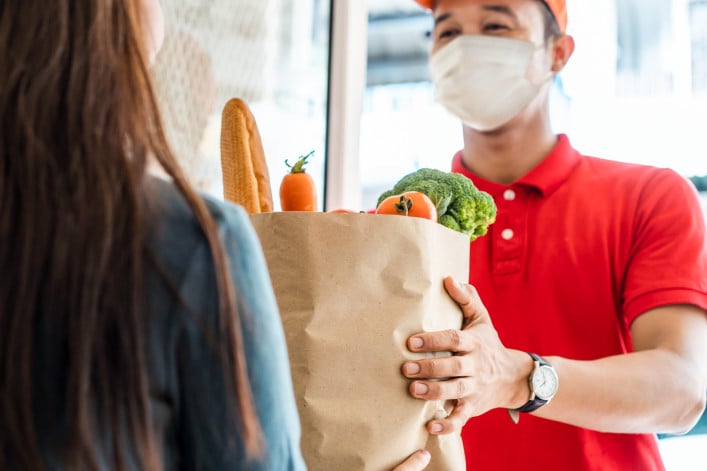 Using a grocery delivery service in New York City can save you a lot of time, but if you tried one during the pandemic you may have run into trouble with scheduling or shortages. You might want to give them another chance—or try a different service, because there are several in NYC to choose from.
You can get hand-picked items from your favorite grocery stores like Whole Foods, Fairway, Wegmans, and even your local butcher. Most of the time, your delivery person is also your shopper who will text you if your preferred brand of paper towels or seltzer flavor is sold out and suggest a replacement. Delivery is contactless to keep you and them safe. Be sure to tip these essential workers well.
---
Editor's note: An earlier version of this post was published in April 2020 and has been updated with new information for March 2021. 
---
Since the city is not in full lockdown, demand for grocery delivery isn't as high as it was a few months ago, so you're more likely now to find same day or next day delivery slots. But, keep in mind that some services ship products to you from a warehouse, so you might have to wait a little longer.
Need help deciding which one is best for you? Here is a comparison of eight of the top grocery delivery services in New York City. 
The lowdown: Instacart was founded in 2012 and delivers from national chains like Aldi, BJs, Costco, ShopRite, and Target. Plus, NYC staples like Fairway, Keyfood, The Food Emporium, and Wegmans. You can also choose back-up options in case your first choice is sold out.
Fees: Instacart's delivery fees start at $4 for same-day deliveries over $35, and vary for one-hour deliveries and small deliveries—plus a service fee. Delivery fees are higher during busier times, and there is a $10 delivery minimum. With Instacart Express, a membership of $99 a year or $10 a month, all orders over $35 are delivered for free and with a reduced service fee.
Location: Instacart is available city-wide, but stores vary by neighborhood.
The bottom line: If you want the basics from your go-to grocery store, but don't want to wait in line. (Or you want Costco's croissants but don't have a membership.)
The lowdown: Fresh Direct was founded in 1999 and delivers both groceries and household items. They custom-pack your groceries through a short supply chain to maintain freshness, quality, and reduce waste. And, there's new weekly deals and a slew of prepared foods and meals to choose from. Right now, they're doing contactless delivery so they leave your bags at your door or in the lobby. The company has temporarily suspended collecting empty bags, so you order often, you will end up with a lot of bags.
Fees: Delivery fees are $6 with a $30 minimum. With DeliveryPass, $79 for six months after a free 60-day trial, you get unlimited free delivery and time slot reservations. There's also a fuel surcharge. 
Location: Fresh Direct ships to all of NYC.
The bottom line: If you want fresh produce including local and in peak season.
The lowdown: Mercato was founded in 2015 and delivers from independently-owned butchers, grocery stores, and specialty shops (a great way to support local businesses during the pandemic). Every retailer is picked based on quality and has their own page that includes Yelp reviews and information about the business.
Fees: Mercato's delivery fees range from $5 to $25, depending on how far you live from the store. With the Mercato Green membership, the Neighborhood Plan (stores within three miles), costs $8 a month, and the City Plan (stores within 10 miles) costs $19 a month, you can get unlimited free delivery (plus they plant a tree for every Green order placed). You can try a 30-day trial for free.
Location: Mercato is available city-wide, but stores vary by neighborhood.
The bottom line: If you want to support your local deli or specialty shop.
The lowdown: Amazon Fresh was founded in 2007 and offers delivery to Amazon Prime members from local stores. Members can also get two-hour delivery from Whole Foods. 
Fees: Amazon Fresh is free for Amazon Prime members ($13 a month or $119 a year) and you only have to pay a delivery fee if the order is under $35. 
Location: AmazonFresh availability varies by zip code but is available throughout NYC.
The bottom line: If you want to put your Amazon Prime membership to work for you in the grocery store. 
The lowdown: Boxed was founded in 2013 and delivers bulk-sized groceries and household items. Their "Express Grocery" program hand-delivers groceries in bulk from chains like Costco at your selected delivery time and delivers non-perishables in one to three days. All express orders are delivered in reusable grocery bags for you to keep or recycle through their program for a $1 credit. 
Fees: Boxed offers free delivery for orders over $49. For orders less than that, shipping is $7. Boxed Up, $39 for your first year then $49 after, gets you free delivery on all orders and 2 percent cash back.
Location: Boxed is available city-wide, but their Express Grocery service varies by zip code.
The bottom line: If you have a large family (or a lot of roommates) and need to buy in bulk.
The lowdown: Shipt was founded in 2014 with delivery from retailers like Costco, CVS, Target, Petco (pets need to eat too), and various grocery stores. Their shoppers are trained to pick the highest quality produce and products and you can text them along the way if you forgot an item or something is out of stock. 
Fees: Shipt Everyday is an annual membership for $99 a year or $14 a month. Delivery is free on orders over $35 and there's a $7 delivery fee for small orders. You can also pay a one-time fee of $10 if you don't want a membership. There are also Shipt Passes that you can buy for discounted delivery fees.
Location: Shipt is available throughout NYC, but retailers vary by zip code.
The bottom line: If you need someone to pick up your Target essentials or your cat's treats from Petco.
The lowdown: Max Delivery was founded in 2004 and delivers groceries, household items, alcohol, and specialty items. There's a "Best of New York" category with items from NYC spots like Murray's Cheese Shop, Dylan's Candy Bar, and Balthazar Bakery.
Fees: All orders over $125 deliver free and small orders have a fee of $6. There's also a small service fee at checkout. To avoid delivery and service fees, you can sign up for Max Premium, which costs $99 a year after a free two-week trial. 
Location: Delivery is only available in Manhattan below 114th Street, and you can check availability for your zip code here.
The bottom line: If you really want that Brie from Murray's without going into Manhattan.
The lowdown: Farm to People was founded in 2013 as a subscription service delivering fresh, seasonal produce directly from farms plus artisanal products from small and local brands. Their produce is not genetically modified, their meat, dairy, and egg products are all cage-fee and are mostly organic and GMO-free. You pick one of their farm box bases and then customize, essentially like a farmer's market delivered to your door. They also offer á la carte shopping.
Fees: Delivery is free for all orders over $50, $5 for orders between $25 and $50, and $10 for orders under $20. There's also subscription options available.
Location: Delivery is available in Manhattan and select zip codes in Brooklyn, Queens and the Bronx.
The bottom line: If your local farmer's market is closed and the bodega's produce just isn't cutting it.
---
Earlier versions of this article contained reporting and writing by Nikki Mascali.
Brick Underground articles occasionally include the expertise of, or information about, advertising partners when relevant to the story. We will never promote an advertiser's product without making the relationship clear to our readers.