Commuting from your apartment in Flushing to your college roommate's engagement party in Bay Ridge? Stuck working late at your office in Fidi on a Friday night with a long commute back to your Harlem apartment? Tempting fate (and weekend track repairs) with a Saturday trip to IKEA Red Hook? 
No matter where you have to go, whether it's a routine commute or a multi-borough trek on a weekend, New Yorkers know that subway delays (like those caused by the dreaded sick passenger) and reroutings are a fact of life here. 
Just like food delivery and dating apps, there are many transit apps that will help you navigate a new route when the subway system throws you a curve (you can log on to free public wifi in NYC subway stations). Some like Underway, simply give you train times while others, like Citymapper, provide step-by-step navigation. Several apps crowdsource data and Pigeon crowdsources your feedback on incidents—so you can vent about delays, if you like, to your fellow commuters.
With so many out there to choose from, Brick Underground tested out the best so you don't have to, using them to take routes both familiar and different to work, home, and off-the-beaten track over a three-week period.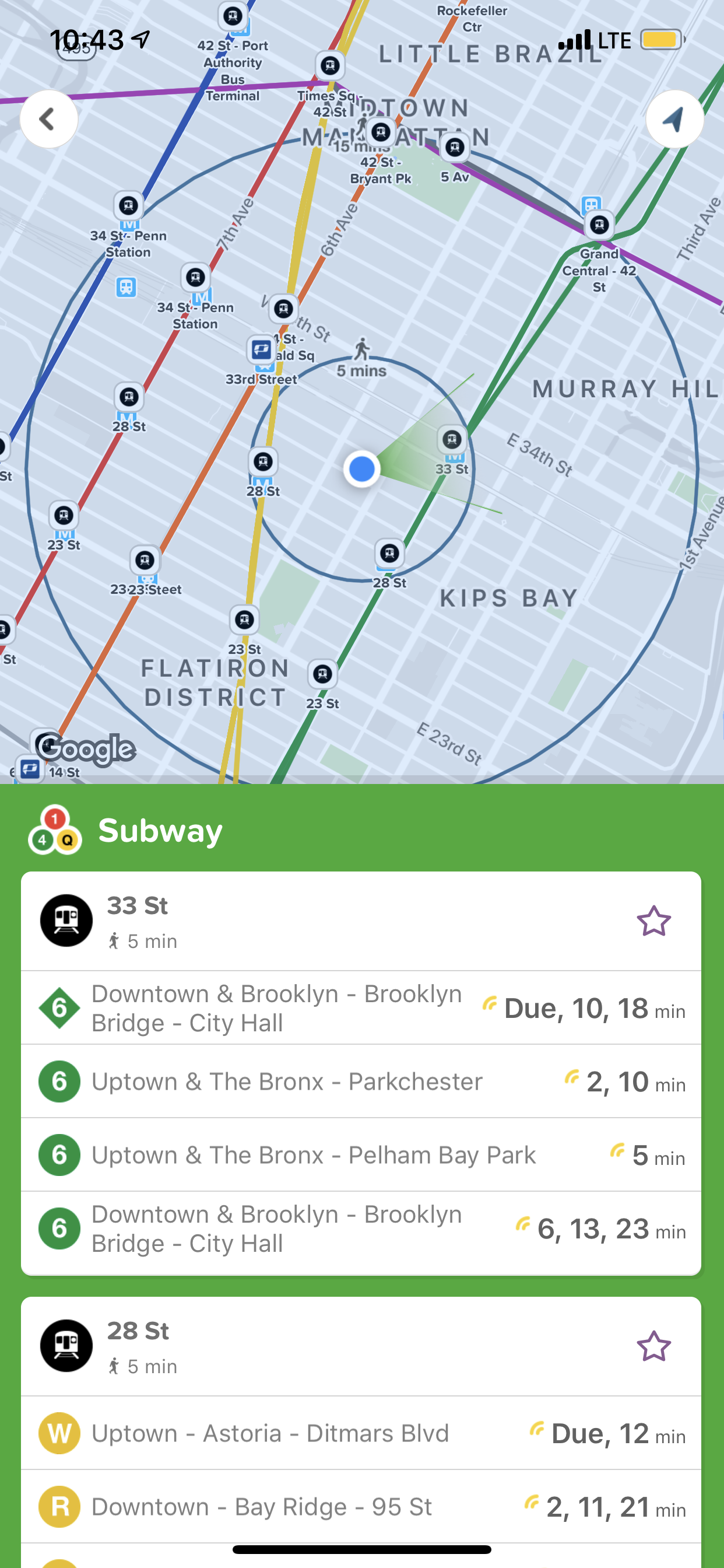 Where it's offered: iPhone and Android
Most recent app updates/features: A nicer looking home screen, better data on crowdedness in select cities, improved information on disruptions and nearby transportation, including walking.
My experience: I used Citymapper on Labor Day weekend to commute from my Rego Park, Queens apartment to the Brooklyn Museum. I didn't have transportation issues getting there, but the app couldn't tell me about the West Indian American Day Parade just outside of the station, which meant I had to bypass the parade to get to the museum. 
Should you use it? If you're more concerned with the accuracy of a train's route and arrival time, appreciate step-by-step navigation, and don't need crowdsourcing intel.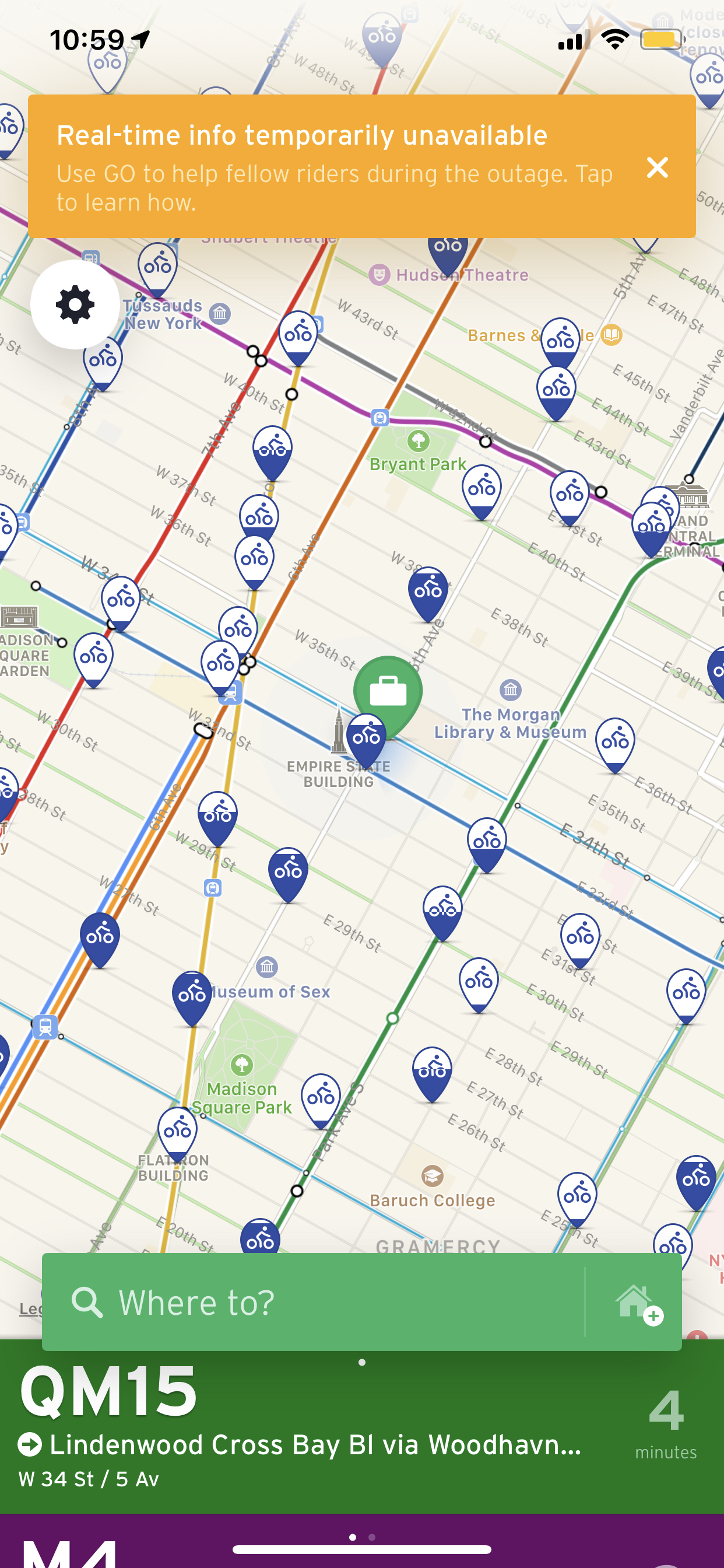 Where it's offered: iPhone and Android 
Most recent app updates/features: Although the app has many updated features, you will likely be most interested in its navigation and crowdsourcing features called GO and Transit+.
You customize your own route on GO through one or multiple transit connections and GO's crowdsourcing feature uses the data from your trip to share the location of your train or bus with other users. Transit+ shows you commute options that combine public transportation with other modes such as bikes or car sharing services like Uber. 
My experience: On my early morning commute to work in Midtown Manhattan, I decided to hop on the M rather than my go-to R and let the app lead the way. As soon as I launched the app, a pop-up asked me to start setting my favorites such as my job and home location. Typically, I almost always dismiss these features, but the app made it easy to input them while I was entering my destination. Along the way, I received multiple (and annoying) "weak GPS signal" messages—even when I had full service—and some of the notifications arrived too soon, like the reminder telling me not to miss my stop at 34th St Herald Square that came a solid four minutes, and two stops, before I arrived. 
Should you use it? If an app's aesthetics matter to you, and you like the ability to combine biking and carpooling to with mass transit.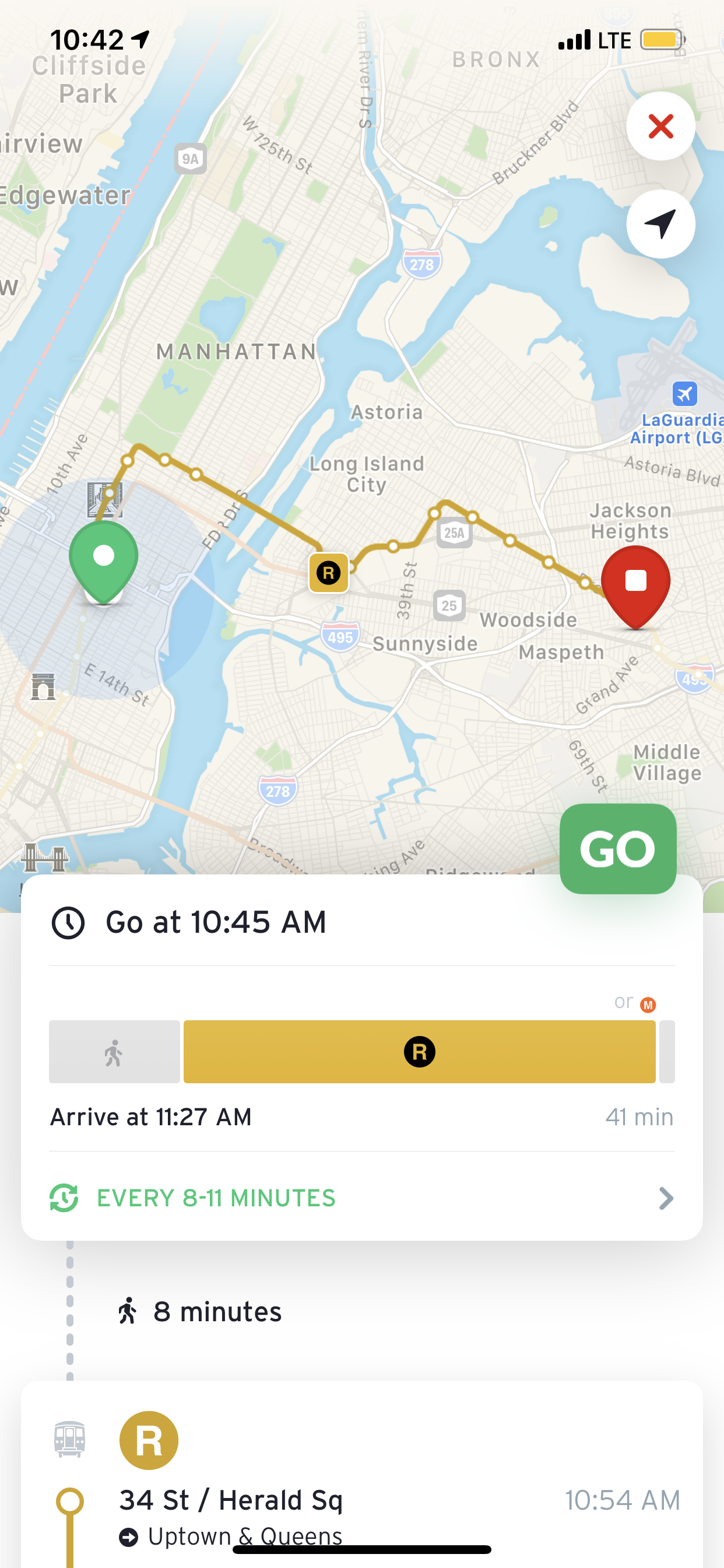 Where it's offered: iPhone and Android
Most recent app updates/features: The app's newest feature displays instant directions to user's favorite locations as soon as the app is launched, including which line to take, the departure station, the line's arrival time and the estimated time of arrival.
My experience: I launched the app as I was entering the station in my neighborhood to go to work during rush hour. To my surprise, Moovit did not advise me to get on the R train that was arriving as I reached the bottom of the stairs, but to wait three minutes for an M train. Assuming the app had not registered that I was already in the station, I refreshed the app, but it still did not register the R. The app did not show the R in the routes for navigation. When I tapped "view schedules" I could see the R train but it would not let me navigate from that page. 
According to the team at Moovit, users do not have the ability to get navigation from the "view schedules" section like I was attempting to do. Also, "if a line doesn't fit into our trip plan configuration, it won't show that line, even if a user prefers to take that line over another," says to Sharon Kaslassi, public relations manager.
Should you use it? If you like a company that listens to user feedback (the app's latest feature was developed after many requests from Moovit's users). And, if you don't mind waiting in a station for another train that matches your preferred filter (like walking less or arriving faster) as opposed to navigating by a preferred train line.
Where it's offered: iPhone
Most recent app updates/features: Subway lines used to be divided into either "Uptown" or "Downtown"—even in the outer boroughs, which was confusing. That's been changed to a  "Brooklyn/Queens/Manhattan-bound" format. Two other new features are "train connections," which tells you when to expect arrivals when transferring at a station and "train sharing," which allows you to share a trackable link to the train you're riding.The most recent update includes a widget so you can access arrival times for your destinations without launching the app. But the new features come with a price: They are included in the pro version, which cost $5.99 monthly, the priciest of the apps included in our guide. 
The app doesn't tell you what route to take. "We don't tell you to do anything, we give you the data and let you navigate how you wish," says Daniel Ramteke, co-founder and developer at Underway. 
My experience: I tested out the favorites feature by adding the two stations I live between and adding the widget feature. As I left my building, I used the widget and realized I had more time to make it to 67th St. station and catch the R, rather than walking to 63rd and potentially missing the R before it. The app's arrival time was spot on and I was able to make it to work early. 
Should you use it? If you just want to know when the next train is arriving, but don't need step-by-step navigation.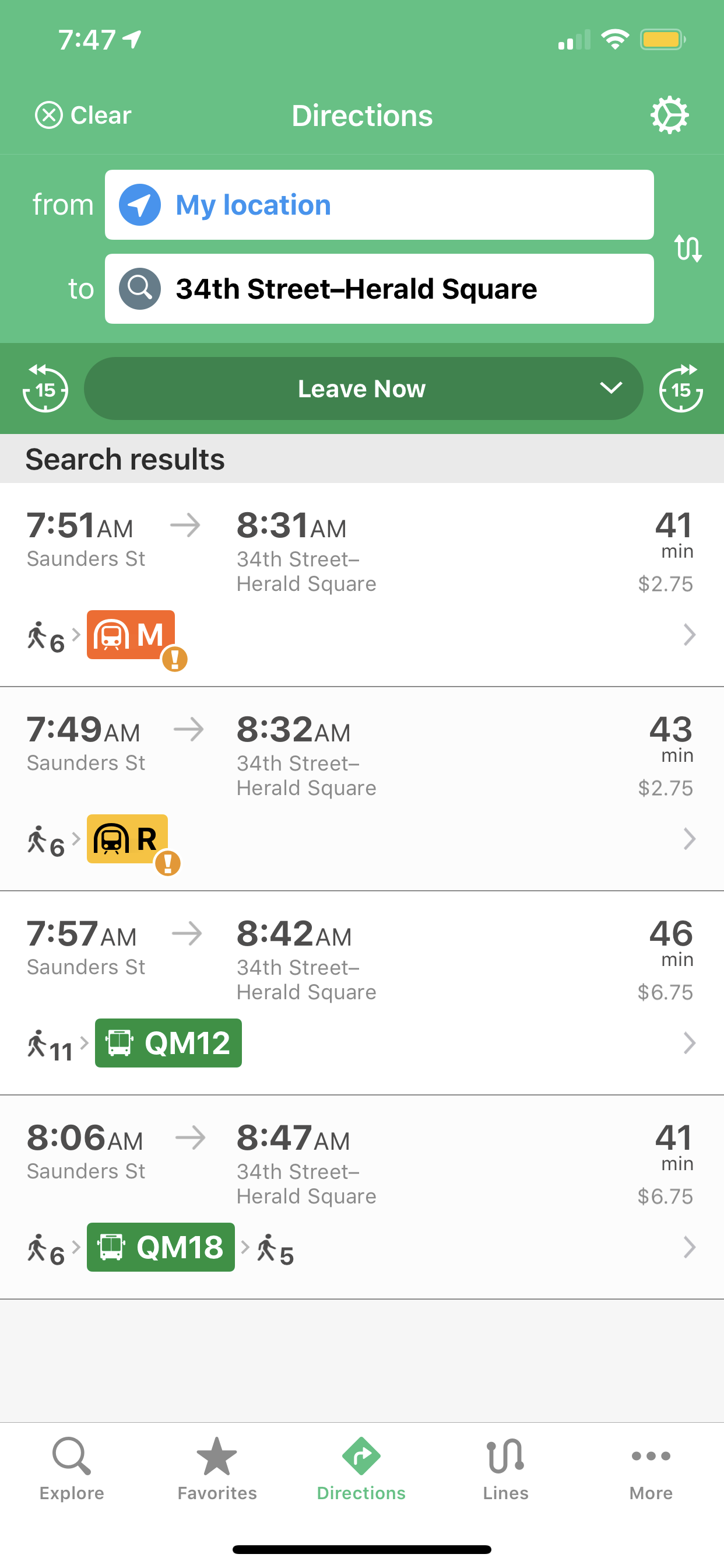 Where it's offered: iPhone and Android
Most recent app updates/features: You can see more subway and metro times for each stop, and train stations now show more detailed information like status updates and platform numbers. The app offers a premium subscription that removes ads for $4.99.
My experience: On Whiz's NYC-specific app, NYC Transit, I found value in the direct links to MTA sites, including their Lost & Found claims site. The app has banner ads at the bottom, which I found annoying. When using the app for my commute, it was a seamless experience. 
Should you use it? If you prefer to use one app for all of your transit needs, including navigating the Metro North, Long Island Railroad, and yes, even ferries.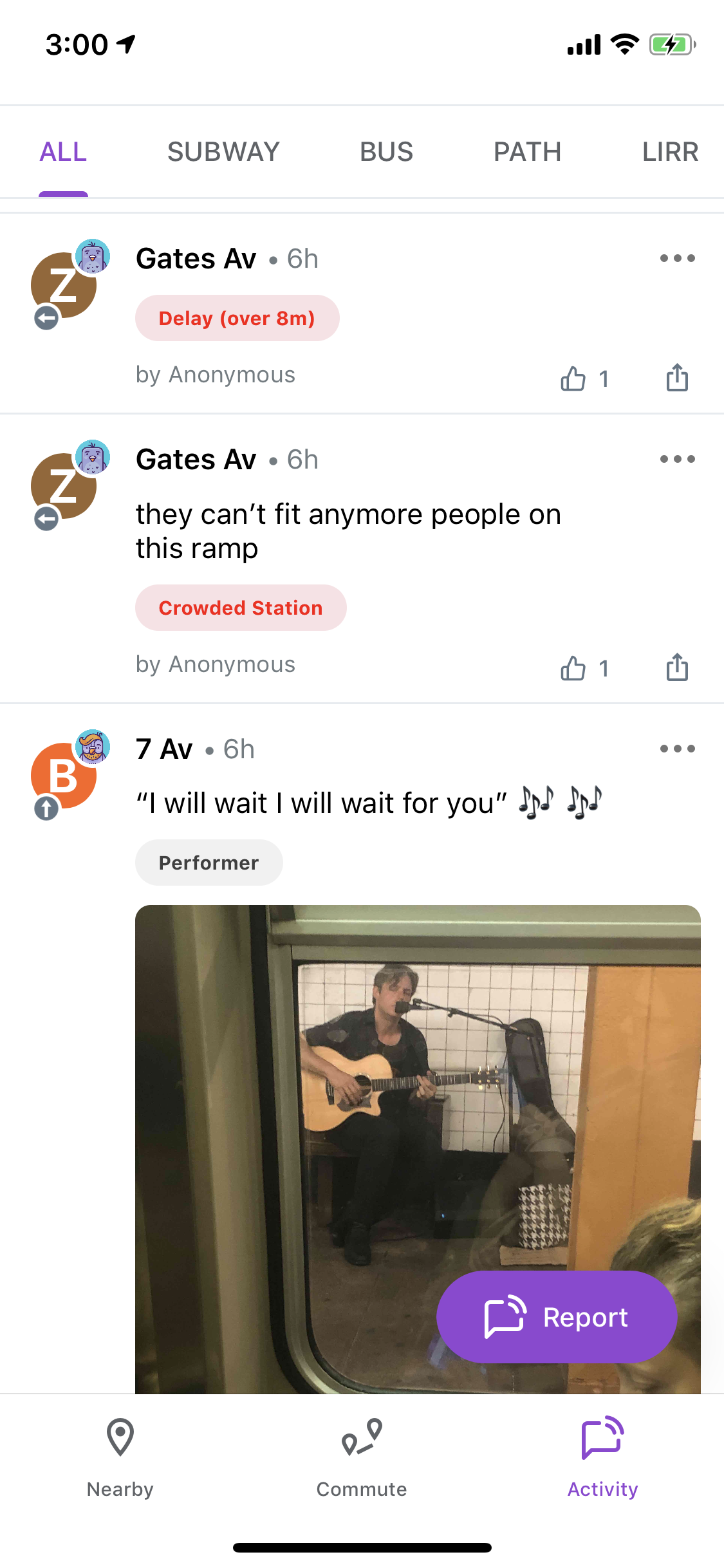 Where it's offered: iPhone
Most recent app updates/features: Pigeon says that all bus, rail and ferries are now available. You find directions, choose the best route, and report incidents—to assist your fellow commuters—for all modes of transportation in the same manner, says a Pigeon spokesperson.
My experience: I tested out the "commute" feature during rush hour on a Monday morning. This feature allows you to save your daily commute and set preferences such as your preferred trains/routes. Even though there were several delays and my R train moved at turtle-speed, I arrived at work about five minutes earlier than the app said I would—who doesn't like being a little less late to work on a Monday morning? Although I didn't get any juicy information from crowdsourcing, the ability to get updates from other riders is its most popular feature.
Should you use it? If you like having an outlet to let out your frustrations about your ride with the MTA while helping out fellow commuters.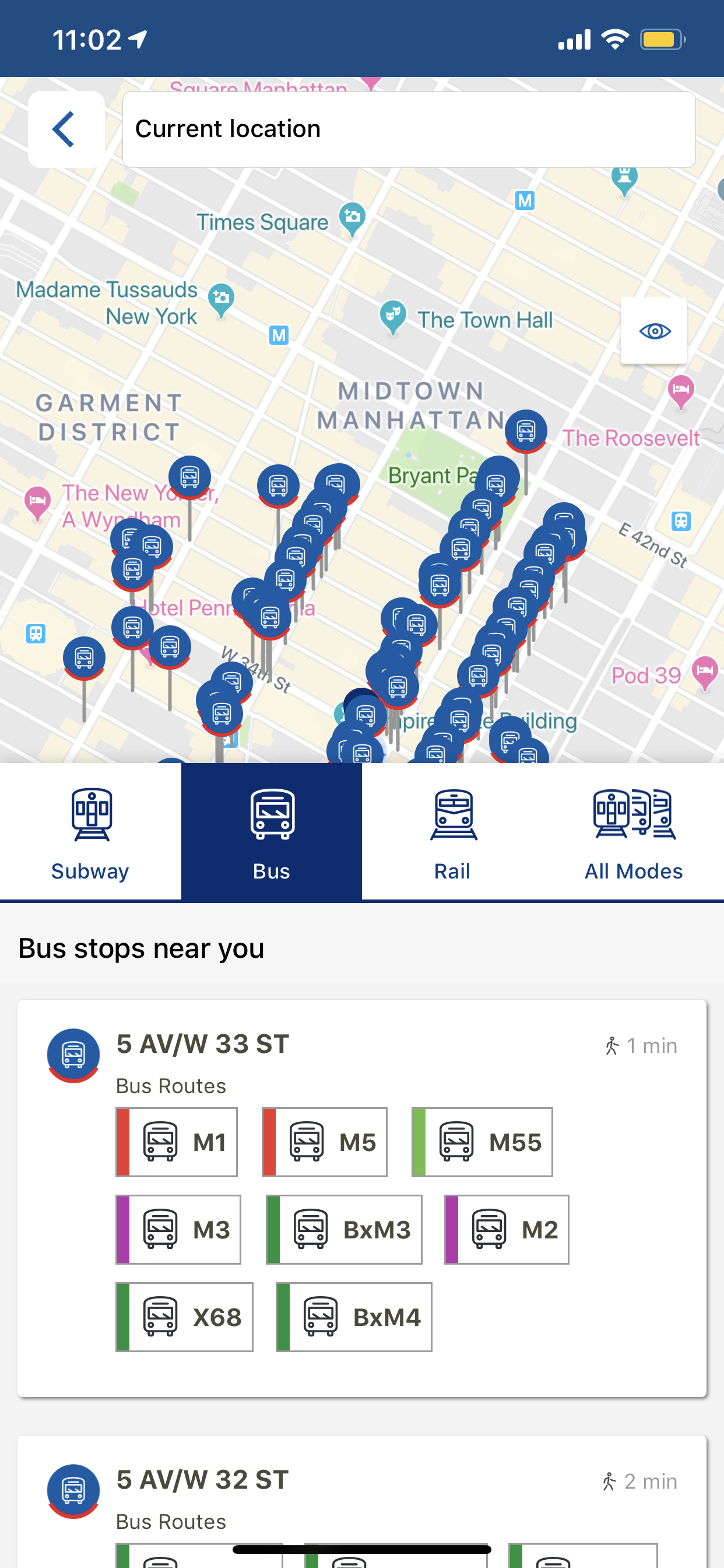 Where it's offered: iPhone and Android
Most recent app updates/features: The app went offline recently, according to NY1, perhaps in conjunction with a recent upgrade (a spokesperson didn't get back to us to confirm). There's a new look and sub-menus for accessibility, planned service changes, fares and tolls. New bus information has been added to Staten Island express buses.
My experience: I checked the app for arrival times as I was going to work and it said an M train was going to arrive at 8:19, but it actually arrived at 8:18, so if I had not been speed-walking, I would have missed it. Then there were delays, including a two-minute stop between two stations, but the app said that the M line had good service. 
Should you use it? If you like a nice-looking app that connects many aspects of NYC's transportation system. 
Honorable mention:
Exit Strategy, a popular transit apps that not only tells you which subway car to ride in, but which door to exit in order to get to the station's exit as quickly as possible, earns an honorable mention. Despite a price point of $3.99, the company's last update was over three years ago, which implemented the Hudson Yards station, so it lacks changes like the Q's Second Avenue Subway line, and any new or updated features.
Brick Underground articles occasionally include the expertise of, or information about, advertising partners when relevant to the story. We will never promote an advertiser's product without making the relationship clear to our readers.