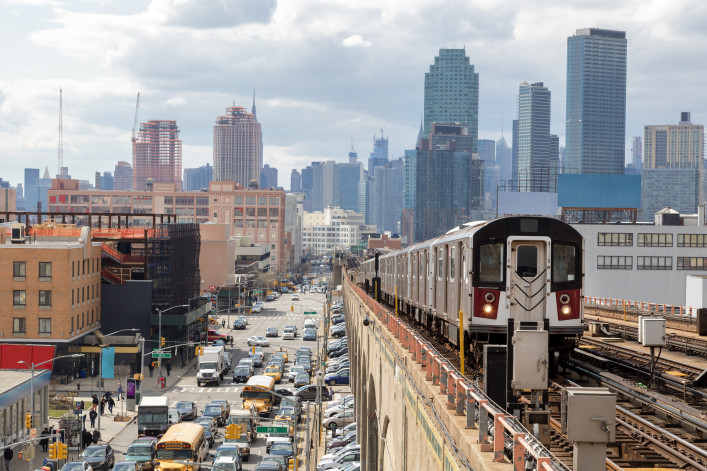 When New Yorkers consider moving to a different neighborhood, their checklist usually has affordability, proximity to transit, and, if they're parents, a good school zone among the top must-haves. But those factors are actually just the tip of the iceberg.
If you live in a NYC neighborhood long enough, you figure out what makes life a little bit easier for you. Maybe it's living near a vegan restaurant or a location where you can send your online deliveries back without a hassle. Maybe it's being near an express stop or a subway station with an elevator. You find that you can't imagine living without these amenities and so these go on the top of your personal apartment-hunting list when it comes time to move.
---
[Editor's note: An earlier version of this article was published in March 2019 and has been updated with new information for October 2021.]
---
With that sort of personal focus in mind, Brick Underground asked brokers and agents what their clients really want from their neighborhoods. Your essentials didn't make the list? Share them in the comments below. 
1. Subway service that works 
The convenience of having a subway station nearby is worth paying extra for, especially if you're back to the office. But the big question to ask is: Is it really going to be an advantage? Check if that train runs on nights and weekends, because some subways only operate on weekdays, while others stop running after a certain hour. 
Victoria Vinokur, a broker at Brown Harris Stevens, says some of her clients are prioritizing being close to reliable public transportation because demand (and costs) for Uber and other ride-shares are up. 
On the other hand, she says, walkable neighborhoods are in demand. Many New Yorkers want to live in an area where they can walk to places they go on a daily basis like gyms, restaurants, and schools.
Another consideration: With critical track and station repairs or improvements taking place, some stations shutter overnight—or for many months. Check out the MTA's site for planned service changes. And if you're a parent with a stroller, or have mobility issues, you'll also want to make sure your station is accessible. 
Another important consideration if you find an apartment with a good commute: Can you actually get on that subway in the morning? By the time trains traveling through the outer boroughs make their way to the stations closest to Manhattan, they are packed, and you may find you have to wait for a few trains to go by before you can actually squeeze in. You might be better served traveling off-peak, or at least giving yourself extra time, despite your close proximity.
2. Parking space
Not all New Yorkers rely on public transit, and even more bought cars during the pandemic. So if you're going to need a place to park, you need to check into parking options before you move to a different area. You can search for buildings with garages and if you can't find a place with parking amenities, look for areas where there's enough street parking. (Here are some apps that help you find permanent and temporary parking.)
You can also check out Brick Underground's series on street parking in the city, which looked at Queens, Brooklyn, Manhattan, and the Bronx.
3. A place to send your packages back
Having a doorman or concierge in your building is a definite plus, especially when it comes to signing for your Amazon Prime deliveries. But there's probably going to come a time you'll need to send something back. Is your new apartment near a UPS Store or a post office? 
Some New Yorkers who buy or rent in smaller, non-doorman buildings want to be near an Amazon Locker, the retailer's self-service kiosks where packages can be delivered—and returned, says Aleksandra Scepanovic, managing director at Ideal Properties Group. These yellow units can be found in supermarkets and convenience stores around the city, and they're free to use for Prime members. 
4. Know your flood zone
Recent flooding from Hurricane Ida and Tropical Storm Henri highlighted the importance of flood-proofing your space—and knowing if you live in a flood zone. The city has an online tool where you can find flood zones by address. 
If you end up moving to a neighborhood that is prone to flooding, here are some tips on weather-proofing your space from water damage. 
5. Traffic patterns and noise levels
Some apartment hunters, especially parents, are concerned about traffic, walkability, noise levels, and general congestion in a particular neighborhood, some brokers say. 
One client wanted to see a visible street from their windows and choose a place based on if they could see traffic down a main intersection, says Peter Grazioli, a broker at Brown Harris Stevens. 
Construction in your neighborhood doesn't need to be a surprise. You can plug in an address to sites like Localize to find out information about construction plans, truck traffic and other neighborhood insights and also check out Brick Underground's "7 ways to tell if construction is coming to your NYC neighborhood."
6. Medical facilities 
See if there is an urgent care facility or hospital in the neighborhood and check its hours in case you, a family member, or roommate gets sick or injured during your doctor's off hours.
You should also scope out locations for the nearest pharmacy
7. Houses of worship
Having a house of worship close by is important for some residents. You can use the walking directions function on Google maps to find out how far any destination is from a prospective apartment.
8. Where everybody knows your name
A sense of community helped many New Yorkers get through the pandemic, like these young parents who decided to stay in New York City because of the connections they made in Sunnyside, Queens.
If community is important to you, check out the vibe in the bars and coffee shops—places with game nights or other themed events can offer an easy way to meet people. Community gardens, CSAs, and dog runs (if you have a pooch) are also good places to scout for like-minded people. You can also join a neighborhood's Reddit page to see what's going on in a prospective neighborhood.
Of course, for some, it's the opposite desire. Scepanovic has also had some clients who "ask for a neighborhood that will allow for a higher degree of anonymity." 
9. Pamper those pets 
Many New Yorkers adopted pets during the pandemic and are searching for a pet-friendly neighborhood, says Jennifer Rouse, a broker at Corcoran. Some want a dog washing station in the building and to be close to a park or a dog run. Bonus points for places near pet-friendly cafés, and pet supply stores, she says.
There are dozens of dog runs across the city, and some city parks offer off-leash hours before 9 a.m. or after 9 p.m. Here's a handy list of both from the Parks Department.
10. Dining preferences 
New Yorkers are famously picky when it comes to food—so you'll want to check out the restaurant situation beforehand.
Take a stroll down several streets in the neighborhood—either in person or virtually by searching the apartment's address on Google Maps. By clicking the "nearby" option just under the address field, you'll see what bars and restaurants are around, and you can even see how long it'll take you to get there by hovering over the establishment on the map. 
Pro tip: Type your future address into Seamless to see what delivery options are available. 
"Grubhub or Seamless accessibility is a must," says Alex Mahgoub, a broker at Compass. "Clients want access to whatever food they want to eat at whatever hour they want to eat it, and having access to great, open-late options is a must." 
11. Grocery store run
Even if you never cook, you're going to need some staples in your fridge, so check out what grocery stores are nearby. If the thought of setting shopping in person or lugging bags home is daunting, see if they offer online shopping and delivery (and check out Brick's guide to grocery delivery in NYC). 
If alcohol is a food group to you, you might want to see where the nearest liquor store is, and of course, if it delivers.
12. Laundry 
If your new apartment building doesn't have a laundry facility, scope out where the nearest laundromat is—and whether it offers pickup and delivery for that inevitable time when lugging that heavy bag to and fro gets old. For some extra cash, there are laundry services that take your dirty clothes and bring them back, clean and folded. 
13. Getting bookish
The New York Public Library is the country's largest public library system—and a beloved part of many New Yorkers' lives, thanks to its wealth of offerings that go far beyond books. 
A broker told Brick that an Upper East Side family picked their neighborhood because of the proximity to a local bookstore, where their kids could spend their allowance on new books each week.
14. Accessible fitness
Gyms are available in many NYC apartment buildings, and some go a step further to offer on-site yoga and fitness classes, or tricked-out sports amenities like basketball courts and rock-climbing walls.
But if fitness is a priority and your potential new building doesn't offer facilities, you'll want to see what options are in the neighborhood so getting there won't be a workout of its own. 
"I had a client once that had to be within five to seven minutes of a SoulCycle," says Shannon Aalai, a broker at Corcoran. "Her whole search was based around that, and she would Google Map the address and walking times before seeing anything. If an apartment was too far of a walk, she wouldn't even look."
15. Proximity to parks 
Having access to outdoor space has become increasingly important for most New Yorkers, even if they don't have a dog to walk, Rouse says. In fact living close to a park is one of the top must-haves for apartment seekers, along with parking and pet friendliness in neighborhoods, she says. Parks are also a good way to boost your mental health if you're spending more time at home and need a quick break and fresh air.
The good news is that there are more than 1,700 public parks throughout the city, including many new parks on the waterfront, so you have plenty of opportunities to find a place within walking distance to one. Most listings sites like StreetEasy have a map view, where you can easily spot apartments near your favorite park.
Brick Underground articles occasionally include the expertise of, or information about, advertising partners when relevant to the story. We will never promote an advertiser's product without making the relationship clear to our readers.