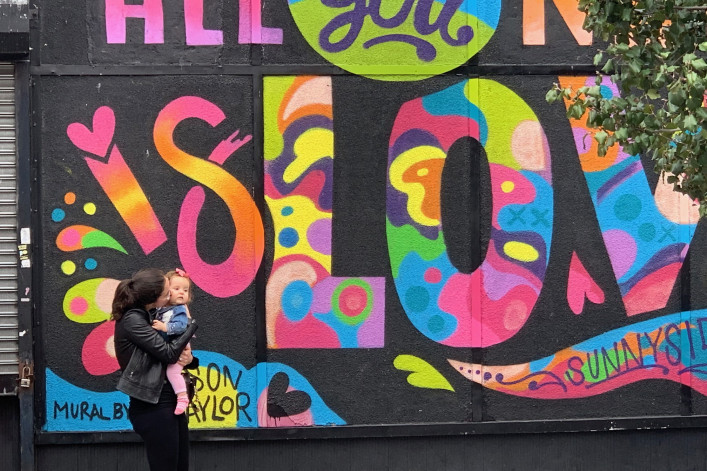 Everyone has the same relationship status with New York City: It's complicated. No one moves here (or stays here) for an easy life. The world- altering changes that have impacted all our lives over the last few months have further complicated that relationship. With so many beloved restaurants closed, cultural activities unavailable, attempts to work from our crammed apartments fruitless and reports of long-time residents fleeing for greener pastures, it's been challenging to remember why we stay.
We moved to Sunnyside, Queens, in January 2018 when I found out I was pregnant. I used to answer the "Why don't you move to the suburbs for more space and better schools" question with a knee-jerk response about my short commute to Midtown. But now that my husband and I are both lucky enough to be working from home for the foreseeable future, we've been forced to re-examine that answer. 
---
Editor's Note: Brick Underground's Inside Stories features first-person accounts of dramatic, real-life New York City real estate experiences. Have a story to share? Drop us an email. We respect all requests for anonymity.
---
I will be the first to admit that when NYC more or less shut down from mid-March to early May, I wondered if staying was the right decision. We took walks around our neighborhood, which in those days felt like a museum of our previous lives—the stores were all closed and our daily activity was taking our toddler to kick a ball around an abandoned parking lot. We didn't see family or friends. We heard sirens all day and night. We read the stories of what was going on at nearby Elmhurst Hospital.
But around Memorial Day, the community started coming to life again. It was different, but the energy we loved was back. The weather got warmer. Restaurants and coffee shops opened. Parks reopened and outdoor dining flooded the streets with liveliness and reunions of those we hadn't seen for two months. 
I can't express the happiness we felt when we first went back to our local coffee shop, Aubergine Café, where our toddler used to dance around with the baristas every morning in the "Before Times." We walked around the corner to go see our old friends at The Alcove, which had just opened up after weeks of being closed. Jonathan, the owner, and his brothers who work there, greeted us with elbow bumps and cocktails to-go. 
We stopped for conversations with our neighbors sitting outside in their front gardens and patios from a safe distance. We walked down our tree-lined street to Sunnyside Gardens Park, which was finally open again. Once we started going back to the park regularly, we realized how lucky we were to have it. The tradeoff for not having our own private spacious backyard is this beautiful, shared, open space half a block away, with picnic tables, playgrounds, a baseball field, and basketball courts. Everyone keeps an eye on each other's children and parents bring snacks and toys for the kids to share (and adult beverages for the parents).
Re-examining why we live here
It took the pandemic for us to realize the reasons we live here go so far beyond just the easy commute. We want our daughter to grow up in a lively, diverse neighborhood and go to public school with other kids from all kinds of socioeconomic backgrounds. 
Perhaps the future of NYC is in these live/work neighborhoods like ours. So many office workers have traded in their morning lattes on the way to their trains to Midtown for lunches outdoors at local coffee shops. Communal green spaces serve as shared backyards and professional communities have become blended with parenting communities. And more has changed: Catching up with the neighbors is the new networking. Parks have turned into schools, camps, spaces for boutique fitness classes and more.
Right now, while masked, outdoor socializing is the safest socializing there is, it's nice to walk over to a shared space knowing you'll see friends without making plans in advance. We are investing heavily in winter gear so we can keep up our activities as the weather gets colder.
I completely understand why those who left chose to or were sadly forced to leave. I will happily visit friends who moved to the suburbs and hang in their spacious backyards on weekends as a way to socialize with them, so long as they don't write a self-righteous "NYC is dead because I don't live there anymore" think piece.  
The charms of Sunnyside
If anyone who lives in Manhattan is struggling with the decision about whether or not to move, especially those with young kids, consider exploring Sunnyside. It's close to Manhattan but easier to drive in and out of if you need a weekend escape. We have tree-lined streets and green space in addition to late night takeout and an array of diverse cuisines. We have small businesses and bodegas. 
Sure, it's a little hipster but still has the charm and grit of old school NYC. There are people who have lived here for 50 years and there are folks like us who left Manhattan to start families here. There's a huge community of activists. AOC is our rep and signs with her face dot the lawns of the neighborhood. There's a huge LGBTQ+ community; in fact, the "St. Pat's For All Parade," which just celebrated 20 years in Sunnyside/Woodside, was created specifically to welcome the gay community that was banned from marching in the Manhattan St. Patrick's Day Parade. Sanger Hall, another beloved local spot, hosted drag queen brunch parties back in the before times.
Will I always have a bit of wonder about what life might be like with some more space and a big yard? Maybe. But last week as I watched my toddler curl up alongside her friend on a picnic blanket while our quarantine pod all sat together on the Sunnyside Gardens baseball field watching "The Sandlot" projected onto a massive movie screen, I felt incredibly validated in my decision to stay.
Amy Shoenthal is a freelance writer and marketing professional who lives with her family in Sunnyside. 
Brick Underground articles occasionally include the expertise of, or information about, advertising partners when relevant to the story. We will never promote an advertiser's product without making the relationship clear to our readers.