Sunnyside, Queens is a low-rise neighborhood about 15 minutes from Grand Central on the 7 train. It is diverse and has an intimate feel, which along with its convenience and relatively low rents and home prices, is drawing more and more newcomers, and the price increases that come with them.
One Sunnyside resident of five years tells us she wants Sunnyside "to stay a secret forever, but I suppose the secret is out." 
Adrienne Onofri, author of Walking Queens, says there are five things everyone should know about the neighborhood:
A large swath of the neighborhood is Sunnyside Gardens, a groundbreaking planned community built in the 1920s for working-class people. It has been designated a historic district. The development includes the private Sunnyside Gardens Park, which you need a key to enter.
The jazz musician Bix Beiderbecke lived in Sunnyside for a short time. The community hosts a daylong festival in his honor every summer. 
The "Q is for Queens" art in the 46th and 40th Street 7 train stations that serve Sunnyside feature some surprising stained-glass windows with Queens motifs.
Sunnyside is one of the borough's ultra-diverse neighborhoods, with immigrants from Ecuador, Colombia, China, Korea, Bangladesh, Mexico, and more calling it home.
Sunnyside has a couple of lost landmarks recently: the Wendy's on Queens Boulevard was a  prominent boxing arena from the '40s to the late '70s. On the other side of Queens Boulevard was the Coventry, Queens's version of CBGB, which actually opened before CBGB did. Acts including Kiss, the Ramones, and Cyndi Lauper—all with roots in Queens—played there early in their careers.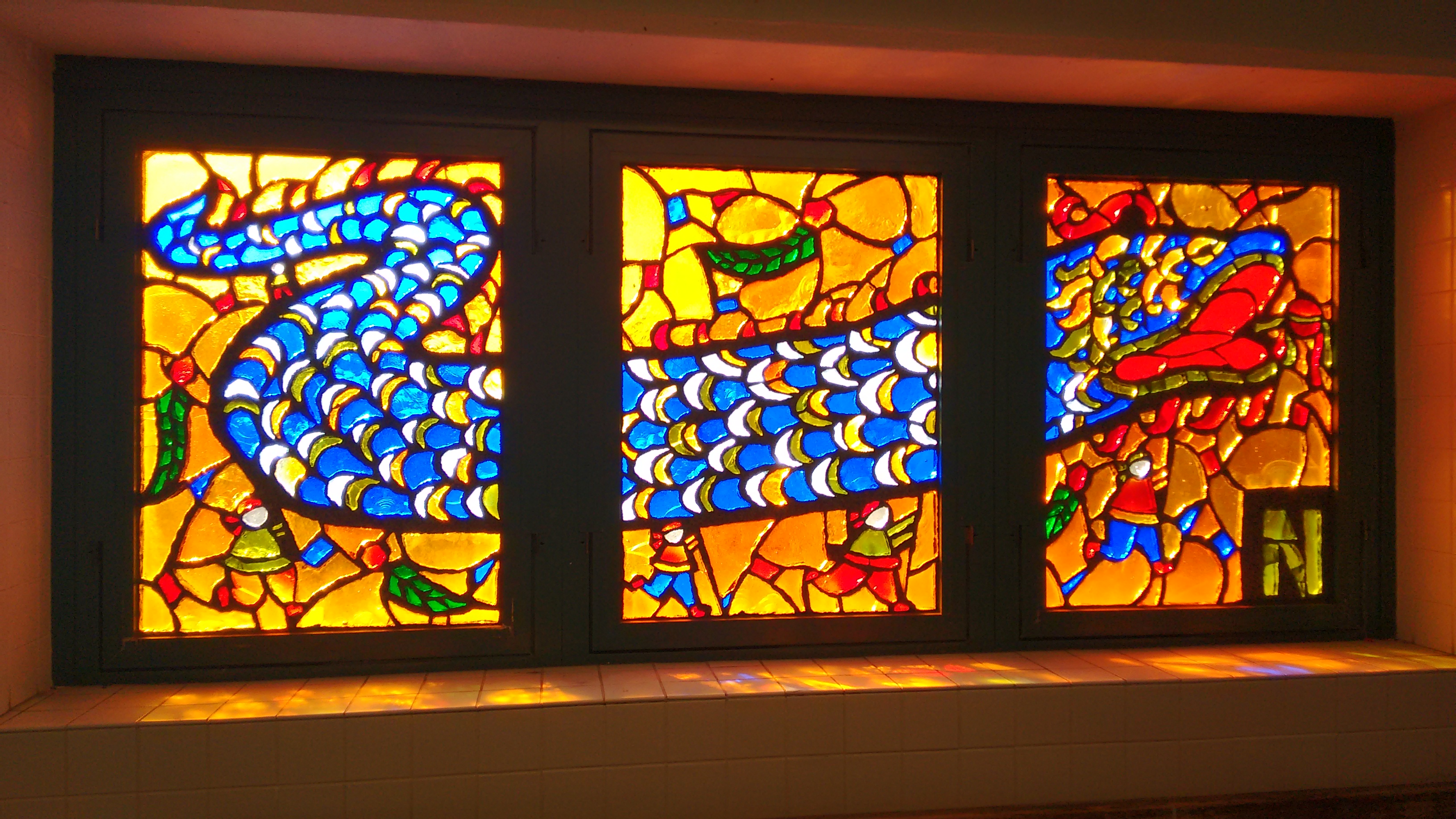 For more on the neighborhood, particularly what it's like to live in, we quizzed locals about their favorite places to eat, drink, and be outside, and how the 7's been treating them lately. But first, some basics.
Neighborhood boundaries: The Sunnyside Yard Amtrak and NJ Transit facility is to the north, 39th Street (arguably) forms the western boundary, the Long Island Expressway and Brooklyn-Queens Expressway are to the south, and Calvary Cemetery is to the east.
Median listed sale price: $349,000 for a one-bedroom co-op
Median rent: $1,900 for a one-bedroom
And with that, here are some more tips from neighborhood residents:
The transportation situation
"The 7 makes a pretty easy commute. I especially like that it's aboveground."—Kate, 40, lives with her husband and 14-month old in a rented apartment
"The 7 train is a nightmare! We take the Q67 or 39 to Court Square—takes five minutes—and then take an E or an M. The Q32 goes all the way to Penn Station. But, honestly, we drive to a lot of places. We have a garage attached to our house. It's where we work on our classic cars."—Lisa, 50, lives with her husband, rents the house 
"I've lived here for over 20 years, have never owned a car, and I get everywhere. The 7 gets me to Grand Central in 10 minutes or I take a bus to Second Avenue and 59th Street."—Lou
"I typically commute to work in the Flatiron District via the 7 train and transfer at Grand Central. With normal rail service, which is becoming less and less common with each passing month, this is a 25-minute commute. When the weather's bad, I take the R (because it's underground and not as susceptible to bad weather conditions), so there are no transfers and the ride takes 40 minutes."—Michael, 52, lives with his wife and 3 year old son in a rental
"I won't sugarcoat it: I hate the 7 train. Absolutely the worst train ever. Its service is spotty at best, and during the Mets season and the U.S. Open, forget it. Also, when I was 100 weeks pregnant, nobody offered me a seat, or if anyone did, it was rare and it was usually by an older woman and I wouldn't take it. I try to walk as much as I can, take the bus, or walk to  Court Square and catch the E train."—Alex, 37, lives with her son and husband in a rental
"If you want to avoid public transportation by having a car, think again. Parking is horrible. I think it's the worst place to park in the city. My ex-roommate used to spend an hour trying to find a space. When I rent a car, the same thing happens to me. There are so many people with cars in Sunnyside and not enough spaces for all of them. Never own a car in Sunnyside!"—Libby, 29, lives with her fiance in a rental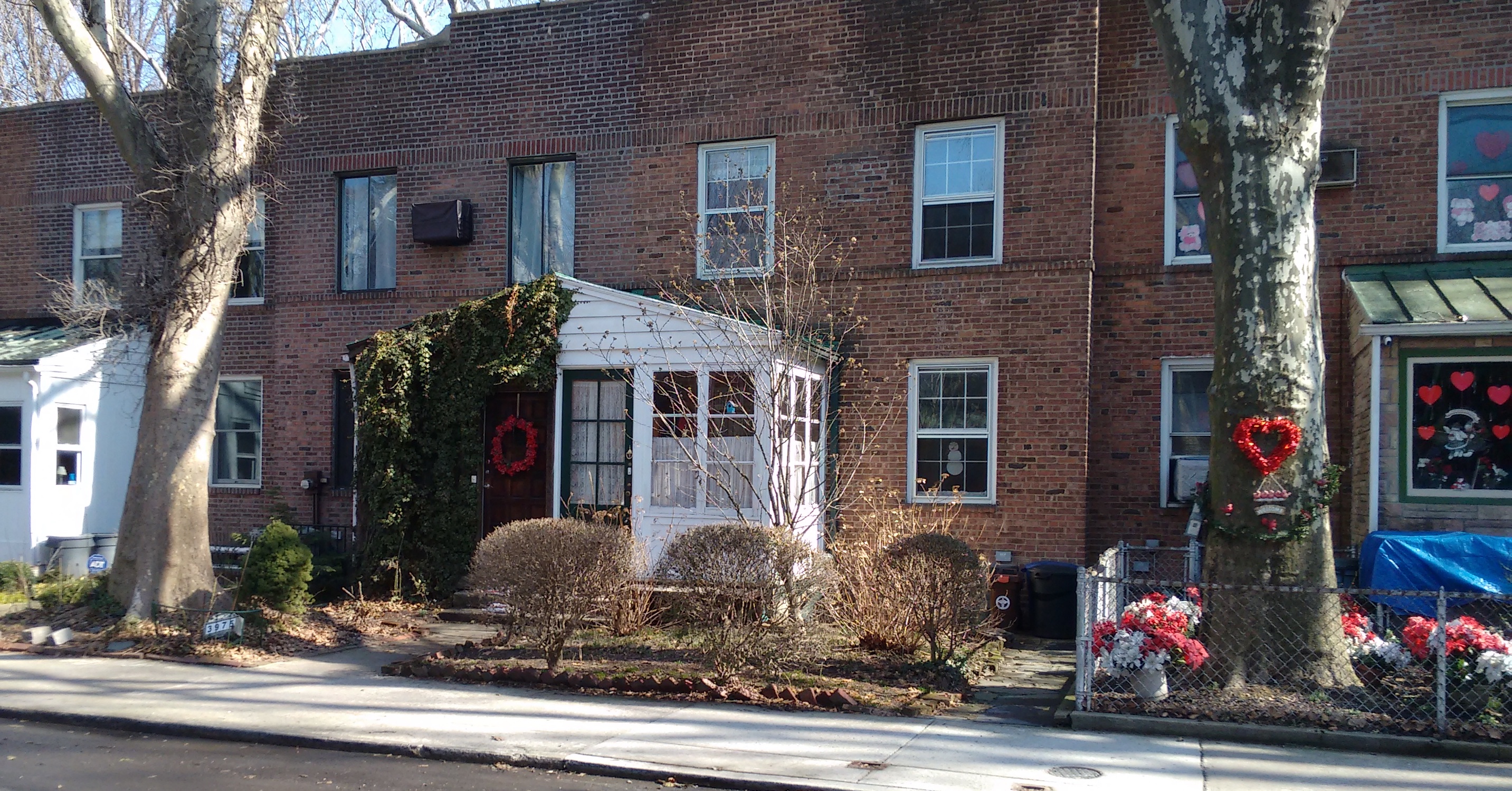 A neighborly vibe
"This is the first place where I actually talk to the people who live next to me. I know the guy who does maintenance under the subway tracks and we say hello every morning. Neighbors greet each other on the street. And the nearby business owners are friendly, too. When I pass the workers outside a nearby sushi restaurant waiting for their morning fish delivery, everyone says hello."—Libby
"I feel as though there's a lot of connectivity here. That's different from where I used to live, in the Bronx and [on] the Upper West Side. I've only lived here a few weeks, and I know it sounds strange, but it feels as though I know almost everyone already."—Naomi, 25, lives with her boyfriend in a rental 
"My husband and I adore our neighbors. We know... our neighbors in this building and even in the neighborhood better than we've ever known our neighbors in the other places we've lived in New York City—Midtown East, the Upper East Side, Murray Hill, and  Long Island City."—Alex
"This is the friendliest neighborhood I've ever lived in. I've lived in Greenpoint, Los Angeles, and East Hollywood and I've never known so many people by name."—Kate
"Our neighbors are friendly. They are nose-to-the grindstone people, working hard and trying to get a good education for their kids."—Lisa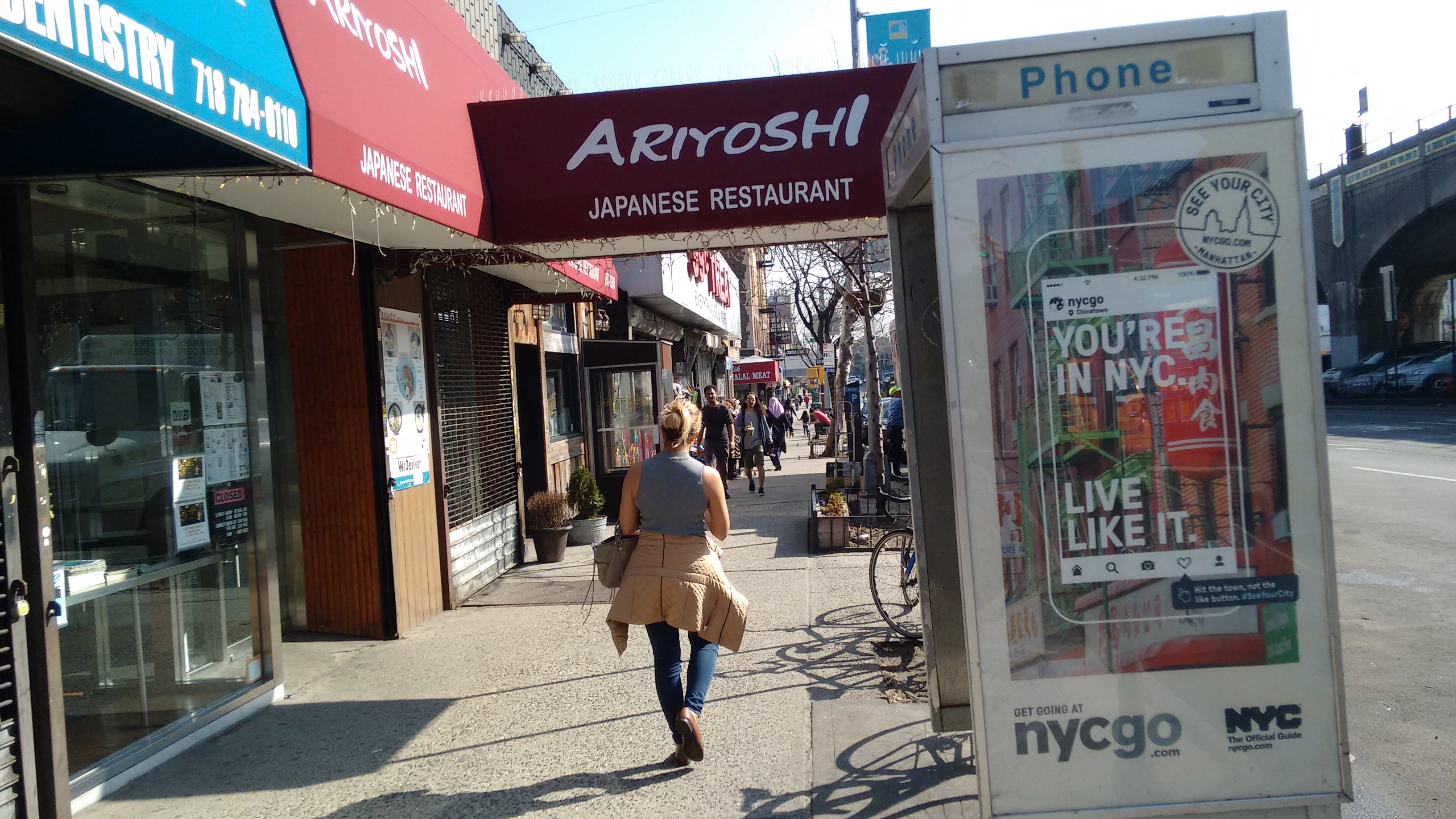 Eating and drinking around the world in just a few blocks
"For Japanese food, I like Ariyoshi... It opened in 1975. In the beginning, the customers were usually businessmen visiting from Japan. Now everyone eats there, people come from other boroughs, other places around New York City. A new and welcome addition is Dawa's, a Tibetan restaurant owned by a young woman who grows some of her food in the backyard of the restaurant... And then there's Alpha Donuts, an old-school diner and donut shop that's cheap and usually packed on weekends. When people come to visit from out of town, I like to take them there. For Mexican food, it's Cemitas El Tigre where I love the carnitas tacos and the cemitas."—Libby 
"We like SoleLuna. [They have] really good food and they're so wonderful with our two-year-old. Which is why we also like the owners' second restaurant, a delicious Italian wood-oven pizza place called Sotto le Stelle."—Alex
"Souk El Shater has falafel that a friend of mine from Syria said is the best she's had since she left the Middle East."—Kate
"For 'natural' foods, we go to Go Natural. Frank, the owner, is local and has been here forever. He cares, he's cool, and [he] knows everything about the neighborhood. We just came from the Turkish market Parrot, where we bought some Turkish preserves. That's where we get Turkish delight, homemade baklava, coffee and tea and things you can't get anywhere else, like teff flour [made from an Ethiopian grain]. And for a cup of coffee to drink inside or take out, we like the newish Brookside Market."—Levi, 42, lives with his wife in a rental
"On Saturdays there's a farmers market. It's small, only about five or six stands, but we like it, and we can drop our compost off there. There's a [community-supported agriculture pick-up] at the Sunnyside Community Services where we're planning to get our vegetables this summer."—Libby
" We have French, Japanese and  Korean restaurants all complemented by Irish pubs with hearty menus and the usual diner hangouts. It all reminds me of when I moved to Manhattan over 25 years ago, when my neighborhood had small restaurants plus shoe repair shops, butchers, bakers, fish stores, junk shops, and small fashion spots."—Michael
"I like [Skillman Fresh Bakery] for a little bit of cake and tea, with milk, of course. If you're Irish, that's what you like."—Bridget, lives alone in a co-op
Nightlife? Hop on a train
"If you're a millennial who wants to be where the party is, it's not here. You might have to go to Williamsburg. It's not far."—Lisa
"I went to Jar Bar on my corner for a first date. Quite surprised at how cool and chill and dive-ish it was. There's a pool table, pinball machines, high tops in back and a bar in front, and decent beer—a good hangout place. The closest movie theater is the Astoria Kaufman. It's old and dirty, and [there are] no comfortable seats. I'd rather go to Manhattan"—Katherine, 30, lives alone in a rental
Families, on the other hand, are right at home
"There's an internet group called Sunnyside Moms that is just beautiful. It's about 1,000 people sharing things, giving advice, posting things for sale. That's how we got our car seat and high chair. I've gone to meet-ups with some of the moms, and when I posted that we needed to find affordable health insurance, so many people responded with great suggestions. I don't ever want to leave this strong and generous community"—Kate
"My kids, who are 9 and 11, go to public school here. I am happy with the  schools, and they are, too. When they're not in school, my boys also like to play in the playground at Doughboy Park."—Monica, lives with her husband and two sons in a rental
Dog lovers like it too
"There are lots of dogs in the neighborhood. Because there are so many, you have to be on the lookout for the ones who are unfriendly. I walk mine on the streets of Sunnyside Gardens or take him to the dog park in Lou Lodati Park."—Vanessa, lives with her parents in a rental  
"I go to Sunnyside Gardens to spy on the dogs. I love them, but I can't have one in my apartment."—Libby 
The area is short of green space, unless you have a key
"We're a little low on green space. The nearest big chunk is Calvary Cemetery, but that's not very inviting for walks, is it? For a quiet walk, I wander around  Sunnyside Gardens."—Libby
"Of course we don't have anything as expansive as Central Park or Prospect Park, but there are options. The playground that we love (and our son loves too) is Lou Lodati, on the north side of Queens Boulevard. It's big and you can see the LIRR trains from there, something our son loves."—Alex
"Because of our zip code, we can belong to Sunnyside Gardens Park, a private park just a block from our apartment. It caters to families with young kids, and includes the usual playground features plus clay-surface tennis courts. Concerts, cooking competitions, and plays are planned for members on evenings in spring, summer, and fall."—Michael 
"There isn't really any good place for us to run here. We drive to  Williamsburg to a track there instead."—Levi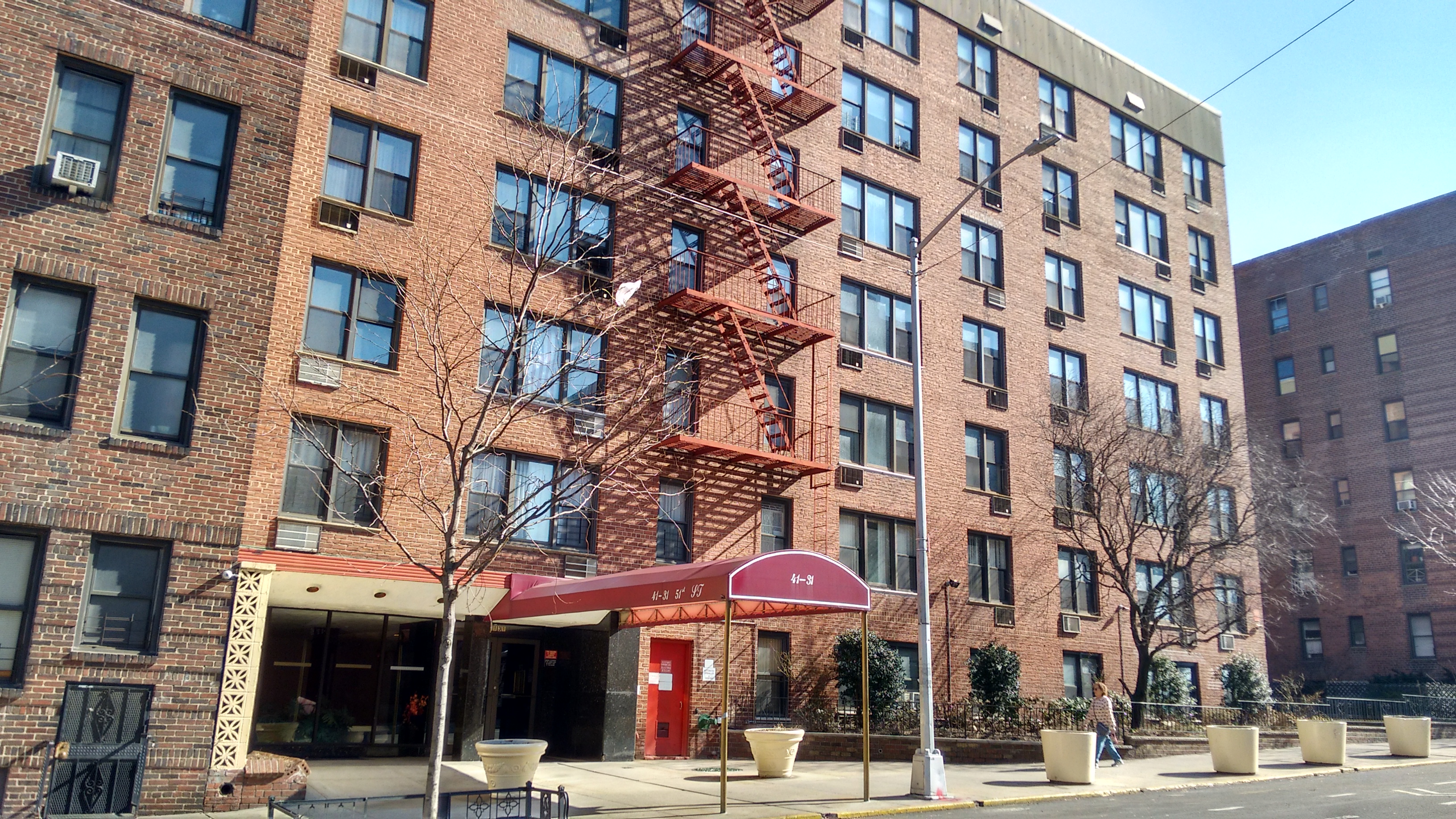 Sunnyside is gentrifying
"Many of us are worried about the gentrification/affordability issue. The Sunnyside Yark proposal, for a [massive apartment complex over the trainyard], has people worried that housing prices will skyrocket."—Libby
"A lot of buildings are being destabilized illegally. I am part of a class-action lawsuit against a building owner who did that. There are lots of great community people, including our Council member, Jimmy Van Bramer, who are helping with this issue."—Kate
"Landlords are taking studios and turning them into one bedrooms and turning one bedrooms into two. They're raising the rents, and people are coming from Manhattan. It's not as diverse as it was 20 years ago."—Lou 
"Recently, building codes have been changed allowing for larger and taller development on Queens Boulevard, and that's resulted in real estate companies attempting to buy out entire blocks to ultimately be razed for massive projects."—Michael
"The way I see it, it's still a substantial amount of money to rent a place in Sunnyside. However, you get more space for your money."—Alex
"When I decided I wanted my own apartment, I looked in Astoria and Harlem, but couldn't afford either. My studio is less than what they were asking in the other neighborhoods."—Katherine
Everyone we talked to feels safe
"I've never had any situations where I've felt personally threatened, but then again, I also don't go out after 9 p.m."—Michael 
"I feel totally safe. Maybe I should be more careful when I'm out at 2 a.m. and it's totally quiet. I only take a cab home at night out of laziness, not because I feel unsafe."—Katherine
"I walk my dogs at 2 or 3 in the morning. I have two nasty chihuahuas that I can't walk near any other dogs, so I take them to the warehouse area, the west side of the neighborhood, when no one else is around. I've never felt unsafe."—Lou
Brick Underground articles occasionally include the expertise of, or information about, advertising partners when relevant to the story. We will never promote an advertiser's product without making the relationship clear to our readers.