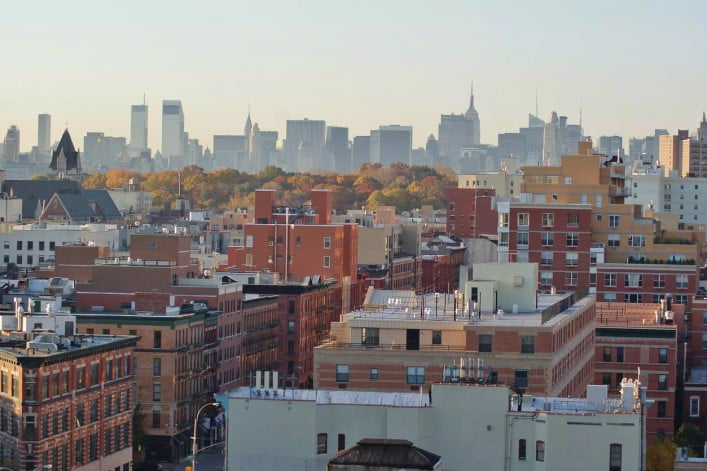 There are some compelling reasons to buy an investment apartment to rent out in New York City right now. But if you're not familiar with the differences between the city's neighborhoods and how the rental markets have been impacted by the pandemic, getting a handle on where to buy can seem like a tall order.
First things first: Your timing is good because the NYC rental market is going bonkers. Renters who left during the pandemic are returning to the city en masse in preparation for a return to offices and schools in the fall. They want larger apartments with outdoor space and room for working from home. In some key areas, renters are willing to pay more than what landlords are asking. Yes, bidding wars for rentals are happening now.
But don't expect to get an amazing deal on a cheap but fabulous condo—that ship has sailed (with the exception of Midtown). Prices for NYC apartments are hitting new records as the city tilts toward a seller's market and the Covid discount shrinks. Price are expected to rise further—and you'll face more competition—when foreign buyers eventually return to the city.
---
[Editor's Note: A previous version of the article ran in July 2021. We are presenting it again here as part of our summer Best of Brick week.]
---
So where should you look? Or to put it another way: Where do renters really want to be? One way to find out is to take a peek at their internet searches. The app openigloo enables renters to rate their buildings, and it has had over a million searches since its launch almost a year ago. The neighborhoods with the most searches, according to a spokesperson, include Midtown, Soho, Park Slope, Morningside Heights, and Bed Stuy.
The site also asks renters whether they would recommend their buildings to a friend. The neighborhoods with the highest recommendation rates include Soho, Dumbo, Chelsea, and Clinton Hill. 
(Of course, there's a lot to get up to speed on when you're investing in NYC real estate for the first time. For starters, you need to know about the changes to New York's rent laws that impact you as an owner. Then there's NYC's low cap rates—another factor that you need to weigh seriously. To brush up on these and other issues, check out "Want to buy an investment apartment to rent out? Here's what you need to know.")
For more on neighborhoods to invest in an apartment to rent out and areas to avoid—read on.
Midtown
Midtown was hit hard during the pandemic. With its vacant apartments, and shuttered offices and storefronts, the neighborhood was a ghost town, and it's been slow to recover. Still, rental activity is already starting to pick up—a result of lower rents and generous concessions (like the deal this newcomer scored: a Midtown East two bedroom for $2,500 that previously rented for $3,600).
For investment buyers, it should top your list. Erin Wheelock, an agent at Keller Williams New York City, says Midtown is one of the last places in the city to get a good deal. The neighborhood offers lots of convenience and a great location. Midtown in the 30s provides an easy walking commute for workers who want to steer clear of the subway, she points out. 
Garrett Derderian, director of market intelligence for SERHANT, notes that workers are expected to return to their desks after Labor Day. Until that point, he says, "the market will remain one of the greatest buying opportunities."
In fact, buyers in Midtown have the most negotiating power in Manhattan, with an average discount of 16 percent, he says.
Buyers seeking affordable options should look at enclaves in Midtown East, such as Kips Bay, where the average sales price year-to-date is $668,851, and Murray Hill, where the average sales price is $937,243. The markets here are "still less competitive, affording buyers a unique opportunity to buy at once-in-a-generation prices in the core of Manhattan," Derderian says.
Upper East Side
The Upper East Side has always topped renters lists but in recent years the reasons have changed. The Second Avenue subway means the far eastern part of the Upper East Side is less remote—making areas like Yorkville more accessible and desirable. The neighborhood's green spaces—Central Park to the west and Carl Schurz Park to the east—became even more valued during the pandemic.
Living near the park has always been something nice, but during the pandemic, access to parks became something else—a lifeline for apartment dwellers seeking a safe outdoor space to exercise and socialize, and that preference seems to be sticking around.
"Buyers have definitely prioritized more residential enclaves in the city over locations near offices. The desirability to be near Central Park, in addition to other parks around the city, is more attractive than ever," Derderian says.
Here you'll find desirable schools, cultural institutions, restaurants, and shopping.
John Tashjian, managing partner of Centurion Real Estate Partners, specializes in repositioning luxury projects and is working on a number of developments uptown (as well as one near City Hall Park). He says investment buyers can take advantage of the fact that NYC rents are accelerating faster than condo prices in the city.
"The optimal situation is buy today and rent today and take advantage of that yield imbalance," he says.
One of the projects in his portfolio is 200 East 59th St. (a follow-up to Harry Macklowe's famous 432 Park Ave.)
At this building, every unit has floor-to-ceiling windows with wrap-around terraces—a hot commodity these days. "People put more of a premium on outdoor space," he says. Building amenities include a party room and catering kitchen and double-height fitness center.
Just slightly to the north of that development is the neighborhood of Lenox Hill. Derderian says that area has seen the most contract activity in Manhattan this year so far, with 938 contracts.
Pro Tip:
Fight back against rising mortgage rates. Work with a local expert from Prevu, the brokerage that saves New Yorkers an average of $23,000 per transaction. You'll pocket a rebate of two-thirds of the commission paid to the buyer's broker at closing. Click here to learn about Prevu's Smart Buyer Rebate.
Upper West Side
The Upper West Side also fits the bill for buyers looking to live near the park. Derderdian says two areas there just trail Lenox Hill in terms of total contracts signed this year: Upper West Side with 839 and Lincoln Square with 530.
Tim McCarthy is the senior sales director at Alchemy Properties, which launched 378 West End Avenue on the Upper West Side. The new condo project has sold over $150 million since March. Multiple penthouse units and larger units have been signed into contract, including Penthouse A, which was listed for $26 million and broke a record on the UWS.
Not every neighborhood in the city has every amenity, most have some, McCarthy says, but the Upper West Side has it all. He ticks off a list: Parks, museums, grocers, retail, specialty stores.
"It always has everything you need," he says, and points out that there are many historic landmarked areas, which makes it "very hard to change." You're not likely to see massive construction disrupting the area. As McCarthy says, "It gets more and more established. You're buying something solid here."
There are 58 condos at 378 West End Avenue and over 11,000 square feet of amenity space, plus four elevators, so residents here are not competing with each other to use the amenities or waiting to go up to their apartments. It's a ratio that investors should consider when looking at buildings
Chelsea/Hell's Kitchen
Renters in Chelsea and Hell's Kitchen benefit from living near Hudson River Park, the High Line, and the amenities at Hudson Yards—such as the 100-plus stores and restaurants in the mall. (More on investing in an apartment within Hudson Yard itself in a moment.) One recent transplant told Brick he liked the area "because it is close to the Hudson River where I could run and close to the stores in Hudson Yards' mall. We also were thrilled to be close to great grocery stores and restaurants."
A year ago, luxury neighborhoods like this saw demand for rentals plunge as renters with means to leave the city did so. But rents are rebounding fast—for example the average rent for a non-doorman building in Chelsea increased by 5.25 percent in June, according to MNS.
NoMad
McCarthy of Alchemy Properties says investors should consider NoMad. It's a small neighborhood, so inventory is going to be on the slimmer side, but he says there are numerous buildings with one- and two-bedroom units and it has lots of appeal to younger renters. His project at 50 West 30th St., The Noma, has a few units left. The building will have 55 condos, many with private outdoor space.
Part of the appeal of this neighborhood: "You're in the middle of Manhattan, it's easy to get around, it's small but it's a 'connector' that touches Chelsea, Gramercy, the Flatiron District, and Kips Bay," McCarthy says. "You also have Madison Square Park, great restaurants and shopping. Plus The Ritz-Carlton is opening a location here, so is Virgin Hotels."
Brooklyn
Renters continue to scoop up new leases in Brooklyn at a rapid pace: In June, the rental market saw the second-highest number of new leases signed and highest June total on record since 2008, according to the Elliman Report. But as a buyer, you'll face lots of competition here and have trouble getting a deal unless you know where to look.
According to Derderian, two-thirds of all luxury sales occurred in Northwest Brooklyn, which includes the highly desirable enclaves of Brooklyn Heights and Park Slope. The median sales price for Northwest Brooklyn has surged 27 percent to $1,270,000.
Prices are rising in other parts of the Brooklyn as well, but you can catch the wave now if you buy in an area like Bedford Stuyvesant, he says. "Prices in the neighborhood have grown at one of the fastest rates in the borough."
Another area to consider is Downtown Brooklyn—where there are lots of new condo developments, great access to subway lines, shopping, restaurants, and entertainment at the Barclays Center and BAM.
"While discounts Downtown are slim at just 4 percent, the numerous developments afford buyers options to choose from. Many of these new towers offer fantastic views across the city," Derderian says.
"Williamsburg and Greenpoint are still popular spots, although prices in these neighborhoods have risen dramatically over the years," he says.
Queens
Wheelock thinks Astoria and Long Island City are great options for rental investments. Astoria attracts a young crowd thanks to its bars and restaurants; Long Island City also has lots of new condo developments. 
"Long Island City is one stop from Midtown," Wheelock points out. You can get more bang for your buck here. "You can easily find a two bedroom for $1.3 million here and you're just not going to find that in Manhattan." And you'll be likely to find a tenant who wants more space for the money, she says.
But you'll likely face competition in LIC from other buyers. Sales activity there surged in the second quarter, according to Derderian. Condo sales increase 52 percent from the first quarter and 119 percent from the year-ago quarter. There were 90 transactions priced at $1 million and above, the greatest number ever recorded and the median price increased 9.3 percent to $935,000 the second highest on record.
"The appetite for million-dollar properties in Long Island City, which was once a rental-heavy industrial neighborhood, is transforming the area. A central appeal of Long Island City is its proximity to Midtown Manhattan. We expect this momentum to continue as more new developments are constructed and office workers return to their desks," he says.
Consider the Rockaways, too. It's definitely not close to Manhattan, but for the renter who can work from home, a place near the ocean is definitely a plus. Brick Underground interviewed several New Yorkers who made the move to this Queens nabe during the pandemic. New condo developments like One Sixteen offer Manhattan-style amenities at much lower price points—prices start at $525,000 for a one bedroom and $637,000 for a two bedroom. Being able take a walk on the beach on your lunch break is hard to put a price on.
No one that Brick spoke wanted to steer anyone away from any NYC neighborhood in particular. But major construction projects and a lack of investment in infrastructure can serve as red flags for an area, so can a luxury condo glut. Here are a few places where your guard should be up.
Hudson Yards
Topping PropertyShark's second quarter list of most expensive neighborhoods in the city, Hudson Yards had a median sales price of $5,714,000—an increase of 48 percent over the second quarter of 2019. The average sales discount is tied with Midtown at 16 percent, the greatest of any neighborhood in the city, according to Derderian.
Still, in order to make an investment apartment in this very high-end new development pencil out, you're going to need a very well-heeled renter—likely someone who is international. But with Covid travel restrictions in place and the Delta variant on the rise, your rental pool of luxury international tenants could be very limited—for now.
Tribeca
Following Hudson Yards as the second most expensive NYC neighborhood in the second quarter, Tribeca saw a median sales price of $3,250,000—representing a 13 percent year over year decrease—a possible sign the area is losing some luster. Owners of a penthouse that once belonged to Jon Stewart sold it for $13 million, 26 percent less than they originally paid, The Real Deal reported.
Brooklyn Heights
The Brooklyn-Queens Expressway passes through Brooklyn Heights via a triple-stacked engineering marvel: two lanes of traffic topped by the beloved Brooklyn Heights Promenade. The triple cantilevered bridge is at the end of its lifespan and needs to be replaced, however as Curbed recently pointed out, there is no final plan in place. While some of the more painful plans appear to have been shot down (rerouting traffic over the promenade, for example) there's likely to be some kind of major work here in the future that would be a deterrent to new renters.
Washington Heights
The buzz about "In the Heights" may have put Washington Heights on your radar. In real life, renters flock here because it's considered one of the last affordable places and the area is known for its large apartments and access to parks. However, low rents may make it tough for you to get a return on your investment—but that's not all. A recent heavy rainstorm nearly submerged the subway platform at 157th Street along the 1 line, as this shocking video shows. Of course Washington Heights isn't the only part of the city vulnerable to flooding. Keep in mind that urban flooding—minus infrastructure investment—is likely to become even more frequent as a result of climate change. Do a news search online to see if it is a problem in any area you're considering.
Because you don't want to be underwater on your investment in any sense.
Brick Underground articles occasionally include the expertise of, or information about, advertising partners when relevant to the story. We will never promote an advertiser's product without making the relationship clear to our readers.