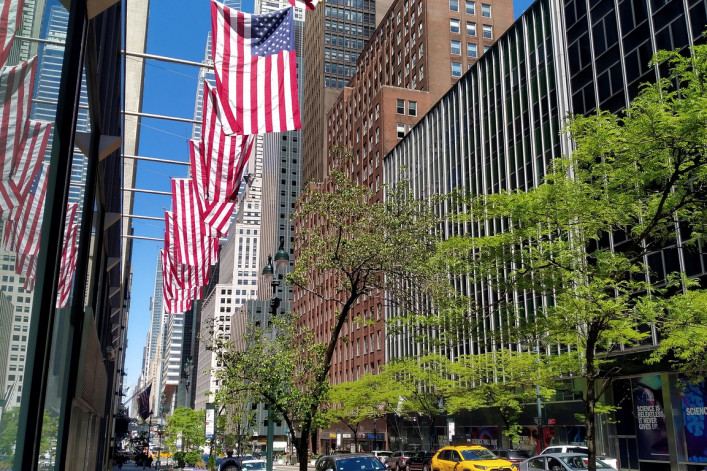 Aidan Russo was born and raised in Syracuse and lived there after college with two roommates for an unbelievably low rent. With lots of friends, bars nearby, and places to go hiking—life there was fun. But NYC beckoned and he landed a deal in a neighborhood that saw rents plunge during the pandemic. Here's his story.
I attended Syracuse University and then began my career in that city. I was living on the top floor of a duplex apartment with two roommates; we paid $1,000 in total for all three of us. The space only had one primary bedroom and two, way smaller bedrooms. I had one of the small bedrooms so was only paying $300. The building had street parking and we put a washer and dryer into the basement.
The location was super convenient, right next to bars we liked and just a five-minute drive to get downtown, where there were even more bars and restaurants, and where our jobs were. I was the marketing director for a small, growing e-commerce digital agency. There is some public transportation and a bus stop right outside our apartment, but I never really needed the bus because I had a car.
As someone who hosts friends a lot, it was easy to get everyone over to our place and have enough room for people to hang out. We didn't have to worry about noise since our neighborhood was a popular are for young people to live. And we could not beat that price!
---
[Editor's Note: Brick Underground's series The Newcomers features first-person accounts about why a renter or buyer decided to take a chance on NYC and live here now. Have a story to share? Drop us an email. We respect all requests for anonymity.]
---
Syracuse is an underrated food city! We lived just five doors down from Coleman's—one of the most popular bars in Syracuse that has events nearly every week. We loved playing trivia there every week. We also went to Blarney almost once a week for wing nights—the best wings in the area and cheap beers! Central New York has tons of places to walk/hike within a 30-minute drive, like Clark's Reservation. To be honest, we just ate and drank out a lot, so I do miss my favorite bar, Wolff's Biergarten. We'd food shop at Wegman's, which was a five-minute drive and there are plenty of other places downtown to order groceries in from as well.
We have a beautiful fall season with a lot of cideries and apple-picking places. Then once winter hit, we'd just end up going to friends' houses and driving somewhere, weather permitting. There's a lot to within an hour's drive like hiking, wineries, and state parks, so we took a lot of day trips.
I had always wanted to move to New York City but could never find the right time. But during the pandemic one of my roommates in Syracuse decided to take the plunge and wanted me to jump along with him. Rents now seemed reasonable for a two bedroom, and we thought we'd find something good—we were right.
We initially looked at units on StreetEasy but then had a great deal of help from Alyssa Brody, a broker at Development Marketing Team. Luckily I had found a job in NYC at a digital marketing agency and had my offer letter so I didn't need a guarantor.
We began looking in mid-November and saw apartments both virtually and in-person and ultimately signed a lease for January 1st for a large two bedroom in Midtown East.  
Moving wasn't hard: My dad, brother, and I took two cars down on New Year's Day when the city was quiet. Getting everything up in an elevator was a breeze! 
Our building is five stories with laundry on the ground floor. My apartment is on the fourth floor and it's got a large living space and a galley kitchen with ample counter space. We pay $2,500 per month. It previously rented for $3,600 so we hopped on this deal as quickly as we could. 
We're right at the edge of where you could say Midtown East meets the Upper East Side, so we're around quite a bit of commercial businesses but our walkability to the restaurants on 53rd Street is great and having the 4, 5, 6 and N, R, W trains just steps away makes getting anywhere super easy. The neighborhood can get pretty loud but I've gotten used to that.
We have found our favorite dive bar, The Subway Inn, down the block, so we are trying to become regulars. There is another bar, a craft beer bar, down the street called the Jeffrey that is a go-to spot as well. And we have Central Park an easy walk away and the Roosevelt Island tram is at the top of our block so we've gone on that a few times and it has great views.
Having laundry in the building is incredible, so no complaints there. I do miss Wegmans, but we have a Whole Foods nearby and a Japanese grocer across the street so getting groceries is a breeze. Ordering in is almost too easy!
I sold my car when I moved down. To get to work I just take the 6 train down to 33rd Street and walk two blocks. It's an amazingly easy commute. I have a lot of friends further uptown on the UES so I just take the subway up a few extra stops to see them.
Family and friends have come down to NYC to visit. They all knew this was coming so everyone is very happy for me and everyone—especially my mother (who is making me take her to all the Broadway shows)—is very grateful to have a place to crash when they visit. Most of my college friends are spread out among the other big northeastern cities, so now I'm the glue in NYC. 
Making new friends so far has been difficult, but I have a group of friends in NYC that I already knew. I also work for a small startup and we're close, so spending over 40 hours a week with them is enjoyable. I'm sure as summer gets more underway and NYC opens back up again, I'll find myself going out with friends and friends of friends which will make the process of meeting totally new people a lot easier.
I initially thought that I'd stay in NYC just two to three years, but I've rethought that timeframe. I have a job I love with a ton of potential, and I've love living here so far. And seeing it during the worst time, I feel things will just keep getting better and better. I plan to be here for the foreseeable future! Maybe until I have kids, even then who knows?
Brick Underground articles occasionally include the expertise of, or information about, advertising partners when relevant to the story. We will never promote an advertiser's product without making the relationship clear to our readers.