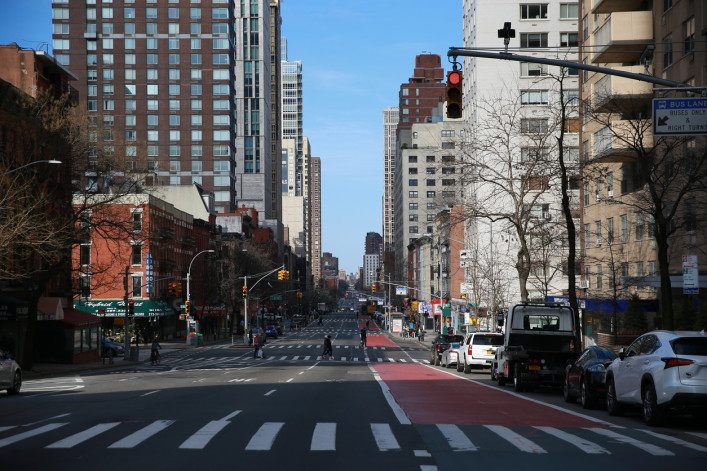 Matthew J. Cardish was living in Philadelphia and coming to New York City often for his job with Live Nation. When rents in the NYC dropped substantially during the pandemic, he decided to move here and checked out a total of 25 apartments. He found a two bedroom in Yorkville that came with a big discount and a concession—and his broker negotiated an even better deal. He's already very enamored with NYC living. Here's his story.
I grew up right outside of Philadelphia, in New Jersey, in a town called Marlton. Several years ago, I moved to Philly and was living in a two-bedroom apartment in the Italian Market area. I had my own backyard and two, ample-sized bedrooms, but the bathroom was too small. There were also management problems so I wanted to move out by spring.
My residential neighborhood in Philadelphia was quiet and I lived by myself in a first-floor apartment in a two-story building. There was laundry in the unit, and I had a few markets within walking distance. For the rest of my food shopping, I would go to Whole Foods, which was a little farther away.
---
[Editor's Note: Brick Underground's series The Newcomers features first-person accounts about why a renter or buyer decided to take a chance on NYC and live here now. Have a story to share? Drop us an email. We respect all requests for anonymity.]
---
There was a decent amount of entertainment nearby. I worked in music and entertainment so that wasn't very important to me when I had a day off. I had a lot of friends in Philadelphia and Jersey so I would do things depending on my location. I love to fish, so I would go New Jersey to do that. 
Before the pandemic hit, I was working fulltime with Live Nation doing backstage catering for about 22 venues between Pennsylvania and New Jersey. During the winter season, our outdoor live venues close so I'd only end up managing about half. I would come up to NYC to work during bad weather and would usually get a hotel room for the night. It wasn't until this past November that I realized I'd rather live in NYC than PA. And after seeing rents in certain neighborhoods drop, I decided to pursue finding a place in NYC.
When I first started looking for a place in NYC, I was absolutely clueless. I had a few friends in the city and they told me to avoid paying a broker fee if I could. The first few weeks of searching, I realized fees were not always listed on the websites. Finally, my mom found Renthop.com, where you can search for places that do not have broker fee. That's where I found Antoine Amira, an agent at Bond Real Estate, to help me.
I originally told Antoine I was looking for either a one or two bedroom. In terms of amenities, I wasn't demanding, especially with laundry, since laundromats in NYC pick up and deliver. We looked at about seven different places before I made my final decision. I was also looking with different brokers, so I looked at about 25 different locations in total before making my final decision.
I always liked Yorkville on the Upper East Side because it is busy and bustling during the day but very quiet at night. It has every type of business and restaurant within walking distance—which is something I never had in Philly or NJ. I was looking at both one- and two-bedrooms, and when I saw this two-bedroom apartment for the right rent I knew I had to act quickly before anyone else got it. I was excited to use the extra room as an office.
It's a five-story walk-up building with 15 units. I live on the second floor. My apartment was completely redone last year with new hardwood floors and a brand-new kitchen with dishwasher and bathroom.  
There was one month free offered and no broker fee. However, Antoine negotiated something different. The gross was $2,500 with one month free. The amortized rent would have been $2,291. Instead, we made an offer for $2,200 with no months free. The rent pre-Covid was $3,200. I'm paying about $700 more a month that my Philadelphia location, but it's all relative, since no matter what you do in New York, you'll make double to triple the salary you'd make in Philadelphia.
I live just a block from Carl Schurz Park. The area seems good for raising a family and there are still a lot of young people like me in the area.
I haven't got to take advantage of all types of public transportation yet, but I plan to try it all. I'm by buses, two subway lines and by the 90th Street ferry station. I had a car in PA, and I still currently have one in NYC.
Parking is another reason why I chose Yorkville. I haven't had too many issues with parking yet. I've been using street parking and finding it way easier to find parking up here than it is in Philadelphia. Plus, there are so many parking garages all over the area, if I wasn't able to find a spot one night, I can use a garage.
I've tried a handful of restaurants. Mission Ceviche is one of my favorites. Arturo's is right next to my house, and I've heard great things. 
For now I'm looking for a full-time job in restaurant management. I do Doordash and Postmates to keep a steady cash flow until I find something full time or Live Nation starts to pick up. I missed the deadline to get into a four-year school this year. But I plan on taking online courses through 2021 and hopefully will be in a four-year program by 2022. I'm going back to school in the fall for neuroscience and bio-engineering. If I can finish out my college studies in the area, I see no reason to leave anytime soon. (Any neuroscientists that are reading this article please feel free to offer me an internship.)
As of this moment, there is nothing that I miss about Philadelphia, and frankly I don't plan on moving anywhere south of New York for the rest of my life. Everything Philly does, NYC does better, from food, shopping, parking, and the people in general.
NYC takes pride in itself. Philadelphia does not. It was an experience, and I don't regret living in Philly, but seeing over the last four years how one city operates compared to the other, I see no reason to come back to Philadelphia (besides to visit friends and family).
Brick Underground articles occasionally include the expertise of, or information about, advertising partners when relevant to the story. We will never promote an advertiser's product without making the relationship clear to our readers.