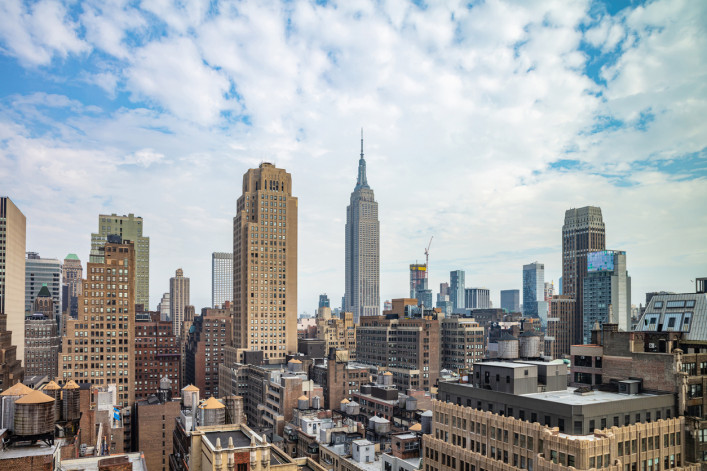 The "Covid discount" on Manhattan apartments is shrinking as the sales market approaches more normal levels of activity.
Two out of three ways of measuring prices were up in the second quarter—the median sales price for condos and co-ops rose 13 percent to $1,075,000, according to the Elliman Report for the Manhattan sales market, making this the highest median sales price in eight quarters. The average sales price was up 2 percent compared to a year ago. (It's a turn-around from the first quarter, when prices were down 4 to 5 percent from the previous year.)
A greater number of sales of larger apartments in the second quarter skewed average prices higher and the third way of measuring prices, average price per square foot, showed the impact. The average price per square foot was down 5.7 percent in the second quarter compared to the second quarter of 2020. In the first quarter, the average price per square foot was down 9.9 percent—indicating there were likely greater discounts for buyers in the first quarter.
There were other signs the market is nearly back: The number of sales surged to its highest quarterly total in six years, driven by the return of all-cash buyers. Bidding wars approached a normal 6.8 percent of deals—but we haven't seen this kind of normal in two and half years.
In essence, this burst of activity seems to indicate that buyers understand "the opportunity for some type of discount is closing," says Jonathan Miller president and CEO of real estate appraisal firm Miller Samuel and author of the report. (A similar phenomenon is happening in the rental market: In June, a greater number of New Yorkers took longer leases as a hedge against rising rents.)
Another way to see the change in the Covid sales discount is to look at what's happening with resales. The median sales price for apartment resales in the second quarter (excluding new condo sales) rose to the highest on record since tracking began in 2003: $999,000. The average price per square foot for resales is down by 3.6 percent. Compare that to the first quarter, when the average price per square foot for resales was down by 9 percent.
The amount of listings on the market is also in healthier territory. It would take just under seven months to clear out all the apartments currently available for sale (that's just under the average level). A year ago, there was 13.8 months of inventory supply.
"Inventory, while still elevated, is trending down, it's nowhere near what is was last summer," Miller says. In the second quarter of 2019, there were 7.7 months of supply. So the current market "is faster than it was pre-Covid," he says.
In the first quarter, the market share of all-cash buyers represented 39.3 percent of sales—in Manhattan it is typically about half. In the second quarter it was 45.7 percent, "a noticeable jump," Miller says.
Until recently, the share of all-cash buyers has been trending down as more first-time buyers entered the market, taking advantage of low mortgage interest rates in order to buy. Typically, the higher the price segment, the more likely you are to have buyers who can pay cash (some will immediately refinance after they close). So now that more expensive deals are entering the mix—there's a higher proportion of cash buyers.
Some buyers rely on cash in order to win bidding wars—the number of bidding wars hit 6.8 percent in the second quarter, more than doubling the 3 percent seen in the first quarter.
Other second quarter market reports
SERHANT released its Manhattan market and Manhattan new development reports and found the number of contracts signed took a big chunk out of the listings supply– "an early indication we may be in an sellers' market borough-wide, although the $5 million and above subset remains a heavy buyers' market."
"Still, the average discount continued to shrink in the second quarter as buyers priced their homes in-line with market expectations. As we look ahead toward the third quarter, expect this momentum to continue as foreign buyers, who have been largely absent from the market, return to take advantage of current conditions now that most pandemic-related restrictions have eased," says Garrett Derderian, director of market intelligence for SERHANT.
The Manhattan market report from Compass points to an influx of West Coast buyers driving up sales in Manhattan—it's a mix of people who are taking jobs at Google, Facebook, and Amazon and buyers who want to get away from droughts and fires on the West Coast. The report says sales in the $1 million to $3 million range command 40 percent of total sales.
The Manhattan market report from Brown Harris Stevens, points to a sharp increase in luxury closings, more than double what was seen in the second quarter of 2020.
"At 220 Central Park South alone, there were four resale closings, with an average price of $53.4 million," says Bess Freedman, CEO of Brown Harris Stevens.
A report from UrbanDigs says buyers are looking for more space. Bigger units saw a lot of action with larger, three-plus bedroom resale condos notching a substantial increase in median price versus last year. Prices for studios, on the other hand, were down.
A report from Brown Harris Stevens Development Marketing notes there were 39 contracts signed above $10 million in the second quarter, of which 13 have closed, and 65 contracts signed above $10 million year-to-date, "putting this year on track to have the most sales in this category in the last four years."
"This quarter demonstrated just how resilient New York is," says Stephen Kliegerman, president of BHSDM.
BOND New York's market report notes that sales activity generally slows down in the third quarter. "However, things have been anything but normal in the last year, and it remains to be seen if the market will actually slow down or continue at this pace." The report finds that pending sales were up a "whopping" 250.6 percent in the past 12 months to date.
Brick Underground articles occasionally include the expertise of, or information about, advertising partners when relevant to the story. We will never promote an advertiser's product without making the relationship clear to our readers.