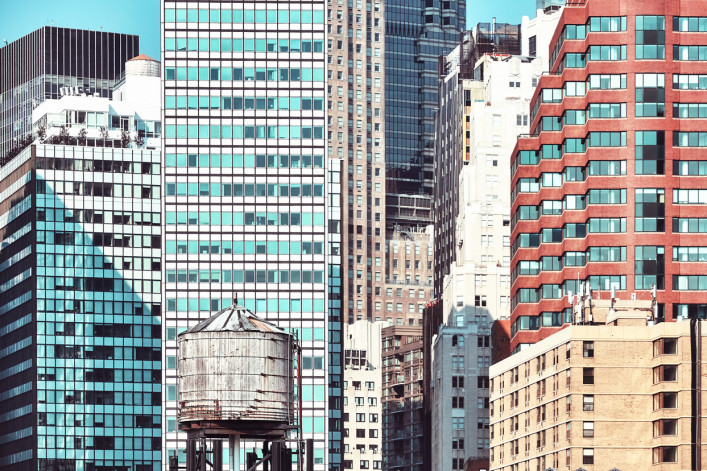 Manhattan is late to the real estate party that the suburbs are enjoying but it looks as if she's warming up: Sales inched up in the first quarter of 2021, exceeding year-ago levels for the first time in four quarters.
The number of first quarter closed sales in Manhattan, 2,457, was an increase of 2.1 percent over the first quarter of 2020—when the shutdown started mid-March, according to the latest edition of the Elliman Report. Co-op sales have more than doubled since the lockdown.
The sales pace is a positive sign for sure, but it's too early to say that Manhattan real estate has "recovered," says Jonathan Miller, president and CEO of real estate appraisal firm Miller Samuel and author of the report. He agrees that the Manhattan market is in the process of "recovering."
Sales are increasing because they are being driven by the greater affordability of Manhattan real estate, Miller says, as well as low mortgage rates and a faster-than-expected rollout of the Covid-19 vaccine, which is making people more comfortable being in NYC and spurring companies to set earlier dates for returning to their offices.
The first quarter prices for co-ops ($780,000) and condos ($1,550,000) represent drops of 4 to 5 percent compared to the year-ago quarter.
The sales market is mirroring the new affordability of the rental market—and bodes well for young and first-time buyers who were previously shut out by high prices. The first quarter saw a record share of first-time buyers, 41.9 percent, according to an informal survey by Douglas Elliman. The seven-year average is a 36.7 percent market share for first-time buyers.
First-time buyers tend to rely more heavily on financing and so low interest rates are helping them enter the market. The first quarter notched the highest market share of financed condo sales in seven years of tracking, the report says.
Bidding wars fell to their lowest level in nearly 13 years of tracking, representing just 3 percent of sales, and inventory levels are coming down from a surge that happened right after the lockdown ended and "panicked" sellers put their apartments on the market. Listings continue to see year-over-year increases skewed towards smaller apartments, the report says.
While there are more apartments on the market than there were a year ago, the market is not considered "bloated." Miller says Manhattan inventory is approaching "normal levels" and the market is starting to move in a "predictable direction."
It's safe to say that boring never looked so good.
Other market reports
An uptick in contract activity in the fall is translating into an increase in closed sales, says Garrett Derderian, the director of market intelligence at SERHANT. Prices appear to be leveling, he says.
"If buyers were waiting for the market to hit bottom, and have not yet purchased, they missed it," Derderian says. "While prices are still not near their most recent highs, discounts, while still prevalent across most price points, are shrinking."
In the first quarter, "the market heated from the bottom up," writes Frederick Warburg Peters, CEO of Warburg Realty, in his firm's first quarter market report.
"The first to go were the studios and one bedrooms, even as the upper market remained in the doldrums. Then activity crept up so that two-bedroom units, anything priced under $2 million, was also in demand. Finally, by early February, the high-end condo market became busy; sales at $4 million and above reached over 30 units per week and stayed there for the past eight weeks, creating by quarter's end the longest run of sales at those levels in 15 years," he writes.
Bond New York's first quarter market report, notes that current inventory levels mean buyers have plenty to choose from. "It also means we aren't seeing any dramatic increases in prices yet," the report says.
The active market means more than just real estate is rebounding. The report says, "It's also a sign that New York is not 'dead,' but in, in fact, alive and well. Spring is here; the vaccine rollout is in full effect; the sidewalk cafes are full; and tourists are starting to reappear in Central Park. All of these are indicators that we could soon be on the other side of this."
The first quarter market report from Compass finds that "units priced in the lower half the market, between $1 million and $3 million, captured 40 percent of the market—and all-time high."
Buyers also continued to gravitate toward Downtown, the Compass report notes. The area had the highest average price of any submarket. In the luxury segment, "deep pandemic discounts have started to be a thing of the past, as the market begins to correct itself, underscoring the trust sellers have in their assets' long-term value."
Writing in Brown Harris Steven's first quarter market report, CEO Bess Freedman says, all segments of the market have seen a huge jump in activity, which has brought inventory down sharply over the past several months.
As more people become vaccinated, she says, more of the city will reopen and "people that had left will return, and more buyers will be out looking for their new homes."
Brick Underground articles occasionally include the expertise of, or information about, advertising partners when relevant to the story. We will never promote an advertiser's product without making the relationship clear to our readers.