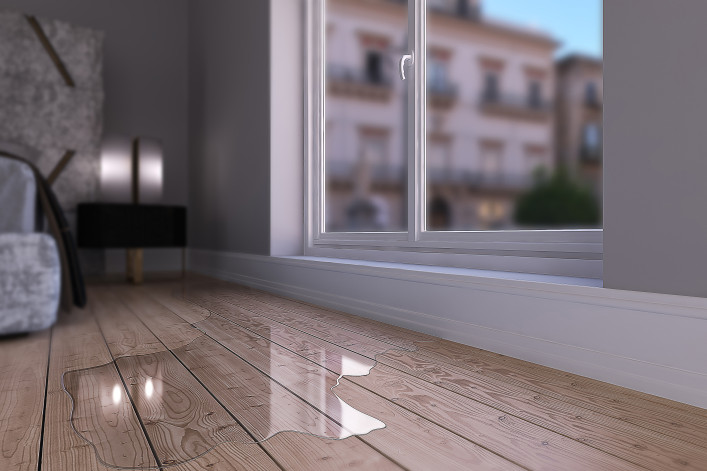 Flooded basements were not the only devastating result of New York's recent spate of extreme weather. Even residents on upper floors of apartment buildings suffered leaks from deluged terraces and rain-hammered windows, putting them at risk of mold. New Yorkers in brownstones and townhouses were similarly vulnerable.
With climate change making storms more intense and more frequent, you may be looking for ways to weatherproof your NYC apartment or building. Your ability to do so will depend on the type of housing you have. Even if you aren't in a position to renovate, it is worth keeping in mind that prevention—aka routine maintenance—is worth an ounce of cure. Know that most leaks start on the exterior of the building, including the roof, facade, windows, doors, terraces or balconies, and chimneys, so you'll want to start there. 
---
[Editor's note: An earlier version of this post was published in September 2021. We are presenting it again as part of our winter Best of Brick week.]
---
"The first issue for the majority of people in the city is they don't have control over doing the actual repairs or upgrades," says Stephen Varone, president of Rand Engineering & Architecture, which specializes in restoration and new building design. Even for shareholders or unit owners in a co-op or condo, the exterior envelope of the building is the responsibility of the board. This is especially true in light of changes to Local Law 11 requiring more frequent inspections of the facade, including around waterproofing. 
Even if you're not ultimately responsible for a building's maintenance, you should take an interest in how your landlord or board addresses storm damage. After all, your stuff is inside, says Jeffrey Gross, chief operating officer of full-service damage restoration company Maxons Restoration. Not satisfied with a remediation plan? One route is to bring in your own expert, at your own expense, for an independent evaluation. 
Of course, if you own a brownstone or townhouse, the buck stops with you. And if you are planning a gut renovation, you might consider working with an engineer to implement barriers that go above and beyond the current code requirements for weatherproofing.
Here are some recommendations for how to shore up your apartment or brownstone and protect it—and your belongings—ideally before the next inevitable storm hits NYC.
Secure the roof and clear the gutters
The roof takes the brunt of any heavy storm—so it should be your first point of defense against heavy rainfall.
If you have an apartment with access to the roof, look for any cracks or openings, especially around the parapet and flashing. Gross also advises to be careful when installing decking or a garden so you don't unknowingly disturb the protective membrane. Any rips or tears in that waterproof material can cause top-floor units to become catch basins.
In addition, you'll want to locate the drains and make sure they are not blocked or covered by furniture or other objects. They should also be free flowing (you can tell by pouring some water down them—it should disappear without any gurgling or pooling).
Both Gross and Varone emphasize the need to inspect the gutters frequently, particularly in the fall—and to have them cleaned as warranted. "A clogged gutter means water will pour over the gutter rather than going down the drainpipe (or leader) and end up flooding the terrace and getting under a door that would otherwise be fine," Varone says. 
And if gusty winds are in the forecast, be sure to secure all freestanding items or bring them inside—they could easily end up flying through your or your neighbors' windows.
Protect terraces and balconies from flooding
Flooding from terraces is an all-too-common reality in NYC.
Similar to the roof, check any terrace drains to make sure nothing is blocking them—including a pile of leaves in autumn. (If your terrace doesn't have a lip around the edge, it might not have a drain.)
Gross suffered a flood before he even moved into his apartment because of overflow from an upstairs neighbor's terrace. Turns out the neighbor had covered the drain with a rug—and neglected to remove it when a huge storm hit. (Instead Gross heard him going after the terrace wall with a sledgehammer to try and drain the pool of water. So he called the police and when they pulled up the rug, there was a huge rush of water as it whooshed through the drain.)
You can also batten down the hatches by putting
Quick Dam Flood Barriers
along the base of your terrace doors (or the doors on a garden-level apartment). These lightweight, reusable bags absorb water and then become heavy enough to protect the doors and keep water from entering—and shrink back as they dry out. (No schlepping 50-pound sandbags up your elevator.)
Check to see if window seals are intact
Windows are another place where the weatherproof seal in the building's envelope fails, allowing for potential leaks.
If you have older, single-pane windows, you'll want to make sure there are no gaps around the frames or cracks in the glass—these windows tend to develop frost on the inside, increasing the risk of breakage. Replacing the caulking and/or paint can help against normal rainfall but otherwise it might be time for an upgrade to newer windows that are better able to protect against heavy wind and rain. 
Double- and triple-pane windows for instance are designed with a vacuum seal around the edges to keep outside air and rain from infiltrating. But that seal can fail as a result of shoddy installation as a result of age or temperature fluctuations. So it's a good idea to have a window company test the seal in each window—and do repairs as needed. Those can include re-caulking and adding weatherstripping as well as replacing hardware like window hinges, locks, and lifters. But sometimes even older versions of these windows require replacing—or you might want to go with a sturdier "skyscraper" glass that's made to withstand extreme weather events. 
You'll need to run this by your co-op or condo board, because there might be restrictions on the type of window you can use. If you are in a historic building, the Landmarks Preservation Agency will have to approve any replacements. Same for a brownstone in a historic district. (You can read Brick's guide to upgrading windows for more details.)
Also, Gross recommends locking all exterior windows when an extreme storm is in the forecast—or if you plan to be away during storm season. This will help ensure a tighter seal and prevent them from opening accidentally. 
Make sure the basement drains properly
It goes without saying: Basements are a major concern when it comes to flooding.
If moisture is a recurring problem, the first step is to identify where is the water coming from—usually through the outside soil into the walls or seeping up from below. Based on what your contractor finds, it might be a matter of filling cracks with hydraulic cement or caulking around windows. Bare masonry walls can be sealed with waterproof paint and a waterproof membrane can be applied on the outside. More serious conditions will require a foundation specialist. And depending on how much all of that is going to cost, you might decide to hedge your bets—especially if it has been a minor cause of concern.

Regardless of whether you have any regular moisture, you'll want to make sure your drainage system is up to snuff—and to rectify any shortfalls (for instance, if your basement experienced heavy pooling in one area or more significant flooding during Ida). One of Varone's solutions is to put in a dry well, "which is like a big empty box where the excess water can accumulate in just that one area then slowly drain away when the crisis is over." Digging a trench around the inside perimeter works in a similar way by stopping water from migrating past that.

Another option is to create a French drain whereby a gravel-filled ditch is fitted with a perforated pipe that redirects water from the inside to an outside basin. (If you ever want to finish the basement, the walls are usually framed on the inside of the drain.)

In addition to one of these drains, you can add a sump pump that kicks on once the water table gets too high. "Until now these have not been common in the city but probably will be from here on out," Varone says. If you already have a sump pump, he cautions to make sure it is functioning properly: First make sure the power switch is always in the "on" position—and that the circuit breaker hasn't been tripped (and if it has, flip it back to the right position). Then you can reach into the pit or bucket where the pit is located to lift the floater mechanism, which should cause the pump to switch on (you'll hear the suction sound). And it is worth having the sump pump serviced by a pro at least once per year to check for drain blockages and to clean the pit. And know that most sump pumps have a lifespan of about ten years. 

Some cellars are going to be prone to some level of moisture no matter what you do, Gross says. If that's your plight, you are advised to run a dehumidifier at all times, making sure you get a model that's powerful enough for your square footage. Gross also suggests getting a model that contains a run-off hose leading to your sump pump or French drain rather than a water collecting bin, which effectively causes the unit to work harder and less efficiently (and requires frequent emptying on your part). 
And consider ways to keep items off the floor in case all else fails, including keeping your washer and dryer machines on a raised pedestal.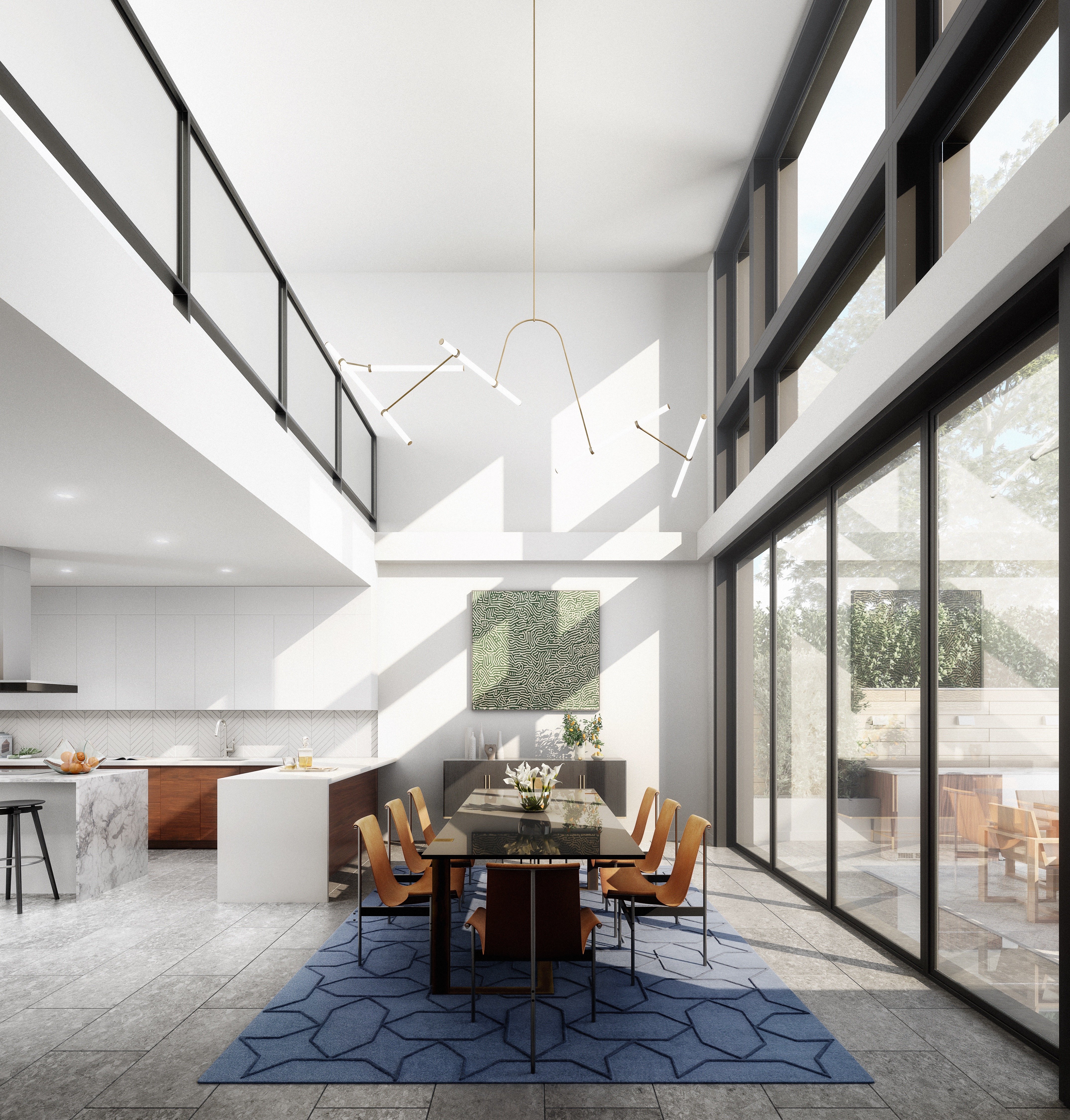 Add extra waterproofing during a townhouse renovation
For a finished basement or cellar, talk to your architect about adding a floating floor, with space between it and the concrete slab or subflooring for excess water to accumulate. This way at least it's not coming inside.
But you will still need to have a drainage system to deal with that overflow (and rent an industrial blower in case of severe flooding). Dricore subflooring might also help protect against minimal leakage. Waterproof flooring, including luxury vinyl sheets or porcelain tiles, can then go on top of that or your existing surface (you can read more about this in Brick's roundup of wood-look flooring). There are also anti-microbial options to help fight off mold and mildew.

And if you are really keen on making your property a safe haven in future storms (and have a sizable budget), you can go above and beyond what's required by code and implement some advanced materials and applications.

That's what Vincent DeFilippo, founder and chief executive officer of Innovative Design & Development, did when he equipped two high-end townhouses, at 224 West 22nd St. (above) and 163 West 76th St., with waterproofing reinforcements to be more sustainable. (Both properties are listed by Diane Sender, a broker at Compass.)
"You can't guarantee anything will be absolutely waterproof because we don't know what the elements will be, but we are at a pretty substantial level," he says. 
For the roof, he used a more substantial waterproof membrane (by Kemper) and topped it with lead-coated copper, using a fold-over "drip method" so rain just falls down and out. That's layered with one to two inches of coping stones to keep the membrane in place and provide extra protection. To handle the runoff from the roof, he installed a double-drainage system on the inside and outside of the house—if the primary drain gets clogged by leaves or if there is a torrential hurricane, the secondary drain will ease the water out in a moderate flow to prevent flooding in the home and in the neighborhood." Finally, the windows are encased in sturdy steel in place of wood.

These steps do come at a hefty cost, but if extreme storms like Ida are going to be the new normal, they just might save you in the long run. 
Brick Underground articles occasionally include the expertise of, or information about, advertising partners when relevant to the story. We will never promote an advertiser's product without making the relationship clear to our readers.