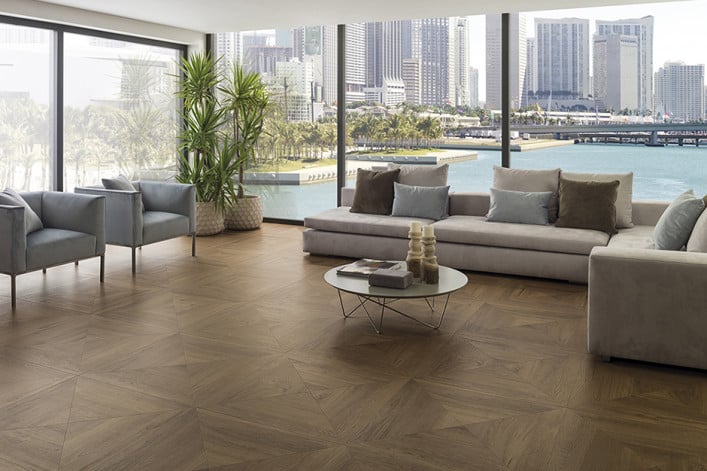 If you've been looking to buy new wood flooring for your NYC apartment or house renovation, you may have been stymied by the current lumber shortage.
Supply chain delays caused by Covid-19 shutdowns are creating lengthier-than-usual wait times. Plus you have to line up behind all the other home renovators who are eager to freshen up their floors. What's more, lumber prices are 340 percent higher than last year—and that applies to flooring as well as other reno materials.
There is a work-around to this unprecedented predicament: Consider getting the look (and even feel) of wood with other types of flooring such as laminate, porcelain, and vinyl. These faux woods are more convincing than ever, thanks to improved photo-realistic veneers. Or you can choose among bamboo, cork, and even linoleum (yes, linoleum!) for natural alternatives that may or may not look like wood per se. As long as you buy them from a reputable source (as provided below), these products tend to come from sustainable systems and are even biodegradable—so they don't end up in landfills.
All of these alt-wood materials are considered more durable and pet-friendly than real wood. They are more affordable too, ranging from as little as $1 per square foot for laminates and up to over $20 per square foot for high-end porcelain and cork.
Of course the most cost-effective and eco-friendly step would be to refinish your existing wood floors or even subflooring. But that's not always possible, especially if it has suffered water damage or decades of abuse (or was cheap to begin with). It's often not desirable either—goodbye passé parquet! (For more intel, read: "What you need to know about replacing the wood floors in your apartment or house.")
Also know that you don't have to completely abandon hardwood. Think of applying these substitutes strategically—like putting porcelain or cork in just the kitchen and bathrooms—and then splurge on (and wait for) those reclaimed wide planks for all the rest. 
Brick Underground has all the details on deck so you can weigh your options. Read on for the pros and cons—and costs—of each one to see how they might stack up in your own stomping ground.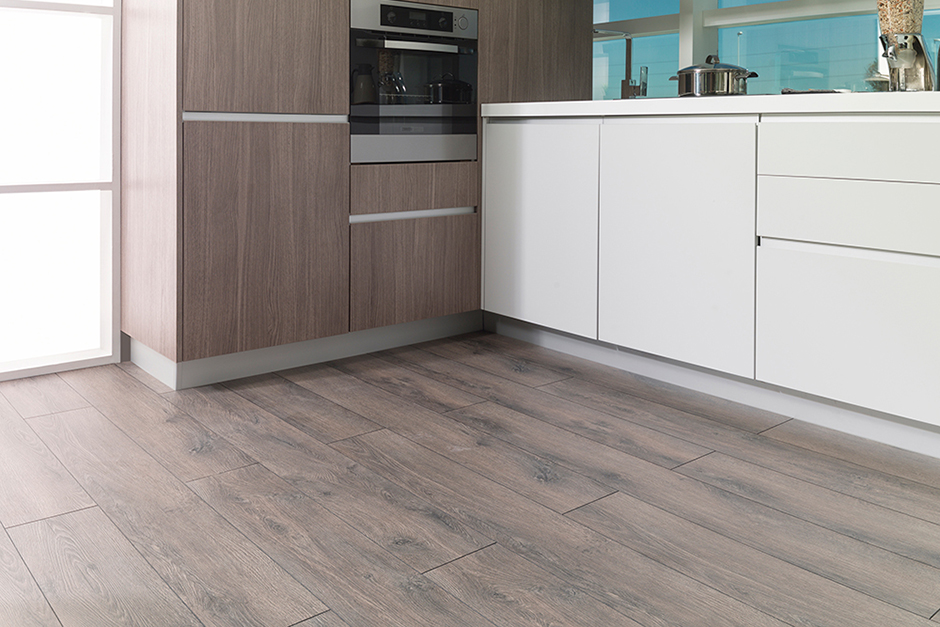 Laminate: A budget friendly option 
Although laminate has gotten a bad rap for being too fake, today's version is a far cry from when it was first introduced in the 1970s. You can even find laminates from high-end tile sources like Porcelanosa (the AC4 Residence 1L Misuri is shown above)—design rep Alexandra Russell says people still have to overcome the stigma, despite its own fairly extensive catalog. Another local source is LL Flooring (formerly Lumber Liquidators), which has stores in Brooklyn and Queens.
Yet laminate remains the most budget-friendly option of the bunch in both material and labor costs given the ease of the floating floor installation (i.e., it doesn't require that extra step of gluing to the subfloor). 
That said, once damaged your only option is to rip it out and replace it, as it cannot be refinished. The hard plasticate wear layer makes it easy to clean and resistant to spills and stains, though the particle board or fiberboard base means it is not waterproof. That's why Russell says it is not as durable as vinyl or porcelain. 
And laminate gets dinged for being noisy and uncomfortable to walk and stand on, though that can be mitigated by adding a foam or cork underlayment for some resiliency. It can also be slick, so look for brands with anti-slip surfaces. 
Expect some off-gassing of resins and chemicals used in the manufacturing process. On the plus side, laminate doesn't trap dust and other allergens like wood and other surfaces. 

Luxury vinyl tile for durability
The modern breed of vinyl—rebranded as luxury vinyl tile—is definitely not your old-school(room) vinyl. 
For starters, it comes in an impressive array of pretty realistic wood-look styles in au courant colors and plank widths from lots of upscale tile and stone providers, including Porcelanosa and Tile Bar, which has a showroom in the Flatiron neighborhood. (LL Flooring has vinyl as well.) Then there's the improved durability and maintenance now that LVT is manufactured with a longer lasting and more scratch-resistant wear layer that can stand up to heels and pet paws better than wood or laminates. It can also be refinished so long as there's enough surface to work with (similar to wood). 
And if you go with the rigid core (quick-lock) model, you'll save on installation costs since it does not require the extra step of gluing to the subfloor. In fact, Jeremy Salomon, executive vice president of Tile Bar, says this flooring can be installed on just about anything barring any broken or missing sections. Tile Bar's LVT is also waterproof, though you'll need to ask about other brands where the material might be more porous and only water resistant.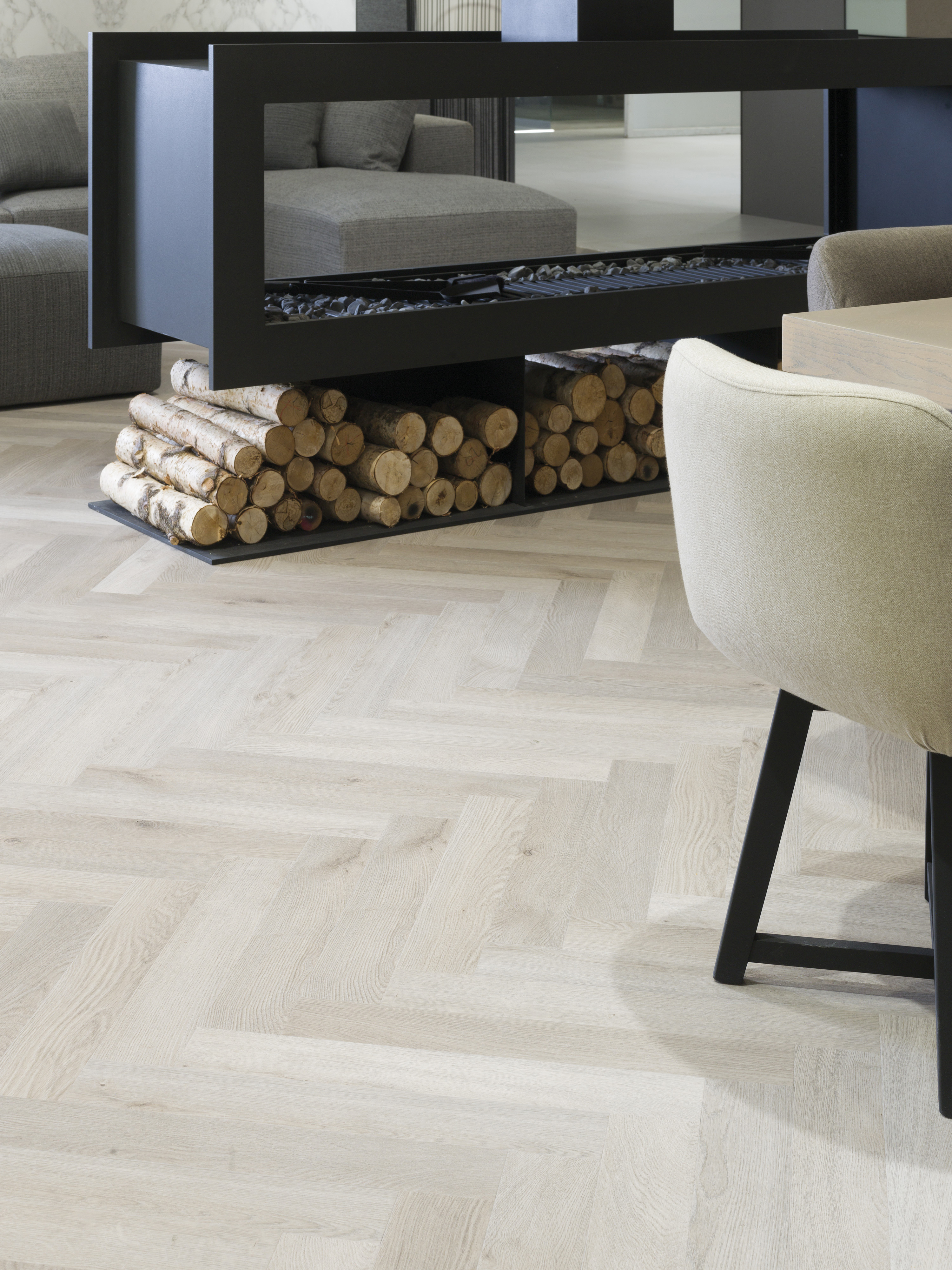 According to Russell, Porcelanosa sells the latest in vinyl flooring known as SPC (for stone product composite), which is "essentially LVT but with an added stone resin that makes it even more durable." Kingdom Greece (above) is one of the most popular options in the new Linkfloor collection. 
Despite all these advancements, vinyl wood is still inexpensive, capping at around $4 per square foot.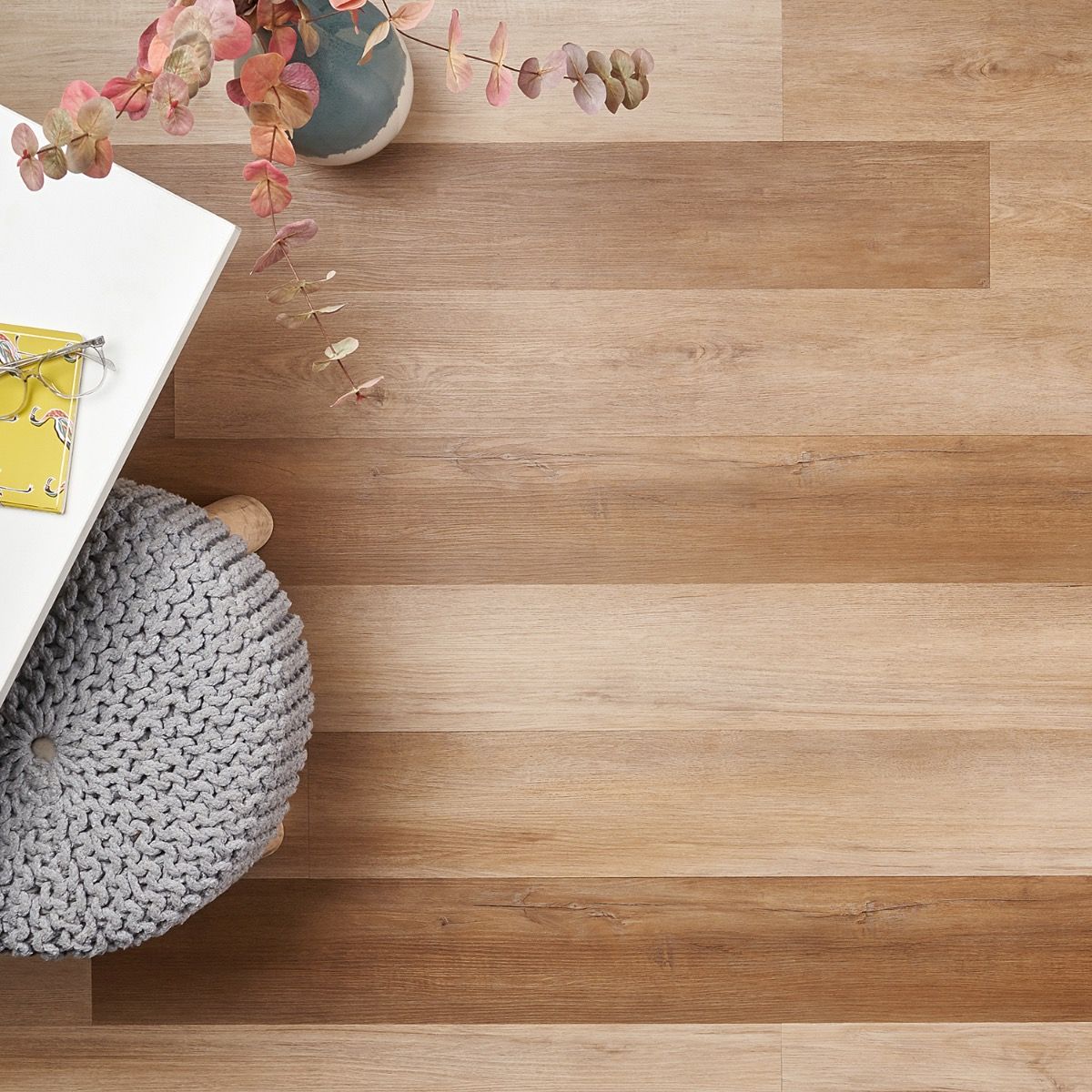 For example, Tile Bar's current customer favorite, ReNew Scarlet Oak Fawn (shown above), costs $1.96 per square foot. "We've seen a shift back to lighter colors and warmer, more natural tones during the pandemic, with the Fawn colorway speaking to that desire," Salomon says.
But he cautions that "there is an exorbitant demand for LVT due to advances in its performance around durability, maintenance, acoustics, and ease of installation coupled with a shortage of raw materials that's driving up costs, though not on par with hardwood." In other words, you might experience a bit of a lag time in getting your flooring, and have to shell out a few more bucks per square foot, but you'll still come out ahead.

Porcelain tile—bathrooms and high traffic areas
Designers have been leaning into porcelain tile for the bathroom for some time now—It is practically impervious to water, easy to clean, and bear none of the baggage of vinyl and laminates. That this design trend made its way here from Europe has also helped elevate its status. 
Jorge Fontan, principal of Fontan Architecture, says most of his clients want porcelain surfaces (not necessarily faux wood) in the bathroom, mostly in dark sand colors and grays. He has also used wood-look porcelain as a backsplash in a kitchen and is currently adding an exterior grade option (from Porcelanosa) for an accent on the facade of a townhouse in Astoria. He went with wood-look porcelain flooring throughout eight homes in Far Rockaway that he built as part of the Build It Back program in the wake of Hurricane Sandy. "Given the beachy scene and how people would be tracking in sand, we did it for the sake of durability," he says.
As with other types of ceramic tiles, porcelain is hard and solid enough for other heavy traffic areas like entryways, mudrooms, and living rooms. Just be sure you use designated floor tiles and not wall tiles. That strength does however make it susceptible to chipping and cracking if you drop something heavy on it, which is perhaps why you don't often see this in kitchens. On the flip side, you can simply swap out any damaged tiles (so buy more than you need as back up). 
Porcelain can be cold underfoot unless you put radiant heat underneath (again explaining its popularity in bathrooms)—or throw down a comfy rug.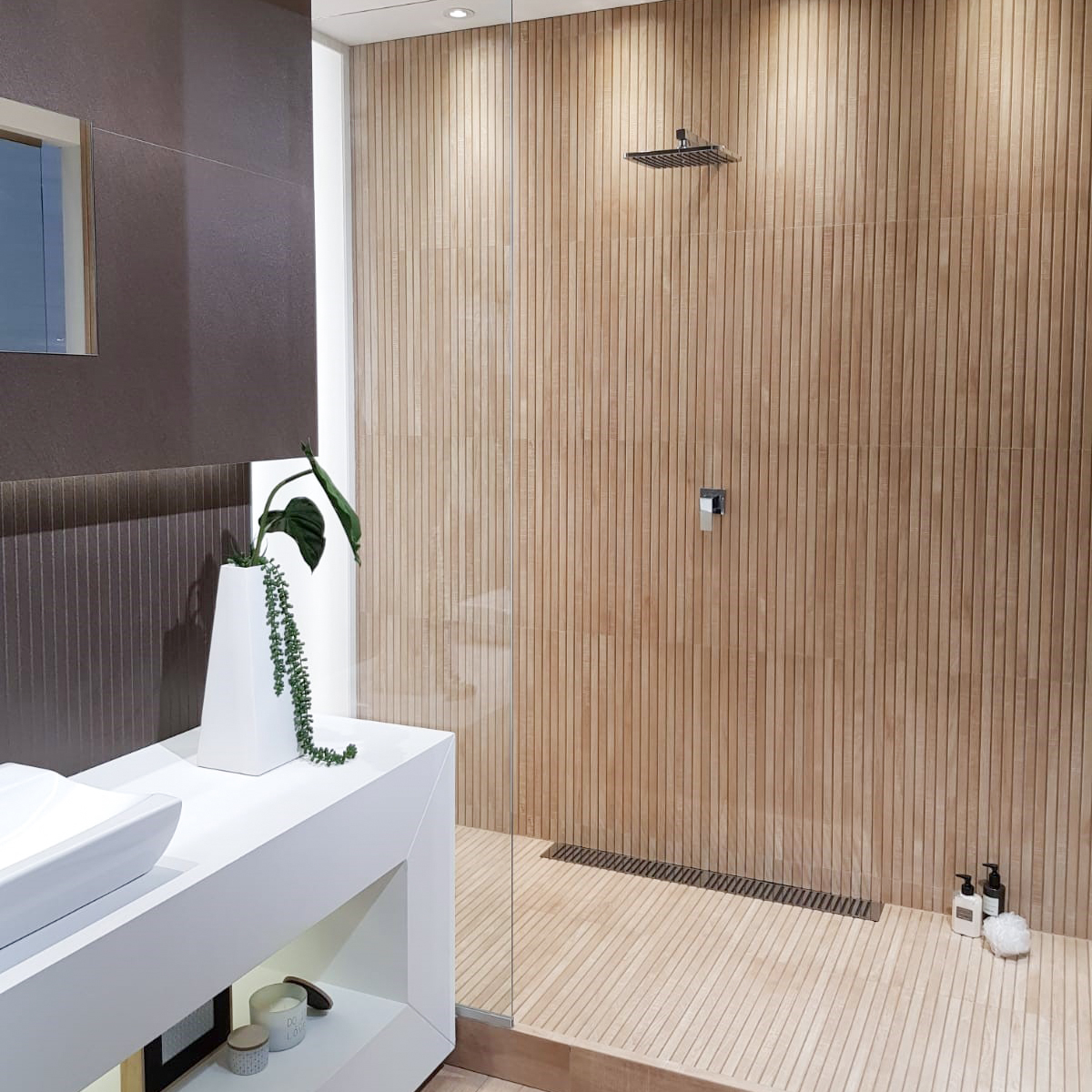 Tile Bar sells wood-look wall and floor porcelain tiles ranging from $1.99 to $11.95 in a variety of different woods. Its most popular product is Kenridge Ribbon Maple (shown above; at $9.75 per square foot). "It has a very spa-like quality and we literally cannot stock enough of it," says Pace Tropper, vice president of marketing.
Another popular option is the Kenridge Chevron Maple Matte Porcelain Tile (at $7.95 per square foot).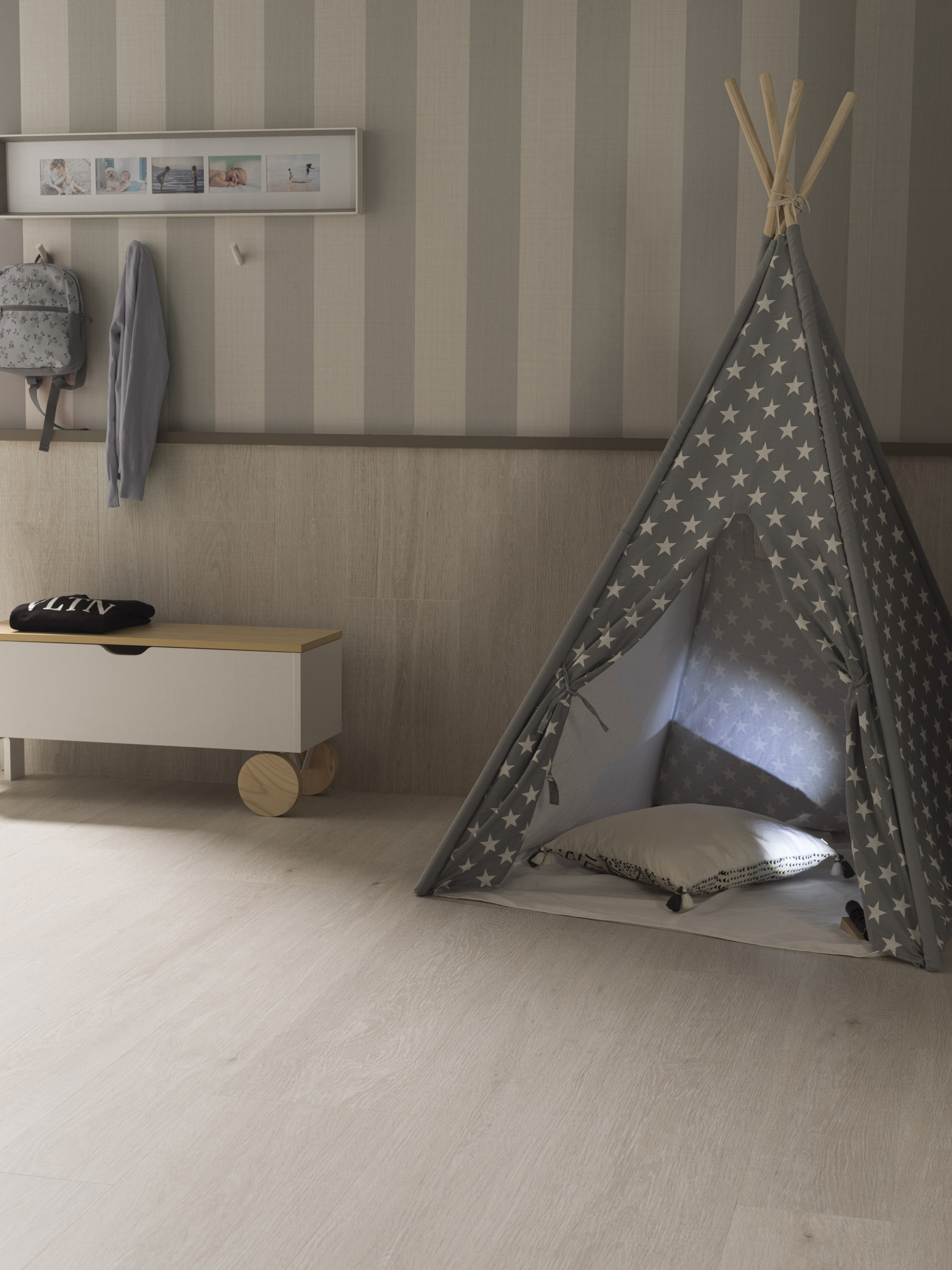 As for colors, Russell sees bleached whites and grays as being current favorites, such as the Tanzania White (shown in the living room at the top of this section) and Devon Bone from Porcelanosa's Madera line (above). As with hardwood, she says wide planks (also shown above) are gaining ground—though there is such a thing as too wide. "The plank width should be proportionate to the space," Fontan says. So 10-inch planks might work in an airy loft but not so much a prewar galley kitchen. Duly noted. 

Bamboo flooring—harder than oak and easy to refinish
As a cost-effective alternative to hardwoods, bamboo has increasingly become a fixture in luxury rental developments, including 66 Rockwell in downtown Brooklyn and Instrata Brooklyn Heights. 
It is pretty close to real hardwood in that what you see is what you get, e.g. the actual source material. But unlike trees, the fast growing, rapidly replenished bamboo plant can be harvested every five years. Hence bamboo has a reputation for being eco-friendly, though that claim is in question given the energy load required in processing it as a floor covering. Just be sure to source no-VOC, non-formaldehyde, sustainably harvested versions (such as from Green Building Supply or Ambient Bamboo Floors). At any rate it is readily available and affordable, at around $3 to $4 per square foot.
Depending on how it is manufactured, bamboo flooring can mimic the look of all types of hardwoods and be just as easy to refinish. The most durable type is strand-woven bamboo, which is rated three times harder than oak and will therefore best stand up to scratches and dents. 
Engineered bamboo flooring is similar to engineered hardwood, meaning it might be easier to install but not necessarily to refinish—it all depends on the thickness of the bamboo veneer that's applied to a plywood or fiberboard core. 
You can even find bamboo flooring that is sealed to be more water-resistant, such as Strand Toffee Engineered Water Resistant Click Bamboo Flooring from Lumber Liquidators.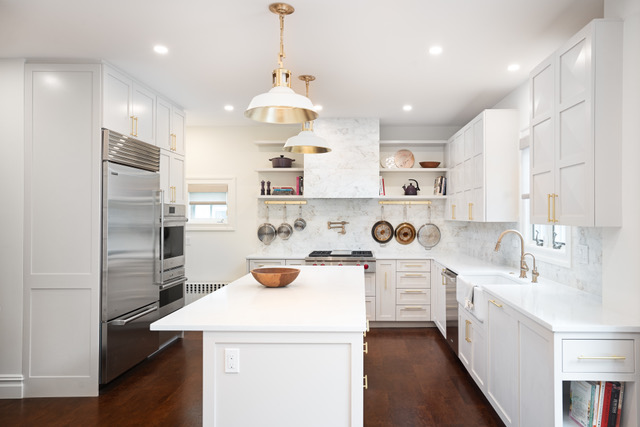 Cork tiles: An eco-friendly (and cushioning) choice
For a certain design sect, if you can't or don't want to use real wood, the idea is to go with something that is obviously not wood—preferably an equally authentic material. That's where cork can come into play. 
According to Carol Swedlow, president of Manhattan-based Aronson's Floor Coverings (and an architect), cork is a sustainable flooring choice because it doesn't add to deforestation (only the bark is used, leaving the tree to go on taking in carbon) and is a recycled post-industrial waste product from the wine cork industry. Win win.
As such the century-old flooring material is experiencing a bit of a comeback with eco-minded designers who appreciate its inherent functional qualities and pattern possibilities—these days the familiar square brown tiles come in lots of different sizes and dimensions and colors.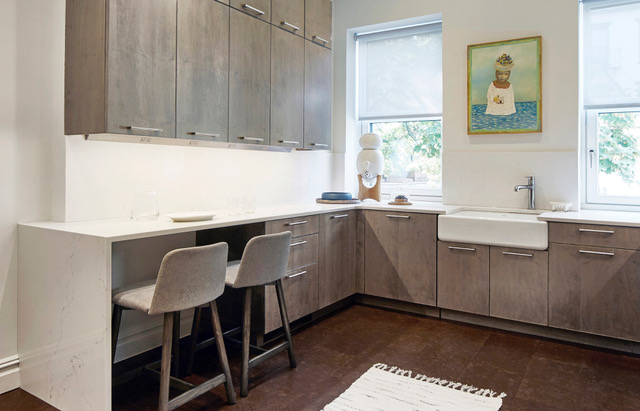 Jennifer Jean Morris, principal of interior design firm JMorris Design, is one such advocate. She has been working with cork for a few years now, seeing it as a style-meets-substance choice for kitchens—the soft cushioning not only eases the effect of long periods of standing but gives you a fighting chance in case you drop something fragile. She also likes how it helps with acoustics in larger spaces. (Her go-to source is Canadian cork flooring company Duro Design.) 
Jennifer Biscoe, CEO of Globus Cork, which manufactures its own cork tiles in the Brooklyn Navy Yard (and is the only color-cork manufacturer in the U.S.), says that kitchens and bathrooms are the most common areas for cork (this is where Swedlow put cork in her own home), followed by basements and home gyms. "Cork certainly works in bedrooms too—it always maintains a median temperature," she says. 
Whites and grays continue to be popular along with the natural look, though Biscoe encourages designers to go crazy—that you can with about 4,000 variations to choose from among the many different colors, tile sizes, and shapes, all made to order. 
Morris concurs, liking how cork can go in different design directions. "In its natural state it can be quite Scandinavian, or it can read walnutty and blend in conventionally." For example, in the white kitchen of an expansive Midwood house (shown at the top of this section), she was able to color-match the reddish-brown old wood floor in the adjacent formal dining area with cork in the eat-in kitchen.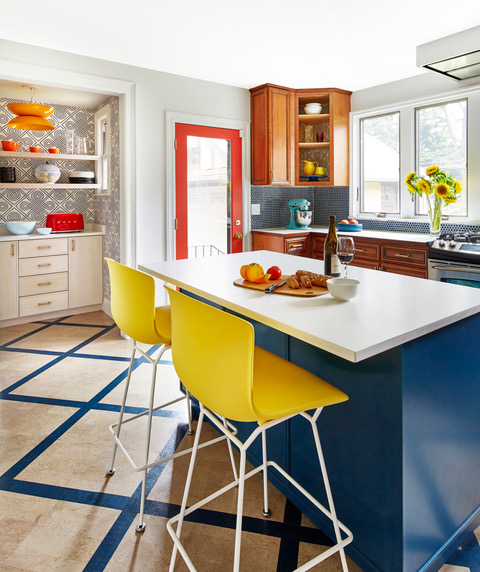 On the other hand, Morris likes how cork can be used to replicate concrete patterns that are still en vogue, strong geometrics, or classical Italian piazza tilework "if you are feeling funky and adventurous." The latter was her inspiration for the flooring in a Lefferts Gardens townhouse (above). 
Alexander Antonelli, principal of Manhattan-based Antonelli Architects, worked with Swedlow to create a modernist, oversized black-and-white aesthetic that evokes a nostalgic and comforting feeling for the discerning clients of a Water Mill house (above). "Cork is not for everyone and requires a bit more care if you demand perfection, but we think it's worth it as a sustainable and hypoallergenic material that can be refinished down the road," he says.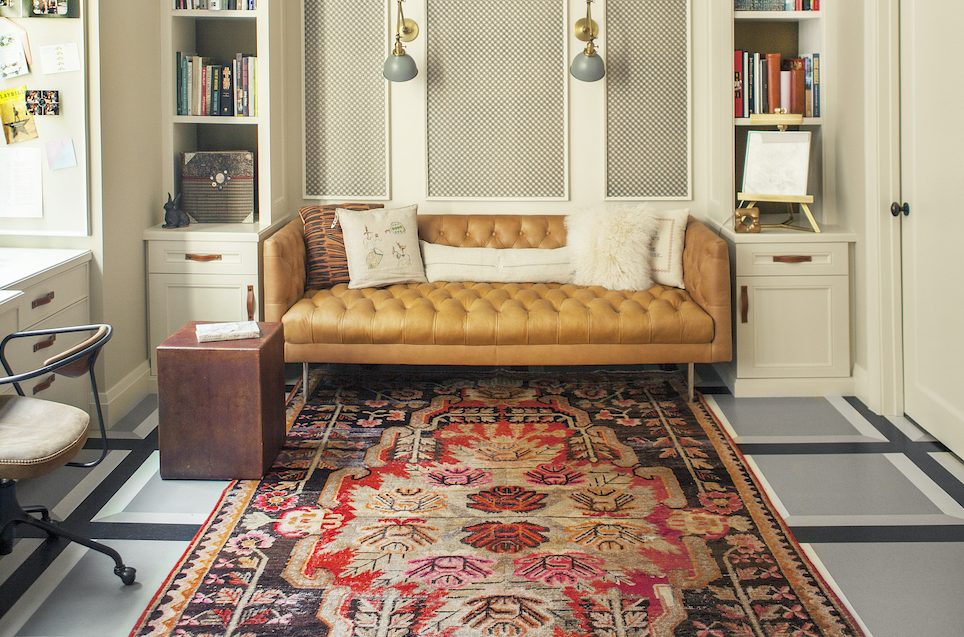 Carolyn Pressly, principal of Tribeca-based Carolyn Pressly Interiors, a full-service boutique design firm, used patterned cork from Aronson's Floor Coverings in a home office (shown above) and kid's room (think pink!) of  what she calls a vivacious and bold Tribeca transformation. "I love how Aronson's showed me the potential of cork."    
The price of cork tile ranges from $7 to $20 per square foot. Installation is easy too—some are pre-glued, others click-lock, and can go onto cement or an underlay-approved plywood.
Just know that cork behaves like wood in that it will expand and contract with changes in temperature and humidity; it also gets sealed in the same way as wood and requires a similar maintenance regime. 
That's why Swedlow says it's all about prevention. "The idea of all flooring, be it wood, cork, linoleum, vinyl, or stone, is that you are walking on the finish and not the floor—that's what is protecting your floor and your investment," she says. She recommends regularly applying the cork finish kit, something her own daughter likes to do "for fun." 
Given that it is 85 percent air, cork will usually rebound, but it's not stiletto-proof. Pockmarks are less likely but not out of the picture. 
Linoleum is sleek and sustainable
If you are concerned about vinyl's environmental footprint, then consider linoleum—contrary to popular opinion, it's made from a green ("bio-based") recipe of linseed oil, wood flour, and other natural substances. 
Turns out they've been making it the same way for over 150 years. Swedlow described it as looking like a giant commercial kitchen—they mix the ingredients in what looks like a huge mixer and then press it through something that resembles a massive pasta machine; then they drape the sheets over spindles and allow them to dry in a tall tower. "It's kind of magical in its simplicity."
At Aronson's the top-selling product is Marmoleum by Forbo, which has a signature mottled look and also comes as a solid color, "which we don't recommend period because it shows schmootz and subfloor imperfections and is harder to maintain, but New Yorkers love it and install it everyday," Swedlow says. And apparently solid black and battleship gray is a very popular look within the architectural community. 
Forbo also offers a Linear Line of linoleum that is meant to evoke (but not mimic) the look of wood, such as Pacific Beaches (shown above), part of the Marmoleum Click Cinch LOC product line (about $6 per square foot). This water-resistant flooring has a cork backing for cushioning and acoustics and has antistatic/antimicrobial properties that repel dust and dirt and other allergens for easy cleaning. Installation is easy via the glue-free locking system. 
For a wood-plank look, check out Forbo's Flotex Timber (above), a modular (9.48 by 39.37 inch) system (about $12 per square foot).
According to Swedlow, linoleum is warranted for two substrates—concrete and an underlay-approved plywood. You can add a foam or cork underlay for extra noise reduction. 
It comes in a sheet roll for a more seamless, super-sleek look as well as tiles in a range of standard sizes.
And once you are tired of your design, you can rest easy knowing that linoleum (and cork) will naturally decompose.  
"I'm having these conversations around all types of materials these days because of the shortages and the frequency with which people renovate," Morris says. "So thinking of materials that have a light footprint and are recyclable is important." 
Brick Underground articles occasionally include the expertise of, or information about, advertising partners when relevant to the story. We will never promote an advertiser's product without making the relationship clear to our readers.