NYC Renovation Q's
What you need to know about replacing the wood floors in your NYC apartment or house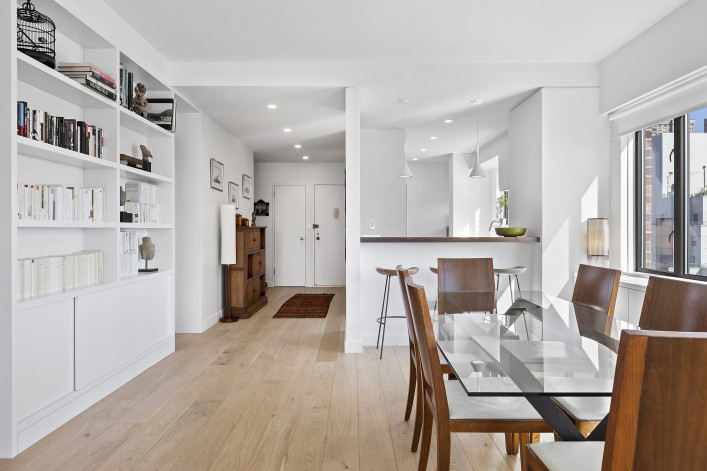 When the floors of your New York City apartment or house are worn or water-damaged beyond repair, you may be wondering what kind of job it is to replace them. 
Replacing the floors is a frequent renovation request for owners in NYC, where many older, prewar apartments and brownstones have wood strip floors, and postwar buildings have parquet floors—both can wear out and look tired. It can also be part of a dramatic make-over, no matter the age of the building. 
Architects recommend refinishing wood floors instead of replacing them to save costs and preserve the character of the place (it's also more sustainable). 
When that's not an option—either the wood is too worn or you can't stand parquet—then replacing is in order. Expect to spend around $8 per square foot for mid-range materials and more like $15 to $30 per square foot for high-end products, Plus there are labor costs for ripping out and disposing of the existing flooring ($2 to $4 per square foot) and installing the new one (this can vary greatly). 
Often the preliminary question is whether to use solid wood versus engineered wood, says Maryana Grinshpun, principal of Mammoth Projects. Each has its pros and cons and come in a range of qualities and price points depending on the species, width, pattern, finish (factory or on site), and sheen. 
Brick Underground delved into all the questions might have about replacing wood floors in a NYC apartment or house. Read on.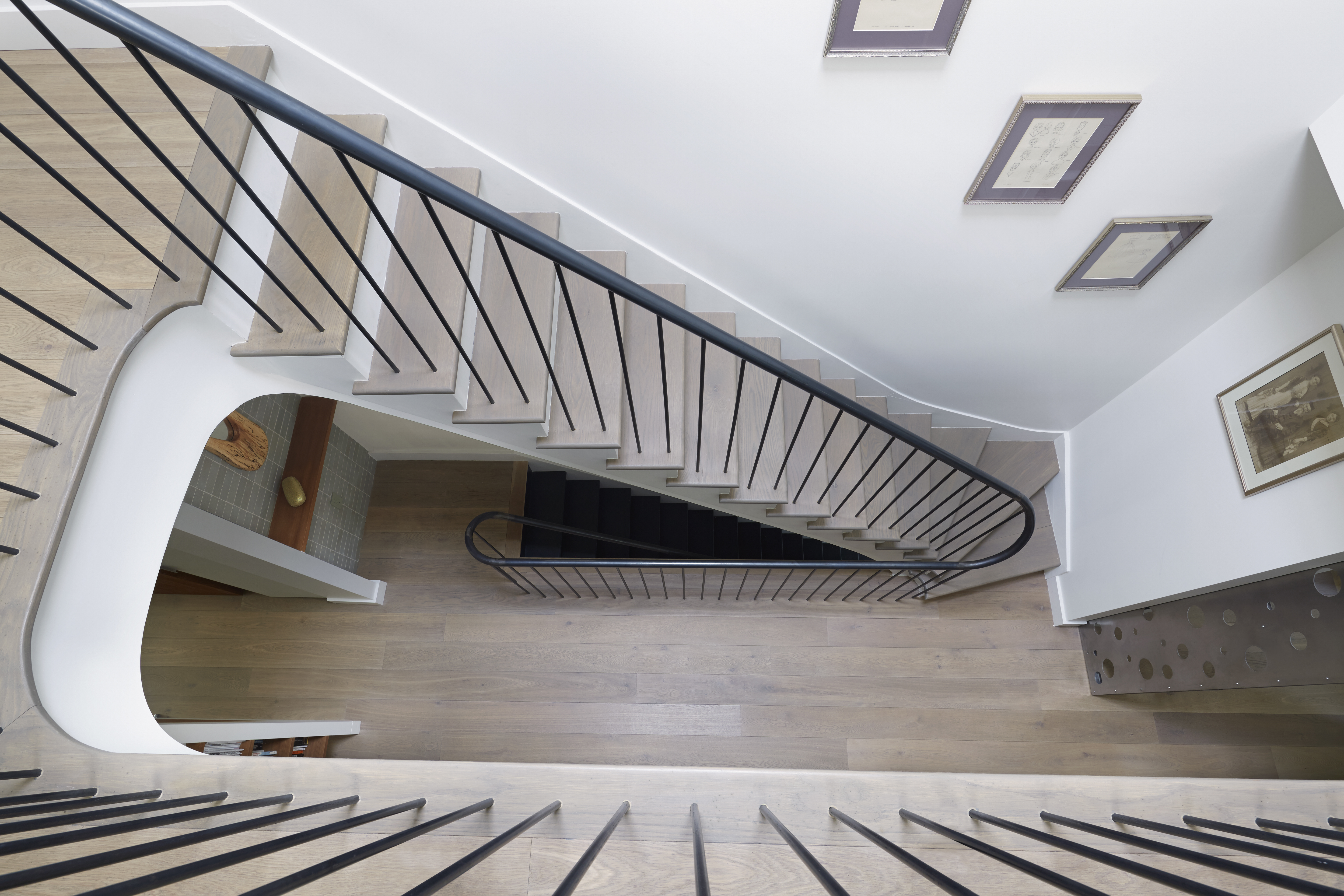 What's the difference between solid and engineered wood?
According to the National Wood Flooring Association, a trade organization, solid wood flooring is made of one piece of wood from top to bottom. 
Engineered wood floors are also made of real wood but with a higher quality "wear layer" that's laminated onto a plywood or other wood base. The thicker this layer is, the higher the quality (and cost).
At the lower end is composite engineered wood flooring, which contains real wood on the wearable surface only. (No one interviewed here had any experience with this kind of product.)
Most manufacturers produce both solid and engineered wood. 
Both Grinshpun and Jeff Etelamaki, principal of Etelamaki Architecture, have worked with LV Wood, Madera, and Hakwood on recent renovations—all are manufacturers with NYC showrooms (as opposed to being distributors). 
Most products are available in any dimensions and in any grade, with or without knots and splits. "The sizes of knots can be very different depending on the grade, and most clients have a strong preference for one or the other," Grinshpun says.
You can sometimes get the look of one type of wood replicated in another—say, you fall in love with a deep walnut engineered plank but have your heart set on solid wood (or vice versa). James Caroll, principal of LV Wood, says custom color-matching happens all the time. "This is why we suggest you pick your color and mood first and then sort out the other details such as engineered vs. solid as well as grade, format, and dimensions."
Pricing is comparable for solid and engineered wood, says Claire Hammock, a local sales rep for Hakwood, a Netherlands-based manufacturer with a store in NYC. She says engineered wood is often more expensive than solid wood in the U.S. because of production costs. (It's the opposite in Europe, where the raw materials are more expensive and in limited supply.)  
The price will depend largely on the type of wood. Most wood flooring is white oak but you can also find other species including ash, pine, walnut, and fir (such as from Denisen, another Danish flooring manufacturer and Instagram favorite). Longer lengths and wider planks tend to cost more than shorter, thinner versions. Different finishes will also jack up the price (more on those below).
Not that cost is always the deciding factor—quality counts too. One of Etemalaki's clients was looking to cut the budget but rather than go with an $8 per square foot white oak flooring decided she "must have" the $13 per square foot product from Madera. "So it's not as simple as saying 'I want a white oak floor,'" Elemalaki says. "You know it when you see it."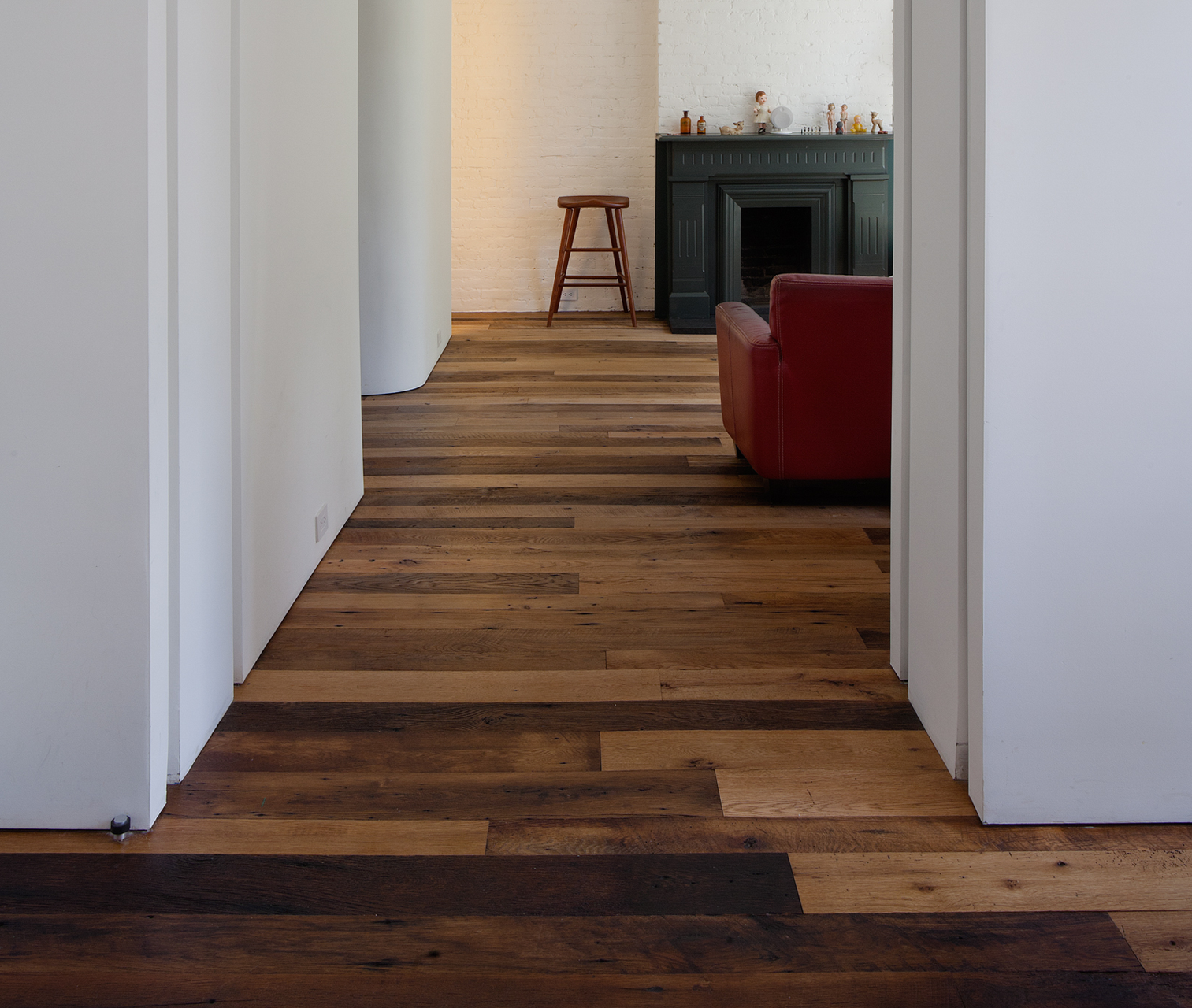 What are the pros and cons of solid vs. engineered wood?
Engineered wood floors expand and contract less than solid wood flooring, "so they tend to settle in better," Grinshpun says.
Solid wood is definitely more prone to environmental conditions, especially temperature and humidity fluctuations, which can lead to gaps, cracks, and warping. "These problems tend to be worse in the first few months after installation but then stabilize and stop," Caroll says. "Our typical winter heating system is tough on wood products, especially for people who aren't able to control the temperature. That dryness combined with the trend toward wider planks can be problematic for solid wood." 
For this reason you should only use engineered wood in basements. It is also better for bathrooms and areas with radiant heat, Etamalaki says.
Engineered wood can be installed directly on the concrete slab (without a subfloor), making it "popular in apartments where you don't want to take away from room height," Hammock says. Caroll cautions that some boards have specific requirements, such as requiring sound insulation between the slab and surface (check your building's alteration agreement).
Solid wood on the other hand, can generally be sanded and refinished more times and will therefore have a longer lifespan. "But good-quality engineered wood will last decades, so that's a moot point for many people," Grinshpun says. 
If you do opt for engineered wood, sources like LV Wood, Madera, and Hakwood offer thicker layers that can be sanded multiple times—but only on the top surface, not in the tongue-and-groove gaps. 
Still, Etamalaki points to a recent renovator who had to refinish her good-quality engineered wood floors after only seven years. "That's a concern for someone who plans to be there for a while and might be better off buying solid wood," he says, adding that P. C. Wood Floors has a reasonable selection for a mid-range budget.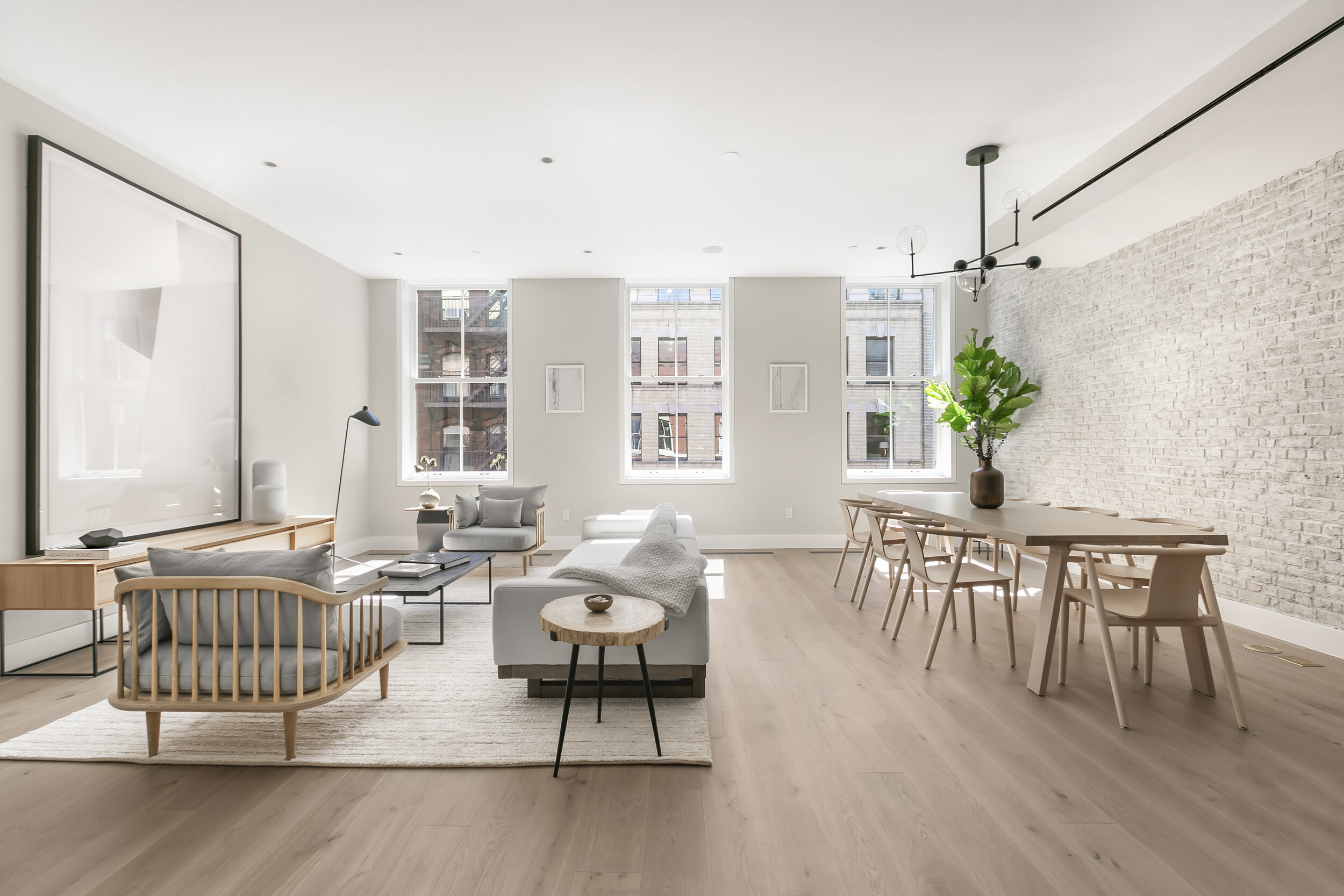 What flooring styles are popular now? 
All experts agreed that people are gravitating toward warmer and more natural tones as part of an overall push toward the holistic and organic. 
"You can get away with selling products of lower quality with stains and treatments so it's nice to see people are letting the wood products speak for themselves," Caroll says. 
Reclaimed wood is a sustainable option if you are trying to green your renovation—and has an age-old look that suits many older buildings in NYC.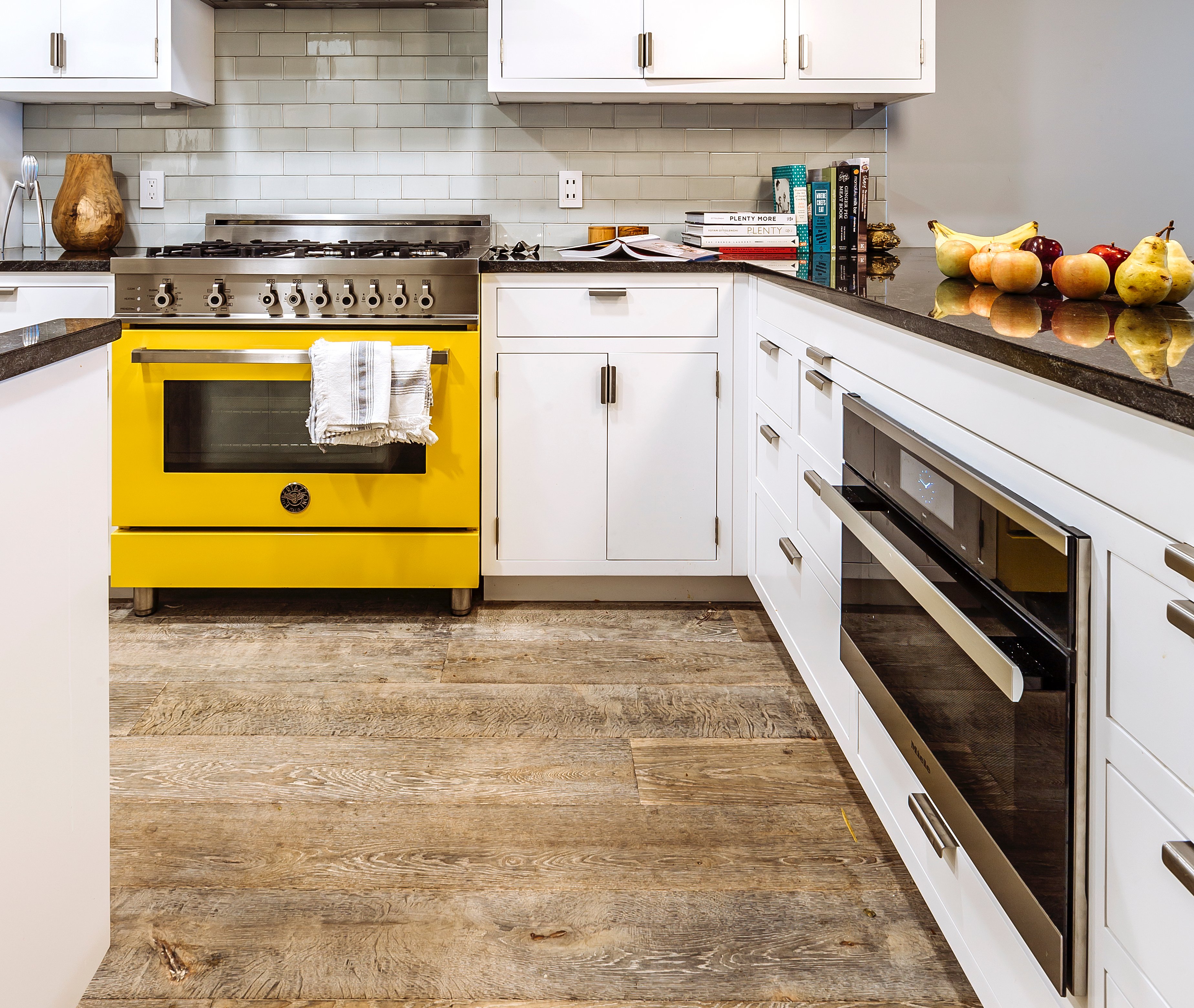 How is wood flooring manufactured? What should I ask for?
Wood floors (solid and engineered) are manufactured in four styles: strip, plank, parquet, and end grain. Strip flooring is less than three inches wide and what you find in most older buildings, often with geometric pieces of parquet for accents. Plank flooring is three inches or wider and is often used in newer developments. End grain is so named because the wood's grain is visible as opposed to being faced down.
You can order pre-finished wood or unfinished wood that will be sanded and stained after installation.
"What some people want is a floor that is sanded very smooth to a totally flat plane, but engineered wood will usually have a beveled edge that gives definition to each plank," Hammock says. 
How much that matters depends on your preference. Some engineered wood fits together almost seamlessly. 
"I used to be adverse to engineered wood as being less pure but that micro-level detail has been perfected to be more of a feature than a drawback now," Etalamaki says. 
And you can create all kinds of custom patterns or use a combination of colors and stains that look completely modern, including white and even indigo (Madera's claim to fame). 
What finishes and sheens are available for wood flooring? 
Both types of wood flooring come in four sheens: gloss, semi-gloss, satin, and matte. Similar to paint, the lower the sheen, the less noticeable scratches and dings will be. 
You can also get water- or oil-based finishes for a matte surface or choose urethane for greater protection (what Etemalaki says can end up creating a plastic look, and not in a good way).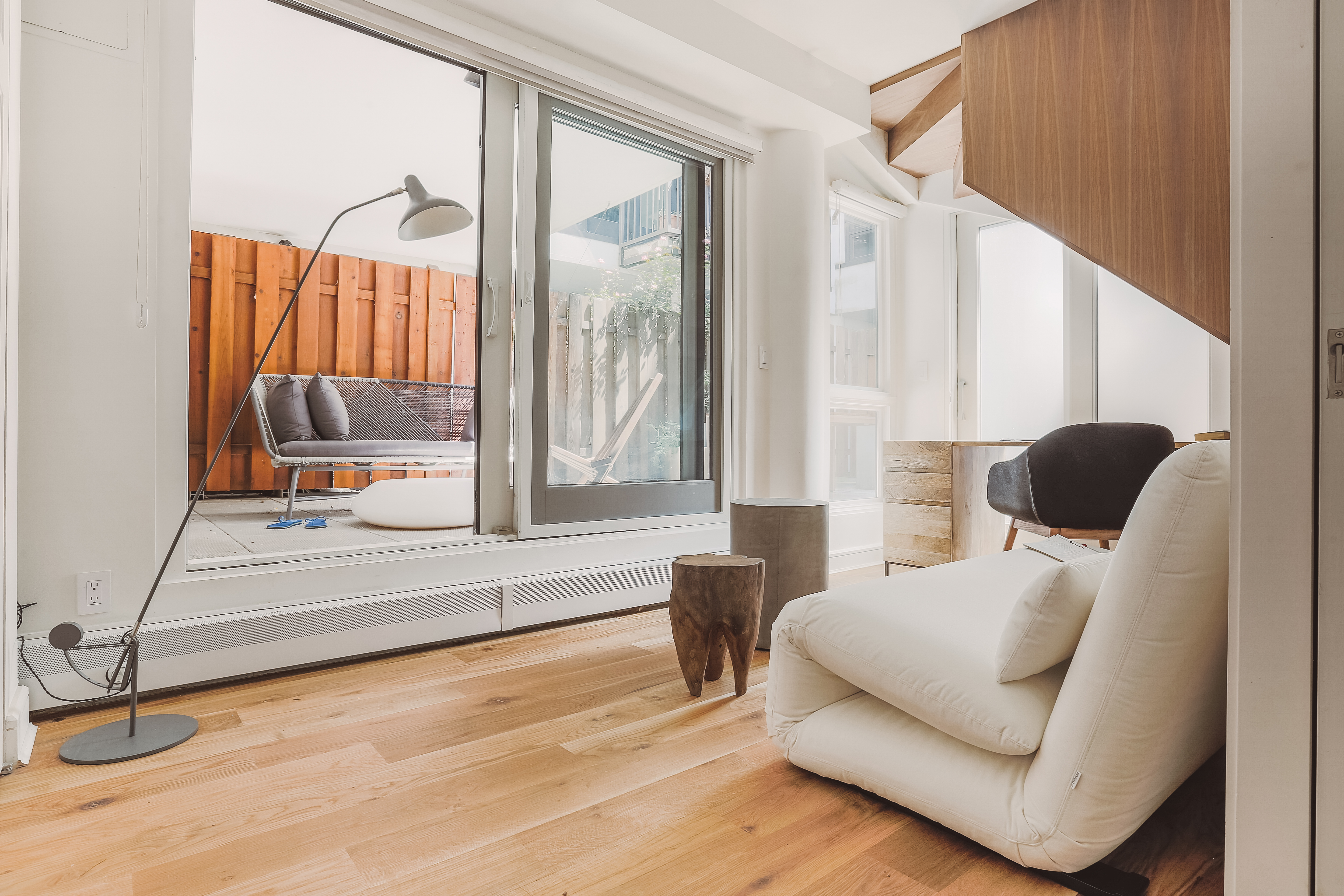 What's better: Factory finish (prefab) or site finish?
Unfinished wood will require a site finish that requires up to a week of drying time, while factory-finished wood floors do not. 
Grinshpun says you can get a local flooring company to manufacture unfinished engineered wood that matches a sample you like (presumably from a higher end source). "That's a lot cheaper, but their ability to create finishes on site is more limited as compared to what can be done in a factory," she says. 
Still, it can be an affordable alternative to going with a higher-end flooring company. 
Indeed, factory-finished wood can be brushed, scraped, or smoked (or fumed) to add texture or deepen the color—effects that simply cannot be done on site (or not without costing a fortune). 
What's the typical lead time? 
Per Grinshpun: On the very low end, inexpensive narrow planks are typically stocked locally, and only require a week or two. Similarly, flooring installers can usually get medium-sized planks on site within four weeks that are then stained on site.
Hammock says Hakwood's flooring specs are usually made to order, with a lead time of eight to 10 weeks. They also keep some of their most popular products in stock and available for quick shipment in the U.S. 
Caroll says most LV Wood products take six to eight weeks, with their Metro line available in four weeks. 
How long will it take? Do I have to move out?
Depending on the size of the project, expect it to take one to two weeks for the installation, less time if you order factory finish. "Then it will take a few days to a week, tops," Grinshpun says. 
You'll have to clear the work area of all furniture and other belongings, either by putting them in storage (such as for a gut reno) or by corralling them in one room. And if you are using prefab wood, you can move everything back in on the same day of installation. Otherwise you'll need to allow the finish to cure for about a week (ask the manufacturer for specific instructions). 
Likewise, you will have to avoid walking on new flooring that's stained or finished on site for at least a few days, so whether you have to move out depends on your ability to do that while living on the job site—and your tolerance for the odors. 
Who handles the installation? 
Don't skimp on this step. "Choosing the materials is fairly easy but you will want to take your time in finding a quality subcontractor," Caroll says. "An inexperienced one can torpedo the whole project." 
Most manufacturers will have referrals, or ask your architect or general contractor. Caroll advises having the costs itemized, so X amount for removal and disposal of what's there, X amount for installation, and X amount for any site finishing. "This can help you compare bids and also budget accordingly." 
The National Wood Flooring Association recommends that all flooring be delivered after the job site is closed up and the climate control fully operational and at least three days prior to installation to allow it to acclimate to the temperature and humidity. 
Grinshpun says installation should take a week, max, depending on whether there will be site finishes or not. 
—Earlier versions of this article contained reporting and writing by Tracy Kaler.
Brick Underground articles occasionally include the expertise of, or information about, advertising partners when relevant to the story. We will never promote an advertiser's product without making the relationship clear to our readers.