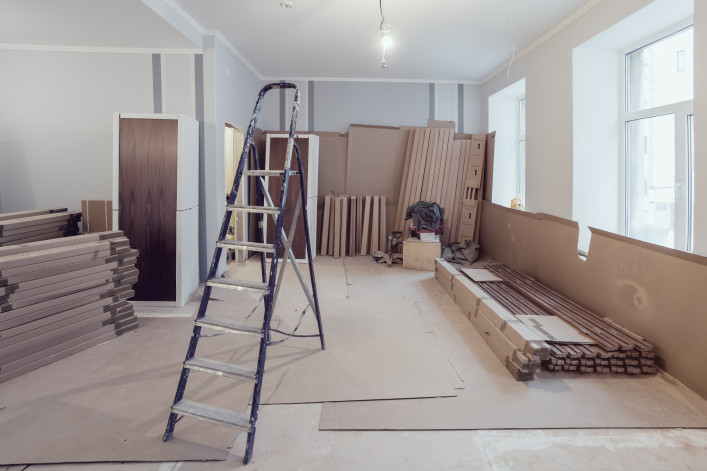 If you plan on renovating your New York City condo or co-op, you will typically need to sign an alteration agreement in order to do the work. This document is a contract spelling out the board's requirements—and an acknowledgment that your renovation will affect not just you, but also your neighbors.
The paperwork may feel onerous. Toby M. Cohen, a real estate attorney at the law firm Inglesino, Webster, Wyciskala & Taylor, says co-op or condo owners often feel like there's "an asymmetric power situation" going on with the board having all the control, but he points out the paperwork is designed to prevent problems rather than create them. "It's in everyone's interests that everything is done properly," he says. 
When do you actually sign an alteration agreement? While you might come across the alteration agreement when looking at a co-op's proprietary lease or a condo's bylaws, you usually put your signature on it when you're about to renovate.
You'll likely have an attorney look over the agreement for you if you're considering a renovation, and you'll need to know the requirements of the building, which will include: timelines for providing documents and completing work; insurance to cover liabilities; service fees and payments to the board; and lien waivers. 
Timelines for documents and completed work
It's in everyone's interests to have timelines on a construction project—neither you nor your neighbors want the work dragging on. Timelines for documents, however, provide what Cohen calls a "signal" to a board's attorney about how the project is being managed. If paperwork is consistently being submitted in a timely manner, "there might be more wiggle room" when it comes to the board's flexibility, he says. 
If an owner or shareholder is repeatedly unable to meet basic deadlines for providing documents, it could affect the board's confidence in the team and it may be harder to get approvals.
Take a look at what is and isn't allowed. If through-wall air-conditioning or Jacuzzi-style tubs are not permitted, think very carefully about whether they should be in your plans. Most agreements have rules on 'wet-over-dry' or the 'relocation of stack' which refers to water and waste lines. The board may ask you to change your renovation plans or accept them with modifications but keep in mind "you will still have to pay review fees and you won't get extra time," says Cohen.
The agreement will outline restrictions for when renovation can happen, including hours of the day and even months of the year. There may also be a limit to the number of renovations that can take place at one time, which might push out your plans.
If you've ever renovated, you know there's a high probability the job will take longer than expected. You may face a penalty if this happens.
"There are usually periods for extension," says Cohen and if there aren't, it's worth negotiating for some leeway. 
Insurance guidelines and policies
Insurance covers your liability so if you see a term like "umbrella insurance," that means you are being asked to make sure you are fully insured. 
"You want everyone to be insured all the way up and down the line because the last thing you want is for someone to get hurt or damage to the building and not to be able to pay," says Cohen.
To that point, if the alteration agreement doesn't require comprehensive insurance that's not something to celebrate. It might be a sign the board is not exercising the oversight it should. 
"If someone gets hurt they are going to sue everybody: the sub-contractor, the contractor, the building, the resident," says Cohen. Make sure you are insured and take notice of any exclusions. Keep in mind the agreement may also include a list of contractors you cannot work with. 
Liens and lien waivers
Contractors need paying. If workers provide materials or services and are not paid, they can file a mechanic's lien that attaches to the property and they could theoretically foreclose on the building. 
Your building's alteration agreement should build in several protections against liens with language preventing the contractor from putting one on the building by making clear the work does not benefit the whole building, but just the condo owner or tenant-shareholder. 
On this issue, Steve Wagner, a real estate attorney at the law firm Wagner, Berkow & Brandt (and Brick Underground sponsor) has told us previously "approvals by the board should be limited solely to an assessment of whether the plans comply with building's rules and don't negatively impact the building's structure."
Even so, the alteration agreement is between you and the board and Cohen says a subcontractor is not going to read the agreement or be interested in what he can and cannot file. "If someone has not been paid, he's going to file a mechanics lien," says Cohen. "That's how it works in the real world."
The alteration agreement should require that you "bond" the lien within 30 days which removes the lien from the building and gives the building protection from creditors. 
The preferred scenario is that payments are made without any problems and if this is the case, all the contractors who have done work in the building need to give you a lien waiver at the end of the project. "It's the equivalent of you giving indemnity", says Cohen.
Fees and board payments
When it comes to the fees and payments to the board, look out for the term "escrow." This is going to mean you'll be required to put a certain amount of money in an account overseen by a lawyer for payments made to the board. 
This is a measure that protects the board but in doing so, it can also protect your relationship with the board. Cohen says it may not feel like there is an "upside for the tenant," but if you follow the terms of the escrow he says "things will go smoother."
After all, you have to live with these people, you're going to see them in the elevator.  Play nicely and if you have competent professionals, it's likely the work gets done well and everyone gets paid. "All of this is to prevent a problem—an ounce of prevention is worth a pound of cure," says Cohen. 
Brick Underground articles occasionally include the expertise of, or information about, advertising partners when relevant to the story. We will never promote an advertiser's product without making the relationship clear to our readers.