Ever wonder what the major differences are between prewar, post-war and newly constructed buildings? Choosing which is right for you will have everything to do with your specific style and what details of a home are most important to you. During the process of buying, you will identify—fairly quickly—what features of a home you consider most important.
James A. Fierro, Jr. of Miron Properties tell Brick Underground what these terms mean and what to look for in this week's Buy Curious.
THE WISH LIST:
"I'm looking to buy a place and I keep seeing apartments listed as prewar or post-war. What does post-war even mean—anything from World War II on? What are the different characteristics/price points between the two? And what about new construction? What can I expect there?"
THE REALITY:
When referring to prewar, post-war and newly constructed buildings, there are many more differences than just the date of construction. There are major distinctions in style, design, amenities and building management.
Prewar
A prewar building does, in fact, refer to a building that was constructed prior to World War II. Homes built in this era typically possess identifying characteristics like high ceilings, detailed woodwork, crown molding and ornate plaster decals. They often have higher ceilings, larger windows and bigger rooms than places built more recently. They  are also more apt to have more traditional layouts with separate kitchens, living rooms and dining rooms, etc.
There are clusters of prewar townhouses and older doorman buildings with ornate facades in areas such as the West Village, the Upper West Side and along Central Park on the Upper East Side. If you choose to buy in one of these neighborhoods you will most likely live in a prewar building, and vice versa.
Discover off-market properties in your dream neighborhood that perfectly suit your needs and budget. Meet and deal with sellers before their apartment hits the market.
Let Triplemint's off-market team give you exclusive access to apartments in your price range and desired neighborhood that no one else has seen. More options, less competition, no bidding wars. 
While the historic details make prewar living enticing, these fantastic features also come at a price. Renovations (that can include restoration of original work) will typically be more expensive then in post-war buildings. The work can be detailed and therefore costly.
It should also be noted that many prewar buildings are co-ops, which usually require higher down payments and a longer approval process (including a board interview), and can come with stricter rules and regulations for owners/shareholders compared to condos.
According to Streeteasy, the median price for a one-bedroom in a prewar building  is $939,000. A two-bedroom sells at a median price of $1.1 million. I was unable to find a breakdown of average square footage, which is not atypical when dealing with co-ops.
Post-war
Post-war buildings tend to exhibit the characteristics of whatever decade they were constructed. For example, white brick exteriors and parquet floors are defining traits of construction during the 1950s and 1960s. The 1970s through the 1990s brought larger complexes that offered more amenities, such as doormen, fitness centers and common roof decks.
The apartments in these buildings are typically more "cookie-cutter," meaning that the bones of the apartments are much easier to work with and adjust. Renovations will come down to swapping out materials, so labor is often minimal. Bringing these apartments up to date is much easier than prewar apartments.
Most of the buildings built in the post-war era are condos, which have simpler qualifying processes and less restrictive rules than co-ops. There aren't any board interviews. A prospective buyer only needs to show that he or she is financially capable of purchasing the unit.
A one-bedroom in a post-war building averages 791 square feet and sells for about $1,309 per square foot. An average two-bedroom would measure around 1,100 square feet with a median price of $1.2 million.
New construction
Buying in a newly developed building can offer a number of advantages.
First, early buyers can get a discount, since developers often release inventory in stages, hiking up prices as the move-in date gets closer. A buyer may save as much as 10%, though the lower cost comes with additional risk, since the project is further from completion.
Second, the buyer will also be purchasing a unit that is "move-in ready," meaning there will be little to no work needed prior to moving into the home, which usually boasts modern features and décor.
Many newly constructed buildings also offer tax abatements for the first 10 years of the building's life, meaning the buyer will see significant savings on his or her real estate taxes.
As amazing as many of these new buildings are, the units come with prices to match. Many of the newly constructed condo buildings are geared toward the luxury and super-luxury market. They sell at a higher price per square foot than the prewar and post-war buildings in the area.
In 2013, the median price of a one-bedroom was $1.0975 million, while two-bedrooms had a median price of $2.047 million—quite a jump from the other two types of buildings. 
If prewar living seems enticing, try these places:
West Village-Meatpacking District 1-bedroom/1-bathroom co-op, $922,000: This floor-through unit at 323 W. 11th St. between Washington and Greenwich Sts. has a newly renovated kitchen with modern stainless steel appliances, but the place still maintains its pre-war charm with details like exposed brick and a claw-foot tub. Though the apartment is currently set up as a 1-bedroom, it can be adjusted to accommodate two bedrooms.
Upper West Side 2-bedroom/1-bathroom co-op, $1,195,000: This 2-bedroom at 160 W. 87th St. between Columbus and Amsterdam is located in a classic pre-war co-op doorman building. Situated between Central Park and Riverside Park, this place has been updated while keeping original details like moldings intact. The unit is currently configured as a 2-bedroom with a dining room, but can be converted to a 3-bedroom.
Want to live in a post-war apartment? Check out these listings:
East Village 1-bedroom/1-bathroom co-op $995,000: This post-war co-op at 70 E. 10th St. between Broadway and Fourth Ave. is in the heart of Greenwich Village—just two blocks from Washington Square Park and four blocks from Union Square. Building amenities include a doorman, a roof deck, an attached garage and a children's playroom. The home, which is roughly 1,100 square feet, features multiple storage spaces and a home office. However, the building only allows up to 60% financing. That means you'll need $398,000 in cash just for the down payment.
Clinton 2-bedroom/2-bathroom condo, $1,100,000: This post-war condo, located in the Colonnade at 347 W 57th St. between Eighth and Ninth Aves., could be a primary residence or an investment opportunity. Built in 1983, the apartment has a large kitchen, two balconies and a living room that is large enough for a separate dining area. There are few pictures so the unit may need a bit of work.
Rather buy into a new development? Try these:
Midtown West 1-bedroom/1-bathroom condo, $950,000: As far as new developments go, you will hard pressed to find any that can match the value at 540 West, located at 540 W. 49th St. between Tenth and Eleventh Aves. At 669 square feet, this 1-bedroom unit has brand new appliances and in-unit laundry. Building amenities include concierge service, a fitness center, courtyard, roof deck, and additional storage. The 421-A tax abatement puts the monthly real estate taxes at $137 for the first year. If you combine that with the common charges, the carrying cost is $907 per month. However, you'll need to wait until late 2014 or early 2015 to move in because the building is still under construction.
Financial District Studio/1.5-bathrooms condo, $1,030,000: The Financial District is surging back to life post-Sandy. At 75 Wall, a buyer can move in immediately--the development is a conversion, so the building is already built--while getting some of the upsides of a new project, such as a tax abatement that lasts until 2021. At $1,162 per square foot, this rivals the median price of pre-war and post-war buildings. Residents can also use the services of the hotel on the lower floors. Room service is offered at a 20% discount to residents, and there's a lounge, a gym and a roof deck. The unit itself is an 886-square-foot studio loft. That's larger than some 2-bedroom units in other neighborhoods.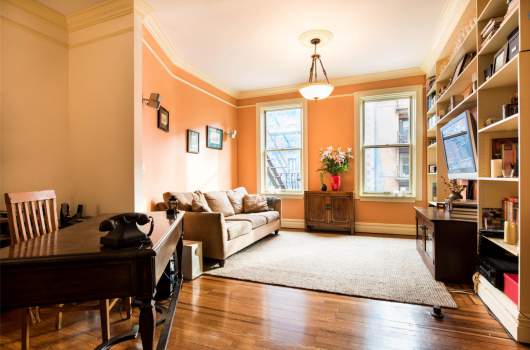 This $922k pre-war co-op at 323 W. 11th St. between Washington and Greenwich Sts. in the West Village has old-school details like exposed brick and a claw-foot tub.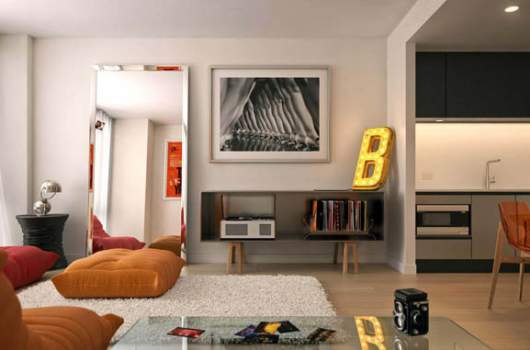 This one-bedroom Midtown West condo at 540 W 49th St. between 10th and 11th avenues. boasts a slew of amenities, but you won't be able to move in for a while since it's still being built.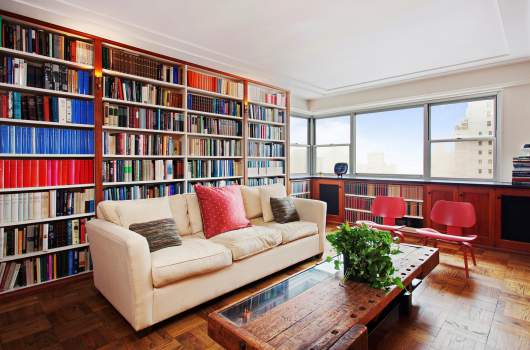 Since this post-war co-op at 70 E. 10th St. between Broadway and 4th Ave. only allows up to 60% financing, you'll need up to $398k for the down payment.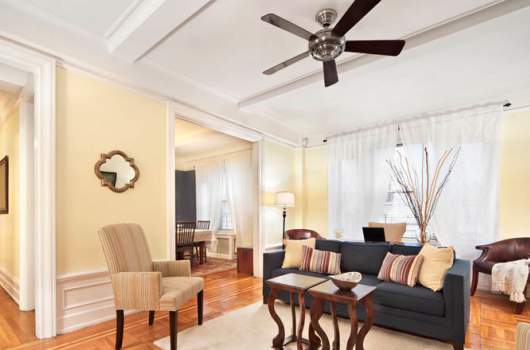 Located at 160 W. 87th St. between Columbus and Amsterdam, this 2-bedroom co-op has been updated but still retains prewar features.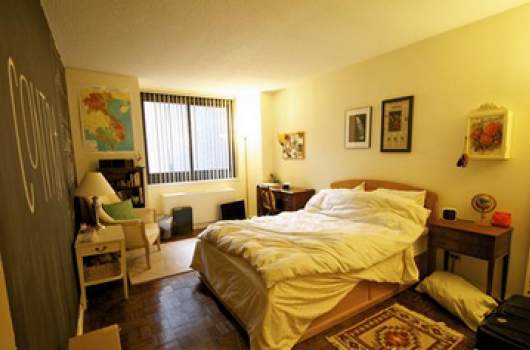 Built in 1983, this post-war condo at 347 W 57th St. between 8th and 9th Aves. has a large kitchen and two balconies, but might need a bit of work.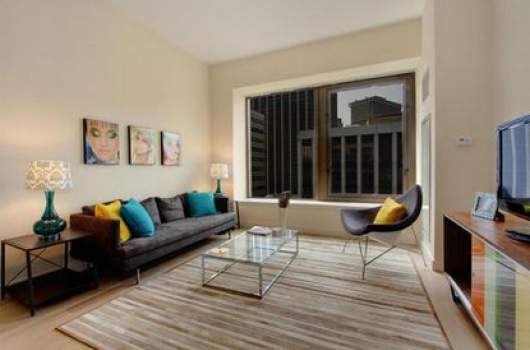 This large FiDi studio at 75 Wall St. (at Hanover St.) is in a building that's part luxury condo and part hotel.
---
Buy Curious is a weekly column in which NYC real estate brokers help buyers develop a realistic search strategy. Want some advice on your search? Send us your wish list.  
Related posts:
The 7 most common new construction defects
Expecting some concessions with your new condo? You may be unpleasantly surprised
Buying, renovating or refinancing next year? 5 mortgage trends to watch in 2014 [sponsored]
What 8 first-time buyers wish they had known
Here are the 7 most likely reasons you'll get turned by a co-op board
7 questions to ask about the building before you buy an apartment there [sponsored]
Everything you ever wanted to know about sponsor apartments but were afraid to ask
How to buy an apartment that's not for sale using PropertyShark.com [sponsored]
6 hurdles that can stand between you and a mortgage -- and what to do about them
7 things to consider before buying in a landmarked building
Top 12 questions New Yorkers ask their mortgage bankers [sponsored]
What I learned from 150 apartments before I finally bought one
Diary of a First-Time Buyer: 13 lessons learned after 60+ apartments, 2 attorneys, 3 brokers and 2 board applications
Brick Underground articles occasionally include the expertise of, or information about, advertising partners when relevant to the story. We will never promote an advertiser's product without making the relationship clear to our readers.