Buy Curious
Prewar, post-war, or new construction—what's the difference between these types of NYC buildings?
When you are looking to buy an apartment in New York City, the terms "prewar," "post-war," and "new construction" are common among listings, but what do they mean? Primarily, they indicate when a building was constructed, and they also tell you something about the style of the building as well as what you can expect in terms of pricing and amenities.
Here's a quick primer: Prewar is anything built before World War II, Post-war is anything built between World War II and the 1990s. And new construction is just what it sounds like—buildings that are currently being built or were built in the last year or so.
In this week's Buy Curious, James Fierro of Compass and Kobi Lahav of Mdrn. Residential tell you everything you ever wanted to know about prewar, post-war, and new construction buildings, including where to find them in NYC, how much they'll each cost you, and how to determine which is right for you.
---
[Editor's note: An earlier version of this post was published in January 2014. We are presenting it again with updated information for February 2020.]
---
The question
I'm looking to buy a place and I keep seeing apartments listed as prewar, post-war, or new construction. What do these terms mean? 
The reality
These terms describe when the building was built, as well its "design and aesthetic, amenities, and even ownership type," Fierro says.
Discover pre-market properties in your dream neighborhood that perfectly suit your needs and budget. Meet and deal with sellers before their apartment hits the market.
Let The Agency's pre-market team give you exclusive access to apartments in your price range and desired neighborhood that no one else has seen. More options, less competition, no bidding wars. 
What are some characteristics of prewar apartments?
A prewar apartment does refer to a building that was constructed prior to World War II. "However, the term can also include apartments that were built prior to World War I and even the Spanish-American War," Lahav says.
Buildings from this era typically have high ceilings, detailed woodwork, crown moldings, ornate plaster decals, and big windows, Fierro says. Units in these buildings typically have large rooms and "traditional layouts that resemble what you might find in a house, such as a separate dining room," he adds.
The buildings themselves will often have elaborate stone facades and black iron doors.
What are some pros of buying in a prewar building?
Apartments in prewar buildings have a lot of character thanks to their details, Lahav says. These are not like the plain white boxes that you find in post-war or new construction.
And prewars can be larger apartments with higher ceilings, he adds.
Prewar units also tend to be quieter since they have plaster walls and poured concrete floors, so you'll be less likely to hear your neighbor's kid practicing his recorder.
What are some cons of prewars?
While the original details draw people to these apartments, one thing buyers need to keep in mind is the upkeep required by older buildings.
Renovations are more expensive because you need to update electrical and other systems and bring them up to code, Fierro says. Pipes may also need to be replaced.
And not everyone appreciates the layout of a prewar—which features a kitchen separate from the living and dining rooms. 
Most prewar buildings are co-ops, which are cheaper than condos but typically require higher down payments, more restrictions, and a daunting board approval process.
Plus, modern amenities such as fitness centers, resident lounges, and common rooftops are not as common in these older buildings. Some buildings do add them in if they have the space, but it's pretty rare. 
What are some characteristics of post-war apartments?
Post-war buildings have a range of styles depending on the decade of construction, Fierro says. You'll find post-wars with white brick exteriors and parquet flooring from the 1950s and 1960s. Buildings with more amenities, such as doormen, fitness centers, and common roof decks, went up in the 1970s through the 1990s.
What are some pros of buying in a post-war building?
The buildings are more modern with large windows, and closets, and easily convertible layouts like a junior four, Lahav says.
Renovations can also be much less fraught—and much less expensive—than in prewar buildings since the units were built more recently. If the electrical and plumbing is already up to date, you can save a small fortune.
Plus, "whereas most pre-war buildings are co-ops, these homes are very close to evenly split between condos and co-ops in New York City," adds Fierro, explaining that condos have fewer restrictions and rules than co-ops.
What are some cons of post-wars?
The biggest cons are low ceilings that can make the units feel smaller than they actually are, and the fact that many post-war structures are "pretty ugly buildings," Lahav says.
What are some characteristics of new construction buildings?
According to Lahav, new construction refers to any buildings that were built within the last year that haven't yet been lived in.
"Anything that was built between 2000 and 2018 is [technically] also post-war, but most brokers simply refer to those buildings by their actual descriptions, i.e., 'high-rise,' 'mid-rise,' etc.," he says. "We will describe their features as opposed to calling them post-war since the term usually applies to a certain type of building that stopped being built in the '90s."
New construction buildings are sleek, modern, and move-in ready.
"No matter what segment, the ultra-competitive market combined with the volume of inventory has developers ensuring that these homes are equipped with the most up-to-date design aesthetic, modern technology, and best amenities for the price," Fierro says.
The floor plans tend to be more in line with how we live now, meaning that they have open kitchens and living areas. 
What are some pros of buying in a new construction building?
There's lots to like about living in a completely new building where everything is new.
Newer buildings also usually have more amenities for residents to enjoy, including such old-school standbys as fitness centers, pools, and playrooms, as well as more over-the-top add-ons like pet spas, screening rooms, basketball courts, golf simulators, and rock-climbing walls.
Many newer buildings are also wired for the latest in smart-home technology.
And many are green—which is not something that builders in previous eras usually took into account.
In addition, you may be able to customize some of the finishes in an apartment still under construction, Lahav says. 
And you're more likely to get an incentive at a brand new luxury building, thanks to New York City's construction glut. Developers at new luxury building prefer to offer things like like paid common charges, transfer taxes, and mansion taxes—even gym memberships or gift cards—anything except lower the price of the condo
What are some cons?
The biggest ones relate to how much you'll be shelling out to live there.
Newer buildings will command higher prices, higher common charges, and higher closing costs, Lahav says.
"Financing can also be more challenging since a given building needs to sell more than 51 percent to be approved by most banks," he adds. but also lots to consider, including the fact that banks are wary of lending to buyers in under-construction buildings. You typically can't get a mortgage, if you need financing, until the building is at least 51 percent sold, among other requirements.
In addition, you might have to wait a while to move in as unforeseen construction delays tend to pop up and slow things down. You might need to live somewhere else for longer than you originally thought.
What is the difference in terms of pricing between prewar, post-war, and new construction buildings in NYC? 
According to Lahav, prewar co-ops cost around $900-$1,000 per square foot, while condos go for about $1,200-$1,300—but that really depends on the unit's level of renovation. Apartments that haven't been fixed up in decades will definitely be more affordable. 
"Post-war condos are usually $1,300-$1,500 per square foot, and a new development can easily be $1,800-$2,600 per square foot," he says. "The super-luxury ones can be double that." 
If you are interested in a prewar, consider these apartments on the market:

Following a recent $20,500 price reduction, this 850-square-foot, one-bedroom, one-bath condo is now listed for $1,149,000. The recently renovated high-floor unit has a large living room, arched windows, high ceilings, and herringbone flooring. It's located in The Ansonia, a luxury condo building built in 1902. Building amenities include a rooftop deck with a garden, garage, private storage bins (for $75 a month), live-in super, 24-hour doorman, and concierge services. Common charges are $1,276 a month. Taxes are $883 a month. There is an additional assessment of $220 per month.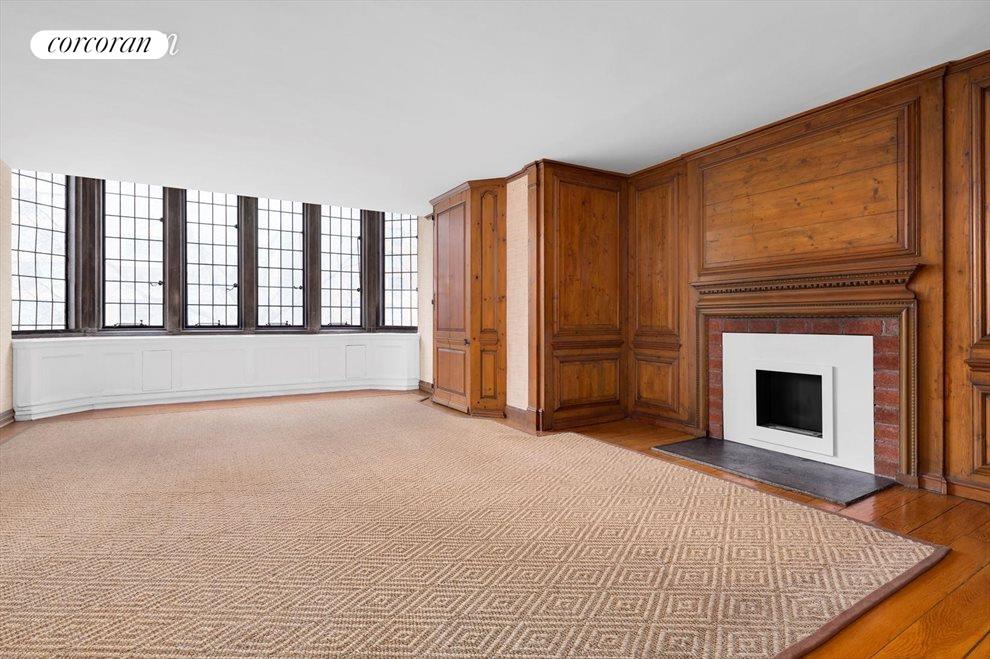 Listed for $1,750,000, this two-bedroom, two-bath duplex has around 1,200 square feet of interior space, large bedrooms, a fireplace, and prewar details. It's located in a five-story co-op built in 1924 that has an elevator and on-site laundry. Maintenance is $3,102 a month. No board approval is required.
Want to live in a post-war apartment?
Priced at $595,000, this 475-square-foot sponsor unit is a studio with a brand-new kitchen with Caesarstone countertops and stainless steel appliances, three large closets (including a walk-in), a dressing area, and a renovated bathroom with marble finishes. It's located in The Lex54, which was built in 1949. Amenities include a full-time doorman, live-in super, central laundry, storage, and a bike room. Common charges are $546 a month. Taxes are $630 a month. Pets are welcome.
Listed for $765,000, this one-bedroom, one-bath condo unit has wood floors, a wall of windows, and an open kitchen with stainless steel appliances (including a dishwasher). It's located in the full-service Lausanne Condominiums, which was built in 1977, and has a circular drive, 24-hour doorman, live-in super, on-site parking garage, gym, laundry room, bike room, and private storage (for an additional fee). Common charges are $552 a month. Taxes are $649 a month.
Rather buy in a new development?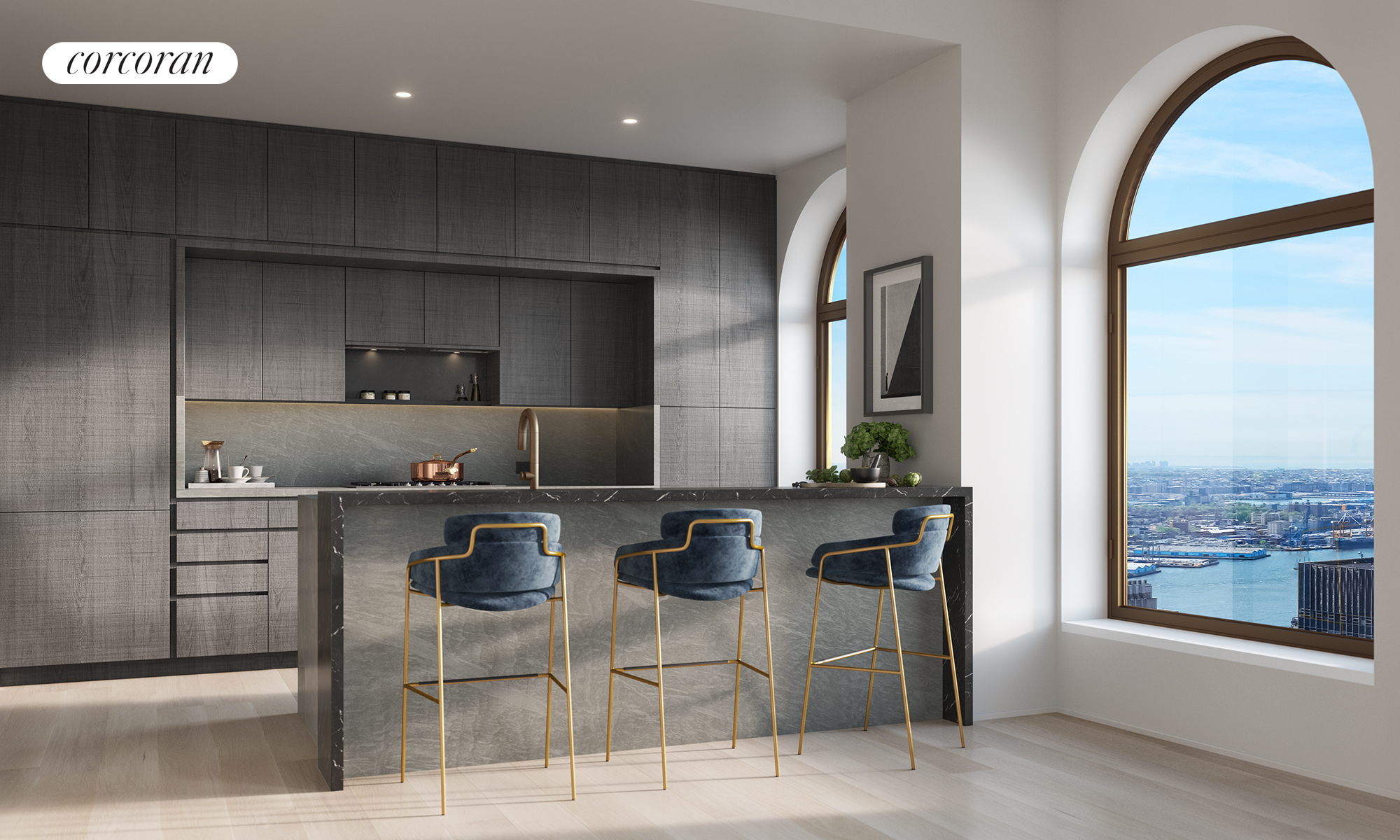 This 748-square-foot, one-bedroom, one-bath condo is listed for $1,355,990. Features include 10-foot ceilings, oversized windows, wide-plank white oak floors, bronze fixtures, an open kitchen with marble countertops, and heated floors in the bathroom. The building has an infinity-edge spa pool, cold and hot plunge pools, a dry sauna, massage rooms, fitness center, yoga studio, basketball court, indoor and outdoor lounges with a catering kitchen, club room, golf simulator, private IMAX theater, kids' activity center, private rooftop observation deck, a 24-hour attended lobby, concierge services, a pet spa, bike storage, private storage, and private rooftop cabanas (available for an additional fee). Common charges are $510 a month. Taxes are $988 a month.
Listed for $5,995,000, this 1,941-square-foot three-bedroom, three-and-a-half-bath condo has a formal entry foyer, 10-foot coved ceilings, an open layout, a kitchen island, Chevron flooring, and in-unit laundry. It's located in a newly constructed condo building with a doorman, concierge, gym, bike room, live-in super, and available parking. Common charges are $2,820 a month. Taxes are $3,332 a month.
Brick Underground articles occasionally include the expertise of, or information about, advertising partners when relevant to the story. We will never promote an advertiser's product without making the relationship clear to our readers.