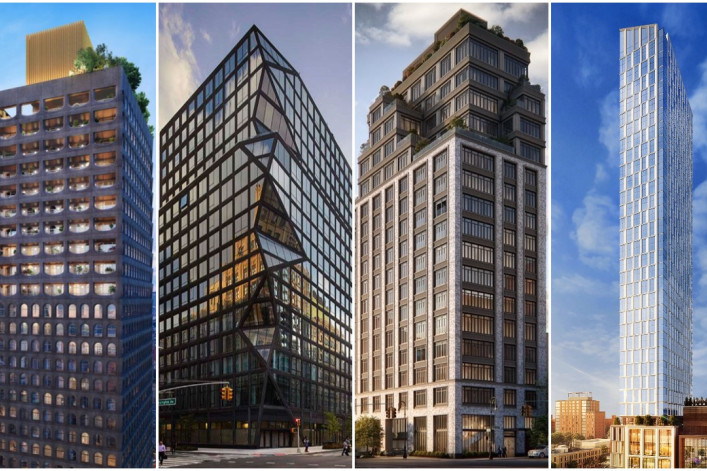 High-end developers are looking to spur luxury condo sales at the end of the year by offering lavish incentives like paid common charges, transfer taxes, and mansion taxes; Equinox gym memberships and $5,000 gift cards to Saks; and in two cases crediting rent toward the purchase price.
So if you're in the market for a new condo—it may pay (handsomely) to look in developments built in the last couple of years that are trying to wrap up sales. 
It's typical to see incentives offered when a developer is eager to move on to the next project. But this year's inducements have hit a new level of extravagance, thanks to NYC's condo glut, with developers simultaneously offering deals for both buyers and their brokers.
Brick Underground obtained copies of more than 40 emails promoting incentives that developers have sent to brokers in recent weeks. The deals for buyers are wildly creative, touching on almost every fee associated with buying a condo in NYC. 
Where to find the deals 
One example is a new development project called The Clare at 301 East 61st St., which Halstead represents. After two years of sales, "the developer is motivated to be finished, they're at the tail end," Robin Schneiderman, managing director at Halstead Development Marketing says. Two bedrooms start at $2,765,000 and buyers are being offered two years of paid common charges, and brokers can get a 4 percent commission.
Two years of common charges is a substantial savings, but how about three? Or five? The developer Extell is paying three years of carrying costs at Brooklyn Point for one-bedroom apartments and five years for two and three bedrooms. (Extell offered a similar promotion at the end of 2018.)
There are even more eye-popping deals out there: For the last remaining unit at 12 Warren St., the developer is offering to pay common charges for 10 years.
Incentives like these are a result of developers' instinct to do anything but lower prices, which would hurt future sales, says Michael J. Franco, a broker at Compass. 
Buyers can get a one-year gym membership at the Equinox when they buy at 196 Orchard and a $5,000 gift card to Saks when they buy at 130 William and 40 East End Ave., for contracts signed by January 12th.
"The developers' goal is to keep the recorded prices as high as possible," Franco says. "Whatever they can pile on, they are doing. The difference now is that there are so many buildings, including in Brooklyn." 
Buyer's brokers are used to seeing sponsor-paid transfer tax—now that's one of several kinds of closing cost-related inducements being offered. Developers are upping the ante by combining it with paid mansion tax (which is now much steeper.) At the Gramercy Park condo project 121 East 22nd St., developer Toll Brothers is paying the transfer tax and mansion tax on full-price offers.
Another incentive? Luxury rent-to-own programs, which until now have been unheard of in NYC. At Extell's One Manhattan Square at 252 South Street, if you buy within 12 months, you're credited a full year's rent toward your purchase. At 100 Barclay in Tribeca, there are three very pricey rentals, ranging from $18,250 to $32,000 a month, where you can apply up to 75 percent of your rent toward your purchase.
What are buyer's brokers getting?
Incentives started to pick up in the spring and extended to multiple projects in subsequent months, Schneiderman says. The most common incentive for buyer's brokers right now is a 4 percent commission, as opposed to the usual 3 percent, which, Schneiderman says is "a trend in this environment."
"Developers are using it to drive more traffic to the sales gallery, and to separate themselves from the pack," he says. 
Some developers are even offering a full commission paid at contract signing, for example, 130 William and 40 East End Ave. Other developers are offering a partial paid commission at contract signing—still a significant incentive considering brokers usually have to wait until closing to get paid. Still another is offering a bigger commission only if the deal closes at asking—potentially setting up a conflict of interest for a buyer's broker who should be negotiating price on behalf of the buyer.
Most buyers aren't aware of what goes on between their brokers and developers, and so they don't know that their broker may be getting a higher than usual commission—that sort of arrangement isn't usually discussed and doesn't come to light until the closing, and even then may not be obvious amid all the documentation. Most buyers assume their broker is getting the usual 3 percent commission.
So what does it matter if your broker is getting an incentive?
On a basic level, it's helpful to be aware that your broker is being incentivized beyond what is typically offered to bring you to a particular building (which may feel a little strange) and weigh that in your decision-making, if you are feeling pressured to go with one condo over another.
You may also (emphasis on "may") be able to leverage your broker's bigger commission—however it's not something that most brokers Brick Underground spoke to were eager to delve into. 
But one broker explained that it does happen.
"Sometimes brokers will get creative with the 'extra' percent offered by the developers and use it to close a small gap and make a deal. That can be offered as a credit to the buyer at closing or perhaps towards the asking price," says Claire Groome, a broker at Warburg Realty, who explains she "would consider it if it would make or break a deal."
"Creative marketing and thinking outside the box is the way the developers have to be now," she says. Even brokers that work with resales are getting into the game and sending out similar email blasts trumpeting incentives. "Everyone likes a deal," she says.
Another option to leverage a higher commission is to work with a broker offering a rebate model, like Prevu (full disclosure—they are a Brick sponsor). The company rebates two thirds of the buyer's broker's commission, up to 2 percent of the purchase price. (Tip: If you don't bring an agent with you at the beginning, the developer may refuse to pay a commission to an agent you bring in later.)
If you work with a broker that offers a rebate, the bigger the commission, the bigger the rebate you can get, says Thomas Kutzman, Prevu co-founder.
"It's a tough environment for real estate in general," Kutzman says. "It's refreshing to see both consumer and broker incentives," he says.
Brick Underground articles occasionally include the expertise of, or information about, advertising partners when relevant to the story. We will never promote an advertiser's product without making the relationship clear to our readers.