The term "pied-à-terre" sounds fancy, but that's probably just because it's French. Translated as "foot on the ground," the phrase refers to an apartment that's used as a second home by owners who live elsewhere and come to NYC for frequent visits—for business or for fun.
Why not stay in a hotel? For some pied-à-terre owners, the choice is economic: They're here frequently enough that it makes more sense to invest in an apartment than pay for a hotel room. Others want to stay in their own space, personalized by their own possessions and design choices. And with many upscale condo buildings offering hotel-like services and amenities, owners can get the best of both worlds.
But be warned: The idea of a pied-à-terre tax, once dead, has recently been revived. What's especially significant about this proposal is that, unlike NYC's newly increased mansion tax, a pied-à-terre tax would be an annual tax on non-primary residences with a market value of $5 million or more. (Of course, with that kind of price tag, this would not a problem for most buyers.)
The thinking behind a pied-à-terre tax is that owners of second homes in NYC are taking properties off the market while at the same time, not paying state or city income taxes, which support the services and institutions that make NYC so desirable to second-home buyers in the first place.
If you still think you want one, read on.
In this week's Buy Curious, Harriet Kaufman of Warburg Realty and Lilia Berzon of BOND New York tell you what you need to know about purchasing a pied-à-terre in NYC, including what types of buildings you should look in and if it's harder to secure financing.
The question:
My family lives in another state and enjoys coming to NYC frequently. I would like to buy an apartment for our visits. What should I know before I begin my search?
The reality:
In New York City, condo and co-op buildings have their own rules about pieds-à-terre.
"Some buildings don't allow them at all and some allow them, and add restrictions, and I understand why," Kaufman says. "You are always worried that the pied-à-terre owners are not fully invested in the quality and the care of the building and that they will not do all the right things in terms of maintaining the security of the building. Since they are frequently absent, they perhaps might allow others to use their apartment, and might be less serious about building rules since it's not their primary residence."
Who typically buys them?
Pieds-à-terre are typically used by people who live outside the city (or state or country) but who need to be there often for work, by snowbirds who fly south when the weather turns cold but still want to be able to return come summer, and by those who simply love all that NYC has to offer and believe that having an additional place there will make weekend outings easier.
Grandparents who live elsewhere and want to spend time with their NYC grandchildren also represent a segment of buyers, Kaufman says. 
How much time do pied-à-terre buyers actually spend in them?
A pied-à-terre is intended for short stays. So if someone is using a pied-à-terre to avoid a lengthy late-night commute from work, they would normally use it a few days during the week.
"If someone is using it for entertainment, they would most likely stay there for the weekend to attend shows, enjoy fine Manhattan dining, do some shopping," Berzon says. "And international buyers oftentimes use their pied-à-terre for vacations or occasional business trips to New York, which could be a week or a few weeks at a time a few times a year." 
Should you buy in a condo or co-op building?
That all depends on what you do with it.
For those who plan to use their pied-à-terre themselves and not have anyone else stay there, a co-op or a condo could work.
But if someone is buying with the intention of subletting the apartment between personal uses, Berzon explains that condos would be a better option as they have fewer restrictions on who can use them and what you can do with them.
International buyers in the market for a pied-à-terre would also be wise to stick with condos since co-op boards often want to see U.S. tax returns, which can be problematic for international buyers.
What sorts of building amenities should you look for?
If you're buying a pied-à-terre to be in NYC because of work, then consider factors such as proximity to your workplace and low monthly costs, Berzon says. Buyers "who want to enjoy Manhattan entertainment normally prefer having a doorman, fitness center, garage, and all the perks of a luxury lifestyle." 
Kaufman adds that it's also important to choose a building with a doorman or super who accepts deliveries or one that has a dedicated package room. Knowing that your stuff will be safe even when you aren't there will give you peace of mind.
She also notes that a building super is tops on a lot of her clients' pied-à-terre wish lists. "It's good to have somebody in the building to watch over things, like making sure garbage is taken out," she says.
What can you skip in a pied-à-terre?
Pieds-à-terre definitely have different requirements than primary residences, and a kitchen is one of them.
"If someone is just looking for a place to crash during the week for few nights to be near work, they would most likely not use their kitchen much," Berzon says. As such, they won't need full-sized appliances, tons of counter space, or lots of cabinets. A microwave, an under-counter fridge, and a cooktop could suffice.
A lack of closet space is another thing that could be a deal breaker in a primary residence, but might not bother someone looking for a pied-à-terre. After all, you don't need room for your full wardrobe.
How much should you expect to spend each month?
The intended use of pied-à-terre plays a big role in monthly expenses, according to our experts.
"If someone is getting a pied-à-terre next to their place of work to spend a few nights a week there and avoid a long commute, they would be looking to keep their monthly expenses down," Berzon says. "Someone like that would definitely be looking at under $1,000 in maintenance a month plus mortgage if they are financing."
On the other hand, someone who is buying a place purely for entertainment purposes and is looking for a more luxurious lifestyle would probably be expecting to pay for it.
Kaufman adds that it is important to remember that if you are a full-time resident of another state and do not want to be taxed as a New York City resident, that you be cognizant of the time/tax regulations. "They need to be in residence under six months [out of the year] in order to not pay New York City taxes."
What do I need to know about location and transportation?
Even if you as a pied-à-terre owner won't take mass transit in NYC, your future buyer might, so consider how well situated your apartment is.
"I've had buyers who lived in New Jersey, or other areas far from Manhattan and commuted to work by railroad or bus, so proximity to the Port Authority, Grand Central, or Penn Station was important for them, depending on what they were taking to commute," Berzon says. "Other buyers would drive to Manhattan and were more interested in garages in the area." 
Kaufman says that being close to public transportation in Manhattan is always good for a property's resale value. But she's also observed that a number of her clients have been phobic of using the subway, so proximity to a station wasn't high on their lists of must-haves.
Is it harder to get financing ?
Unfortunately, yes, because it's more of a risk for the bank.
"Let's say someone owns more than one home and they lose a job," Berzon says. "Which property would they stop paying for first? Of course it would be one they don't live in fulltime. So the bank has to make sure that the buyer is financially stable and can cover all the residences they own, primary and secondary."  
Are there any cons to buying a pied-à-terre?
The top drawbacks are probably the additional expenses that you'll have each month—especially the ones you don't see coming.
"Psychologically, it's not your main home so when the building has to renovate some system and you get an assessment, you are probably less likely to understand the need for the added expense than the full-time residents," Kaufman says.
Then there's the fact that if something bad happens when you aren't there—say a water pipe bursts—you'll still need to deal with it from afar. "You might even need to come in to clean up if your apartment is affected," Kaufman says. "Pied-à-terre owners are not there all the time but they are responsible all of the time." 
What impact could a pied-à-terre tax have on buyers?
Kaufman thinks it would be deterrent to buyers. "New York is already expensive. I don't think we need to put up another barrier to living here," she says.
Berzon, however, doesn't think that most pied-à-terre owners will feel the squeeze. "A pied-à-terre tax will only affect the owners of homes worth $5 million or more that are not their primary residence and are not rented out to a full-time tenant. So it will not affect the average pied-à-terre buyer." 
Check out these units, which allow pieds-à-terre: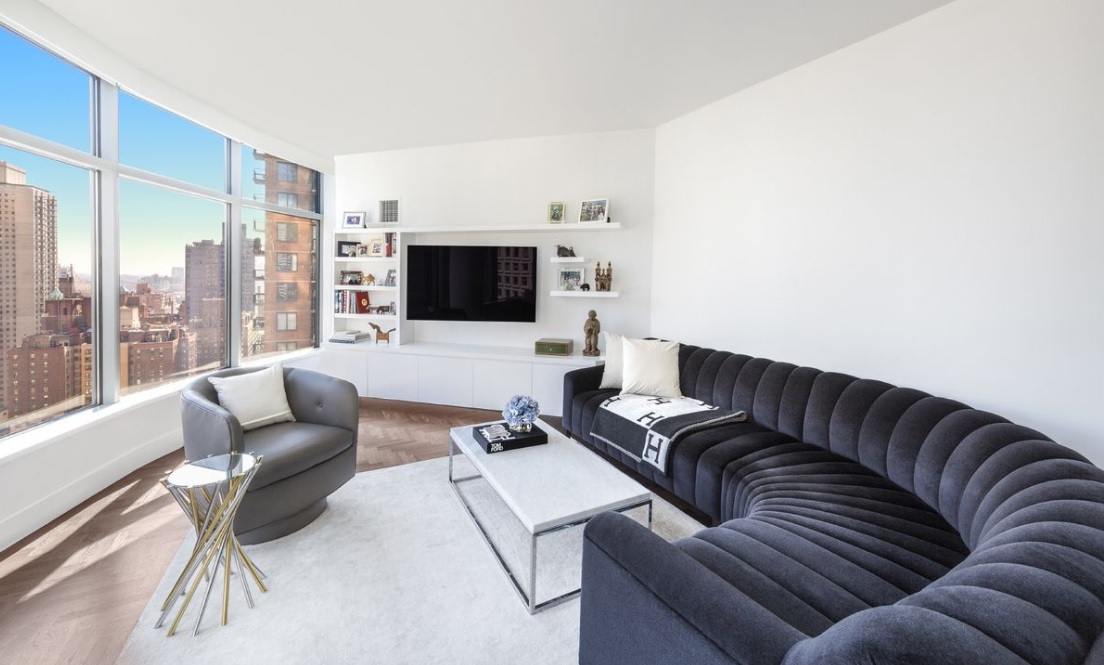 Listed for $1,299,000, this 878-square-foot, one-bedroom, one-and-a-half-bath condo has a formal entry foyer that leads into an over 32-foot living/dining room with high ceilings and a wall of floor-to-ceiling windows. There's also a renovated kitchen with a pull-out pantry and Caesarstone counters, in-unit laundry, and customized closets. It's in The Mondrian, a full-service luxury condo building with a 24-hour doorman, concierge, terrace, laundry room, and bike storage. The building, which allows pets, is also pied-à-terre-friendly. It also has direct access to an Equinox gym. Common charges are $1,213 a month. Taxes are $1,360 a month. There's also a capital assessment of $39.83 a month that will end in February 2020.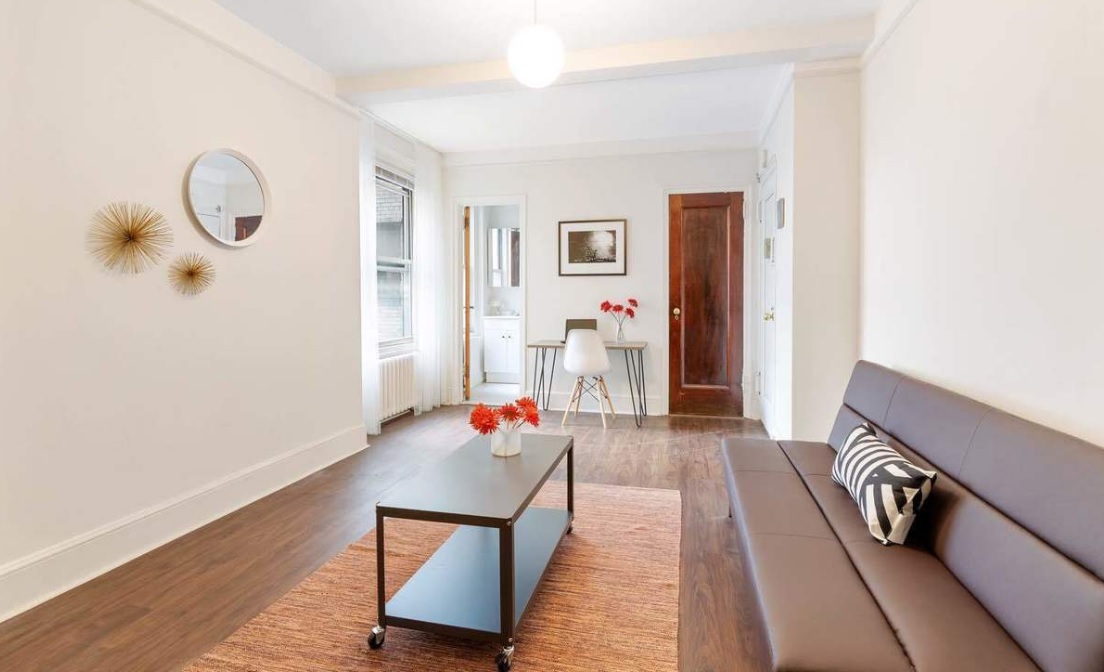 This $330,000 studio has hardwood floors, a large closet, and an updated kitchen. It's in The Whitby, an elevator co-op building with a communal rooftop, laundry room, storage room, bike storage, and full-time doorman. The building allows pieds-à-terre, gifting, co-purchasing, and pets. Maintenance is $540 a month.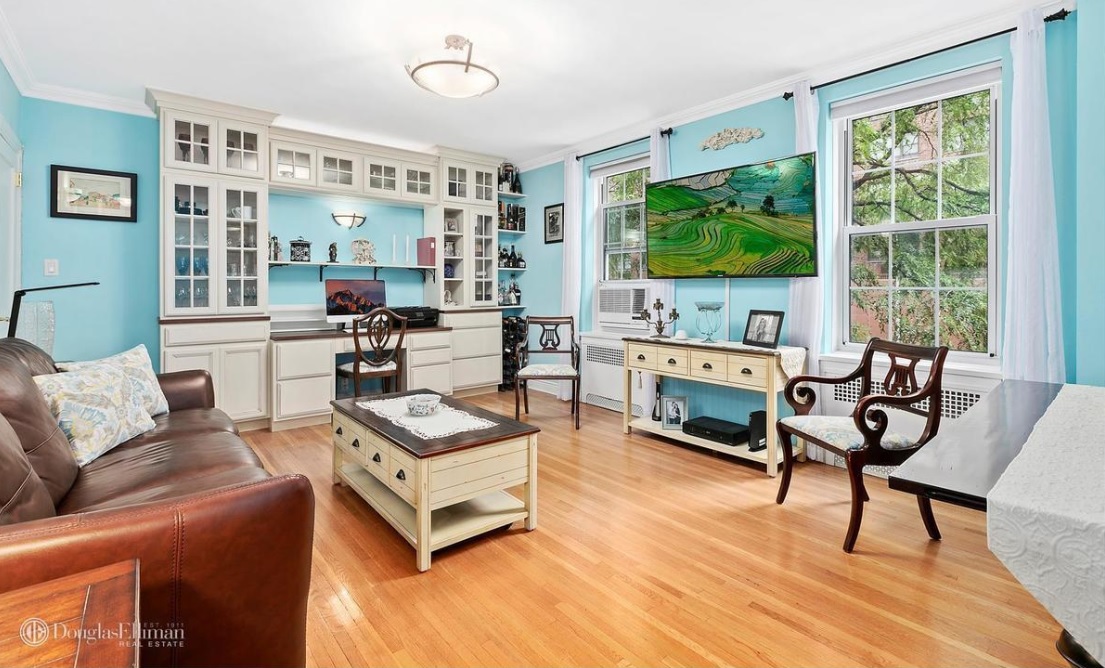 Priced at $900,000, this 800-square-foot, one-bedroom, one-bath corner co-op has original oak floors (that have been refinished), crown moldings, custom built-in shelving, and large closets. It's in The Bayard House, a full-service pet-friendly co-op building with a 24-hour doorman/concierge, a garden, a roof deck, a fitness center, a bike room, a luggage room, and a garage. Pieds-à-terre and guarantors are permitted. Maintenance is $1,181 a month.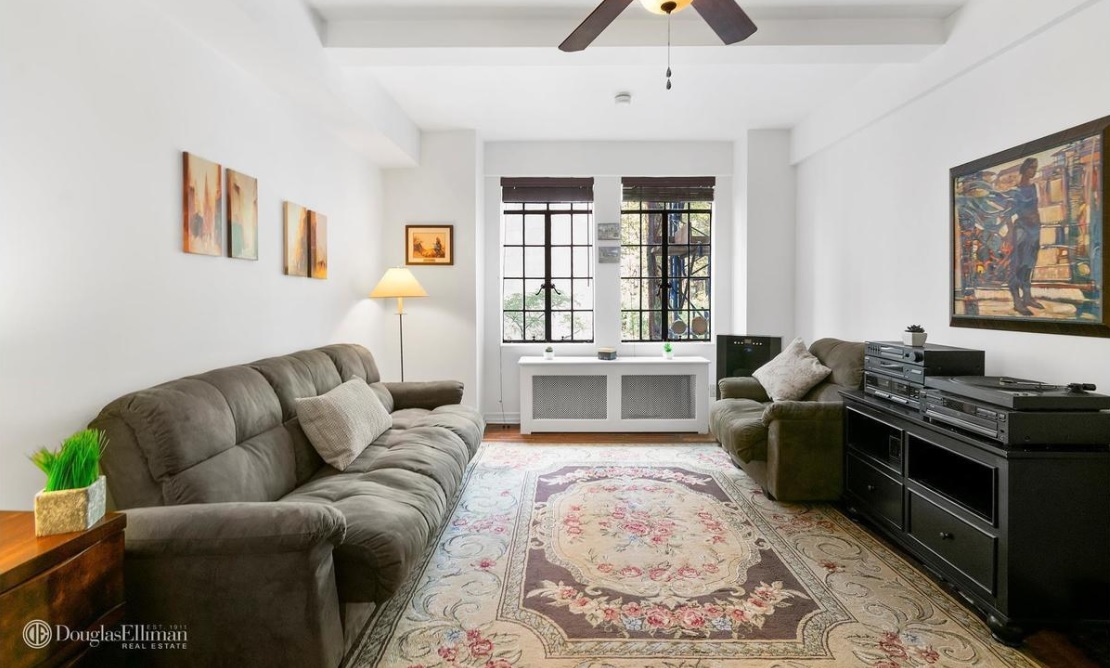 Listed for $325,000, this studio has a renovated kitchen with a dishwasher and two large closets. It's in Woodstock Towers, a pet-friendly prewar co-op with a 24-hour staff, a private backyard garden, a fitness center, and a laundry room. A bike room and storage are available (for additional fees). Pieds-à-terre and parents purchasing for their children are permitted. Maintenance is $692 a month, and utilities are included.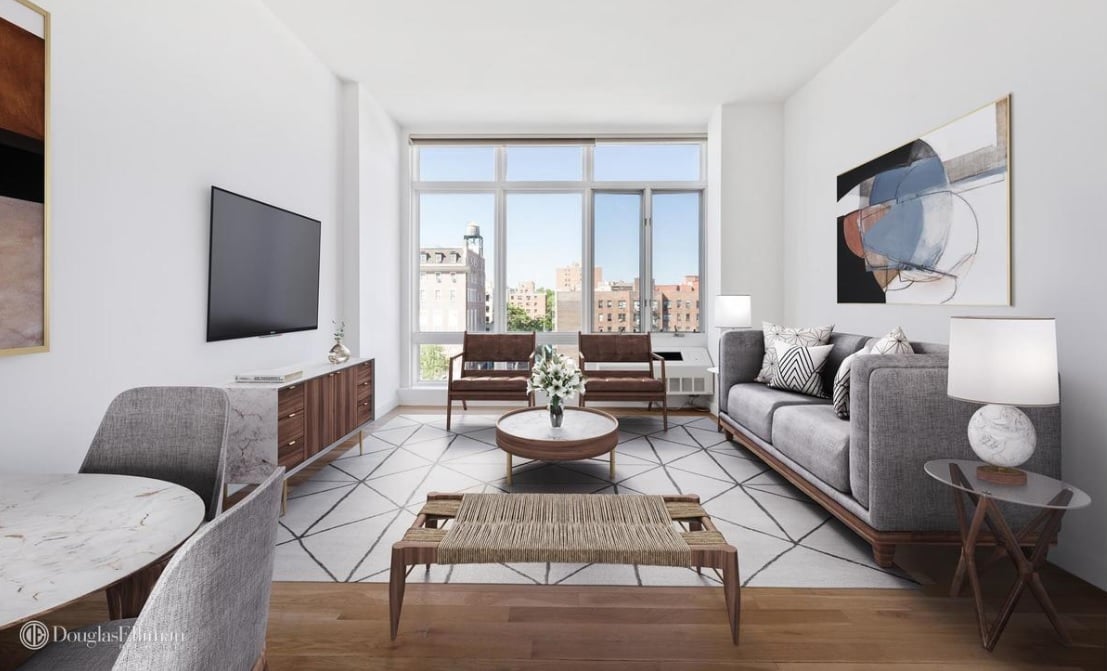 Features of this 645-square-foot, one-bedroom, one-bath condo include floor-to-ceiling windows, an open kitchen with quartz countertops and stainless steel appliances, and in-unit laundry. It's in The Conrad, a condo building with a fitness club, a landscaped courtyard garden with a basketball court, hot tub, and barbecue area, a roof deck, and a virtual doorman system. Pieds-à-terre are allowed, and the unit can be delivered with a tenant already in place. It's listed for $599,000. Common charges are $707 a month. Taxes are $684 a month.
Brick Underground articles occasionally include the expertise of, or information about, advertising partners when relevant to the story. We will never promote an advertiser's product without making the relationship clear to our readers.