Best of Brick
NYC Passive House guide: Where to find eco-friendly apartments and townhouses that are healthy and quiet too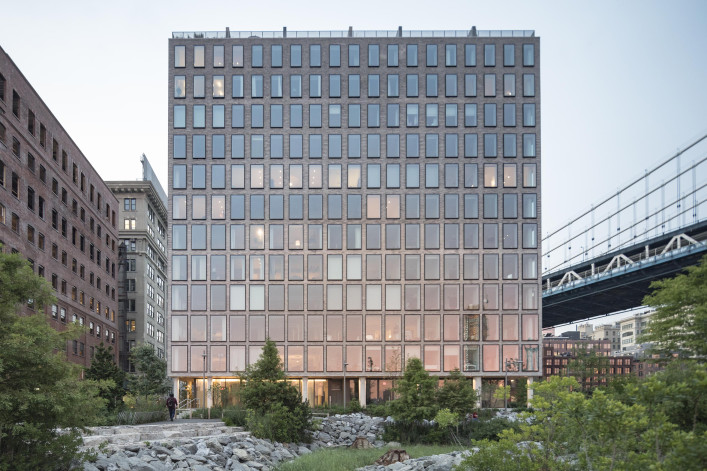 There's lots of buzz about Passive Houses these days from New Yorkers who are growing alarmed over the effects of greenhouse gases and are looking for more environmentally friendly buildings. Some are turning to Passive Houses, which have a much smaller carbon footprint than other buildings, as the solution.
Why target buildings in the fight to save the planet? Turns out they're big polluters, at least in dense urban settings. In New York City, buildings over 25,000 square feet are responsible for at least 70 percent of all carbon emissions (vehicles are responsible for the bulk of the rest). Buildings over 50,000 feet, including luxury high rises and multi-family buildings, consume almost half of all energy. 
"It is much harder to retrofit an existing building to be energy efficient than to build it that way," says Stas Zakrzewski, principal of ZH Architects and a member of the city's Climate Mobilization Act (CMA, also known as Local Law 97) advisory board, tasked with providing recommendations on the objectives of this groundbreaking law.
---
[Editor's note: An earlier version of this post was published in January 2020. We are presenting it again as part of our holiday Best of Brick week.]
---
The state also encourages Passive House developments through its New York State Energy Research and Development Authority (NYSERDA) programs. 
Benefits of Passive Houses go beyond reducing your carbon footprint. They're better for you as an individual, "with as healthy an indoor environment as possible while also providing a quiet and comfortable experience," Zakrzewski adds. 
And there's nothing really "passive" about this forward-thinking movement, which started 25 years ago in Germany (as Passivhaus Institut). "Passive House is often misunderstood as just a certification but is in fact a set of design standards that promote energy efficiency," says Andreas Benzing, president of NY Passive House and founder of A.M. Benzing Architects.
Brick Underground spoke to leading Passive House pros (and one homeowner) to debunk common myths and answer the following frequently asked questions. 
What makes a Passive House building different from others?
In traditional urban buildings, especially prewar apartments and turn-of-the-century townhomes, air is "filtered" through your walls, which often contain mold and other toxins that you breathe in when air comes inside. 
A hefty amount of air also escapes through drafty windows and doors and is pulled out of your exhaust units. That causes your HVAC system to compensate for that loss (and your utility costs to rise). 
In contrast, air flow is completely controlled in a Passive House building via an airtight, high-tech seal (aka envelope) and higher spec and sound-dampening insulation, windows, and doors. Then a mechanical ventilation system, or energy recovery ventilators (ERVs), provide a steady flow of truly filtered air, with stale air carried out and fresh air pumped in. "The entire volume is exchanged every three hours," Benzing says. (Read: no more lingering cooking odors, according to one Passive House townhouse owner.)
This airtightness and controlled ventilation means you don't require as much heating and cooling as in other buildings, so Passive House buildings can rely on scaled-back HVAC systems and never require a boiler for heating, even in skyscrapers. Gone as well are steam radiators. 
Michael Ingui, partner at Baxt Ingui Architects, says Mitsubishi heat-pump units (like those hanging on the wall in restaurants) were put in all the firm's completed Passive House projects, including his own retrofitted townhouse. "You only have to turn the heat on a few times during the winter, or maybe only at night," he says. These units can work in a variable way, so that if you only need heat on the top floor during the night, it won't case of the rest of the house to be heated at the same time. 
There is also a focus on using materials for insulation that don't off-gas.
"It's less of a problem inside because you have 24/7 ventilation compared to 95 percent of the buildings that just have an exhaust fan on the roof, but we are also concerned about the exterior," says Amy Failla, principal architect at Baxt Ingui and a board member of NY Passive House.  
And yes, you can open the windows in a Passive House without "breaking the seal," though Failla says there's a tendency not to do that––or at least you no longer have to fling them open to cool down your over-heated apartment. "This is important in NYC where the air quality outside is not so healthy."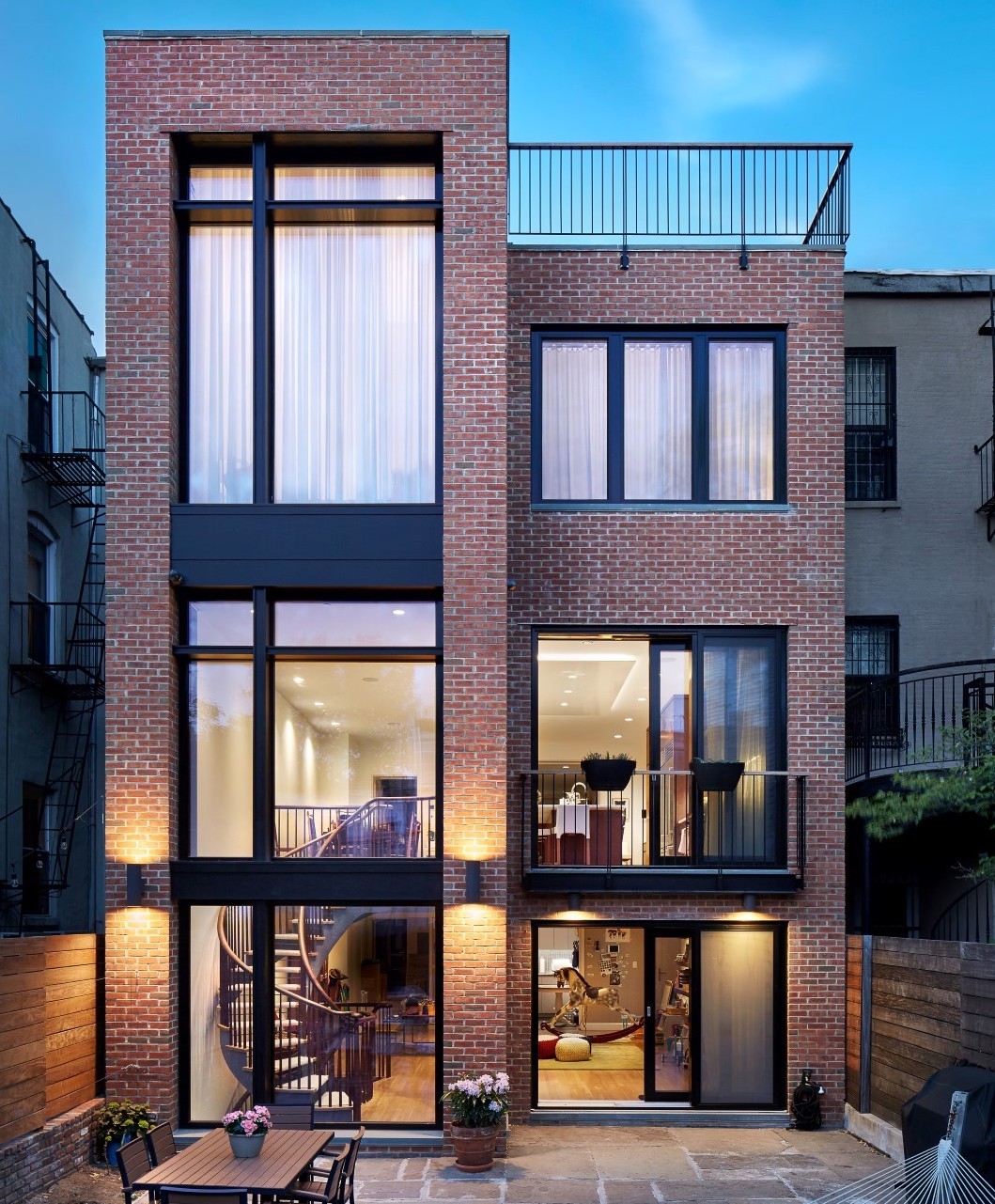 What are the benefits of living in a Passive House building?
Energy efficiency aside, Passive House buildings boast other advantages, especially for apartment buildings. 
The number one factor among all those interviewed is the quality of the air.
"There's a crispness that's very refreshing," says the owner of this Carroll Gardens townhouse, who worked with Ingui in renovating to Passive House standards. (He credits PJoe Construction with also doing stellar work.) Thanks to solar panels on the roof, this is the first townhome to be a certified Passive House Plus in the country. 
He also points to a consistent temperature throughout, with every surface being the same––even near a window in the dead of winter, and from the basement to the top level with south-facing windows. 
Especially appealing for urbanites is the "amazing noise reduction from street traffic due to higher wall insulation and triple-pane windows," says Benzing. (Potential bonus: better sleep.)
Plus the airtight seal keeps out pests and even dust, certainly nothing to sneeze at (ahem).
And with 24/7 filtered air, you will have a healthier indoor environment, which is what Ingui says is the tipping point for many of his clients "and something that deserves wider attention."
The best way to appreciate the Passive House experience is to spend time in one (something this writer was able to do). That's one purpose behind Street Smart, a multi-family building at 369 Manhattan Ave. in Williamsburg that made use of an open parking lot.
"It will be a teacher, helping people become aware of the benefits of a new type of building that is economical to build, easy to replicate, desirable to live in, and transformative in its efficiency and resource use," says Zakrzewski. Plans are for that to open sometime in 2020.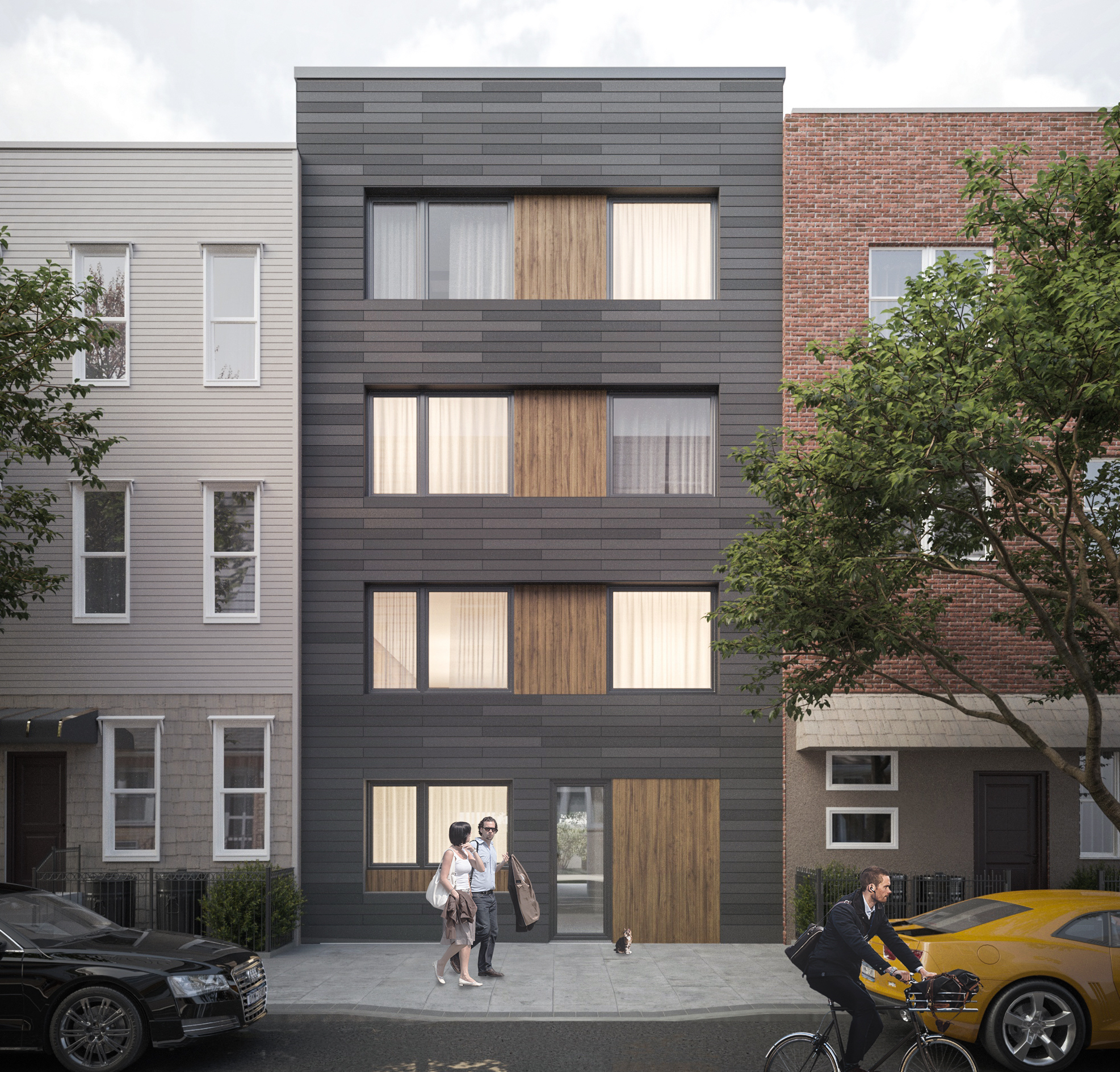 Where can I find Passive House apartments and townhouses?
With so much buzz around Passive House as a path to low- or net-zero emissions, it's easier than ever to locate them. The Passive House Institute has a searchable database of new and planned worldwide developments that you can search by zip code.  
NY Passive House has a directory of member professionals as well as an interactive map with links to the properties.
"We are actively seeking to gather more information from Passive House builders to keep this helpful resource up to date," Benzing says.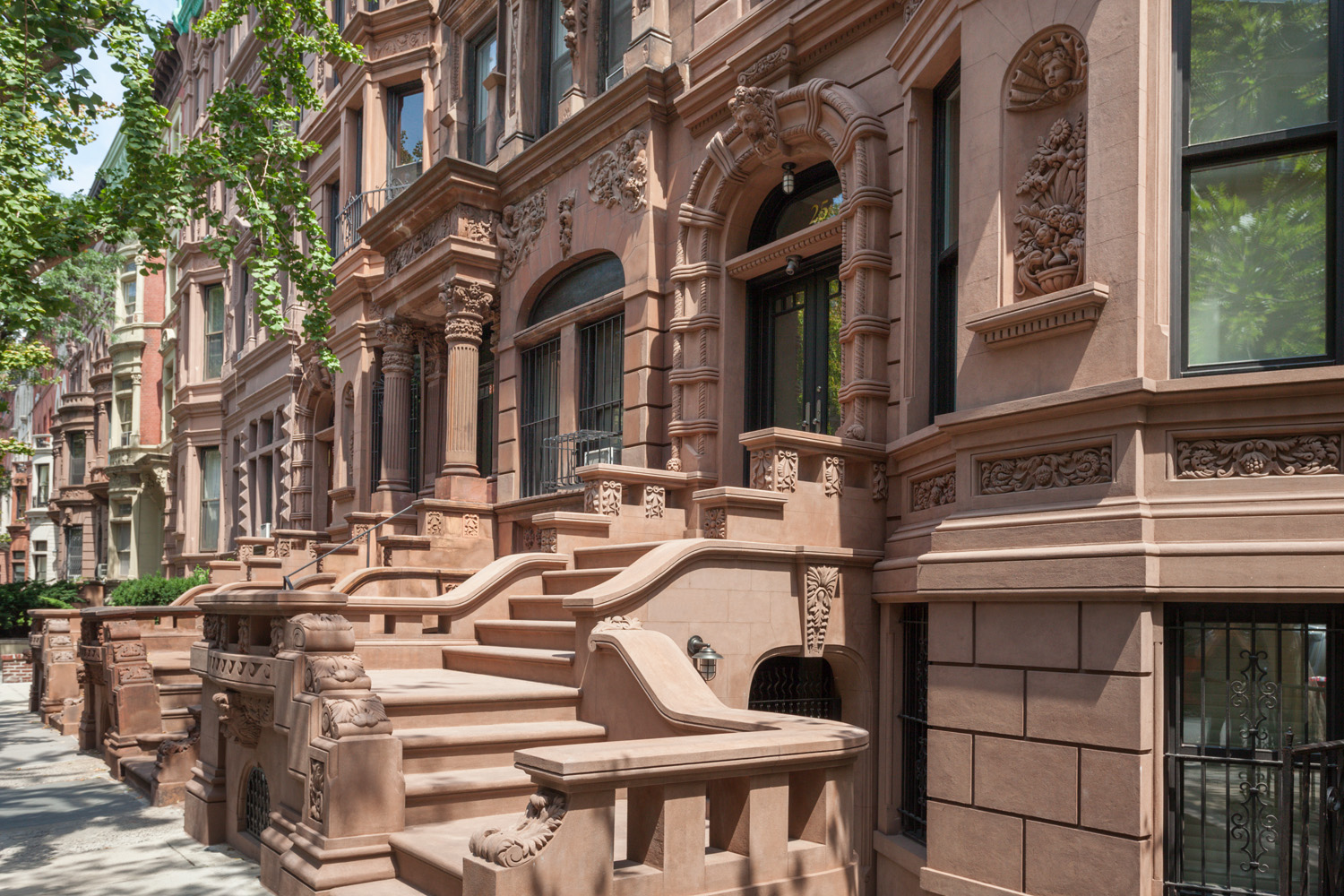 Who is building Passive House residences?
The unanimous answer is those who care about making a healthier environment inside and out. Or as Pires puts it: "Any progressive developer out there should be considering Passive House standards for new construction." 
Benzing says Passive House was first embraced by architects and their (mostly Brooklyn) brownstone clientele, including in historic districts. He estimates about 70 of the estimated 200 completed Passive House properties in NYC are these types of retrofits. 
Ingui's firm has worked on about a dozen of these renovations to date, including his own.
"At first it was a little bumpy but then we came up with a repeatable system and got the buy-in of enough contractors so that now it is virtually cost neutral," he says. (Ingui is heralded by his peers and clients for helping to further Passive House education by inviting all contractors that work on Baxt Ingui projects to a site visit to explore best practices, something he says is "atypical" in the industry. He has also founded the Passive House Accelerator, a sort of open-source design forum.)
Having only worked on single-family townhouses, Baxt Ingui is now branching out with Engine 16. Once completed (in late 2020), the three-story building at 223 East 25th St. in Manhattan will have four apartments and a community facility on the ground floor and a solar canopy on the roof.
Boutique developers like The Brooklyn Home Company are also renovating townhouses and putting them up for sale. "We are developers who care about the environment, want to make a difference in our communities, and care for the health of our customers," says Bill Caleo, founder.
David Slaven, founder of Red Brick Properties, gut renovated a historic townhouse at 271 Hicks St., complete with an elevator that even stops at the roof.
"It's my first foray into Passive House and I only learned about it after approaching Baxt Ingui because of its exceptional design." 

Are there large-scale Passive House apartment buildings? 
Absolutely. It's the uptick in these shiny new developments that's really putting Passive House on the map. 
In addition to One John Street (see photo at top), completed in 2016, Alloy Development sold out its Dumbo Townhouses in 2013, a full two years before buyers could take occupancy. 
Its next project is 80 Flatbush, which covers an entire block in downtown Brooklyn and will include the city's first all-electric 38-story skyscraper "with the goal of abandoning fossil fuel reliance," Pires says. (It also includes the city's first Passive House public schools.) "All of our projects are designed with Passive strategies in mind so we do not typically market them as such because the approach is a given."
On the other hand, Bernstein Real Estate is touting Passive House benefits in marketing Flow Chelsea––a 55-unit building with a mix of market-rate and affordable-housing rentals––as "better flow for better focus." Designed by Zakrzewski and his partner Marianne Hyde, it won the 2019 Buildings of Excellence Award from the NYSERDA. 
What about affordable housing Passive House developments?
Some affordable housing developers have been building to Passive House standards for some time now. 
Ryan Cassidy, director of sustainability and construction for RiseBoro Community Partners, says he was introduced to the concept over 10 years ago through NYC Architect Chris Benedict. Thanks to her designs for a building that was completed in 2012, "We were able to execute that project for the same cost and it ended up performing 60 to 80 percent better on a dollar and energy basis, so it's been all PH all the time ever since." (He also points to improved tenant experiences and optimized health as other incentives.)
RiseBoro has done a total of four buildings, including Knickerbocker Commons and Mennonite United, the first 100 percent affordable housing Passive House in the country, and have another 16 buildings with over 1,000 units in the pipeline. 
(In addition to designing affordable housing projects for RiseBoro, Benedict designed Perch Harlem, the first market-rate rental Passive House building in New York City.)
Cassidy says the city has been receptive to Passive House buildings as a way to save on subsidies by having lower operating costs.
RiseBoro is also retrofitting existing developments to Passive House standards. Construction is underway on an eight-building cluster of 146 units––the first project of its kind. Cassidy says they are seeking to convert the entire stock of 150 buildings and a couple thousand units within the next five to 10 years.
"The city cannot reach it's goal of reaching 80 percent carbon reductions by 2050 without addressing existing buildings," he says.
In the Bronx, MBD Community Housing Corp. and Dattner Architects are building an affordable housing project for mid-2020 occupancy. With 277 residential units combined with a supermarket, medical facility, and community support and educational spaces, ​​​​​425 Grand Concourse is the largest Passive House project in North America to date.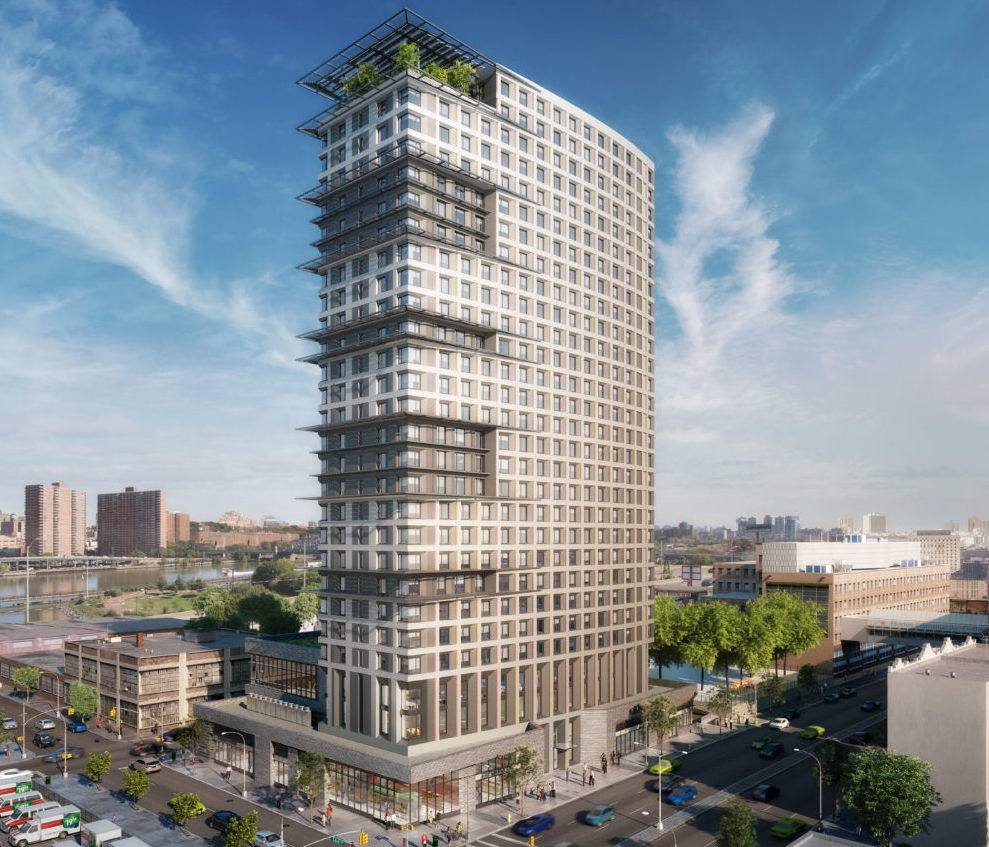 What can you expect to save in energy costs? 
With a Passive House design, energy costs will be 40 to 80 percent less than a house built to meet minimum building code standards, says Drew Lang, principal of LANG Architecture. Certified Passive House buildings, which meet the most stringent standards, would be at the top of this range. 
Pires reports this anecdotal evidence: In a series of 3,400-square-foot, four-bedroom Passive House townhouses, the mechanical system for each had a total of three tons of cooling, similar in size to some through-window, plug-in air conditioners. "Naturally every project is different based on the specifics, but there is always a significant savings."
These cost savings apply to larger buildings too and are an important factor in affordable housing. Cassidy says them is a win-win for tenants and managers. "Even though electricity is more expensive in NYC than natural gas, you will end up saving money by significantly reducing the energy load, especially stretched over an entire building." 
How much more expensive are these properties to buy or rent? 
The general consensus is "it depends." Some sellers may add a small percentage to the price because of the utility savings, says broker Bill Kowalczuk of Warburg Realty. "Plus buyers may be willing to pay more for homes that are self-contained and leave a very small carbon footprint," he adds. That said, he finds many people (including fellow brokers) are not yet clued in to the Passive House concept. 
Lindsay Barton Barrett, a broker at Douglas Elliman, who has been working with The Brooklyn Home Company on its Passive House projects, says that because these homes typically aren't much more expensive to construct, there is no formula for a price differential. Even the "super high-quality windows" are offset by saving on expensive boilers and mechanical systems. In her view, any increased pricing instead comes from the desire for improved air quality, sound insulation, and other benefits. 
Then there's the fact that Passive House developers are likely to be more up to date on technology and perhaps more attuned to buyer desires. "So it's not unreasonable to think that these properties are likely to be more appealing in other ways as well, which might also lead to a higher price," Barrett, says. But for now she sees the differential as insignificant, though that might change as more people begin to learn about Passive House and recognize the benefits.
Jonathan Miller, president and CEO of real estate appraisal firm Miller Samuel, agrees. "Unlike in commercial buildings, we've seen little differentiation in residential Passive House pricing, though I suspect the tide will soon turn as these features become more commonplace." 
And given all the upscale Passive House developments slated to launch in NYC over the next year or so––and how past units have sold out quickly––it's a safe bet that prices are likely to rise. 
Indeed, Slaven of Red Brick Properties is banking on the idea that people will be willing to pay a 10 to 15 percent premium "to live in a home that's better for the environment and for themselves." Plus he thinks people will do the math and put their energy savings toward the purchase price.
On the other hand, more affordable housing developments are in the works and even traditional builders are adding inclusionary rates in the mix. 
That means there are Passive House buildings for practically any budget. 
Brick Underground articles occasionally include the expertise of, or information about, advertising partners when relevant to the story. We will never promote an advertiser's product without making the relationship clear to our readers.