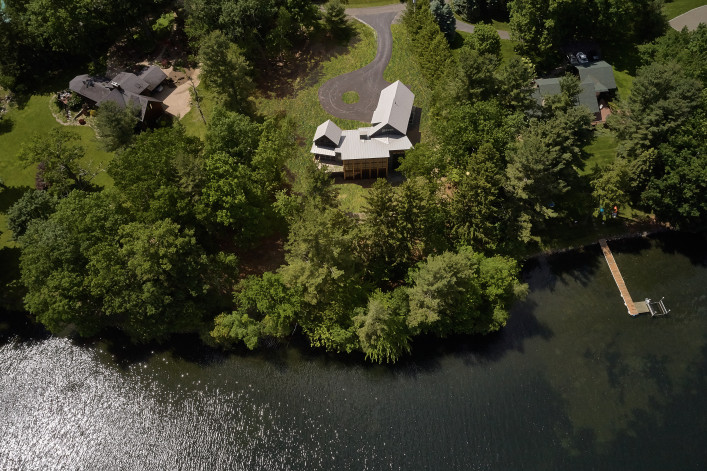 If you own land outside New York City, the pandemic may have prompted you to decide to take the plunge and build a weekend home on it, but you may well be wondering just where to begin—and what construction will wind up costing you.
Building your very own vacation home on your very own land is, for many New Yorkers, the ultimate dream—especially given the dearth of existing second homes on the market as a result of Covid-19. First of all, you should know that building from scratch takes more time, money, and chutzpah than renovating an existing home. On the other hand, it can be easier to achieve your vision by starting from the ground up. 
---
[Editor's Note: This is the second in a two-part series. For the first part, read: "How to buy land to build your own weekend house."]
---
That's why it's important to work with a design team that has extensive experience in constructing on raw land. And given how architects and builders are already flooded with projects, the sooner you can establish your team, the sooner you can move in. 
"We've had so many more people contacting us about building a second home than usual. While normally we would field five to 10 inquiries a month, now it's five per day, especially around a holiday, or when the city announces some kind of coronavirus restriction," says Marica McKeel, founder of Studio MM, a Manhattan-based architecture firm with an office in the Hudson Valley (where she has a second home). 
Michael Alper and Bruce Moore, co-principals of Red House Design, an architectural firm in the Berkshires, report a similar surge in traffic, especially among younger clients (mostly from Brooklyn) who are are going to be spending much more time here than the usual eight days a month.
"That changes the dynamic in terms of building more efficiently and sustainably and with long-term resiliency in mind. We're talking to families with toddlers who are already thinking of building a legacy that can be enjoyed for generations," Moore says.
Prepare to be patient. Raw land is subject to restrictions that can stymie the process and vary by site, especially if it is waterfront. You can't rush the design or construction phases either—most likely you are looking at a minimum project timeline of two years from start to finish, though that depends on your locale and the availability of contractors. 
For a quicker turnaround, you can order a modern prefab home (they're not what they used to be) or work with a builder who has a selection of models that you can customize on site. These are also more affordable (think $500,000 rather than $1 million plus.)
Read on to learn what to expect when building your dream home-away-from-home.
When should I hire an architect and/or builder?
Ideally you should work with an architect or builder from the get-go. It's even a good idea to connect with them before purchasing your property, though that's not always possible. Be sure they have experience building on raw land. This way they can advise you on what's even possible on your specific site. 
"The land tells you what the house wants to be," Alper says, explaining that he will look at the views, orientation to the sun, proximity to the road, and how level it is. You can even take advantage of a site that has a slope to it.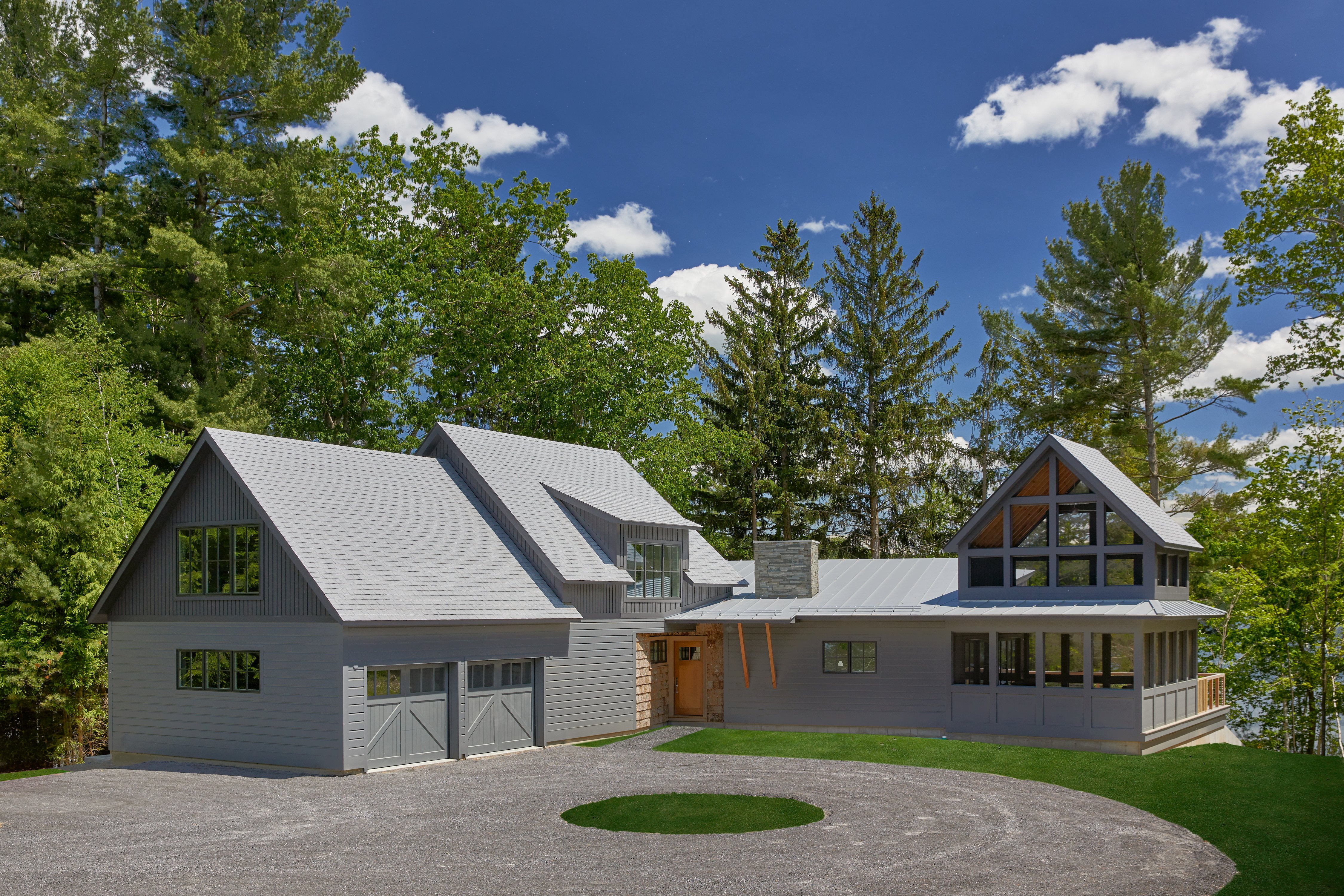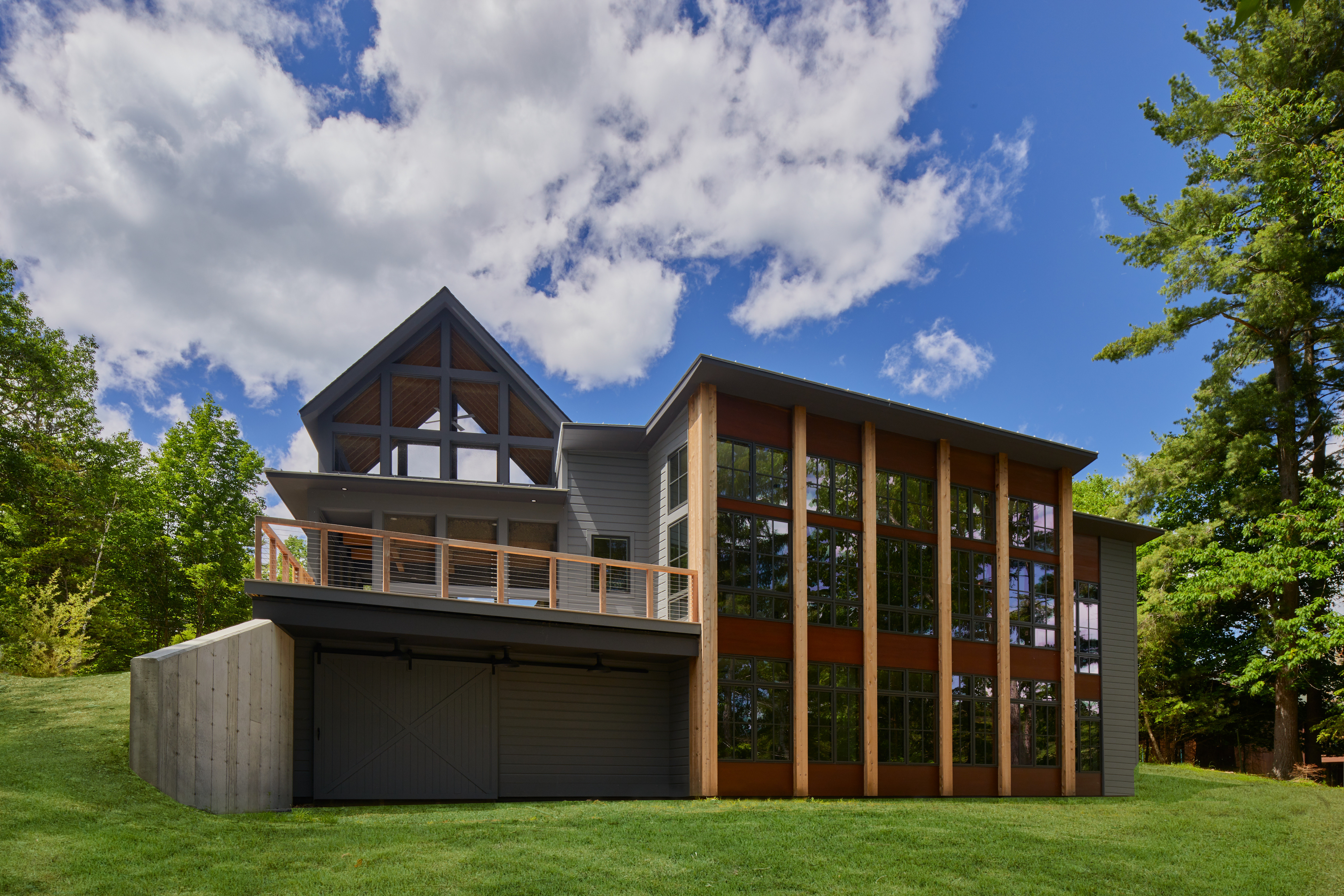 Such was the case in the Copake Lake house above and in a current project in the Berkshires where Alper and Moore bermed the main living level into the hill, which saves money and uses the land to its advantage. Not only does this save money on construction, it's more efficient from a thermal point of view because there's less exposure to the elements. This also enabled them to keep the roof line low to preserve the beautiful view over the house from the backyard.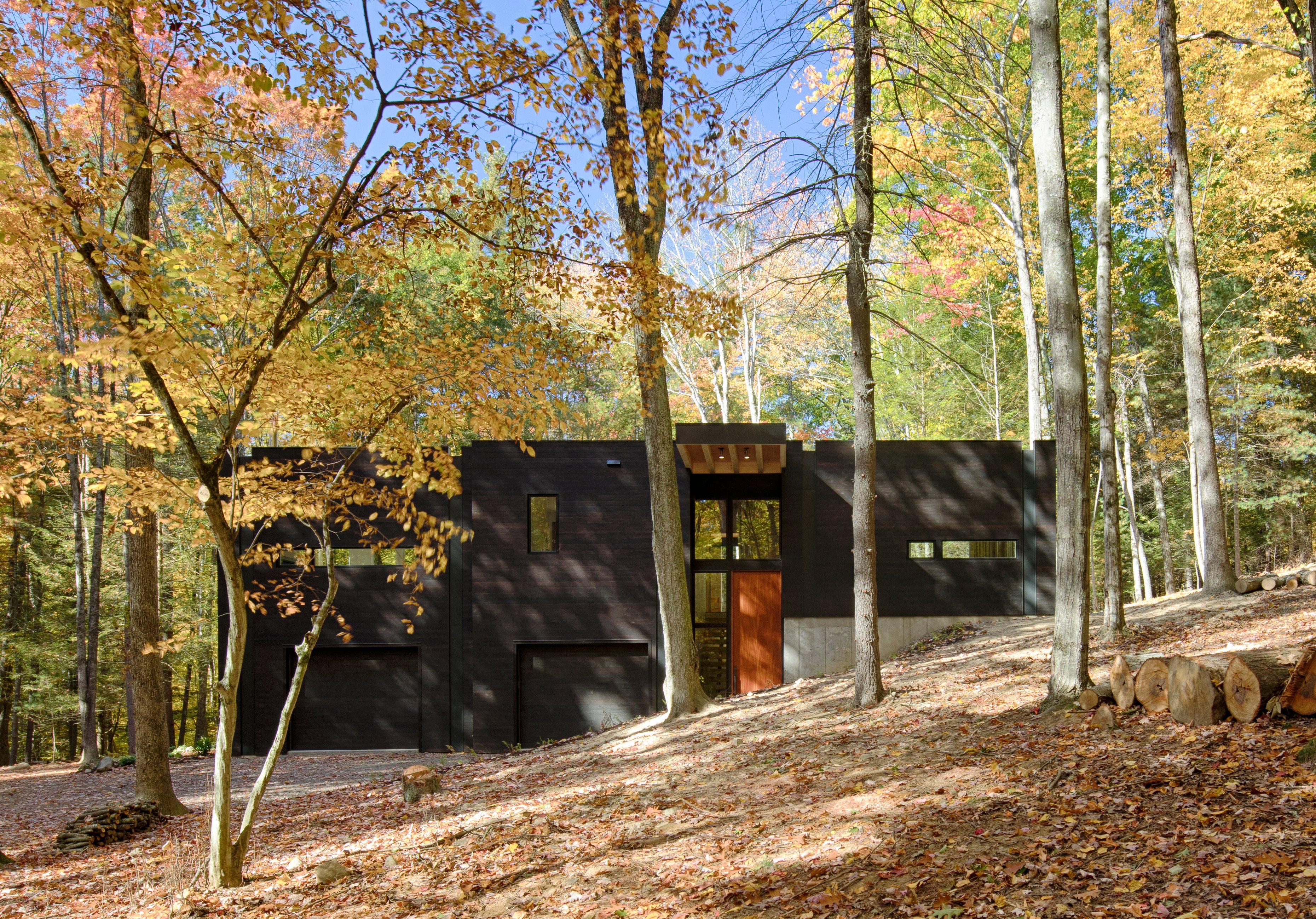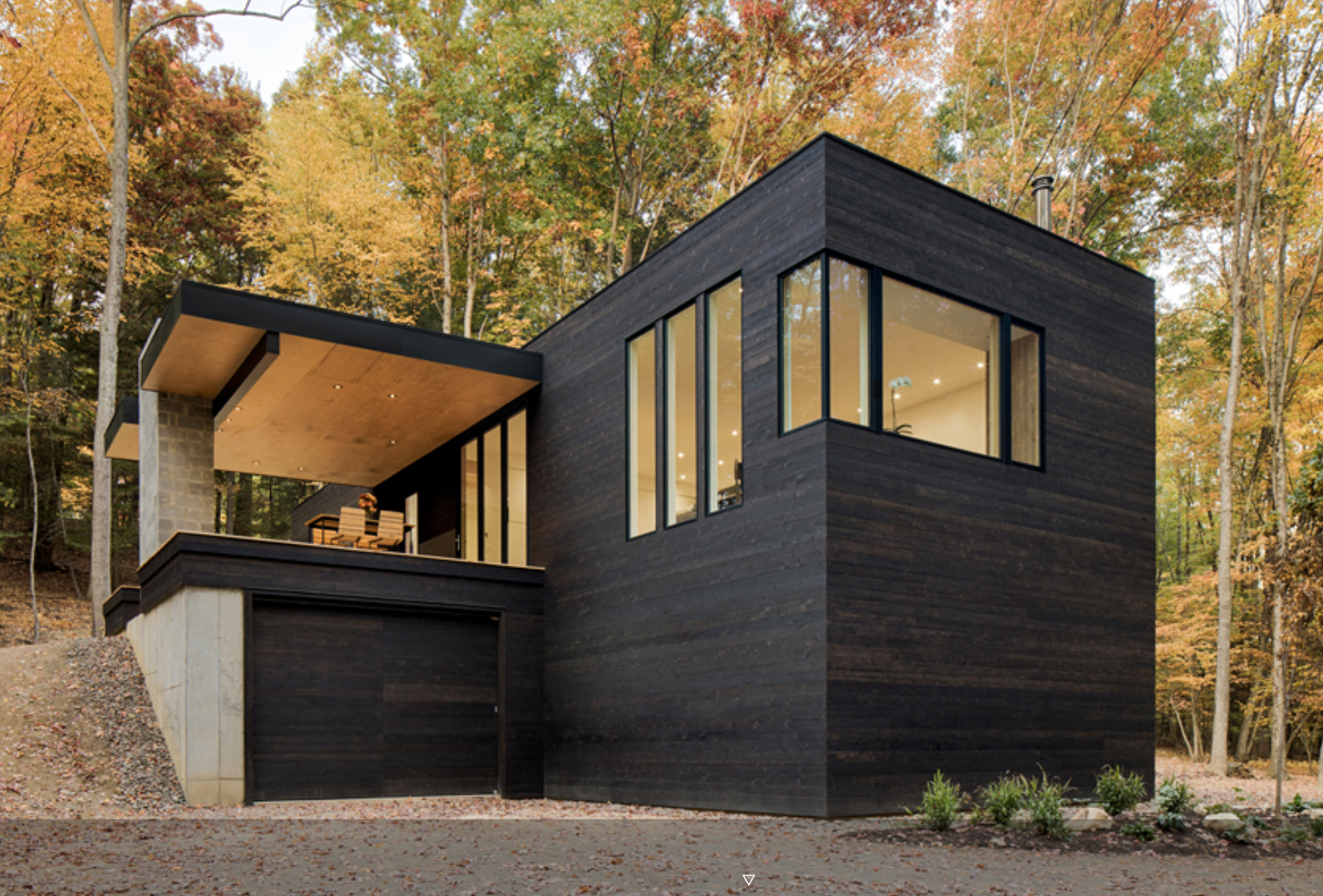 McKeel is also a proponent of responding to the natural topography of the site, using a steep hillside for example to create natural angles between elements. Or the shift can be more subtle, as in the project above. 
Working with an architect or builder from the beginning is also a must before you settle on a realistic project budget. The first thing McKeel tells any potential client is what it is going to cost to build the house they want, as first-time builders are never aware of all that's entailed. (See below for a breakdown of planning and construction costs.) 
"It's critical that we make sure the scope of the project and budget align, and then we can all hold hands (so to speak) and go forward," Alper says.  
Lastly, y
ou will most likely need to hire a civil engineer to test for drainage and waste disposal and you may need to hire a landscape architect and a structural engineer. You'll have to engage and pay these people directly but your architect or builder will have qualified referrals. 
What are the costs of getting raw land ready to build on?
There's definitely a chunk of money, planning, and time involved in getting raw land approved for construction. 
"In our experience a lot of first-time buyers purchased land without even having it surveyed or conducting an analysis of zoning for the area, and yet those steps can determine a wide variety of things such as the buildable area and energy code as well as internet connectivity and speed," Moore says. So if you haven't had your land surveyed, you will need to do that (at a cost of $500 to $1,000). A survey will also clarify the property boundaries (so you don't encroach on your neighbor's land). 
Waterfront properties are subject to a whole litany of rigorous review and regulations that vary a great deal by town and even body of water, which can add a months-long approval process to your project. (Again, it pays to go with a local architect or builder who can navigate this ordeal.)
The land must also be cleared, which can be as simple as taking down a few trees or require blasting to be able to get the driveway and foundation in there. The average cost for clearing a single acre of land is anywhere from $200 to over $6,000. 
"We try to avoid taking down any more trees than necessary. We'll definitely use the wood for millwork or for heat," McKeel says. (She used the wood for the steps and the fireplace insert in the TinkerBox, above.) You may also be limited by the specific town as to what can be cleared. 
Then there's the need for a driveway to access the building site and usually to bring in the utilities. The driveway doesn't need to be paved, just compacted (gravel is common). It has to be able to accommodate a fire truck and contractor truck, so there are switchback and width minimums, McKeel says. The longer the driveway, the higher the cost not just of the actual driveway but to run the utility lines as well as long-term maintenance. You may be able to cut a straight path through the trees rather than go under the driveway, but McKeel advises clients to think twice about that option. "If one tree falls and takes out your power, you'll end up spending as much as you would have by installing them under the driveway.
If you're not on the town sewer line you'll need to install a septic system, requiring Board of Health approval. This involves hiring a civil engineer to do the necessary soil testing and obtain the requisite approvals from the Board of Health. (Your architect can help with referrals, but you have to hire and pay the engineer directly. McKeel usually includes an allowance of $3,000 to $8,000 for these costs, depending on the site.) According to McKeel, the septic system is based on the number of bedrooms rather than bathrooms (because this better predicts how many people the system will have to handle). So if you have two bedrooms and four bathrooms, you'll need a smaller (cheaper) system than if you have four bedrooms and two bathrooms. 
If you're not on municipal water you'll need to dig your own well (at a cost of $7,000 to $10,000). "Some people will do the stick test to see how far down the water is, but you really won't know until you just have the well drilled," McKeel says. And if it turns out your water is sulfurous, you can always install filtration, which you may want to do anyway.
"These are the kinds of incremental costs most potential clients aren't familiar with and that need to be assessed in the overall budget," Moore says. 
What are the building costs?
This obviously depends on many variables, starting with the site itself and the complexity of the design down to the finishes and fixtures you select.
The architects here put the average between $400 and $500 and much higher. The bulk of the cost goes toward the foundation, roofing, and windows. So a multi-story home is typically more cost-efficient than a one-story structure since you maximize the footprint of the foundation and roof. Similarly a straight-line home is going to cost less than a plus-sign or some other in-and-out design, at least in pouring the foundation. For roofing, the material (metal vs. shingle) is not going to change the pricing that much (relatively speaking); it's the cost of putting in the insulation and the structure that are constants.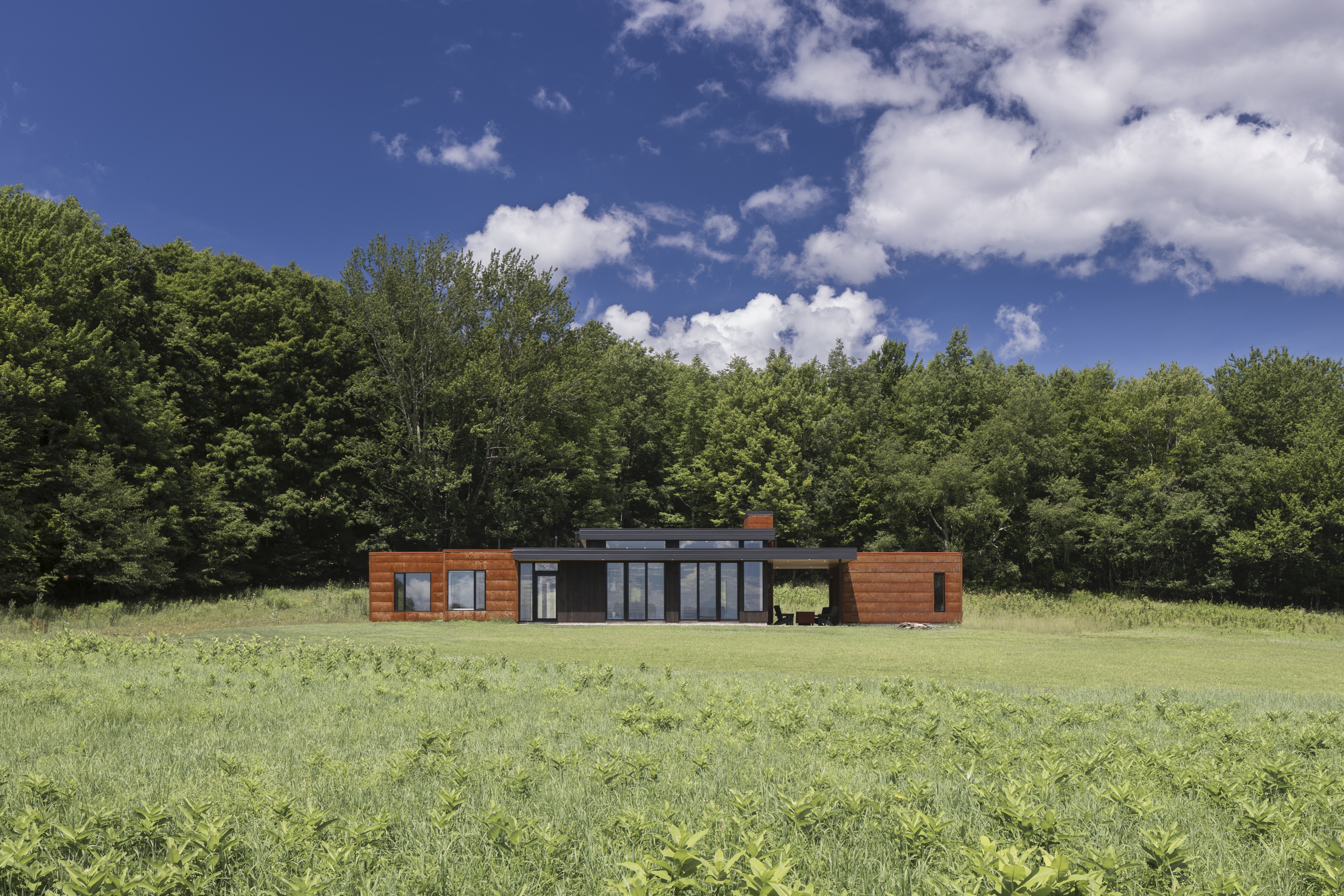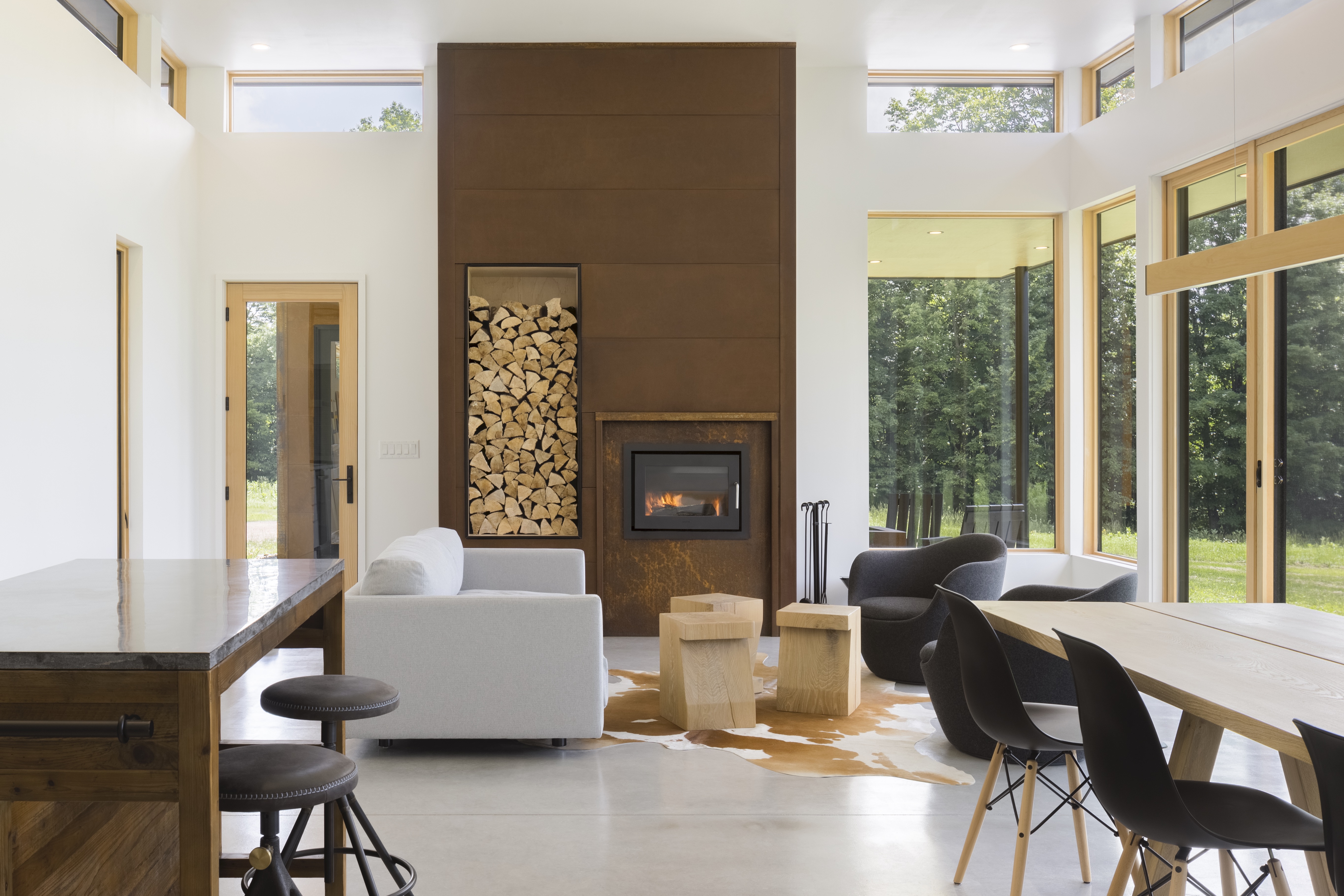 And that wall of glass looking out on your gorgeous views you were dreaming of? Be prepared to pay dearly for that. "Everyone wants this, but it's a whole different price level because of the structural requirements and the sheer cost of the glass," McKeel says. Instead, having lots of fixed floor-to-ceiling windows can achieve the same effect for a lot less money. They can be three or four feet wide and you can forego screens. Or you can strategically place sliding doors so they open up the wall and lead to the outdoors, as in the project below.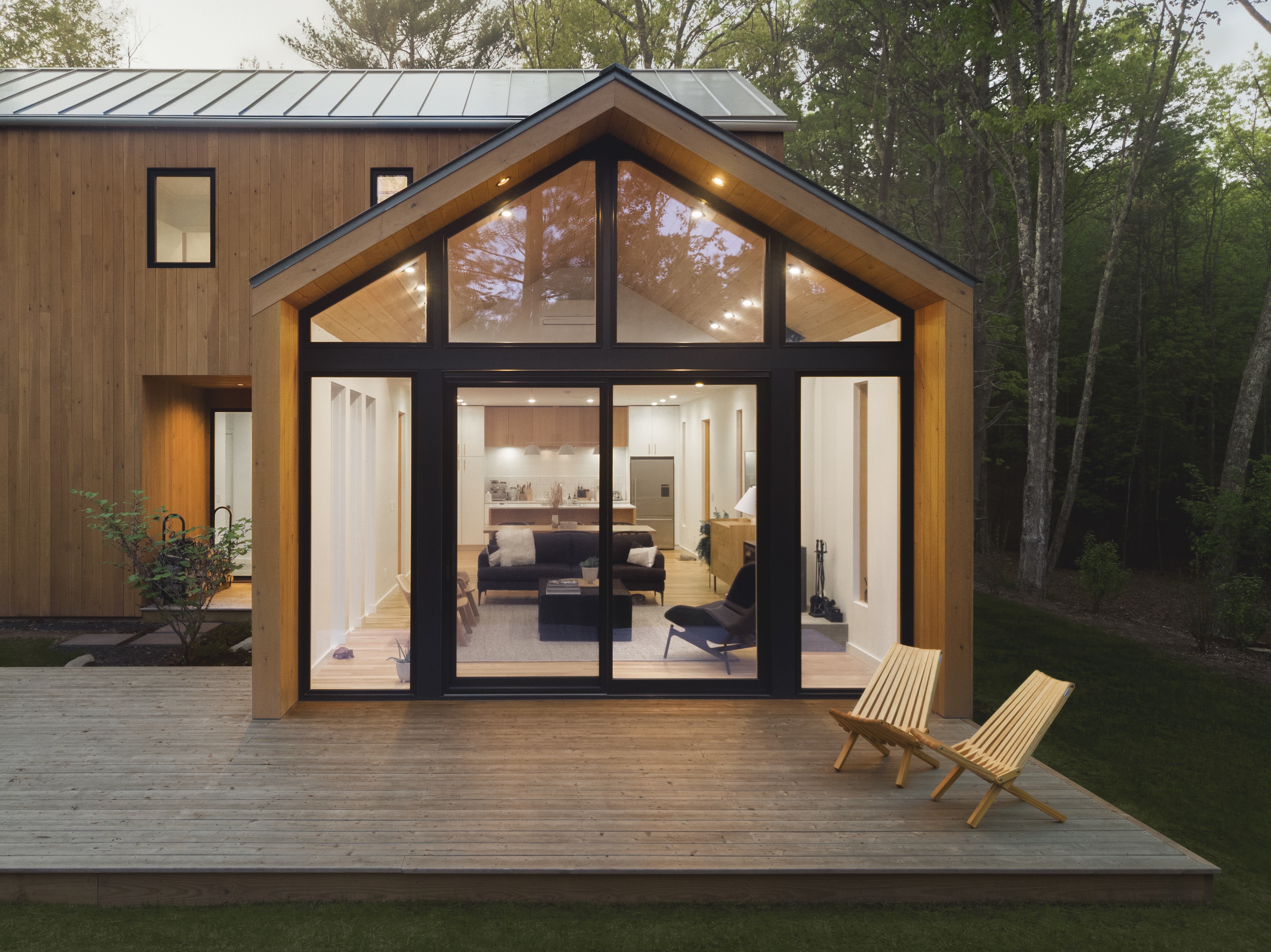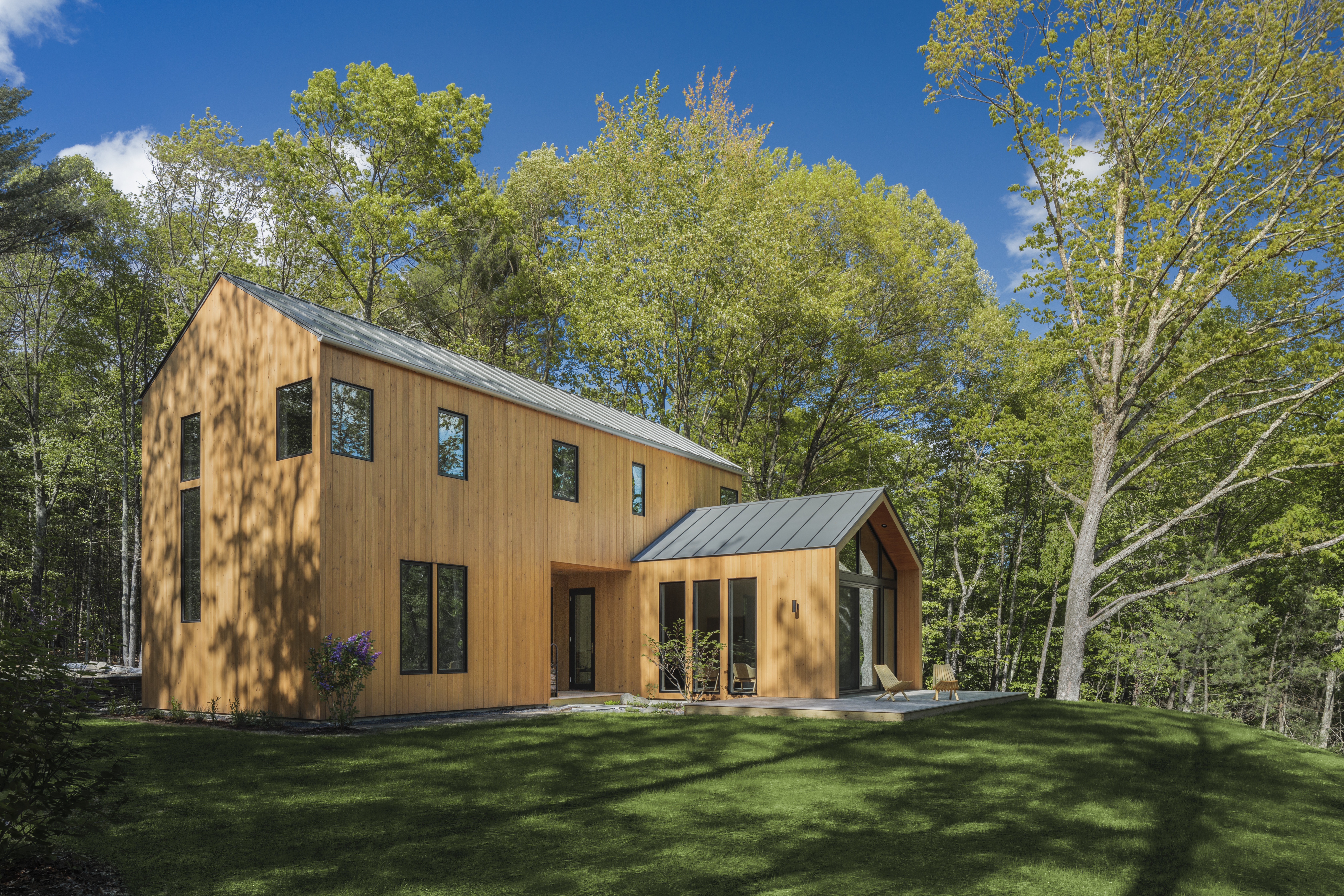 Just don't skimp on the quality of the glass. "You have to stick to the parameters of the vendor and make sure the windows are thermally sound, especially during the long, cold winters here," McKeel says.
As with a home renovation, you can pick and choose your finishes and fixtures to match your budget. Maybe radiant-heat flooring is important to you and worth installing in the mudroom and bathrooms. You can find tile that costs anywhere from $3 to $100 per square foot, so McKeel suggests putting the more expensive tile in the most visible bathroom and save on affordable tile for the rest.
What are some ways to build an eco-friendly house?
Living in a rural setting does inspire a respect for the surrounding environment and desire to reduce your carbon footprint. 
"We built our practice on sustainability and new clients are definitely coming around to our way of thinking," Alper says. "In fact it's often the first thing that's talked about. And what's great about that is we can incorporate sustainable bet practices into the design rather than it being an afterthought."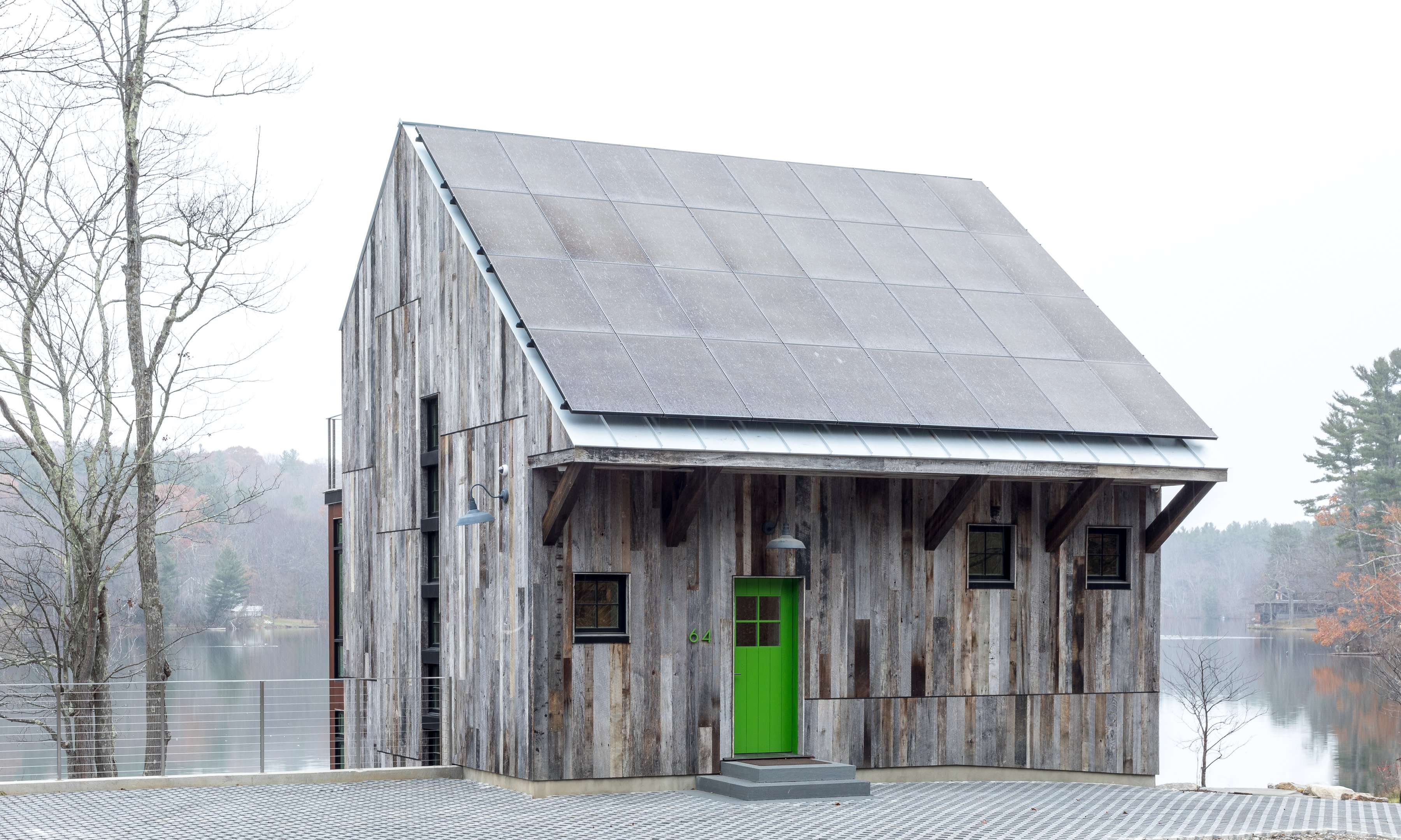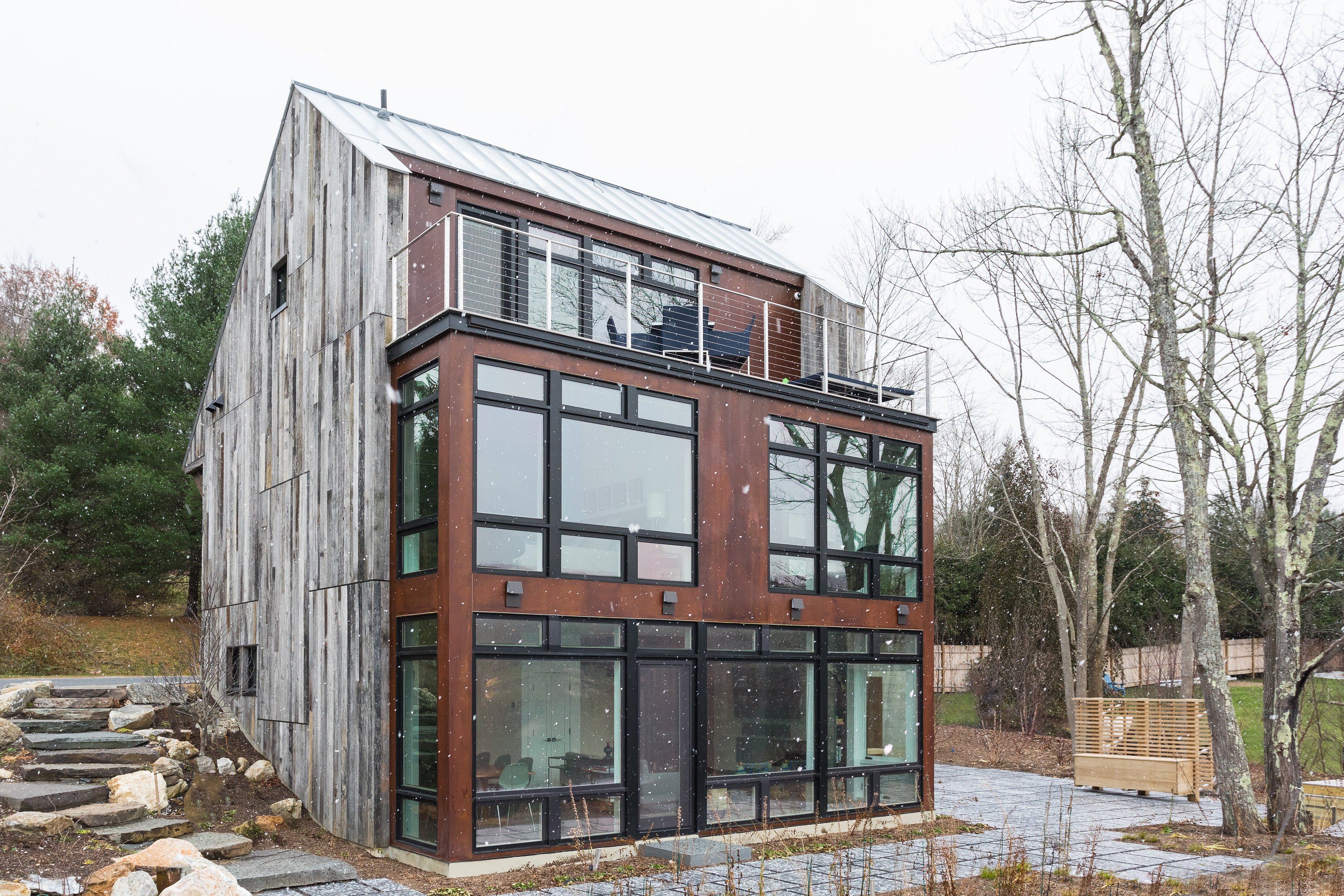 Take solar panels, which are pretty much the standard for providing energy in new constructions. You can be intentional in where they are placed rather than having to retrofit them onto the property in a not-so-great way.
Some of the more common ways to lower your carbon footprint include using recycled and low-impact building materials, low-flow plumbing fixtures, high-efficiency mechanical systems, and triple-glaze windows. "Those do not cost much more than double glazed but will lower your overall heating and cooling costs dramatically," Moore says. He and Alper also emphasize that by creating a very strong building envelope with insulation and construction, all the other expenses, both upfront and long term, tend to come down.
McKeel employs "passive cooling" to reduce the need for an air-conditioner by using shades and creating cross-ventilation in the summer and then opening up the windows to the sun in the winter to draw in more heat. 
This ethos extends to the landscape. Red House Design uses non-invasive drought-resistant plants, which lower your watering needs and provide a habitat for wildlife. The driveway for the lakehouse above has permeable pavers that serve as a growing medium for a thyme ground cover. 
How long will it take to build?
The short answer is to be prepared for an even longer timeline than under normal circumstances, as in two to three years. Due to Covid-19. contractors had to stop work for months due to Covid-19, appliances weren't shipping, and so on.
Plan on at least six months for the design phase, during which you select all the finishes and fixtures and the architect draws up detailed plans. Then the job is sent out to contractors, who can take one or two months to bid. "Ideally I want to know all the answers before bidding contractors so they are bidding real prices rather than allowances and there are no change fees during construction," McKeel says. Once the contractor is selected, it's time to get the building permit, which depending on the town can take a two days or two weeks. But it's much faster than in the city and usually doesn't involve a lot of back and forth. The actual build phase is at least a year. 
There are ways to shave time. You can avoid bidding to multiple contractors and just go with someone your architect has a solid relationship with (the variances are often less than 5 percent). Depending on the total budget, McKeel has applied for the building permit at the same time the contractor is preparing the bid. 
Because contractors are booking so far out, Moore and Alper recommend picking one much earlier than usual and locking into their schedule rather than waiting until the design is complete. Otherwise you may to wait a full year between the bid and breaking ground. In their experience, this also produces a much more collaborative process and brings a better result. "The contractor becomes part of the team and can run budgeting along the way," Alper says.
Architects are also inundated with new projects and are getting creative in how they can help new clients get the ball rolling. Red House Design, for instance, has started providing an initial arrangement whereby they'll help establish the budget, assemble the team, and initiate the land survey so at least all that can happen before the actual design begins. 
What if I want a house more quickly—and that better fits my budget? 
Look for local builders who offer a curated selection of their own designs with flexible floor plans, the advantage being they have the specs down to a science and there's efficiency of scale in repeating the same design so the price per square foot is lower and the build time faster. 
Sullivan County-based design-build and real estate firm Catskill Farms, for example, offers four different types of homes based on popular demand and respect for the area's history: modern ranches, farmhouses, cottages, and barns—even mini barns. Each of these styles come in different options too, such as a Shaker farmhouse or an Arts and Crafts farmhouse, or in different sizes and configurations. "We collaborate directly with the client every step of the way to provide stylish homes that are a sound value," says founder Charles Petersheim. He says house cost about $200 per square feet.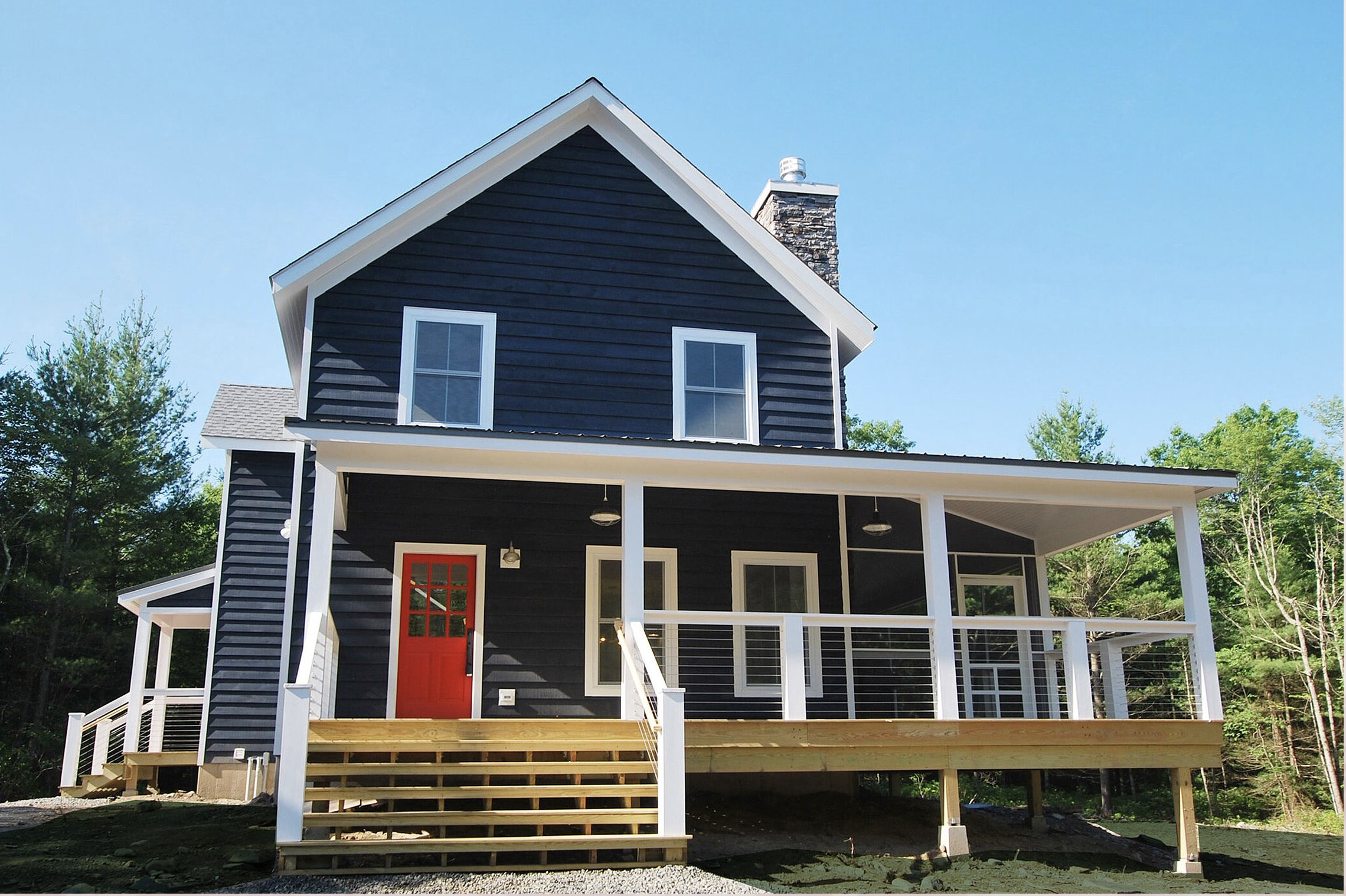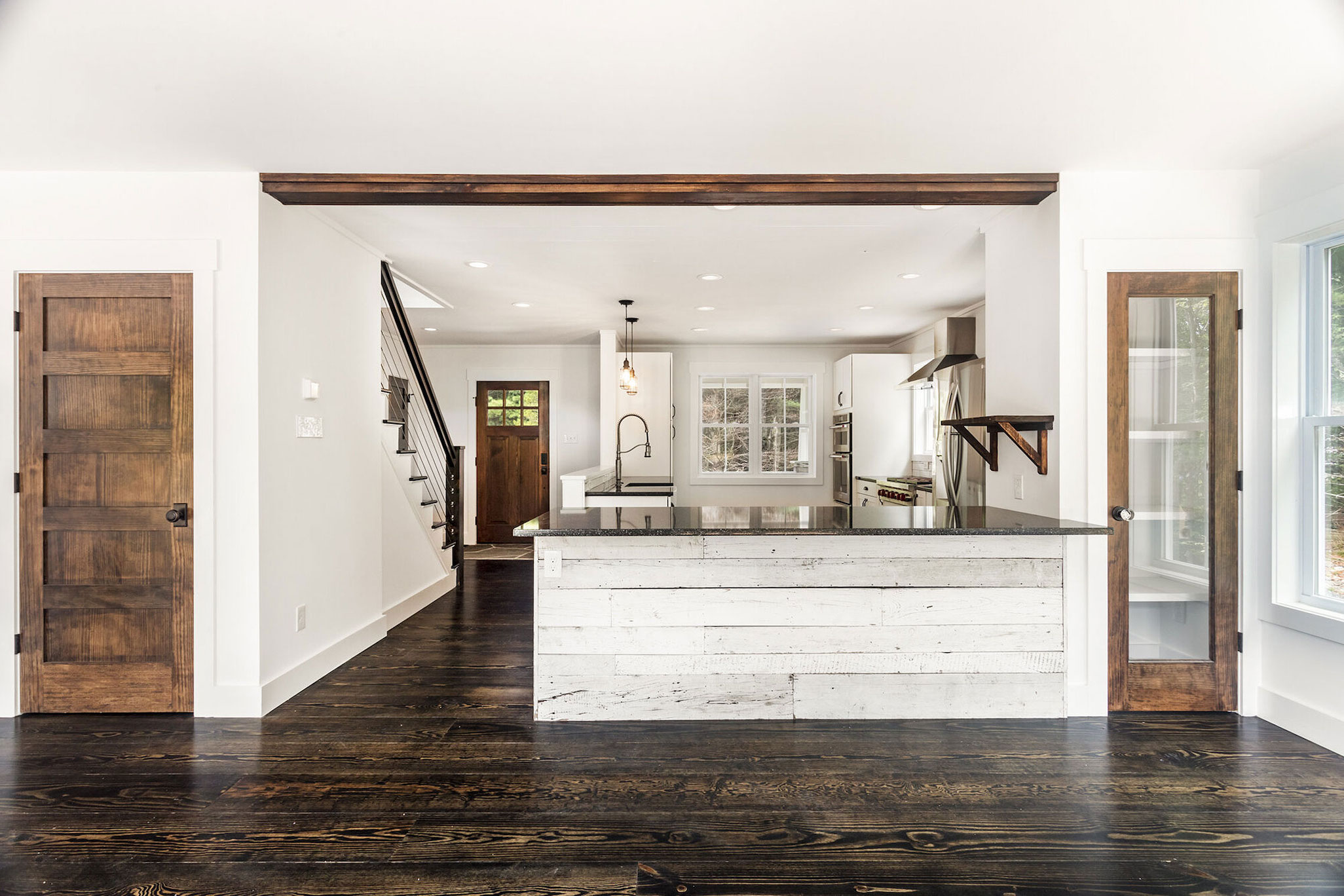 There are also prefab and modular homes that are manufactured off-site and then later assembled at your build site. This usually translates into quicker build times, and because they are in controlled environments, can be produced in the dead of winter and then be ready for delivery in spring. You'll still need to hire a general contractor to prep the site and start work on the foundation while the prefab package is being manufactured. 
The good news is that "prefab" is no longer synonymous with cookie-cutter or bland. Many of today's prefab builders offer modern, net-zero homes, often under the new and less stigmatized label "system built."
Here are a couple to check out:
GO Home by GO Logic specializes in Passive House design. The Maine firm has one- and two-story designs that hue to the quintessential New England house but with a modern lens and range from 1,400 to 2,500 square feet. Pricing is available by quote for systems that will be delivered, but Maine pricing for the entire construction (including the foundation) runs from $165,000 (600 square feet) to $567,000 (2,500 square feet).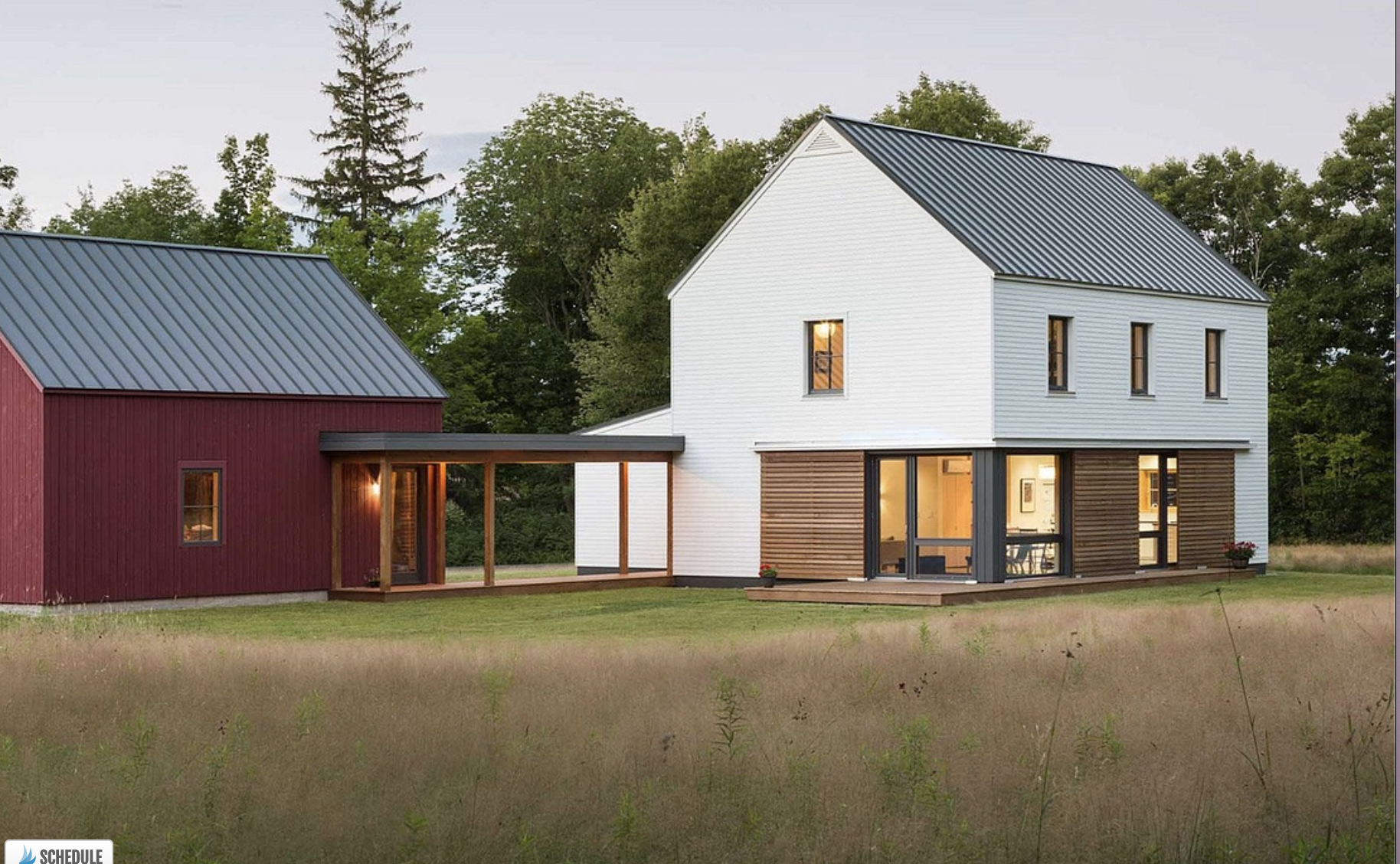 Canadian-based Honomobo offers shipping-container prefab homes that run fully on solar-powered electricity and range in size from 640 square feet (starting at $180,000 ) up to 1,920 square feet (starting at 425,000). There are two steel-frame options too.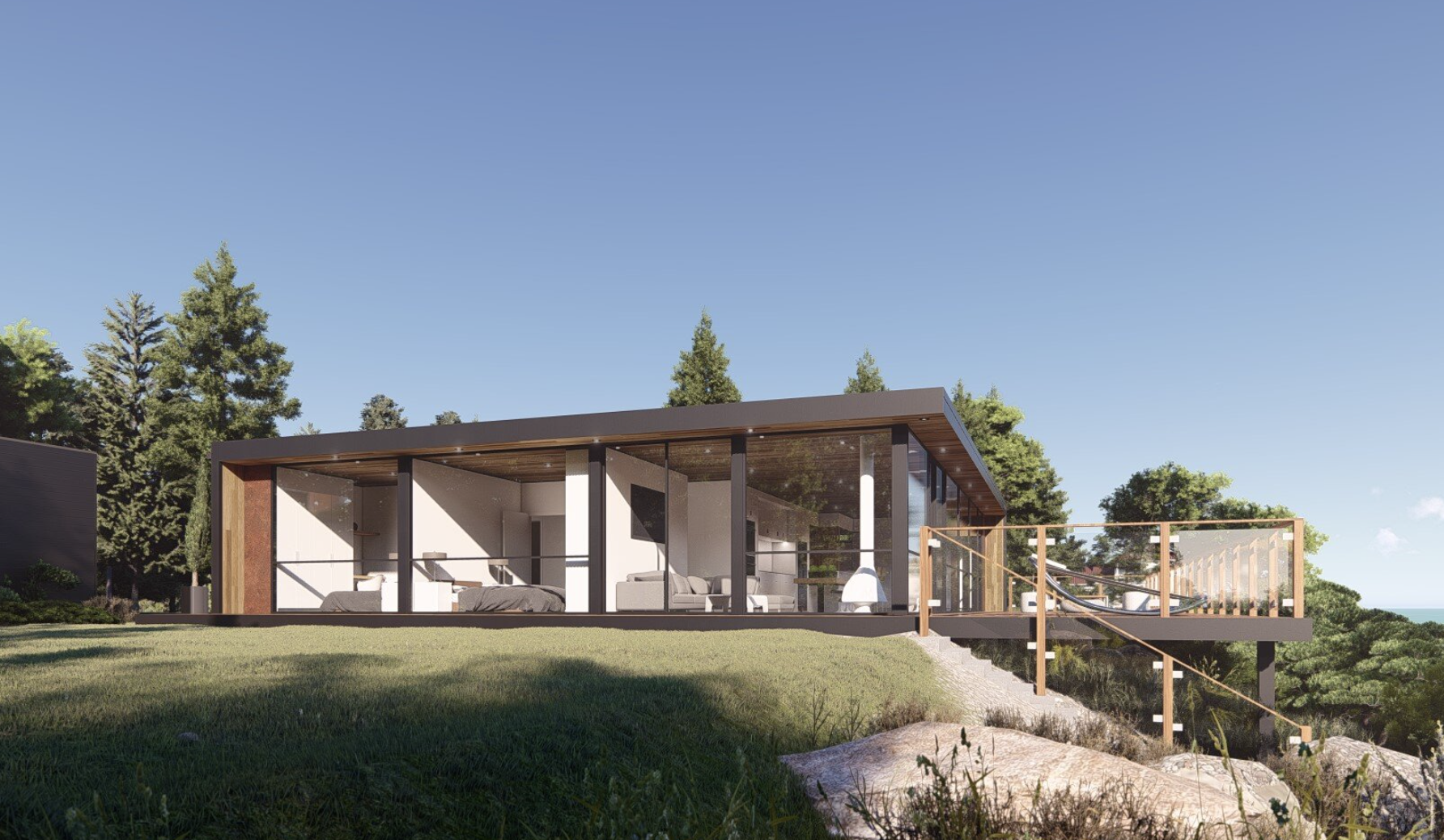 Remember that these prices are on top of what you will be paying your local contractor for foundation and on-site assembly; plan on $150 to $250 per square feet for those services. 
What about bringing in a camper? 
Airstreams and other tricked-out RVs are definitely gaining a following, and not just on Instagram. They offer a budget-friendly alternative to a permanent structure, at least for the short term. In most areas they avoid the need for permitting, though you should always check your local zoning ordinances (ask the broker who helped you purchase the land or the contractor who will do any necessary clearing). 
There are glorified RVs like those from ESCAPE, a "tiny house" developer in Wisconsin. Owner Dan George Dobrowolski says there has been "a gigantic surge of people from New York City who have bought ESCAPEtraveler units to stay in, live in, or escape to in the Hudson Valley and also the Adirondacks and Berkshire County. It is astonishing in number and scope." (You can stay in one of their models at the A Tiny House Resort in the Hudson Valley.)
The hand-crafted dwellings are designed for extreme climates including heavy snow, brutal cold, and searing heat. Common features include panoramic windows, full kitchens, large bathrooms, large first floor bedrooms, washer/dryers, ample storage, full climate control, LED lighting and solar options.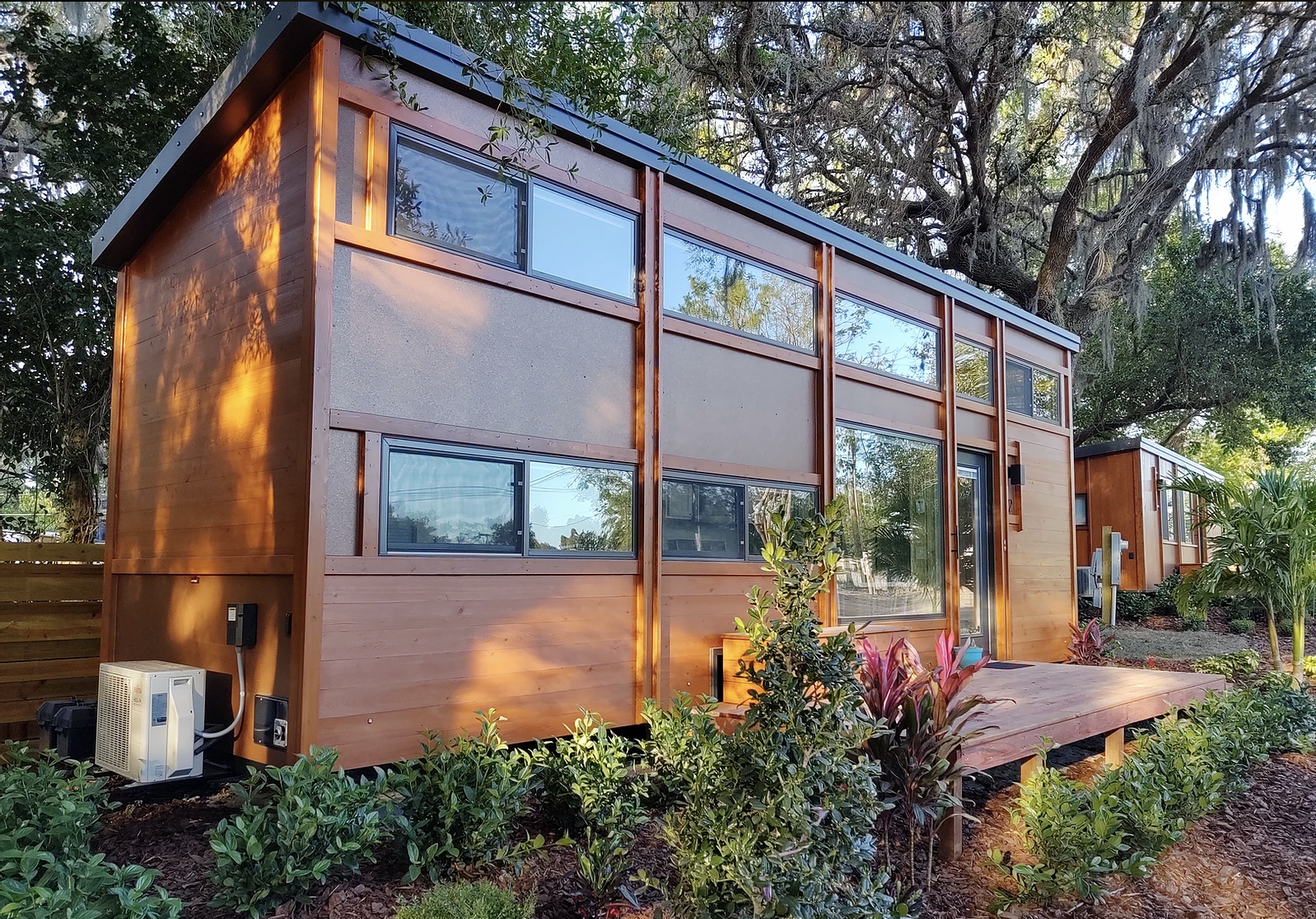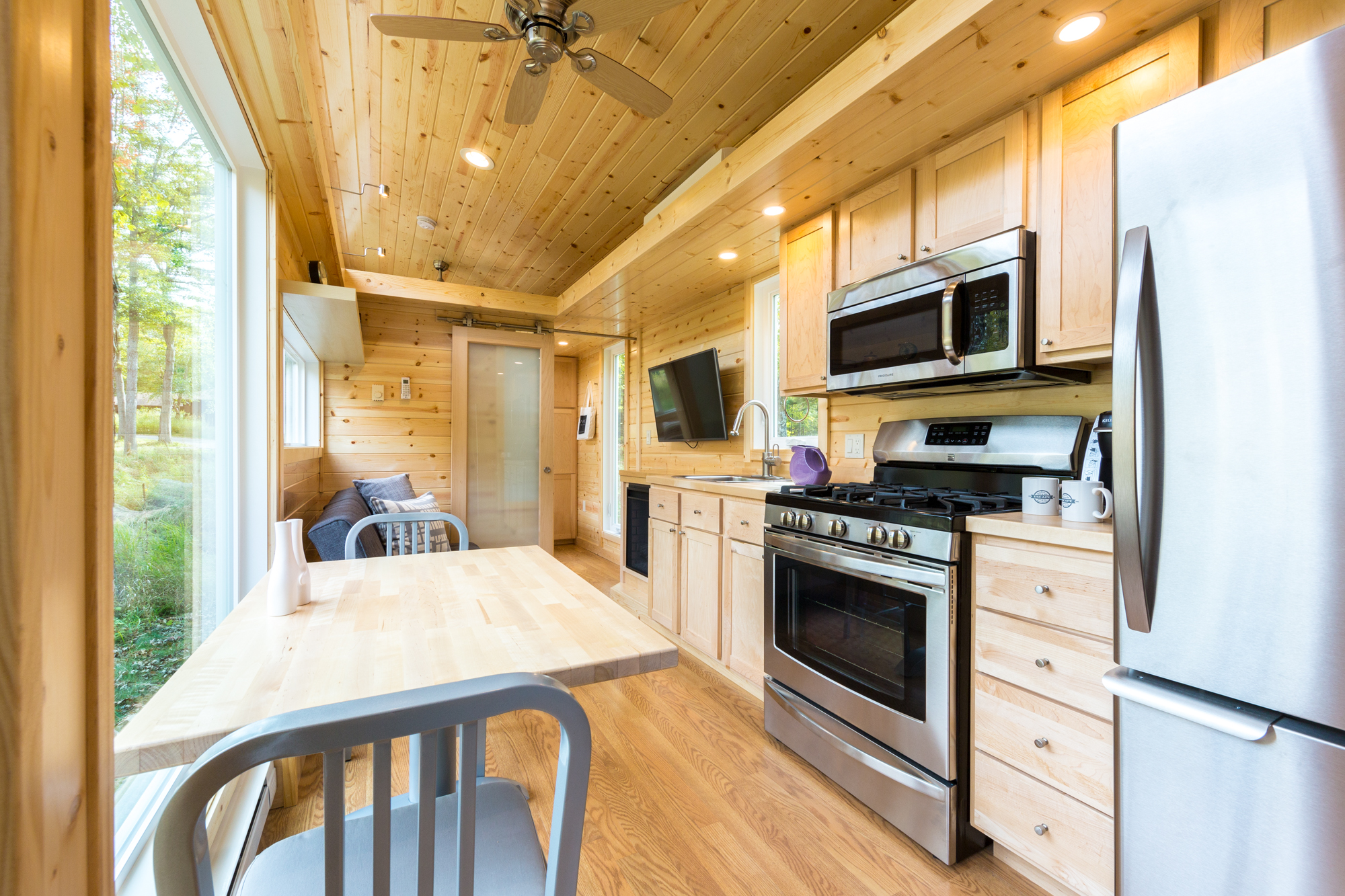 Prices start at $39,000 and go up to around $160,000, with $82,500 as the average. Delivery via ESCAPE's own trucks is about $2 per mile from Wisconsin. 
Dobrowski says most lenders offer RV loans but he also offers in-house financing with up to 15 year financing and a 15 percent down payment. (Cash buyers are entitled to a discount.)
Depending on the model, you might be able to get your new home on wheels in as little as two months. And if you should ever grow out of it, you can always build a bigger dwelling and then use it as a guest house. Win-win!
Brick Underground articles occasionally include the expertise of, or information about, advertising partners when relevant to the story. We will never promote an advertiser's product without making the relationship clear to our readers.