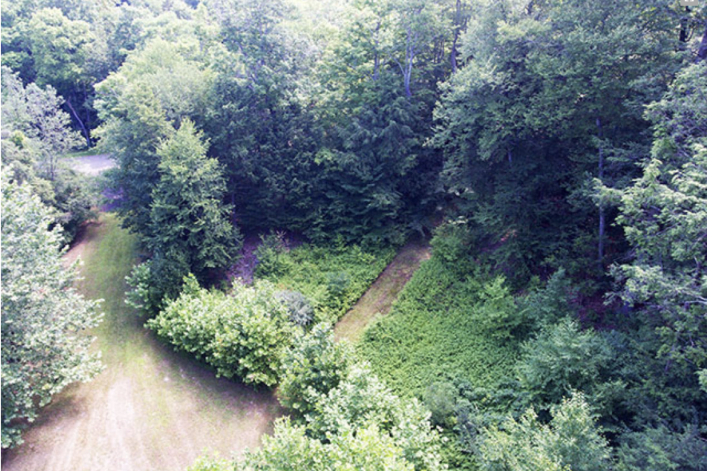 Gary DiMauro & Associates
If you left New York City for a rental in the country to isolate yourself from the pandemic for a little while, you may well be yearning to create your very own permanent getaway. Purchasing a parcel of land is one way to achieve that, with the goal of building a house—either right away or at some point down the road. 
Brokers in hot spots like the Adirondacks, Hudson Valley, and Berkshires report a larger-than-ever influx of NYC-based buyers, especially families, in the last four to six months. That's put a strain on the limited inventory of second homes, which are experiencing major bidding wars. Buying land for new construction can solve that problem, says Rachel Hymanrouse, associate broker and Rhinebeck office manager of Gary DiMauro Real Estate Associates, which serves Dutchess, Columbia, Greene, and Ulster County. 
Buying land is also the way to go if you've always dreamed of having a custom home designed to your specs. Whatever your motivation, know that purchasing land and building from scratch is not for the faint of heart.
"If you have bought an apartment or a house, you have to change your mindset," says former Brooklynite Alisa Woods. She and her husband Costel Darie recently closed on a 12-acre piece of wooded land on a large pond in the Adirondacks for which they paid $67,000. 
"After toying with the idea for a year, the pandemic made us act a little faster. We wanted to have an isolated place to go on the weekends rather than worrying about traveling to where people might be affected by Covid-19," Woods says. 
Unlike buying an existing house, it can be hard to visualize what a piece of raw (uncleared) land can eventually become. Plus there just aren't as many parcels to begin with, so you may have to be patient to get what you really want. "We had all this criteria, like privacy and being on the water for kayaking, and for our price range that wasn't exactly easy," Woods says. 
Expect financing to be a bit different than a traditional home mortgage, too, though gone are the days when you might be required to cough up cash to buy land outright. There are plenty of lenders (important hint: go local) with programs that deal with land-only purchases or land-plus-build scenarios, depending on the specific parcel, your plans for the property, and your financial position. 
And though the entry price for land can be less formidable than for a house, the buck doesn't stop there. Selina Lamb, an agent at Berkshire Property Agents, says one of the issues people have to realize is the cost of building on raw land will be dramatically higher due to all the necessary prep work (such as clearing the land and having it tested for a septic system) and planning—much higher than buying a house and renovating it. (Per Lamb, thumbnail building-cost numbers start at $225 per square foot, with $450 per square foot being more the norm.) 
Still interested? Read on for Brick Underground's guide to buying land to build your dream vacation house.
What kind of homework should I do? 
It's always a good idea to have a clear vision of your ideal setup before contacting a broker so you don't end up looking in the boondocks when you'd rather be steps from town (or vice versa). 
Here are some considerations to help narrow your search: 
How much land do you want? Hymanrouse says people who say they want "a bunch of land" can mean five acres or 100. Part of that equation is how much time and/or money you are willing to spend on upkeep (mowing, tree care, snow plowing, etc.).


 

Do you want to be completely remote and off the grid or do you prefer to have all the comforts of home (e.g, high-speed wi-fi)?


 

Will this be a seasonal escape or a year-round destination? If the latter, consider how easy it will be to access in the winter (e.g., a steep driveway to maneuver in icy conditions). 


 

Do you envision ever making it your full-time residence? If so, and if you have young kids, be sure to research area schools, Lamb says. 


 

Is being on the water a must? If so,

David VandeWater, owner of VandeWater & Associates, a real estate and development firm serving the Adirondack region, says most buyers have a specific goal in mind—for example, fly-fishing (river) or water-skiing (motorcraft-approved lake), and so on.  
 
Woods and Darie landed on a large pond as  an affordable way to get waterfront property. "It's less than a lake but more than no water view. We love how wild it is but not everyone wants to swim with snapping turtles," Woods says.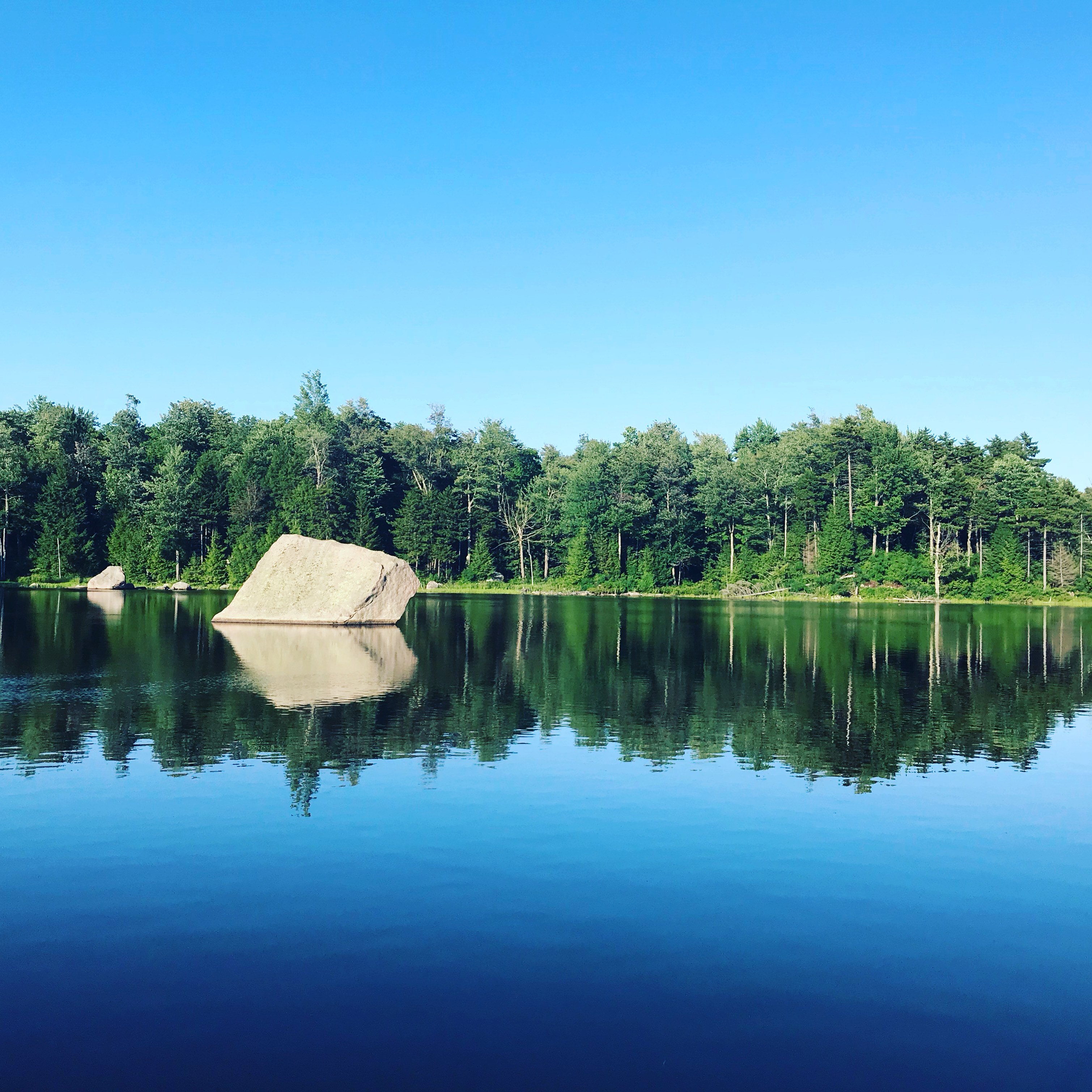 Do I need a special type of broker? 
Without a doubt, you'll need to work with a buyer's agent who has experience in the purchase of land and can walk you through all the necessary steps. "There are restrictions on all raw land that run with it in perpetuity, so you need a broker who knows what can be done on that specific parcel," VandeWater says. He also advises that you ask to walk the property. If you can't, walk away.
You can search for recent land sales in your target area and then contact the firm on the listing. Just be sure to have your own broker rather than working with the seller's.
Brokers with extensive knowledge of the area will be able to mine the off-the-beaten-path parcels as well as the more well-known towns and villages for potential parcels. 
Also be sure to look for a broker who can connect you with qualified inspectors, engineers, lenders, contractors, and all the rest. Most established real estate firms will have an exhaustive referral network.
How is land valued? What factors affect pricing?
The old saying "location, location, location" does not apply so much to land sales. "Proximity to a village can be desirable but some people want to be on a hill all by themselves," Hymanrouse says. 
Size doesn't dictate the ask price either. For example, you can get 52 secluded acres for $150,000 in Clinton, NY, or two acres in the village of Tivoli, NY, for $159,000. 
If there is something special about the land, like unobstructed views, that is obviously a premium. Cleared land will also tend to cost more to buy (but less to build on). The harder it is to get the driveway in to get your utilities pulled to the house site, the less the purchase price will tend to be, or that buyers will offer to pay, says Lamb.
Expect to pay a premium for waterfront properties, though Hymanrouse says you can spend $1 million or $150,000 near the Hudson River, depending on the lot size and other factors. 

In the Adirondacks, VandeWater says private lakes, rivers, and streams (even waterfalls) all come with a premium. "The northwest Adirondacks is considered the last frontier for affordable waterfront properties." Case in point: There's a listing for $79,000 for 12 acres on the Independence River in Lewis County. Or you can get 3,300 feet of Oswegatchie River frontage in St. Lawrence County for $99,000. 
"But if you want a family compound on Lake George, which is closer to New York City, you better have a couple million in your pocket," VandeWater says.
According to Lamb, pricing breaks down this way: The highest price and best value will be land that is flat and accessible with south-facing views and then you can work your way down from there, all the way to land that's mostly wetlands or on a super steep slope.
Even still, it can be hard to get a handle on what a piece of land is really worth in the market. "What sellers consider as an ask is all over the board," Lamb says. That's why it is crucial you work with a buyer's agent who will look at all the comparable sales and try and make sense of any wild cards. There are elements that come into the pricing that may or may not be negotiable, especially if the seller does not have to sell the property and is just putting it out there to see what he can get. 
Currently there are about 530 properties for sale in Berkshire County ranging in price from $7,000 all the way to $3.8 million, but with the majority falling under $300,000. A listing for 17 acres in Stockbridge, MA, near Tanglewood and the Stockbridge Bowl for water sports, has an asking price of $285,000 (and it's possible you may be able to connect to town water rather than dealing with a septic system). 
Lamb has two adjacent lots within walking distance of Lake Mansfield (a favorite for families with young kids) and the town of Great Barrington, the hub of the South County: the ask price is $69,000 for 1.4 acres and $79,000 for 2.6 acres, both level and surveyed. 
Ultimately it boils down to what you are reasonably willing to pay for it. Land that's priced right will eventually sell; if it's not, it will sit on the market.
That's a good reason to be patient if you don't have to buy immediately. In a hot home market with escalated prices and second home buyers moving in, more sellers tend to put land they've been sitting on for sale, so something might crop up. That's certainly been the case in the Hudson Valley as well as the Berkshires, where Lamb says land sales are starting to move more quickly. 
Can I finance the purchase of land?
Yes, though the type of loan and the terms will vary. Here's where going with a local bank is recommended for better terms and a better understanding of the market. Woods says North Country Savings Bank gave her a "way better interest rate" than the national bank where she had a longstanding account.
Roger Murray, chief marketplace officer for Farm Credit East, a farmer-owned cooperative that specializes in financing land and farm purchases in rural communities across the Northeast, says financing for land works largely the same as other mortgages. "But we typically have a shorter repayment term than for a house because people often close on the land first so they can build equity and be able to fund the next step." 

For raw (uncleared) land, you should plan to put 20 to 30 percent down and pay it back within 15 years, paying an adjustable interest rate that's slightly higher than the norm. 
Farm Credit East also offers a program where you can buy the land and construct the home with one loan and one closing, with competitive long-term fixed interest rates, but Murray says most of their customers buy the land and then start construction a year or two later, with two separate loans. 
Jackie McNinch, senior vice president of mortgage originations at Adams Community Bank in the Berkshires, says they also offer a couple programs with different benchmarks. 
If you are purchasing buildable land, defined as having a driveway with utility hook-ups in place, you can put 20 percent down and close on that. The term is 30 years but the interest rate is adjustable. Once you are ready to build you can take a construction loan with as little as 5 percent down.
If you plan to buy the land and build right away, McNinch says you can wrap those two loans together for one, 30-year fixed-rate end loan. However, to qualify for this type of financing you need to have your architect draw up an initial design and provide a rough estimate of what everything is going to cost (subject to the actual land it will be built on). 
"The problem buyers face is that builders are booking a year out in the Berkshires, and everybody wants their house right away. So that ends up making people reconsider buying land," McNinch says. (She herself has owned the land across the street from her home in Lenox for 20 years and has never built on it. "It's a huge undertaking.")
But Lamb points out that even in a normal climate you wouldn't be breaking ground for eight or nine months anyway due to the design process and all the soil testing. "Right now is a great time to buy land so you can break ground in the spring." 
What has to happen before I can build on the land?

 
Raw land has to be cleared of trees, boulders and other obstructions. You'll need to have a driveway installed and utility conduits created. Most rural areas require a septic system and a well (unless the site can be hooked up to the town sewer system), requiring the soil to be tested by an engineer. All that represents one set of costs.
Then you have to find and hire an architect and go through the design process and apply for the building permit with the town or municipality.
"These are rural towns, people work part-time, and some towns are easier than others," Hymanrouse says. It helps to work with an architect who is familiar with the building code in that particular town—or who at least is willing to do the homework (which you will need to pay for). It's ultimately months of planning before construction can even begin.
Are there any shortcuts to building on your own land?
At least in the some areas, you might be able to buy the land directly from developers who will do the building. 
Hymanrouse says development projects, such as Hudson Woods and Milan Case Study, are becoming more popular in the Hudson Valley because of demand for fast-tracking the land-build journey. With these, you pick your lot, which is construction ready, and then choose from the developer's building models, and everything is bundled into one purchase price. 
You might also be able to work out a deal with the developer whereby you pay the firm a minimum 20 percent deposit that they then take along with the contract to get their own financing. Once the house is built, you can purchase that with a traditional mortgage and there's just one closing at the end. 
VandeWater offers a similar financing structure for his development projects, for which he will build the frontage road and infrastructure, including the driveways, and perform all testing and obtain town approval so the lot is guaranteed to be septic ready.   
That's certainly a route worth exploring if building quickly is a priority.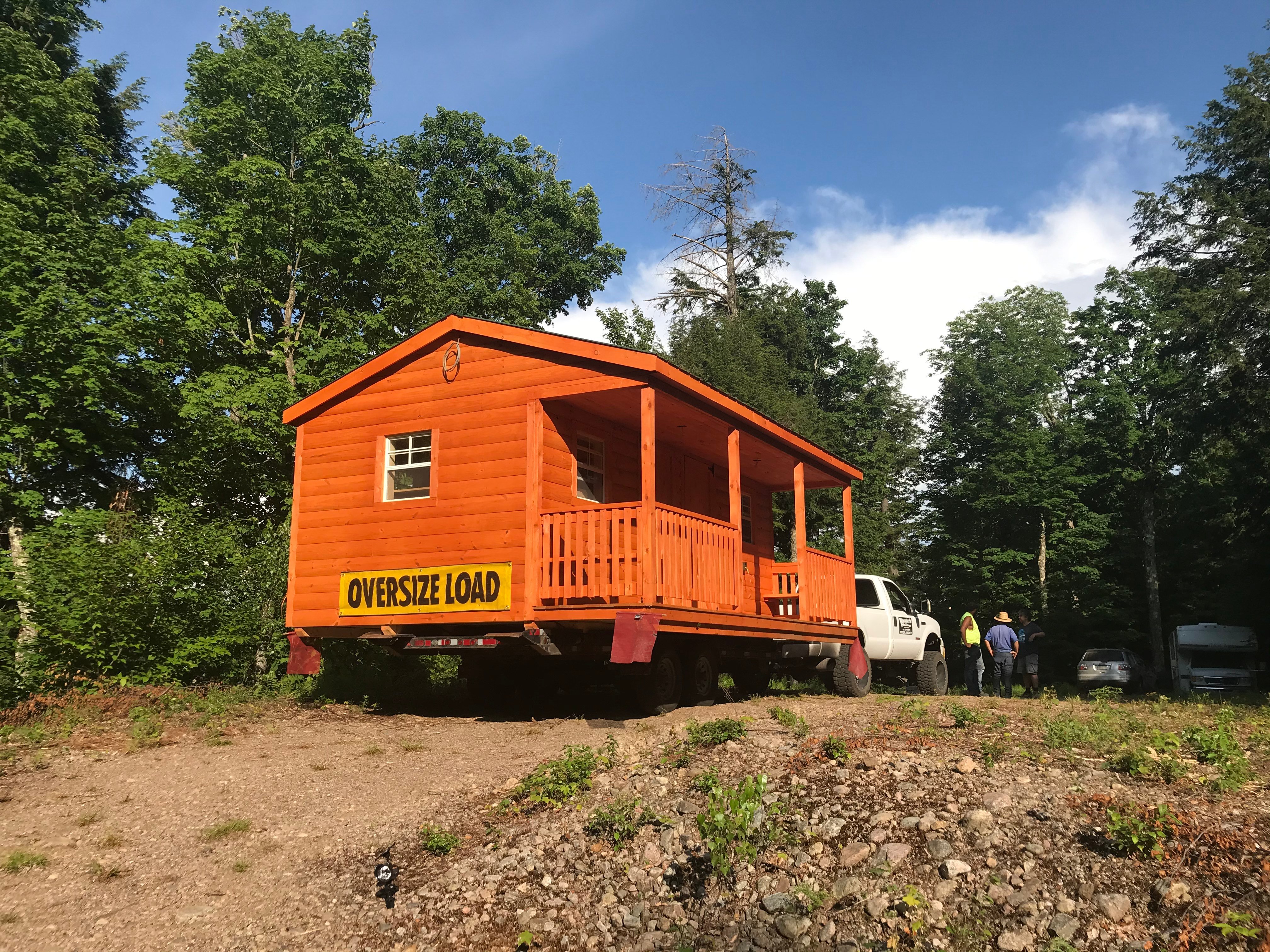 Or you can follow in Woods' footsteps and buy an Amish cabin that's delivered intact. (They start at around $8,000 with solar, $5,000 without. You'll have to find a local Amish person and meet with them in person; Woods found someone via Facebook.)
"We first wanted a shed to store our kayaks in the winter but then we went with a bunkhouse, with eight bunks so we could invite more guests. There are two rooms with a sliding wall. The land is completely off the grid so we got solar panels for electricity, but there's no plumbing or anything else."
Brick Underground articles occasionally include the expertise of, or information about, advertising partners when relevant to the story. We will never promote an advertiser's product without making the relationship clear to our readers.