Escape from New York
How to renovate a vacation home on a $20,000 budget when you work full-time in NYC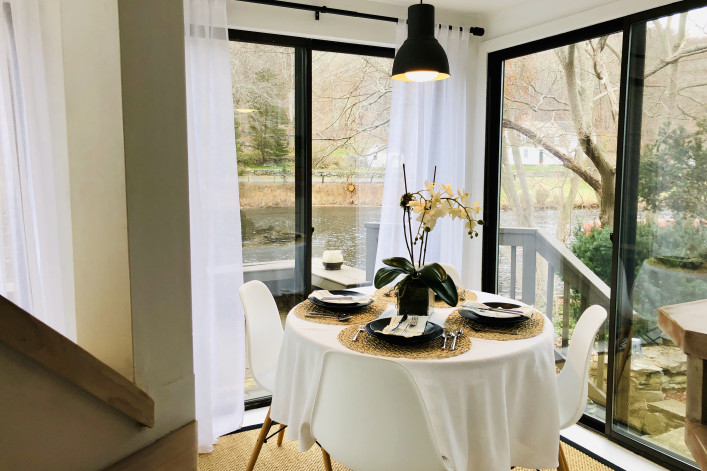 Justin Brasington and Matthew de Groot
You might live in a New York City apartment and really long to have an actual house. But the economics of owning an entire house can be daunting and straight-up prohibitive here.
Which is why many house-hunting New Yorkers flip the script, electing to rent here, and buy a vacation house outside of the city where prices are not so stratospheric. The true bargain seekers find a place that "needs some work" and embark on weekend renovator journey—an undertaking that's not for the faint of heart, but also deeply satisfying for some. (Others will no doubt tell you how such a project almost killed them, their relationship, and bank account, but that's not the case with the couple in this story.)
Justin Brasington and Matthew de Groot embarked on a weekend renovation project in 2016 when they purchased a fixer-upper house dating to 1859 in Lyme, Connecticut. The couple live in a Fidi studio during the week, and over a period of two years, spent weekends demo-ing and building; they're now in the process of putting the finishing decorative touches on the house. As if renovating remotely wasn't challenging enough, the pair set a total renovation budget of $20,000.
Below, Brasington, head of marketing at Moved, and de Groot, an agent with Douglas Elliman in Manhattan, share their story of finding and buying the house, how they managed a renovation while living in Manhattan, budgetary compromises and hacks, as well as design hiccups (and recoveries) along the way. And, now that it's over, if they'd do it all again. (Like what you see? Check out the Instagram account dedicated to the project, @lyme_ct , for more reno inspo.)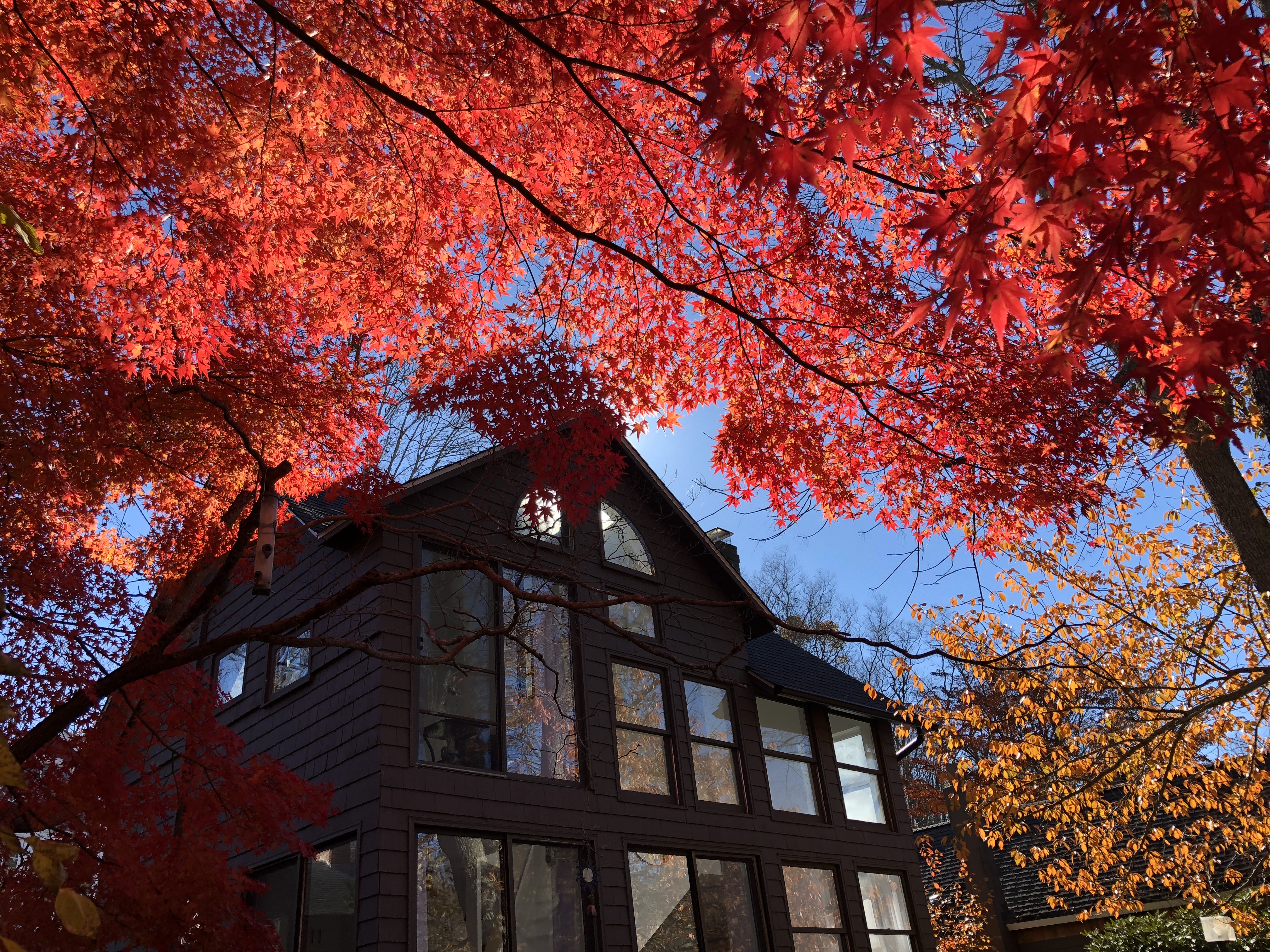 When did you buy the house and how did you decide it was 'the one'?
We bought the house in June 2016 for $280,000. We wanted to own a piece of coastal real estate that we could visit on weekends to relax and escape the hustle and bustle of NYC. After a lot of Zillow searching, we eventually zeroed in on Lyme, CT, a small, beautiful town along the mouth of the Connecticut River known for its architecture and as the birthplace of American Impressionism. We fell in love with everything it had to offer—hiking trails, historic waterfront real estate, beautiful foliage, artists, museums, great dining and the feeling of being far away from a city. It's like we discovered a little piece of New England paradise, a couple hours outside of NYC.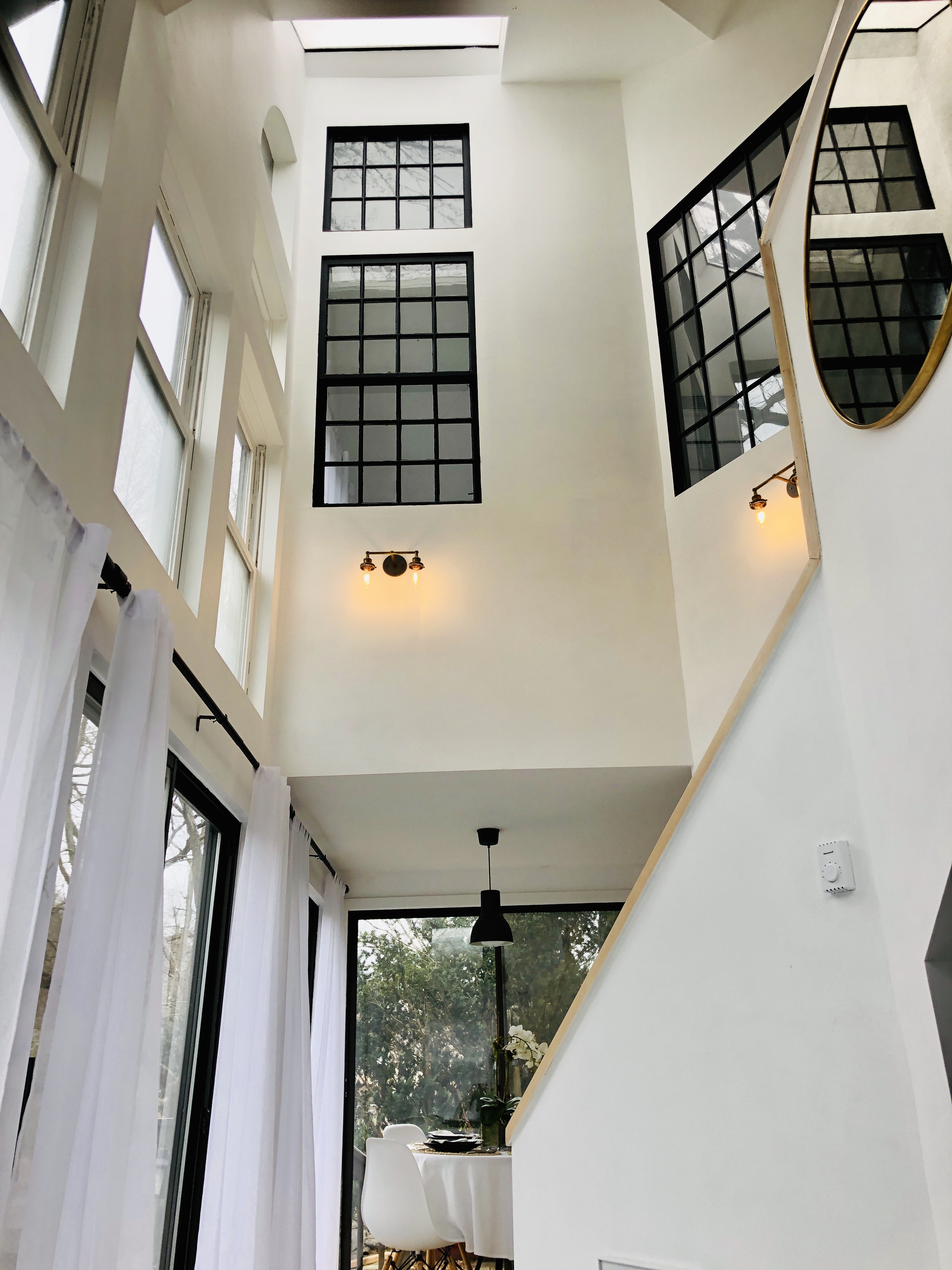 How far is it from New York City?
On good days, it takes about an hour and a half to drive there from the city…we typically stop along the way to grab dinner or stock up on alcohol because it's significantly cheaper outside the city. So all in, it takes about two to three hours to get there by car. Sometimes we'll hop on the Amtrak or MTA, which takes about three hours total and drops us off 10 minutes from our house.
Where do you live in NYC?
We live in a studio apartment in the Financial District, on the border of Battery Park and Tribeca. It's an incredibly convenient location for us. There are several subway lines that drop us off within two blocks of our apartment, and it's super easy to find street parking around Battery Park and Triceca. Plus we love to take our dog, Hudson, on walks along the Hudson River, and Battery Park has great dog parks, outdoor restaurants and a killer marina with big yachts.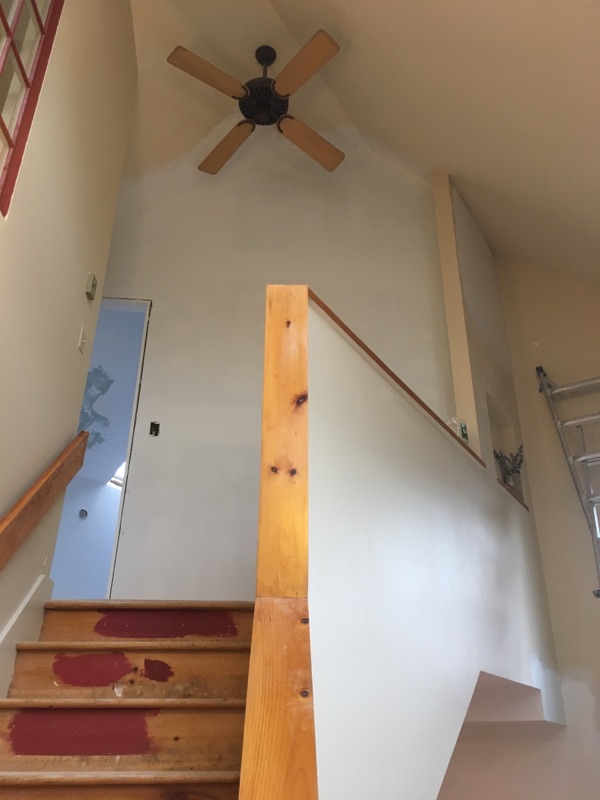 How much work did the house need? Do either of you have experience renovating?
Most people would walk into this house and immediately turn around. It's a historic home that was originally constructed in 1859 as an ice house. Needless to say, this home wasn't built to "house" people. Over the years, previous owners made improvements to make it more livable, but we had a fear that the inspection report would come back with a bunch of red flags for the foundation. Luckily, the foundation was fine and there were pretty minor improvements needed to pass the inspection.
We loved the story and history of this home, and wanted to make sure that we honored the integrity of its structure. So a lot of the improvements that we made were cosmetic. And by cosmetic, we mean a full interior gut of nearly everything except the walls. There were these foul-looking built-in bookshelves and closets throughout the house that were covered with hand-painted murals of poodles. Though some may have found these unique, they were the first to go. Then the carpeting, and some upper kitchen cabinets. Then the outdated bathroom fixtures, heavy metal doors, and all lighting fixtures. We basically demo-ed the whole home (keeping very little) before making updated improvements.
Prior to purchasing this home, neither of us had renovation experience besides helping our dads with small projects growing up. We are both obsessed with interior design and got a ton of our inspiration watching HGTV's "Fixer Upper," paging through Restoration Hardware catalogs, and frequenting Matt's luxury apartment listings in New York City. Despite the lofty goals of a full renovation, we wanted to maintain a budget of $20,000.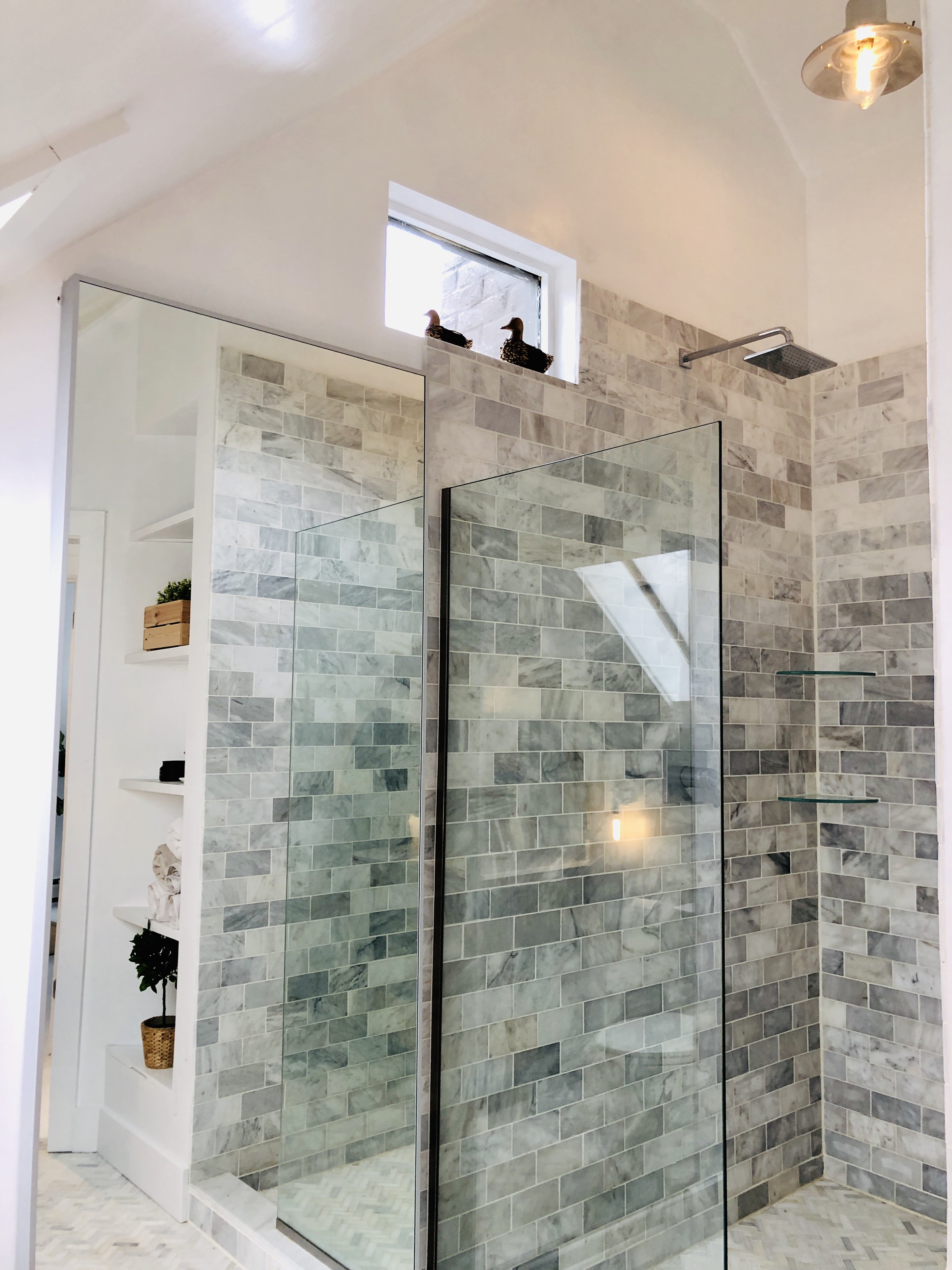 What were the big projects of the renovation?
Outside of demolition, the biggest project, by far, was the master bathroom. A lot of work (plumbing, electrical, tile cutting, and ventilation) and material (tiles and fixtures) goes into a bathroom, but we wanted to make it the showstopper of the home—something you feel special in. The original master bath was tiny, even for New York standards and straight out of the 1970s. We gutted the entire bathroom, reworked the layout and quadrupled the size of it. This project took us a good nine months to complete.
Outside of the bathroom, the hardwood floors and kitchen remodeling were two other massive undertakings.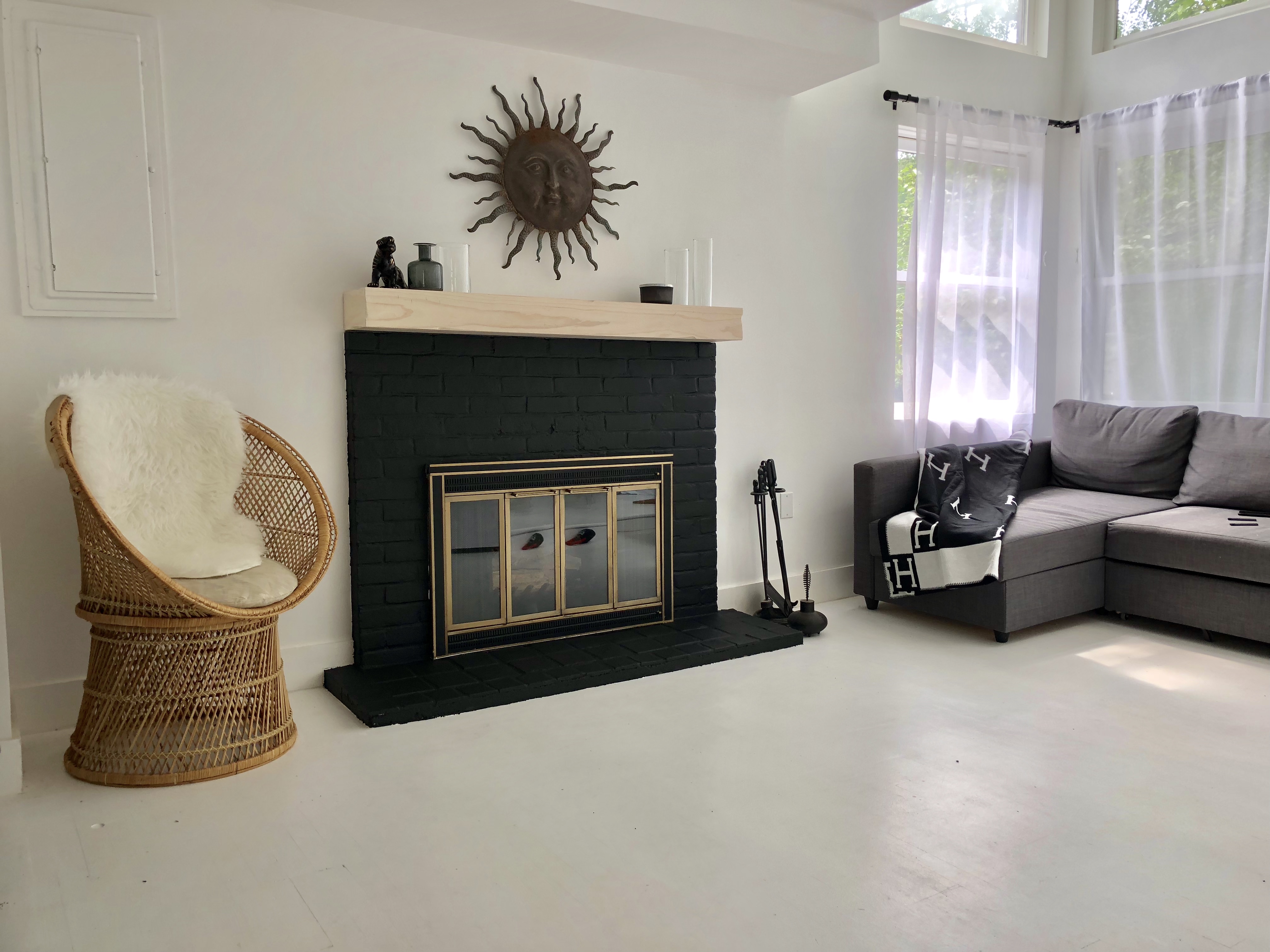 What were the biggest challenges?
The biggest challenge was completing projects in a weekend. We both work full-time jobs in the city, so we had to strategically plan out every weekend. That meant ordering all necessary materials in advance so that they would be delivered before we got there, and carefully planning out what we needed to accomplish Friday night, Saturday and Sunday to complete the project.
Another big challenge, honestly, was agreeing on things. We never really argue at all but we both became so incredibly passionate about this home renovation that we'd constantly disagree on things like tile choice, paint color, investing in project A vs. project B or even something as simple as the toilet paper holder fixture.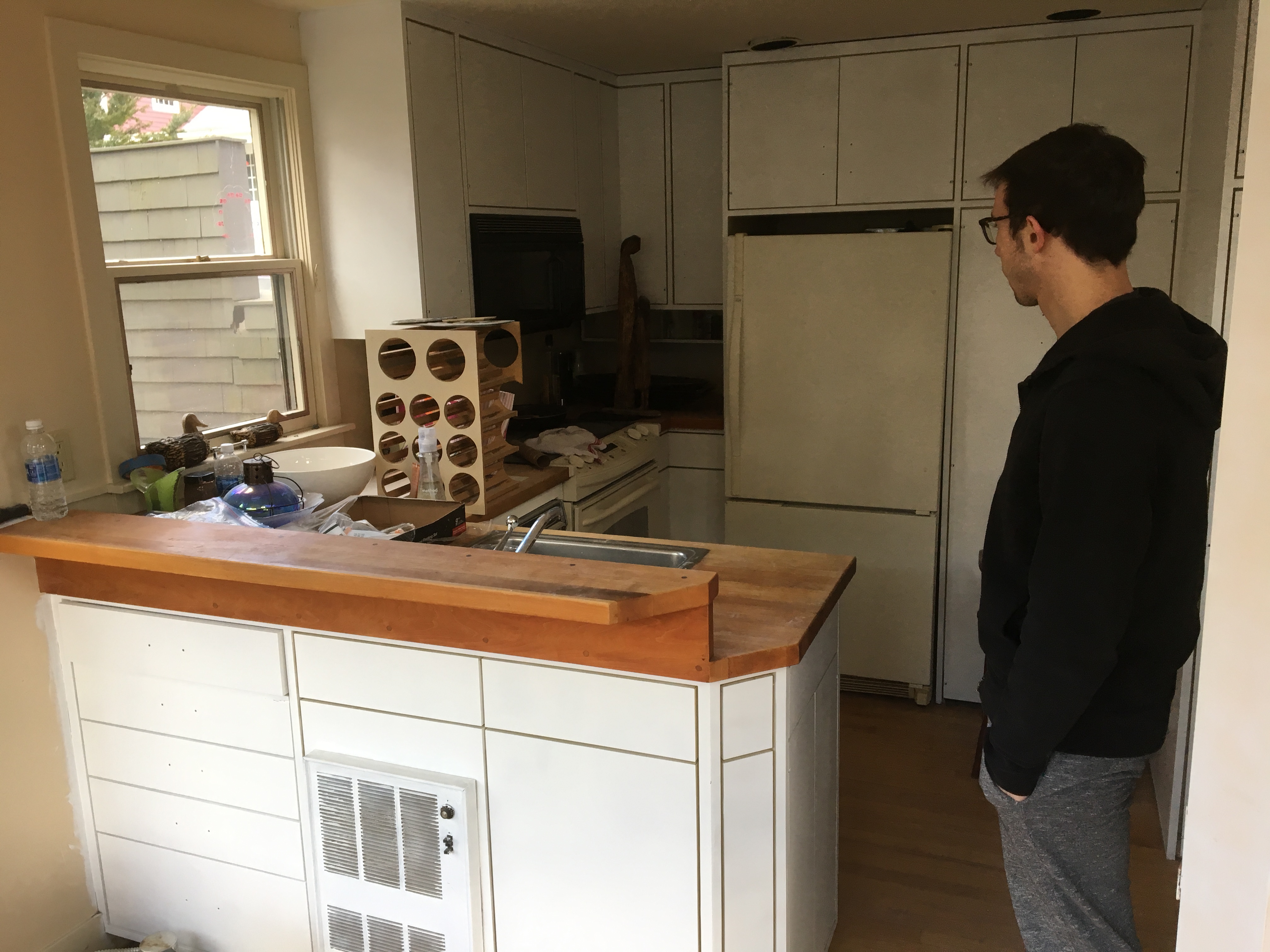 What were the surprises along the way? 
The main surprises were cosmetic improvements that didn't pan out as we expected. The first that comes to mind is when we decided to whitewash the hardwood floors. We both fell in love with the rustic farmhouse look of whitewashed floors; but after attempting it, the floors had a yellow-tinted pigment. It was like we took a massive highlighter to the floors. So, we axed a second-attempt and decided to go full-on Scandinavian by painting the floors white, despite our parents' thinking we were absolutely nuts for doing such a thing to hardwood floors. We think they came out pretty chic (and they do too).
Another hiccup we ran into was with the kitchen cabinets. The cabinets were this desert sand color (not really our style) made from Formica. We nicknamed it "Dislika" because of how much we hated it. So we had two options: 1) spend $11,000-15,000 to replace the cabinets with new, custom cabinetry, or 2) paint over the Formica cabinets. To keep costs down, we decided to paint them. The first time we did it incorrectly, and they came out blotchy. So we did it a second time, removing every cabinet door from its hinges, sanding down them down, adding two layers of shellac-formula primer, and six coats of high gloss white paint. After putting the hinges back on the doors and replacing the hardware, they looked brand-spankin' new.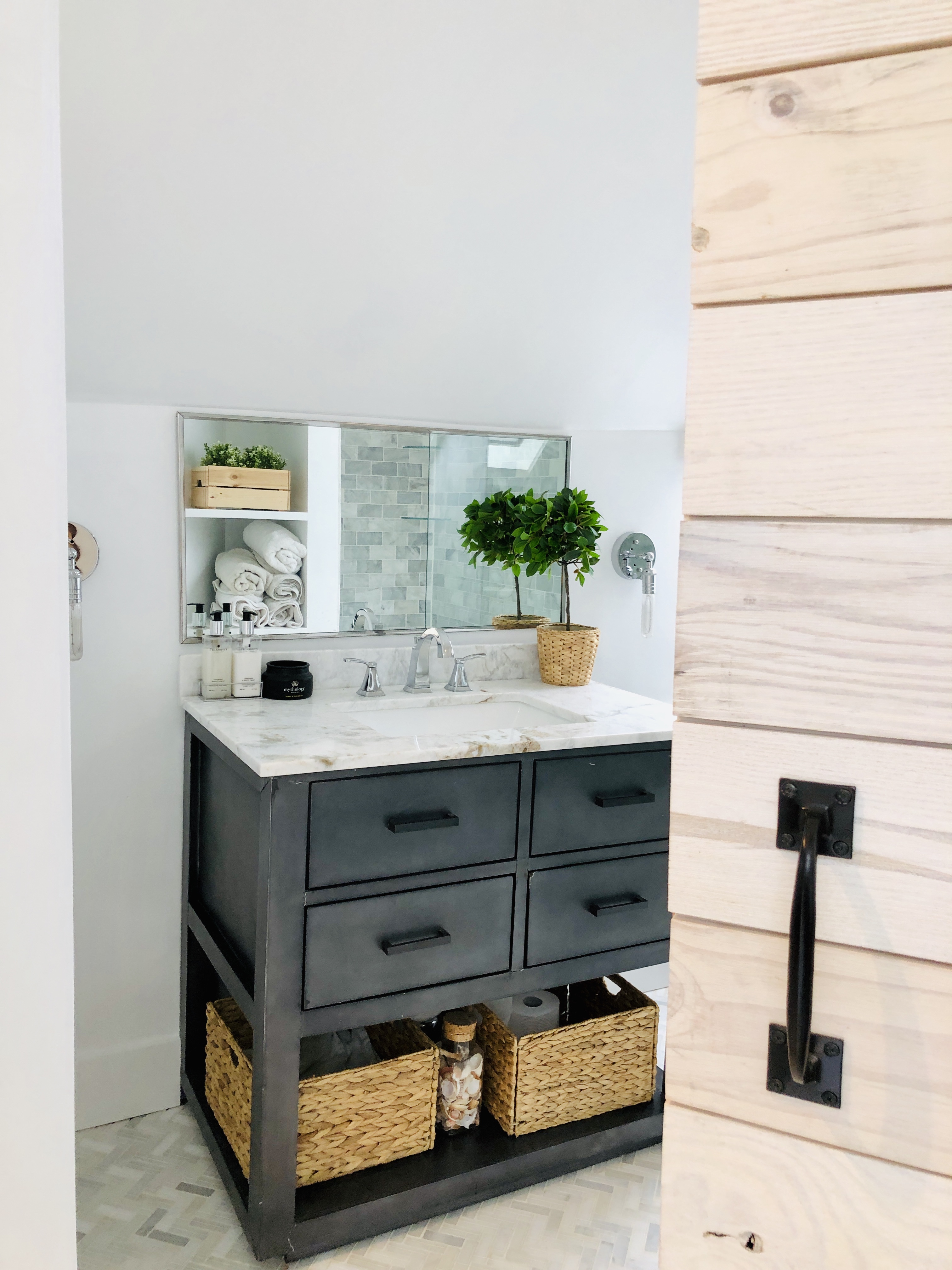 Were there budgetary compromises?
Always. But we had workarounds. For instance, we'd purchase Restoration Hardware pieces from their outlet store. They may have a slight ding but it's 75 percent cheaper than buying at retail. Our vanity in the master bathroom was a $4,500 piece that we got for $600 at their outlet store. It didn't come with a countertop or sink basin, but we purchased these at a fractional cost from Home Depot. We did something similar with our bathroom tiles. We got inspiration from luxury magazines and purchased identical tile at Lowe's for a fraction of the price.
What do you wish you had known going in that you know now? 
Three main things:
Costs add up. Outline your top three priority projects and plan each step ahead of time to not only save money, but also your time.
Be within 15-20 minutes of a Home Depot or Lowe's. You. Will. Go. There. Often.
Get a fuel efficient car. We made the mistake of getting a Jeep Wrangler.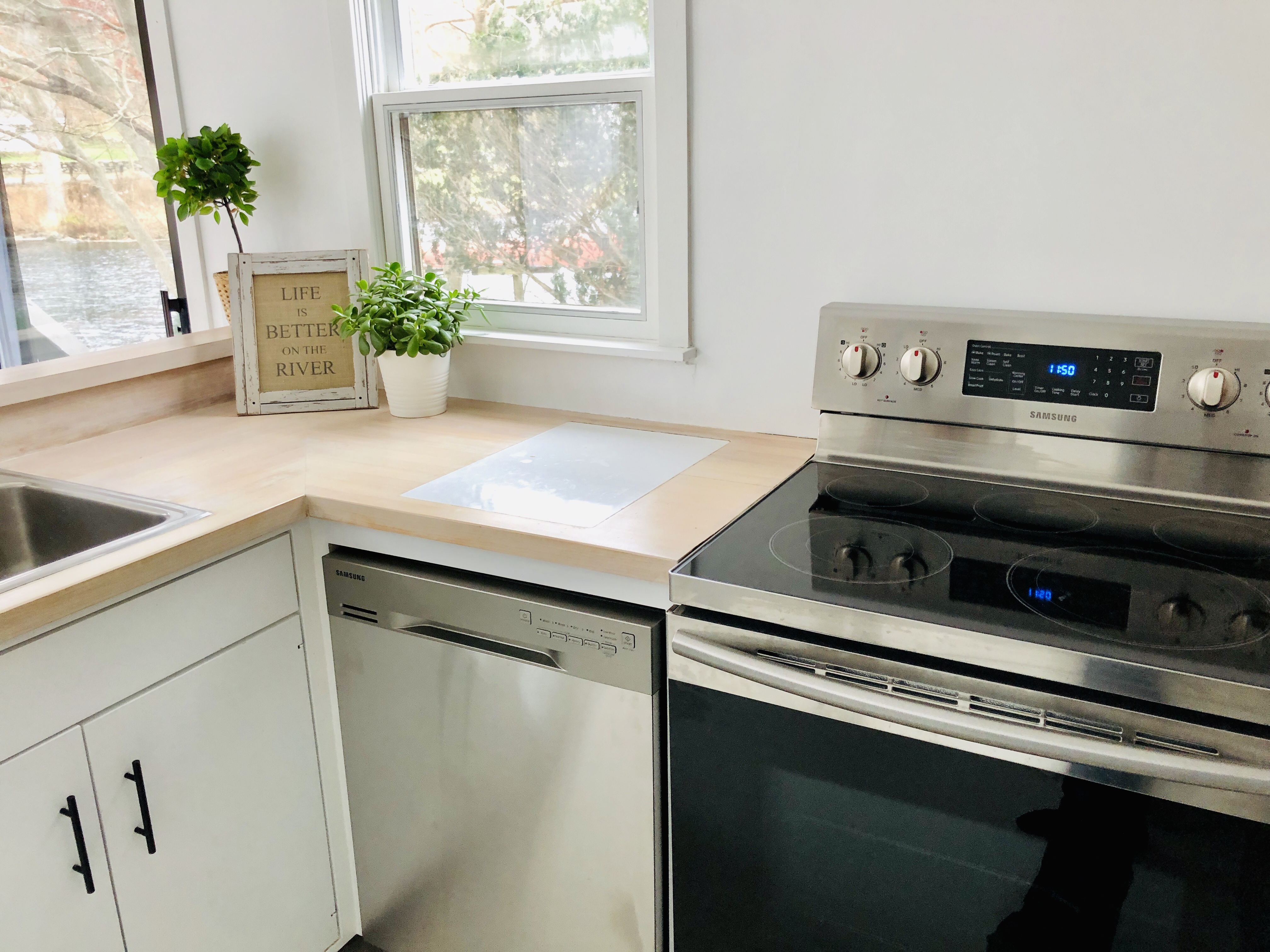 Describe the process of living in the city and renovating out of state. 
We work our full-time jobs from Monday to Friday. Oftentimes, we'll order items online to arrive in Connecticut on Friday. On Friday afternoons, we pack a small bag, grab our dog and head up to our car, typically parked in Tribeca. We then drive up to Connecticut, making a few stops along the way (dinner, groceries for the weekend, antique shops, homegoods shops, hardware stores). Then when we get to Connecticut, we typically plan out the project we'll be working on and set everything up to start in the early morning. We work on projects all weekend and then head back on Sunday. Most of the time, we throw in another activity to enjoy the neighborhood, such as a hike, playing tennis, or a backyard bonfire.
It's a commitment, so you have to enjoy it. We both find joy in renovation so we get excited to leave the city every weekend. Seeing a project through from concept to completion feels like an accomplishment.
One incredibly important tip is to make really good friends with your neighbors! Our neighbors keep an eye on our house and help out whenever needed. Like when temperatures drop below freezing and we forget to turn our heat on. Or when you're looking for recommendations in the neighborhood. Our next door neighbor even mows our lawn for us. We adore them.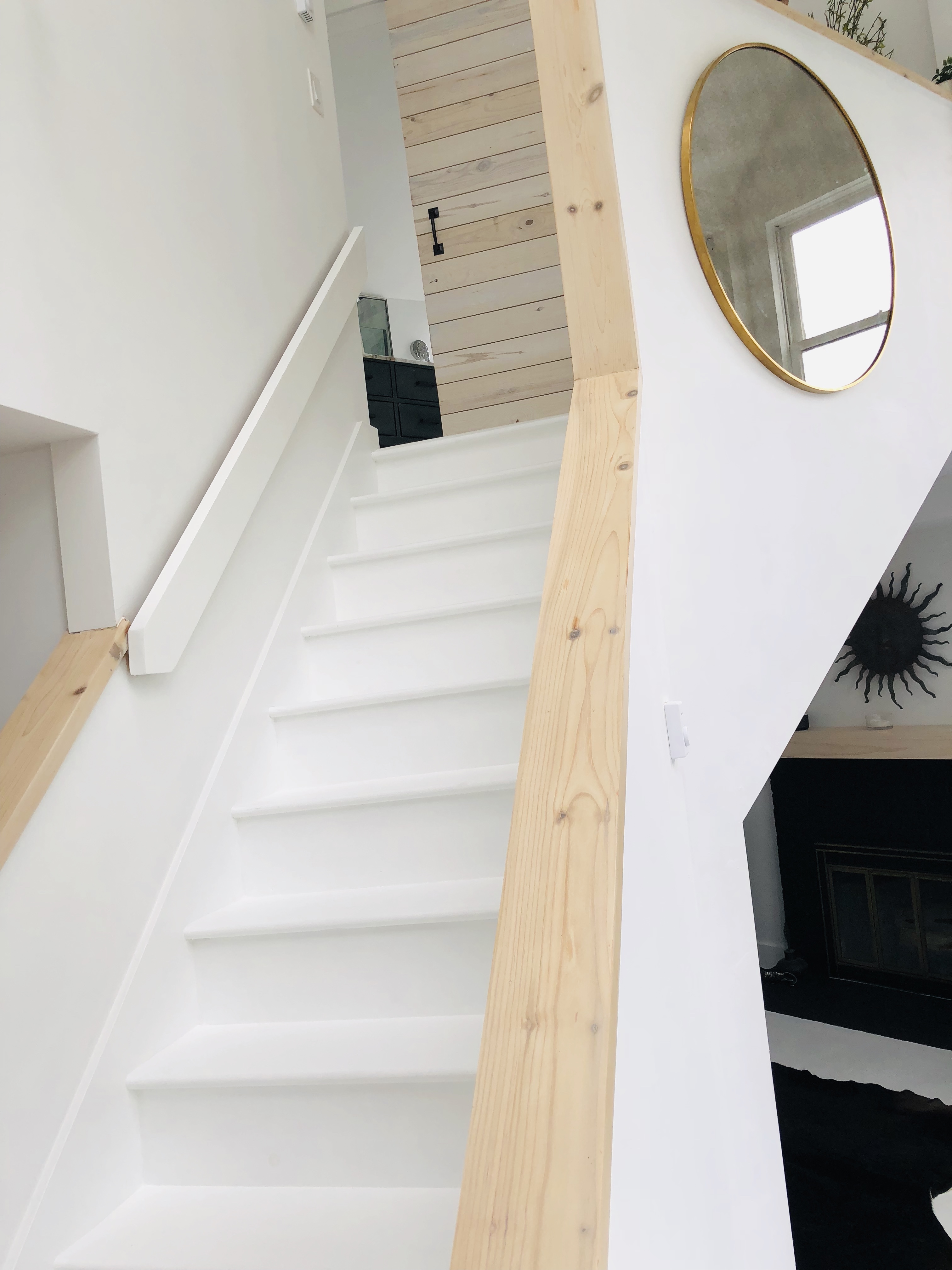 What project are you most proud of?
Other than the master bathroom, we are most proud of our DIY barn door that we made out of reclaimed white-washed wood. We were pretty impressed with the final result…it's like a piece of artwork at the top of our stairs. We also sanded down the staircase railings and butcher block countertops in the kitchen to match the stain of the door.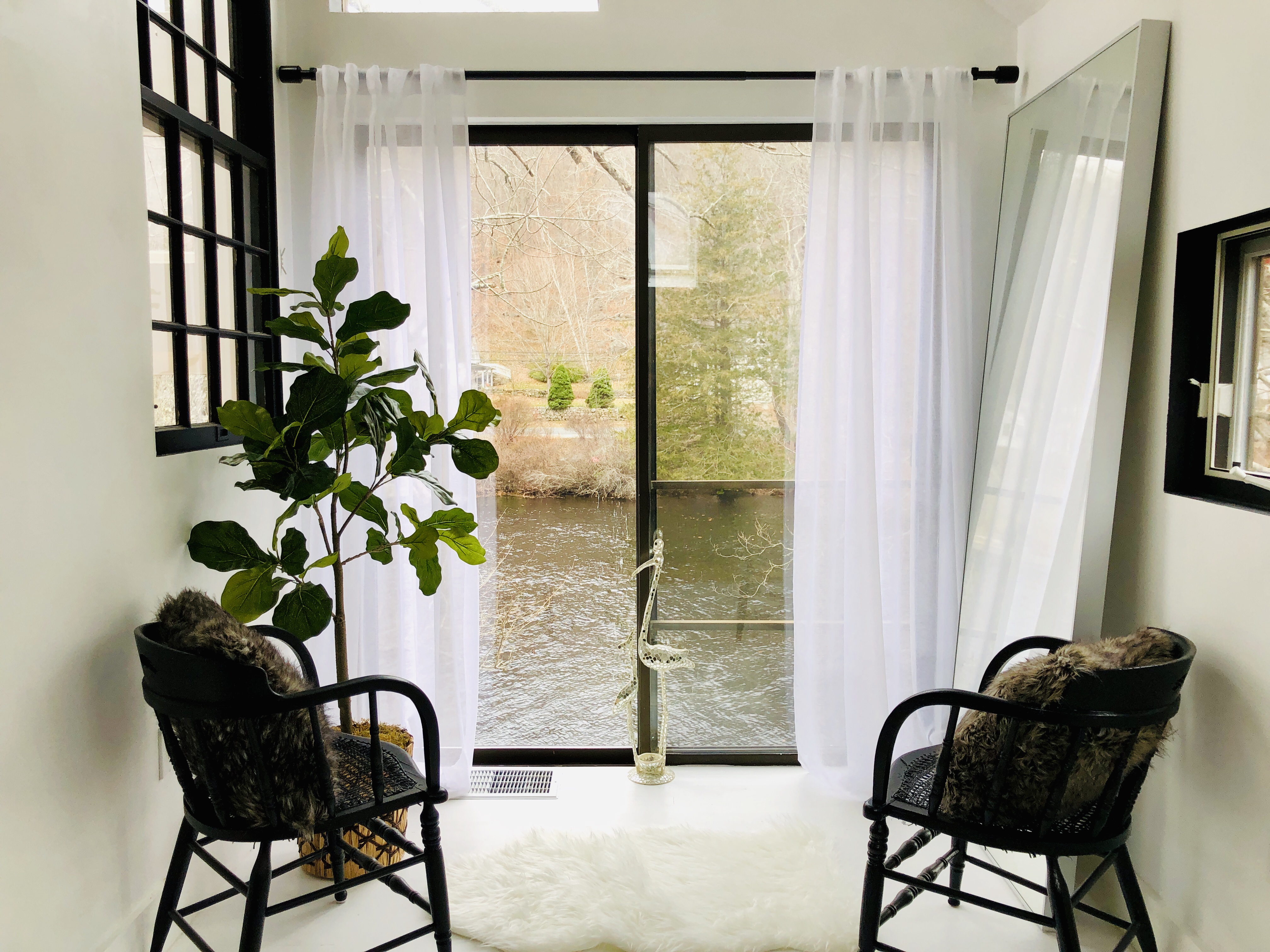 What are your plans for the house?
We've put two years of work into it and it's finally in a place that we consider home. We're putting our final decor touches on it now (the really fun part). So we're going to enjoy for now and will likely sell when we've spotted our next project.
Would you do it again?
Without a doubt. We're already looking into new projects.
Brick Underground articles occasionally include the expertise of, or information about, advertising partners when relevant to the story. We will never promote an advertiser's product without making the relationship clear to our readers.