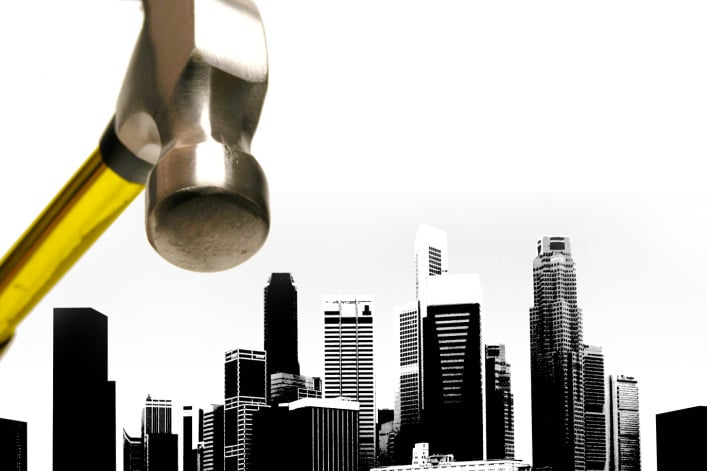 Here's the situation: Your bathroom is dated or plain nasty and you want to remodel it. Here are the five things you need to know before you start.
1. How much it costs
Like everything in New York you can spend a modest amount or a fortune on a bathroom renovation. The smallest cosmetic task, such as re-grouting bathroom floor tiles, will cost about $475 when professionally done.
The two biggest factors in calculating the cost of most bathroom remodelings are the type of tile used and the amount of plumbing reconfigured. Most New York bathrooms are small (even in large townhouses). In my experience, then, the main price determinants usually remain the tile selected and the scope of plumbing work, rather than square footage.
That said, retiling using standard ceramic tiles, replacing fixtures with standard models and not moving plumbing will cost about $10,000. (There are no professional fees or permits when retiling since none are required, other than alteration fees payable to the co-op. These are owed regardless of the scope of the renovation.) 
If you're planning to gut, rearrange some plumbing and build with new fixtures and tiles, you could spend $15,000 or more. 
2. How long it takes
Anywhere from two days to re-grout your bathroom floor tile to four-to-six weeks to gut-renovate your bathroom, depending on the level of personalization. If you want a custom-made, walk-in shower you may need to add a week or two to account for the extra work. Most New York City bathrooms are so small that only one carpenter, painter or plumber can work at a time, hence the time-consuming nature of renovations.
3. Who you hire
Work only with professional contractors who show you bathrooms they have renovated and references with whom you can talk. Renovating a bathroom in New York City is very different from renovating a bathroom in the suburbs because of city building codes and insurance requirements. So, make sure your contractor has local experience.
4. Branch lines
These are among the most expensive two words you will hear regarding a bathroom renovation if you live in an older building. Most city co-ops and condos mandate that to renovate your bathroom, you replace the branch plumbing lines back to the risers (the main water lines).
This involves cutting into the wall and replacing piping installed many years ago. You must use a licensed plumber to perform such a task and the charge will be several thousands dollars.
5. Waterproofing
Most New York City co-ops and condos require that your contractor apply a waterproof membrane, such as Laticrete, to floors and shower walls. Waterproofing membrane is expensive, so some dishonest contractors will charge you for installing it, but don't.
Make sure your contractor shows you the waterproofing material being used, since you will be responsible for any damage a leak causes to downstairs neighbors, and since the only way to fix it once your tiles are down is to rip up everything again.
Renovating your bathroom correctly will give you years of pleasure and will increase the value of your home. Following these steps will help ensure you get it done right the first time.
---
Yoel Borgenicht is the president of King Rose Construction, specializing in residential and commercial renovations in the New York City metro area.  
See all NYC Renovation Chronicles.
Related posts:
Refinishing your wood floors: The NYC essentials
The inside scoop on replacing your wood floors
BrickUnderground's Renovation Survival Kit
Brick Underground articles occasionally include the expertise of, or information about, advertising partners when relevant to the story. We will never promote an advertiser's product without making the relationship clear to our readers.