Renovation
Concerned about indoor air pollution from your gas range? Here are some electric and induction cooktop alternatives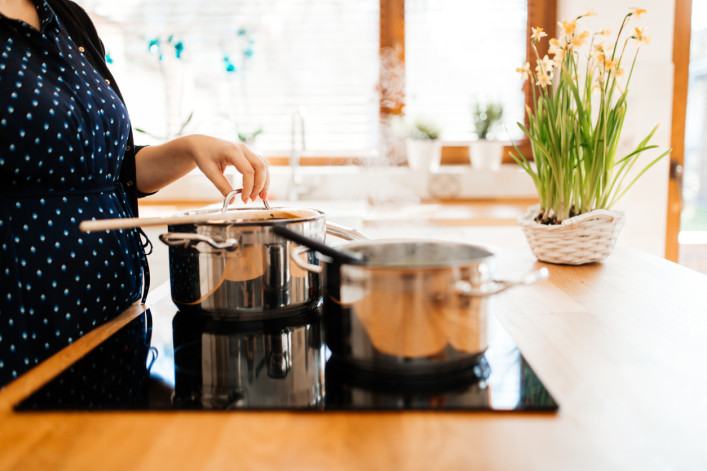 This probably sounds antithetical to a New Yorker, but if you're in the process of planning a kitchen renovation, you should think about swapping out your gas stove.
Yes, we went there. Brick Underground knows New Yorkers love their gas stoves and are loath to use anything else—especially in light of concerns that replacing a gas stove can hurt resale value. As it turns out, cooking on gas stovetops or in gas ovens can spike emissions of nitrogen dioxide and carbon monoxide to levels that would violate outdoor pollutant standards.
Sounds shocking, right? In fact there is growing evidence that this one appliance is a leading contributor to indoor pollution—and that those pollutants can wreak havoc on your respiratory health. According to an article in The Atlantic, the risks are especially high for young children, who are more susceptible to developing asthma.
Given how much more time we are all spending at home these days because of the pandemic, and all that we have learned about the link between access to fresh air and healthy lungs, it's understandable that more attention than ever is being paid to the quality of the indoor air we breathe. Indeed, proponents of the emerging Passive House movement in NYC, which holds indoor air quality as one of its driving tenets (for both health and comfort reasons), tend to shun natural gas.
One alternative is to go with electric, preferably powered by clean energy sources such as solar. Sure, natural gas is cheaper than electricity in NYC, but you could be paying the price in terms of your health. Plus in terms of design, electric ranges have come a long way from those basic, white stoves of the past with raised, black coils that seemed to take forever to glow red—a sign they were finally hot!—and made cleaning any spatters and spills difficult.
Meet the new breed of radiant electric models below, which like induction cooktops feature a sleek glass surface and a higher price tag, although you get lots of bells and whistles for your money. And you'll be slashing your indoor pollutants, tipping the cost-to-benefit ratio in their favor. 
And, there's even one more compelling reason to make the switch: Local Law 152 goes into effect this year and requires inspections of gas lines by a licensed master plumber every four years. The city is more cautious about gas leaks in the wake of gas-related explosions, and if inspections turn up any issues in your building, your gas could be shut off and it can take a while for service to be restored. If you convert to electric, you are ahead of the game.
Note that even though exhaust vents are not required for anything other than gas ranges, it's still advisable that you have one when cooking on electric or induction units for the freshest air possible. Running a freestanding HEPA air filter—and cracking your windows open during cooking—are other helpful steps. 
Brick Underground scoured the market for gas-free game-changers in a range of styles and price points. Here's what we found.
Radiant electric ranges
While some lower-end freestanding ranges still come with exposed coils, the latest so-called radiant electric models conceal the coiled heating elements beneath a tempered ceramic glass top, so they are more energy efficient and easier to clean, though the glass surface is prone to scratching. Stay on the safe side and use glass-cooktop cleaning solutions (such as by Weiman) and avoid anything abrasive. Some makes and models have flexible-width elements, allowing you to adjust the size of the cooking surface to suit your pots and pans. If you have young children, it might be worth looking for a unit with a cooktop lock control. Some electric ranges across all price points come with smart controls and features like fast preheating and chemical-free steam cleaning.
You can find a few units  under $1,000, including from reputable brands like GE, Frigidaire, and LG, but the bulk of electric ranges from these and other stalwarts seem to fall in the $1,500 to $3,000 range, with luxury makers like Viking and ILVE (an Italian manufacturer) offering swanky models (starting at around $4,000 but mostly hovering around $7,000) to ease the pain of letting your professional-grade gas stove go. 
Here a few picks to start your search.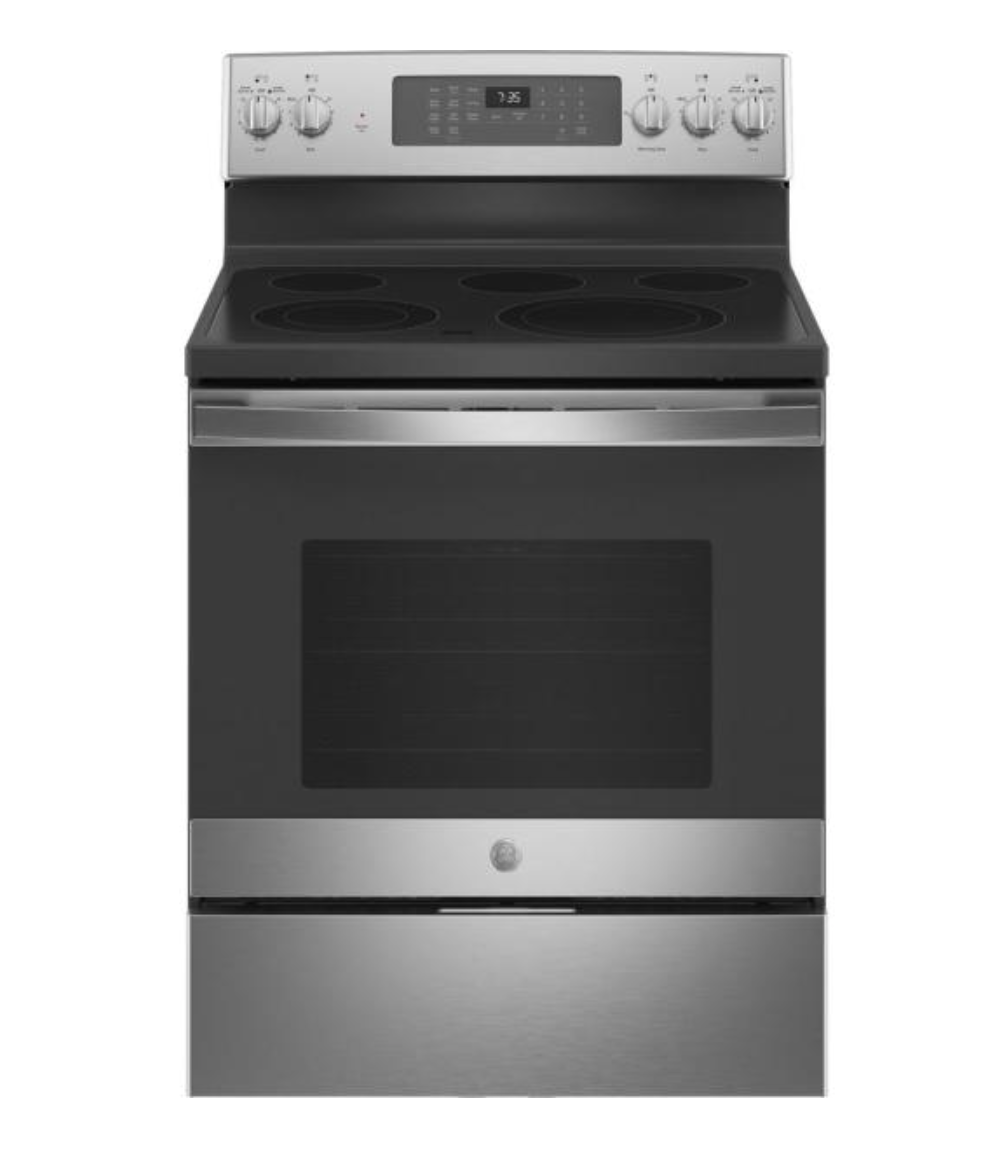 GE
GE has a few models starting at $500; this slide-in one, GE JB735, which comes with a hot-air frying function in the oven, was Wirecutter's top pick for 2020 ($818 at Home Depot). GE also makes a drop-in model ($1,799) for custom cabinetry.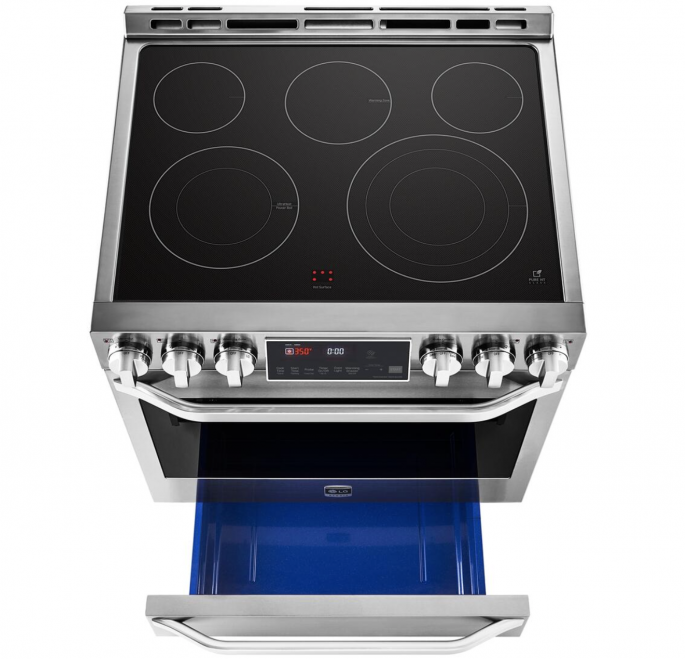 LG Studio
The LG Studio LSSE3027ST slide-in range has different-size elements and a spiffy blue color inside the oven and warming drawer ($2,845 at Appliances Connection).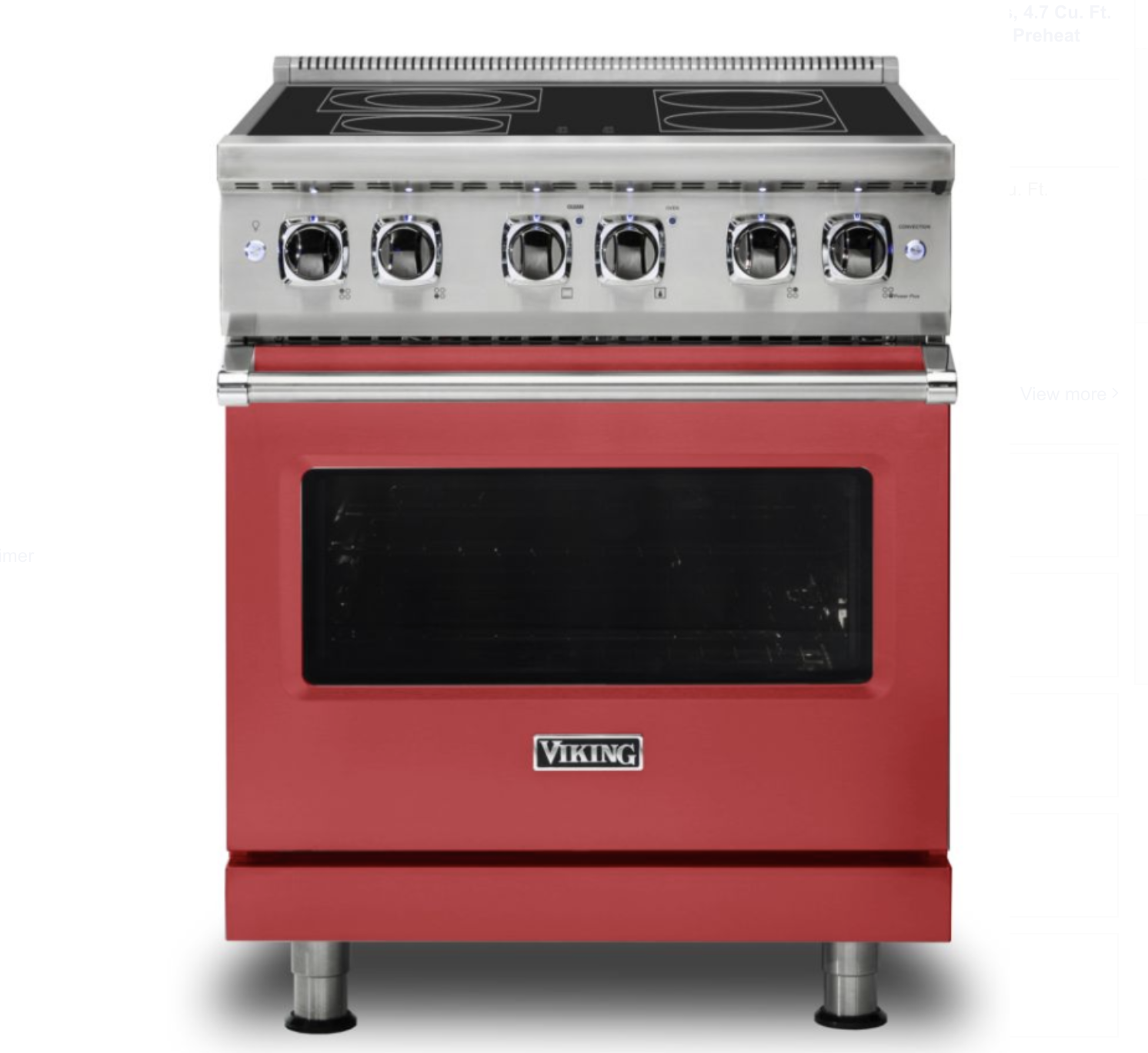 Viking
Viking's freestanding 5 Series electric range has all the bells and whistles and comes in your choice of fun colors (starting at $7,069 at AJMadison).
Induction ranges
Induction cooktops, which work by way of electromagnetic energy rather than direct heat transfer, are considered more eco-friendly than gas and electric in that they do not involve significant heat loss in the air. They look much like the glass-topped electric cooktops, only the mechanism is entirely different. 
Instead of a gas flame or electric coil heating up and then transferring that heat to the cookware, induction cooktops work by way of electromagnetic energy. Basically the "heating" elements react with magnetic metals in the cookware, avoiding the usual loss of heat in the surrounding air and resulting in a much faster cooking time—especially in models that have a heat-boost feature. What pros like about them is their responsiveness to adjustments in the heat, even more so than gas.
They're safer too. The surface never gets that hot so there's no risk of little hands getting burned, and if you ever turn on a burner without a pot on it or a pot boils over, the unit will automatically shut off. 
All this comes at a price—you will be hard-pressed to find anything under a grand, although you may reap some cost-savings over time on your electric bill. (They are reported to use 10 percent less energy than smooth-top electric ranges.)
Another potential drawback is they only work with certain types of cookware. You can either look for the "induction safe" or "induction-compatible" mark, or see if a magnet sticks to the bottom as a test). You're pretty safe with pots made of stainless steel, cast iron, and enameled cast iron (such as Le Crueset), but not with copper or aluminum. They'll need to be flat too—so no woks. 
Frigidaire has a budget-friendly 30-inch range for $1,249.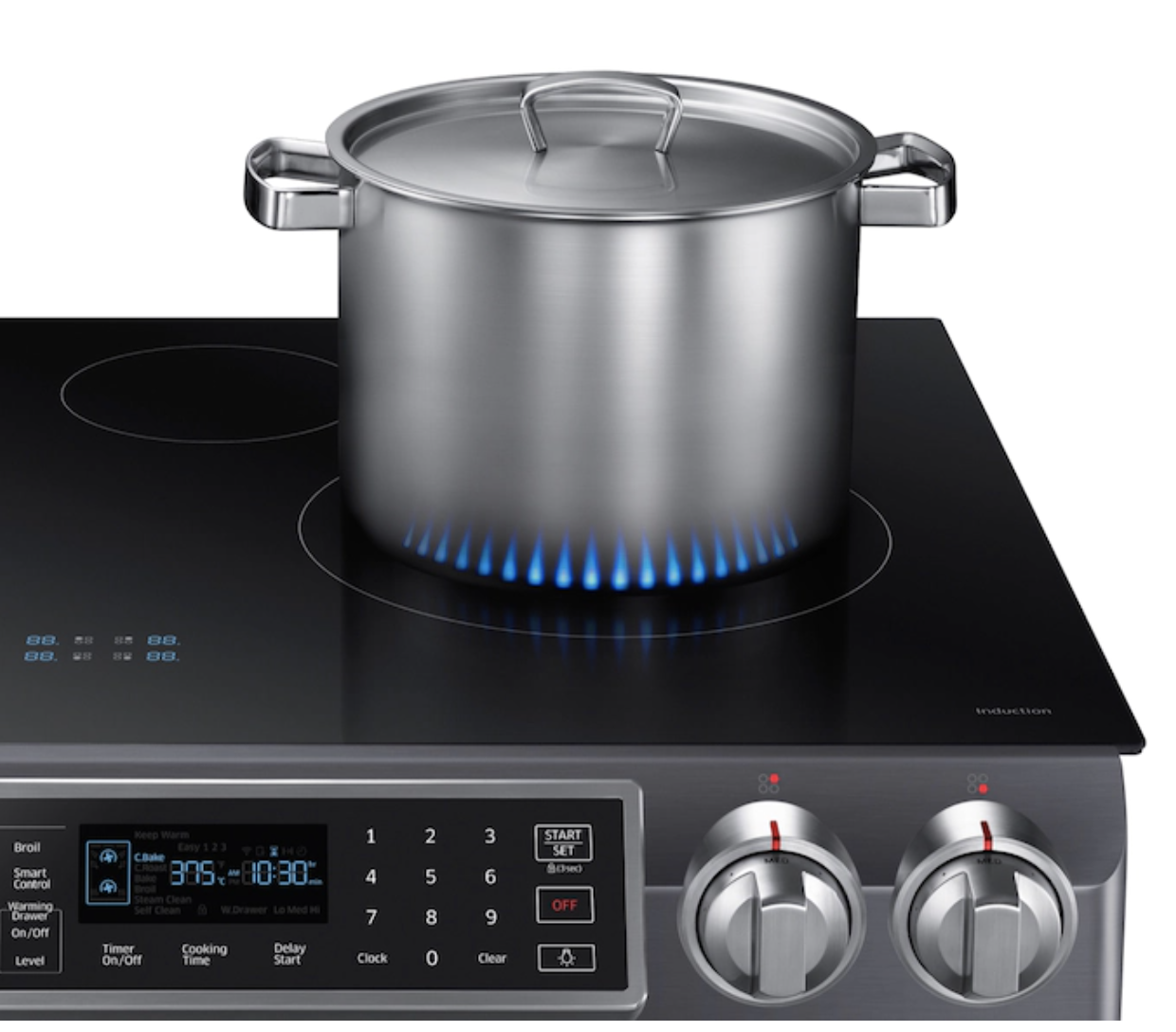 Samsung
Mid-range models include Samsung (with virtual flames) for $2,999.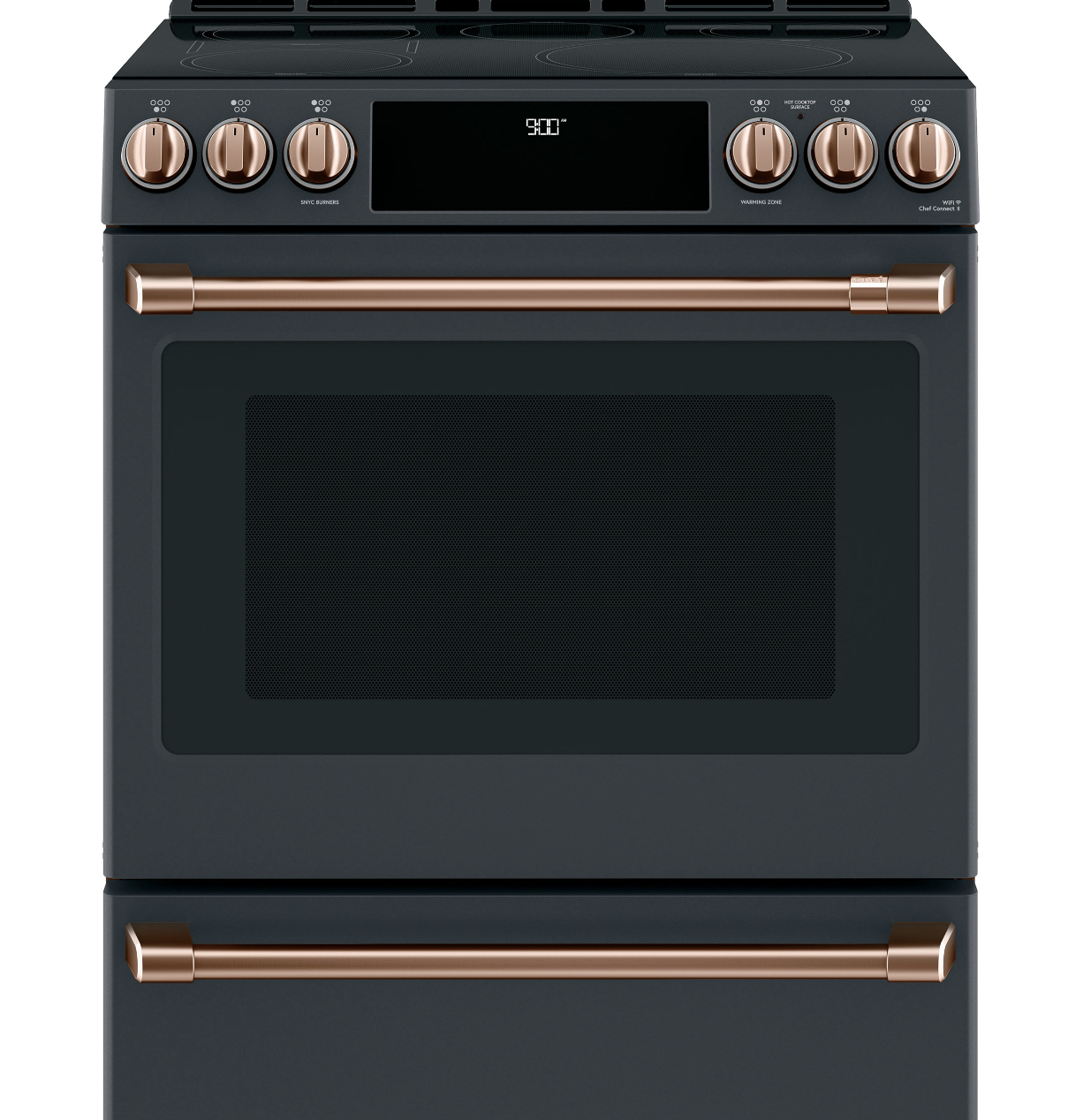 GE
GE's Cafe line includes a slide-in model with knobs rather than digital controls and earns style points for chic hardware finishes. (Starting price is $3,899.)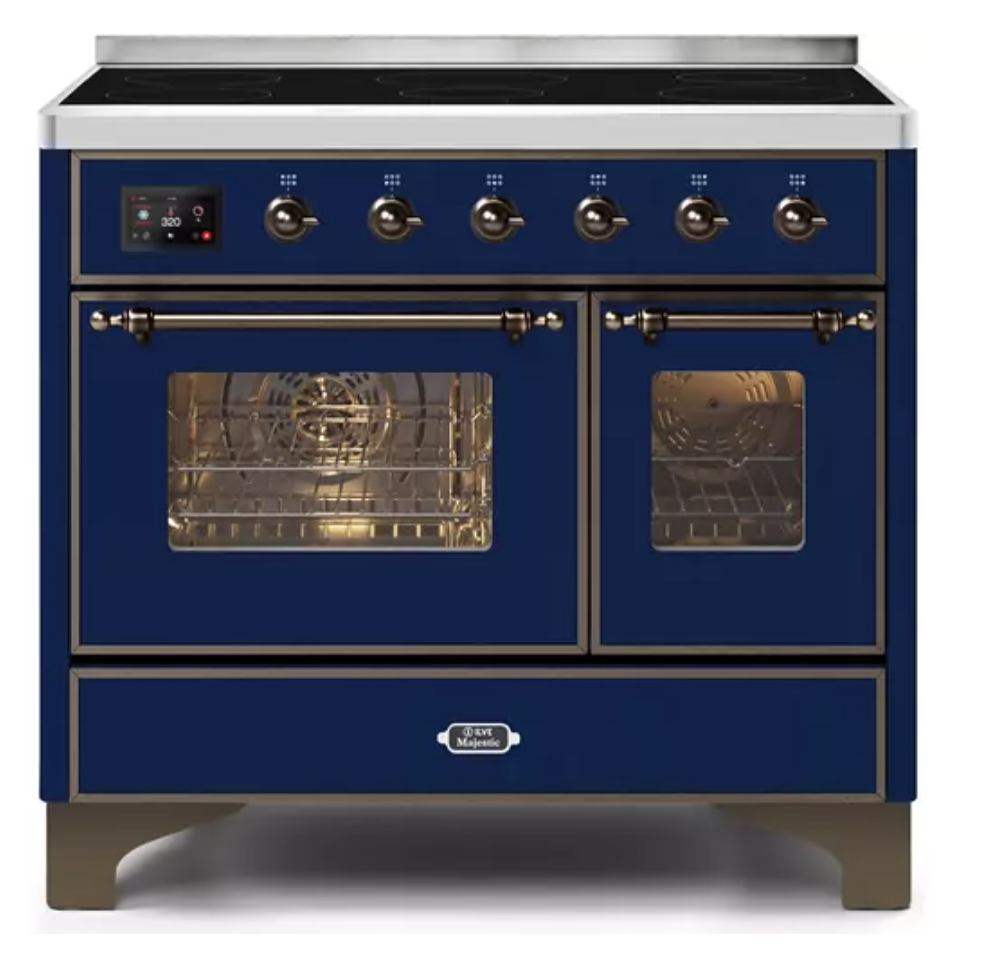 ILVE
The Majestic II Series by Italian company ILVE rivals Viking in offering cool colors and a retro vibe and comes in different sizes, including the 40-inch, double-oven model ($9,100 at Appliances Connection). The Viking 30-inch induction range comes in the same choice shades as the electric above and costs around $8,000.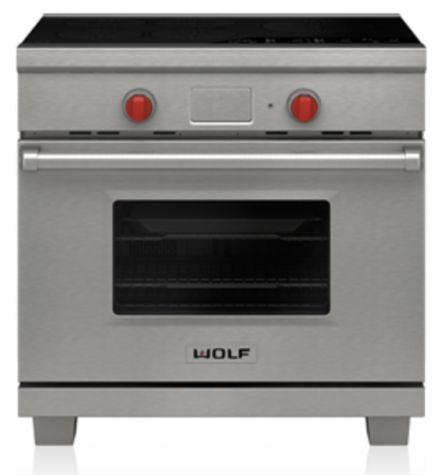 Wolf
Wolf's Professional Induction Ranges come in two sizes (30-inch and 36-inch) and with four or five burners, priced from $7,175 to over $10,000 (compared to $5,390 and $6,980 for their same-size gas range, respectively).
Counter-top induction burners
If you're still not ready to pull the plug on your gas range just yet, you can at least opt for a pitch-hit counter-top induction burner (they're practically a mainstay in Japan) that plugs in to any outlet and can handle much of your stovetop tasks. With many models coming in under $100, they're a great way to test-drive the technology, and even if you use them for only part of the time, you'll be breathing that much easier.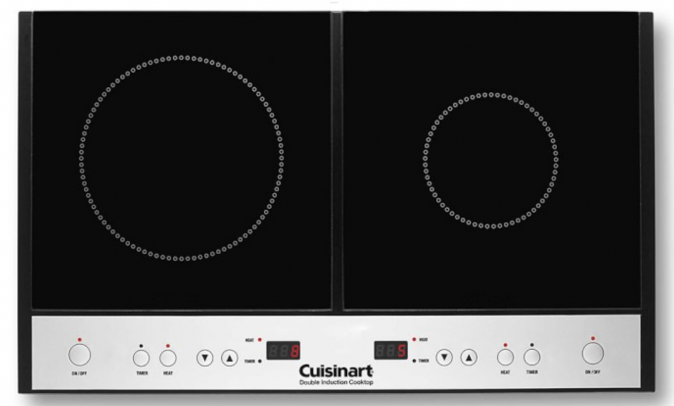 Cuisinart
Cuisinart's slightly upscale double induction burner from William Sonoma is $199.
Brick Underground articles occasionally include the expertise of, or information about, advertising partners when relevant to the story. We will never promote an advertiser's product without making the relationship clear to our readers.