Design + Architecture
Want to convert the cellar of a NYC townhouse into a gym or playroom? Here's what you need to know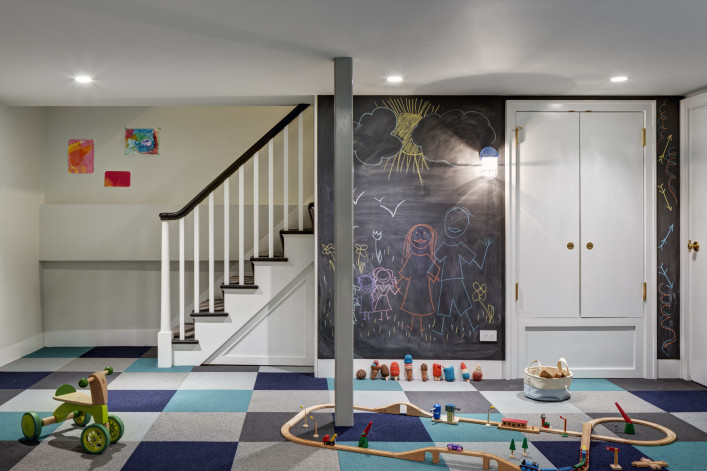 If you own a New York City townhouse or brownstone, finishing your cellar to carve out space for a home gym or playroom may be at the top of your renovation wish list right now. 
As the coronavirus pandemic extends into the uncertain future, lots of New Yorkers are working and going to school remotely and doing many activities (like streaming yoga classes and playing with the kiddos) at home. In this new era, the cellar might suddenly seem like wasted space (other than for housing the mechanicals) that can be put to better use.
So how do you know if you can convert a cellar into extra living space? What's the best way to get started? Brick Underground spoke to architects and townhouse brokers to get the scoop. Read on.
"We are actually getting this question all the time, as row houses are not inexpensive and therefore all about maximizing space, and the cellar is a prime area for creating a home gym or kid-zone that can handle some mess and also separate noise," says Rachael Stollar, senior project manager and marketing director for Brooklyn-based CWB Architects, which specializes in row house renovations and new construction. What's different now is the frequency and elaborateness of such inquiries. (The firm has even put in a full-length swimming pool that extended under the garden.) 
Lisa Fitzig, a Manhattan townhouse expert with The Corcoran Group (she also owned one herself for over 20 years), is seeing a similar uptick. "Now more than ever, many owners are indeed viewing this as a good time to convert or at least upgrade these spaces to use as a dedicated home office or a children's play space—my children grew up playing in ours."  
Renovator beware: The cost of a basic conversion will run you at least $200 per square feet. And you'll need to do some due diligence before you can know for sure whether or not your cellar is conducive to being converted. Unlike with a basement, which is mostly above ground, cellars are mostly (or completely) underground—so potential dampness is always a factor. And some neighborhoods are more prone to flooding than others, making a conversion a risky and even costlier proposition.
Ceiling height is another concern, as many cellars ceiling are shorter (and by far) than the standard eight-feet high. That's going to require some heavy lifting—make that excavating—to get the desirable head room.
But if you are able to get around these obstacles, just imagine: "You can have an extra 1,200 square feet down there," says broker Vickey Barron of Compass. You can't sell that as livable space (cellars don't count toward square footage) but it's the perfect space for homeschooling or a yoga studio because it's quiet and peaceful. It's also out of the way, so it doesn't always have to look so pristine. 
Read on for more expert tips on converting your townhouse cellar into the ultimate workout space/playroom/what have you.
Dealing with dampness
Being mostly above ground, basements are relatively easy to convert, and many (most) are already finished—especially if they are the garden level of the classic high-stoop brownstone. Maryana Grinshpun, principal of Mammoth Projects, says most of her clients have done this type of conversion, including a client who is retrofitting a combined living/dining/kitchen area on the basement and first floor of a recently purchased townhouse and to make room for a home gym and a playroom.
Cellars are a whole other story, says Brendan Coburn, principal of CWB Architects. 
"It can be a tricky business because all those spaces as originally built were meant for mechanical equipment and a lot of them are damp and you have to do an extensive renovation to address the environmental issues," he says.
He says both the Upper West Side and Upper East Side are prone to flooding and therefore not conducive to cellar conversions.
For example, a recent client wanted to drop the six-foot-high cellar in his Upper West Side brownstone and when Coburn did a probe, he discovered bedrock 4 inches below the surface, which in itself could have been overcome. More concerning was the "tons of standing water" that immediately filled the hole—and kept refilling it after being vacuumed out. When Coburn advised the client that he would have to run a sump pump 24/7 to keep it dry, he said, "forget it." 
Coburn had another UWS client in a similar situation who opted to proceed with the cellar conversion and the pump ended up costing him $600 per month in electricity. He ended up raising the floor again and abandoning the cellar altogether. Lesson learned.
According to Coburn, Park Slope too has lots of underwater streams coming out of Prospect Park. On the north side of 1st street, people have cellars and they are dry but on the south side there are no cellars and basements are wet. 
(Here's a fun factoid, courtesy of Coburn: At the time of the American Revolution, the British Corp of Engineers produced a map of NYC that the Center for Brooklyn History has a copy of. It's a map that tracks the hydrology of NYC, circa 1770s, and it remains useful to architects and builders because it shows all the streams in Park Slope.)
Expanding the ceiling height
If your cellar has six-foot ceilings, you'll likely need to underpin—or excavate—to drop the floor to gain the desirable head room. That can add $50,000 to $100,000 to the cost of the renovation. 
Such was the case for Barron, whose husband happened to do underpinning for years in the city, including for their own West Village townhouse. "You have to shore up the sidewalls, then dig out the floor and drop it, which gives you the volume and the space—in our instance 10-foot ceilings."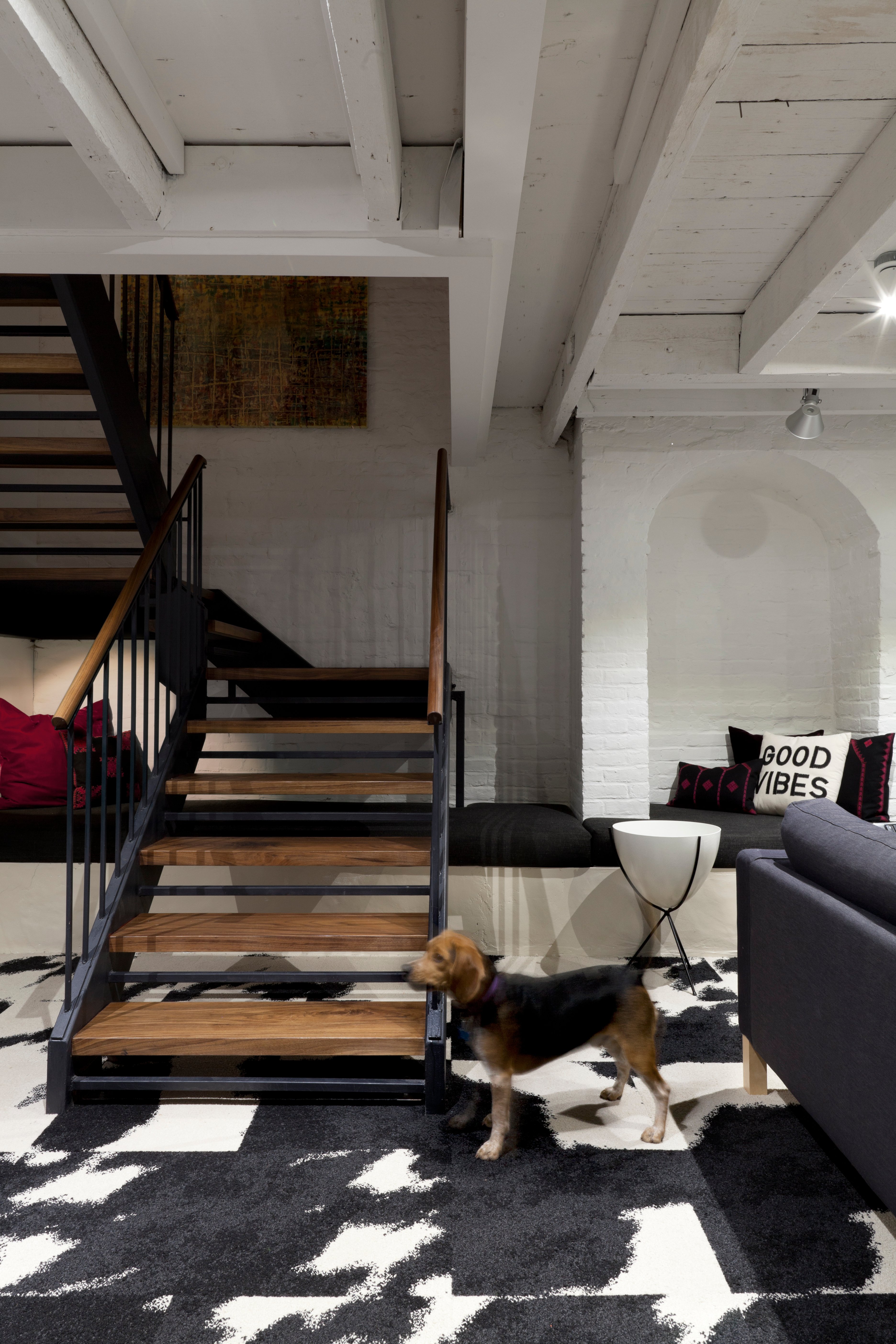 But because achieving that head height is always a cost concern, Stollar says they try to limit the scope of the underpinning by maintaining a ledge around the perimeter of the cellar (shown above). "We added a custom cushion and pillows so it becomes part of the furniture of the space."
Designing to maximize your investment
If you are going to be using the converted cellar as a playroom for young kids, remember they won't be young forever.
In these cases Erin Fearins, partner at interior design firm Fearins Welch, suggests thinking about the future by having a lot of flexibility built into the design so that the space can grow and adapt along with you and your family. For instance, what begins as a playroom could morph into an art project space and then into a teen game room over the course of just a few years.  
"I love using materials like FLOR tiles for floor coverings in these spaces because of the ease of changing them on a whim. They also offer a lot of fun colors and patterns, which when combined with comfy furniture and great lighting, really makes for a pretty happy space!" (See how she used them in the two projects for CWB Architects above and at top.)
Stollar points out that these types of floor coverings are less costly to replace (between $6 and $34 per 50cm or 19.7-inch square tile) than more permanent floor coverings in case of minor water damage, because you need only swap out the damaged tiles.
Keeping it from feeling like a cave 
Although many basements have windows and get natural light, you are lucky if there's even one (albeit tiny) window in the typical cellar. Barron says she has seen plenty of cellars with high hat lights that are nice and bright. "Even some gyms don't have natural light," she adds. Painting the walls and ceiling white or some other lighter shade also helps it feel more open and expansive; same for having open-tread stairs, for unobstructed sight lines. Expect to pay at least $30,000 for such a stair upgrade. 
Or you can do something more elaborate. Coburn is designing a cellar conversion in the West Village with a home gym and a yoga studio that extends out under the garden; a substantial light well that drops from the backyard into the garden and then into the cellar room will provide a connection to the air and light of the outdoors.
"The cellar room has a big set of doors opening into this sunken well and that well will be planted and made so you will have the illusion of a garden," he adds.
Brick Underground articles occasionally include the expertise of, or information about, advertising partners when relevant to the story. We will never promote an advertiser's product without making the relationship clear to our readers.