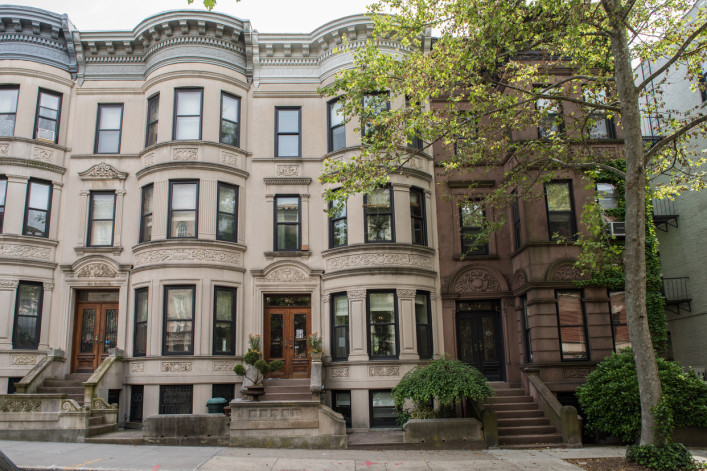 Renovating a co-op or condo is one thing, renovating a classic NYC brownstone is a whole other matter. The key is to hire a contractor with the right type of experience, because much can go wrong in any home update—but even more so in one of these full-scale properties.
Not only are you dealing with an older building, there's a lot more to it than with your average apartment, including roofing, structural issues, windows, and mechanical systems.
"Those are the big-ticket items you'll be paying for and most want your contractor to be capable and competent in," says Asher Lipman, founder of nycRenovationCoach, which advises New York City homeowners, buyers, and real estate brokers on renovation issues. 
What's more, boards typically impose some limitations on what can be done in apartments, while the sky's the limit in an individual brownstone or townhouse (barring landmark status). "So there's an additional level of due diligence needed for these projects," adds Lipman
What follows is a guide to finding a contractor with the right skill sets and brownstone experience. 
Your contractor needs deep expertise 
Generally speaking, there are two different types of contractors in NYC, says Joseph Vance, founder of Joseph Vance Architects. "We would not recommend using a contractor that works on our high-end prewar apartments for a brownstone renovation and vice versa." 
That's because the contractors that primarily do apartments have experience in interior work and are not dealing with load-bearing structural conditions or exterior surfaces and waterproofing. They also only deal with mechanical systems such as heating, cooling, and plumbing in a limited way, as those systems typically already exist and are shared within the building, meaning any work done is within the walls of that unit, explains Vance. 
Contractors are also limited in what they can do by condo and co-op board restrictions, such as no wet-over-dry renovations, and are not necessarily used to make these judgment calls on their own, says Lipman. You want to make sure the contractor is equally competent in knowing those structural restrictions in a brownstone absent anyone monitoring that. 
So even the best contractor for apartment renovations may not have the depth of experience in dealing with a brownstone, which as an entire building "requires a deep understanding of how to work with structure in holding the building up," says Vance. This can include replacing bad joists and identifying a serious problem just by looking at it, or dealing with myriad waterproofing conditions, and footings and foundations. 
That kind of expertise is crucial because things can quickly become more complicated when you are dealing with a brownstone renovation. 
"No one knows what's behind the wall until they are open, that's the lesson everyone learns the hard way," says Ravi Kantha, broker at Leslie J. Garfield, which specializes in townhomes and small buildings—and who is renovating his own Brooklyn Heights townhome. A good contractor should be able to tell you what the worst-case scenario might be by looking at the condition of the house and when it has last been renovated.  
This doesn't mean you shouldn't hire a contractor who has just set out on his own—often that person will have worked on brownstones for years under the employ of other contractors. "The contractor must have experience working on a townhouse before being qualified to do work on yours," emphasizes Vance, who says he runs into this situation all the time when vetting workers for his own projects.
DOB requirements for a brownstone reno
The Department of Buildings' stance is that property owners are responsible for all work that occurs on the property. You are required to hire construction professionals who are properly licensed and registered, have up-to-date insurance, and are in good standing with the Department. As such the DOB has created an online resource where you use a check licenses and look up any disciplinary actions for infractions of the construction code and other regulations.
The DOB also requires permits and inspections for all but cosmetic work, including painting, plastering, replacing plumbing fixtures, installing cabinetry, and non-structural roof repair.  So it is important for your contractor to know the requirements and to file things properly, something that does not always happen. Or maybe the contractor misses an issue that would warrant a permit in the first place. 
Kantha is quick to dispel the thought of relying on a DOB inspection to catch anything. "By the time one rolls around the damage will have already been done, unlike in a co-op or condo situation where an architect is reviewing the plans from the outset, before the project begins." (Vance serves as one such review attorney and says he is sometimes appalled at what he sees.) 
And rather than tell you what you've done wrong and how to fix it, "the inspector is just going to come in and stop the work and then you as owner will have to deal with this issue of finding someone to come back and fix it," says Vance, who has been that someone on more than one project.
What can go wrong
Vance was brought in to remediate a situation where the client's contractor had only apartment renovation experience and unwittingly made so many changes to the structure of a townhome that the DOB came in and shut the job down for safety reasons, denying access to the building for close to 18 months.
"So the client lost all that time and money on the faulty renovation and then we had to go through a very lengthy process of getting all-new engineering drawings and hiring a contractor who was competent in fixing all the damage done." 
It's not that the contractor will deliberately do harm; more likely "they don't know what they don't know," says Vance. Either way spells trouble. 
This situation crops up in apartments too, but in a brownstone "some problems such as not having flashing on the roof may not be apparent until down the road and have a big impact," says Lipman, who suggests creating a photographic history of what's behind the walls for insurance purposes and also future renovations, should you want to enlarge a closet  (for instance) and need to know where the plumbing pipes are located. "It serves a lot of purposes and is so easy to do with your phone."
The most common red flags
There are very few reno jobs in NYC that take less than two or three months, so this is going to be a long-term relationship, says Kantha. 
"If you can't get along while that person is trying to earn your business, you are not going to get along once you've already sent money." 
Let's face it, contractors have a lot of leverage once the project has started, so you want someone you can trust because otherwise you are in a financially vulnerable position, advises Kantha. "We've all heard horror stories about contractors who hold people over the coals for extra payments and ridiculous change orders." Part of it is how you get along with this person and part of it is doing your research. 
There are also ways to gauge the contractor's experience and communication style on a walk-through of the property. Do they ask the right questions and have the right demeanor? Did they point out a structural issue that you know about? "You may not know how good they are but if they fail to point out an issue then you sort of know how bad they are," says Lipman. 
After all, no one knows what's behind a wall until you open it up. What you want is for the contractor to at least explain the potential worst-case scenario.
Someone who is extremely experienced and confident may have a little bit of an attitude. Kantha describes the ideal situation is for the contractor to say "I understand what you are going for and here's how it gets done and here's what it will cost and also these are the risks involved with that (say, wide-plank floors might buckle in six months). As an alternative, here's what I did for another client in the past that is more in keeping with your budget." That's where someone with a range of experience will also be able help save costs and potential heartache.
After all, unless you are going with a design-build firm, contractors are generally not full-service. You need to give them plans, directions, and pay them, and then they will build it. 
There's also what Kantha calls the common sense check. Search both the contractor's actual name and the business entity online and you very well may see lawsuits.
How to check references
Although it can be awkward, checking references is essential and any contractor should expect to do so.
The general rule of thumb is to ask for three previous clients with projects of the same scale and type as yours (so no condo redos). 
"You'll get to know more about their personality and how they work by actually speaking to people who have used them before," says Kantha, who recommends finding out how the person interacted with neighbors and stayed on schedule as well as how satisfied the clients were with the final product. Asking if they were hire the person again is also telling. 
Lipman suggests doing a higher level of vetting than just for an interior contractor as there is a lot more liability from a structural standpoint. Get references from architects and structural engineers and even trades, such as plumbers and electricians.
Suppliers can verify how much work the contractor is indeed doing and intimate whether he pays the bills on time. "People are always careful when they give references but you can try and suss out these kinds of things," says Asher. "If the contractor says he puts in 500 windows a year you can try and get to the truth of that by asking the supplier questions." 
Clearly a contractor is not going to give you a negative reference so you have to take it all with a grain of salt, says Lipman. Part of it is science and part of it is art and trusting your gut and seeing what kind of person this is when you walk through the project. 
What's involved with contractor's insurance policies
Besides references, you should ask for a contractor's insurance policies and preferably get an attorney to review those, says Katie Vespia, vice president and program manager of the NY Brick and Brownstone Program, which specializes in insuring small building homeowners in NYC. 
That's because there are two kinds of issues that can crop up during a renovation: Damage to property and accidents while on the job.
"Let's say someone changes the pipes and then the pipes leak, that would end up under a contractor's claim that falls under your insurance policy generally, and it will be up to your carrier to determine whether the contractor was at fault," Vespia explains. 
On the other hand, anything surrounding contracts with contractors involves labor law, and this is specific to NYC. (Vespia is not aware of any other jurisdiction that has a similar type of exposure for contracting, including other big cities across the U.S.) Though the law grew out of the many accidents that happened when there was so much scaffolding around the city, the language now includes someone who falls off a ladder while changing a light bulb, explains Vespia.
As a result, some insurance companies will exclude labor law claims and the severity claims that come in for insurance, or include stipulations that coverage will only be provided if you have stop-gaps such as having a Certificate of Insurance in order to limit their liability. "Labor law is hugely costly to insurers and to insureds, so you are really putting at stake your property and other investments." 
Her ultimate advice? Be sure to have your contractor include you as an additional insured on the COI.
Your architect can help 
Hiring an architect is absolutely the route to take if you are in a historic district. You can find member professionals through The New York Landmarks Conservancy, including architects and general contractors and exterior facade restoration (and you can hire them even if you are not in a historic district). 
Or ask your broker for a recommendation."It's not a connection many people have unless they've done a renovation before," says Kantha, who introduces his clients to a cadre of designers. An architect will most certainly have contractors they've worked with before successfully and those they won't work with again. 
If there hasn't been a permit pulled on the house since 1973, you are probably looking at electrical, plumbing and HVAC work, the question is how much and how significant it will be. Relying on an architect to help you first understand the project scope and also find out who they have worked with before will lead to the smoothest process. Because the relationship between the architect and contractor is a big piece of the puzzle. If they don't get along it's going to be a tough project. 
"I am always up front with clients about the need to pre-qualify the contractor to make sure that everyone working on the project can complete the job safely and competently," says Vance, who is often called in to clean up other people's messes. "As the architect of record it's my professional reputation and liability too." 
What a contractor will cost
As with any renovation, the costs are dependent on so many variables, including whether you are doing custom millwork or cabinetry. Kantha puts the all-in costs of a townhome gut-renovation at $400 to $600 per square foot, and it can go up from there, to as much as $1,000 a foot in a $9,000,000 townhome. 
Finding a contractor with resources can help keep costs from adding up. For example, Kantha brought in someone to look over the HVAC plan for a client that had been quoted $85,000 and walked them through how he could do it for $25,000 less. 
Most likely you are going to get multiple bids and if they are wildly different, you can probe references to glean how far off the original quote was from actual price paid (an architect can also help review those quotes). If all three references say it went up 20 percent, you should expect not to be the exception to the rule. "It could be someone is dishonest or is just not good at communicating what things move the needle on pricing," says Kantha.
And always be wary of low bids. 
"I have clients who are looking for the magic bullet and get the project done for so much cheaper, but it just doesn't really happen," says Vance. What is more likely to happen is that you sign a contract for that lower price but the work ends up costing much more after all the change orders. 
In other words, you get what you pay for, so why not pay for the absolute best your budget allows? 
Brick Underground articles occasionally include the expertise of, or information about, advertising partners when relevant to the story. We will never promote an advertiser's product without making the relationship clear to our readers.