NYC Renovation Q's
Renovating a brownstone in a NYC historic district? Here's what you can—and can't—do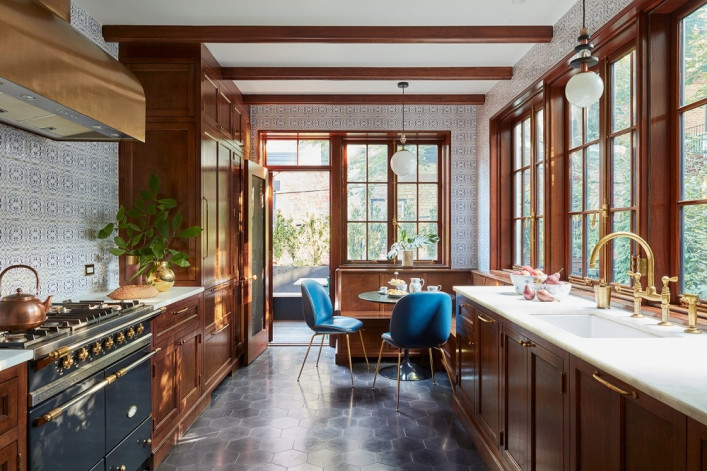 Interior design by Jessica Helgerson. Photo by Christopher Sturman.
It's hard to plan for the renovation of a NYC historic district brownstone—and keep your expectations and budget in check—when you're unfamiliar with a confusing landmark regulatory landscape. 
Unlike with regular renovations, the Landmark Preservation Commission requires your architect to submit all plans for approval as an essential first step for work on buildings in designated areas.
"The commission is very much concerned with all the visible elements from the street, including the sides if you are on a corner, to preserve the historic fabric of the neighborhood," says Adam Meshberg, founding principle of Meshberg Group, an architect and interior design firm. 
For that reason, David Sherman, partner at Abelow Sherman Architects, suggests differentiating changes that are "visible" from those that are not when setting priorities. Included in the non-visible category are interior updates (those are pretty much a done deal) and a few exterior rear modifications, like adding a deck or enlarging the garden.
However, changes to the facade—say, painting the front door and railings or swapping out light fixtures—are subject to more scrutiny.
"In those cases the general rule of thumb is to be as historically accurate as possible," says Meshberg. Any new additions, however, are more likely to be approved if they are more modern (and always out of the sight line). Confusing indeed. 
Hiring an architect with landmark experience is therefore a must. "We know when the commission will say yes, when they will say no, and the gray area in between when the answer might be 'maybe,''' says Jack Esterson, principal at Think! Architecture + Design.  
Consider this your go-to-guide for figuring out which is which in your situation.  
What you can and can't do depends on getting the right approvals
Before you nail down your wish list, it helps to understand what's at stake. As Sherman puts it, "Anything is possible but not everything is likely. It's just how hard you are willing to push against the default review process."
And the review process is what makes renovating a historic district brownstone so potentially time-consuming and costly.
"The LPC regulations are fairly specific and yet still open to interpretation," says Brendan Coburn, founder of CWB Architects and a member of the board of directors for the Historic Districts Council (an advocacy group that also reviews every application that goes before the commission). It's possible to get a permit at what is called the staff level via email exchanges when the proposed work is specified in the regulations, such as mostly interior work as well as certain exterior changes, like replacing windows and restoring the facade. 
On the other hand, work that affects significant architectural features (e.g. structural additions or window modifications) requires a formal hearing with the appointed commissioners to get the coveted Certificate of Appropriateness—a process that can add months to the front end. "They generally do not reject things but say you will need to work with staff to find something more appropriate," says Coburn.
"It's a fairly high-level and pressurized situation with a lot at stake usually for the client," says Sherman. So choose your architect wisely; paying more upfront just might save you money down the road. Plus because the commissioners are appointed by the mayor, "what's considered appropriate is an ever-shifting and unpredictable target." 
Safe to say, however, that you will never be allowed to punch a giant hole in the front for a floor-to-ceiling window (save that for the rear) or paint the entire brownstone. 
You can however build a thorough case for any other substantial changes by documenting other houses within the same historic district as well as those in other districts. "Showing precedent is often the only way to sell your idea," says Meshberg. 
Now that you know the paths to approval, you can drill down on the usual updates. 
All interior and some rear renovations are (typically) okay
Generally anything that you do on the inside is beyond the commission's jurisdiction, including changing an awkward layout to make the most of the usual 12-feet-wide footprint. 
"You still have to file plans with the LPC," says Esterson, who renovated his own Clinton Hill historic district brownstone. "They don't care about what you do inside so long as it doesn't create something they don't want to see on the outside." 
Case in point: Sherman says you will usually not be able to change the floor levels—maybe you want to raise the second floor up a foot or so for a higher parlor level—if they will be seen through the windows. (Coburn says lowering the garden level floor is okay though since it remains unseen.) 
Otherwise the sky's the limit (pending DOB approval of course). You can move the kitchen to the back of the parlor floor and add sliding glass doors to the garden, carve out an en suite master bathroom or guest suite, and create a den and family room—all common requests according to the architects interviewed here.
Esterson prefers to do interior restorations rather than gut-renovations in order to preserve any original woodwork, doors, and other details. But there's nothing to stop you from ripping out all the (nonstructural) walls and creating an open loft-like environment. 
"You'll also have more leeway with modifying the rear facade and also the garden," says Sherman. Here's where you can create a wall of windows outside the kitchen. expand the yard, and even add a deck. (Extending the rear of the house is a whole other matter; more on that below.)
As for doing a big, modern piece of glass on the top floor for the master bath? Jeff Etelamaki, founder of Etelamaki Architecture, says that idea was rejected for a massive four-story house in Crown Heights, though the staff seemed to imply it might have been okay to do on a "less visible" lower floor. (He ended up doing a modification of the window instead.)
Facade repairs and restoration are encouraged
Brownstone is subject to flaking over time and needs some TLC evenutally. 
"This can be very expensive depending on the condition and you have to do it properly with the right contractors and materials," says Meshberg.
According to Pamela Jerome, president of Architectural Preservation Studio, which specializes in exterior historic preservation, "You do not have to replace the original brownstone unless it is too far gone, in which case you have to install a new stone piece." More often, you are just patching with a special compound that's color-matched to the brownstone. 
"In my case the commission came to make sure the color of the brownstone resurfacing matched the original, requiring the contractor to put up three different wall samples," says Esterson.  
Jerome adds that if there are any extant architectural details, or if there is good archival evidence of those, the LPC may require that they be recreated. "All restoration work is dependent on the skill of the craftsmen, even non-decorated patching," she says. (Read: You will need to hire specialists.)
If the original facade has been stripped away over the decades, you stand a stronger chance of using another material (brick for one is cheaper than brownstone). Coburn worked on a brownstone in the Carnegie Hill historic district that had fake brick siding with green and pink shutters (likely added during the 1950s). "We were able to get a neoclassical limestone facade approved, even though it had never had limestone, based on the idea that it looked as if it had been converted in the 1920s." 
Visible design details fall in the "maybe" category
Meshberg points to historical accuracy as the LPC's overriding goal when replacing windows (more on those below) and front doors and wrought-iron railings in like kind; same for altering stoops and cornices and other features. 
"You can usually make a compelling argument for superficial things like light fixtures and paint color," says Etelamaki.
Not that you will always get what you want. 
Etemalaki had to go through three rounds of the staff review and finally call a meeting before finally receiving approval for the front door light fixture. (After they rejected some retro fixtures from Restoration Hardware and Pottery Barn, calling them too transitional, he went with one of their more "gaslight traditional" suggestions.)  
What's more, "You can't move the light fixture from its original placement over the door to either side, or vice versa," says Coburn.
Same for the house number placement—be prepared to submit a font "specimen" for approval too (per Etemalaki). 
The front door itself must match the original style, as does it's hardware, so no super sleek knobs and plates. And forget about the trend toward painting the door or anything else a bright, bold color. "Black or brown is always safe, or maybe a very dark blue or indigo or a very dark green," says Esterson. Or just stain the natural wood, another classic option.
Window replacements do not leave any wiggle room
Replacing old, splintering windows for better insulation factors into many upgrades. The LPC spells out fairly clearly the steps you'll need to take to find replacements with the same profile and sight lines and operation. "This is always going to be more of an investment than you think, what with the extra costs of working with a sanctioned window company and contractors at a higher level," says Etelamaki.
You'll also need to keep with the historical pane style—for the most part. For an unexpected twist, Coburn had a project in Cobble Hill where the new owners wanted to go back to the original two-over-two windows but the commission said the eight-over-eight windows that had been installed in the 1880s were now the standard. Go figure. 
Additions are popular but require heavy oversight
The trend for years has been for people to buy smaller homes than they need with plans to expand square footage with rooftop additions and rear extensions. That's all well and good, say all the experts here, though they'll add at least three to six months to the approval process (yep, we are still in the proposal stage). But if you are dead set on enlarging your living space, these additions are your only option—and they open the door to updated design elements. 
"You are usually better off going in a modern direction to make clear they are not part of the original structure," says Esterson. Meaning: What's old should look old and what's new should look new. 
What the commissioners are looking for depends on the type of addition.
Rear extensions: "The commissioners mostly want to make sure it plays nicely with the neighbors," says Coburn, who as part of the Historic Districts Council reports that they are also looking for a composition strategy that is clear and well conceived. "We see things get sent back for having five different window types rather than composing the facade with the same window type used in different ways from top to bottom." 
He has even seen more outrageous plans get approved when they are thoughtfully conceived (and proposed by a master architect with an exceptional reputation). 
What they typically won't budge on is having any extension be at least two stories shorter than the brownstone, unless there is some precedent for having it be one story shorter (such as in Chelsea, where many blocks already have four-story row houses with three-story extensions). "But if you tried to do this in Boerum Hill, they would reject it," says Coburn. And they absolutely won't approve a full-height extension.
Mershberg points out that rear additions are also restricted by zoning ordinances, which deals with height, depth, and total square footage. "No one is even applying for a rear extension in parts of Brooklyn Heights, Park Slope, and Prospect Park, where the brownstones are already larger than zoning allows," says Coburn. 
Rooftop additions: Any vertical extensions will need to be positioned such that they are completely non-visible from the street, usually by way of a 15-foot set-back.
Etelamaki describes the level of scrutiny as being extremely thorough. "You have to submit a painted mock-up out of two-by-fours to show the volume and document the visual impact from all these different perspectives." (The same goes for putting new mechanical equipment on the roof.)
In other words, "You'll need to go around the block and take pictures from all the possible public spots proving your case," says Esterson. 
(Coburn likes to imagine there's a six-foot-tall "Landmarks Person" standing against the ironwork of the house across the street; now draw a line that figure's eyes up past the edge of the roof and aim to have anything on the roof below that angle.)
That said, so long as they are not visible, you can and should go for a more contemporary look. Meshberg for one added an industrial metal-clad, vertical set-back on a brownstone on Jay Street in Tribeca. "We did that design on purpose because we know LPC prefers a more modern extension." He also points to many examples in Dumbo where the alteration is "not pretending to be part of the original." 
You can even add a rooftop deck in front of the vertical extension, keeping the gate low enough to be non-visible. (Similarly, you could have your living room spill out onto a deck that's atop a rear extension.)
Be forewarned: If there's an existing addition, you might get stuck with it. Coburn describes working on a project where "this crazy, decrepit writing studio in the shape of an A-frame" had been built back in the 1960s, before the LPC was created—and which the commission deemed a cultural artifact and mandated keeping. Now the owners (who happen to love it, but still) have to spend much more on repairing it than having it removed. 
Other factors to consider 
Separate and apart from the many LPC approvals is your own threshold for timeline and expenses. The more elaborate your renovation plans, the lengthier and costlier they will be. "It's a very complex endeavor that will potentially be very expensive and time-consuming but doesn't have to be if you set your priorities early on," says Sherman.
You'll need to decide whether you'll be living there, for one thing. Sherman says in at least one project (a six-story townhouse) the clients were educated enough to know how long it was going to take. They came up with a two-phase scheme where the family lived downstairs while the upstairs was renovated and then everybody switched sides. "That worked well for the occupants, who didn't want to leave the house."
You'll also need to consider the basic brownstone upgrades, historic or not. Most of these old houses are in need of updating in terms of potentially hazardous electrical wiring. "It's a whole other category of work and budget and time," says Sherman. 
Installing central air and updating the mechanical system are other frequent requests, and Mershberg says it can be difficult to get the new equipment far enough back on the roof so it is not at all visible from the street. 
Esterson decided to split his renovations into two parts, immediately tackling only the interior updates and then saving the necessary funds to handle the exterior years later.
All in all, if you are on a limited budget or want to fast-track the renovation, you can keep all the changes at the staff level. You won't be able to add bulk to the house, but maybe you don't have to. 
"It is often wiser to spend more money on less square footage," says Coburn, citing one project in Cobble Hill where he is advising the owners to avoid investing a million bucks (and the massive approval ordeal) on a rear extension just to get more space. "I know the house very well and they can get exactly what they want in the existing footprint." That's for sure sage advice. 
Brick Underground articles occasionally include the expertise of, or information about, advertising partners when relevant to the story. We will never promote an advertiser's product without making the relationship clear to our readers.