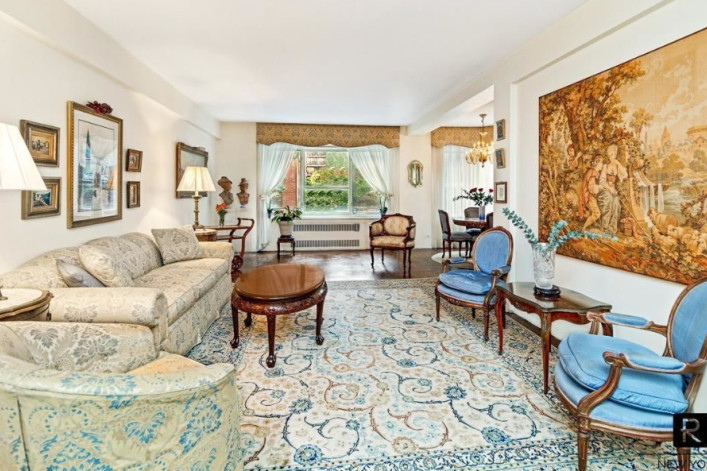 When you're buying in New York City, apartments in "estate condition," mean one of two things: Someone has died and left behind an apartment, which the heirs want to sell, or the apartment that hasn't been renovated in a very long time, and might need of a lot of updates. Of course, you may have to do some upgrades in the former scenario as well.
Either way, you can expect the apartment's price to be discounted compared to similar apartments, since it will lacks modern amenities and likely needs work. And if the apartment is on the market because of a death—the heirs are going to look to make a quick sale, meaning they're more likely to negotiate on price.
In this week's Buy Curious, Brian Morgan of Citi Habitats, Richard Hoyt of BOND New York, and Melissa Leifer of Keller Williams Tribeca tell you about the pros and cons of purchasing an apartment in estate condition, including how much you'll save, where you should look, and why you might have to live elsewhere while the property is being renovated.
The question:
I've been told that buying an apartment in estate condition could save me some money. Is that true? What else should I know before buying a place like this?
The reality:
Generally, an apartment advertised as being in "estate condition" means that it's in its original condition. "This means nothing (or almost nothing) has been touched—likely in decades," Morgan explains. "Would-be buyers can expect old kitchen appliances, dated finishes, and potential condition issues."
But while some might see that as a negative, Leifer feels differently. "Estate condition [units] are amazing finds that give you a chance to create the home of your dreams, usually at a nice discount."
What are the pros of buying an apartment in estate condition?
Purchasing an apartment in estate condition is a "great opportunity for a buyer with vision," Morgan says. "In estate condition apartments, you aren't paying for someone else's renovation, instead you have a blank canvas on which to create your own custom home."
Hoyt also notes that since most of these units are "not in pristine condition," they're priced accordingly, with the cost of improvements taken into consideration for the sale price.
Leifer adds that buying an apartment in estate condition means that you can probably buy a larger apartment or get something in a building or neighborhood that you most likely couldn't afford otherwise.
There's also usually less competition for these types of units because many buyers are scared off at the prospect of extensive renovations, she says.
Sellers are looking to close the deal quickly, Hoyt says, beneficiaries of an estate would often prefer to sell an apartment quickly than leave it on the market and incur monthly expenses.
"Typically, if the sale is being handled by an executor of the estate they want the apartment sold, and to simply move on," Morgan says. "Their job is to liquidate the asset for the heirs quickly, and not face a situation where the apartment lingers on the market."
And finally, they're cheaper.
Hoyt notes that since these apartments usually require significantly more work than non-estate apartments, they can be "as much as 25 to 35 percent cheaper."
And, adds Leifer, "because the sellers inherited the property they don't need top-dollar for it. They aren't using this property as a stepping-stone to create more equity and then trading up to something larger."
What are the cons of buying one?
The apartment will likely need substantial renovations, which "comes with a lot of stress," Morgan says. Be prepared to deal with architects, contractors, the building's board, and more. "All of these steps can be full of potential pitfalls."
Then, after the work begins, staying on budget can be a challenge for many. "Unexpected issues are often uncovered when dealing with a home that hasn't been updated in many years." Make sure you have enough money stocked away to pay for anything that might come up.
Leifer adds that since the unit will need so much work, you probably won't be able to move in right away. So you'll need to be able to pay for/make alternate living arrangements in the interim.
Plus, if there are a number of beneficiaries involved in the decision-making process on the seller's end, any disagreements or squabbles could delay things.
How much work do estate-condition apartments need?
Think fair to poor.
"While the level of maintenance and upkeep may vary, the fixtures and overall aesthetic of the home will be outdated, and crossing the front door may feel like entering a time warp," Morgan says.
In Leifer's experience, many of these units need to be painted and cleaned, and most have dated kitchens and bathrooms. "I see a lot of original 1930s and '40s bathrooms, which I actually quite like and personally would keep," she says. "You see a lot of original porcelain sinks and bathtubs, along with original built-ins (especially in townhouses), which I think are just stunning. I've seen some breathtaking original woodwork and ironwork, as well."
Where can you find estate-condition apartments?
Look at co-op buildings, Morgan suggests. "This is typically older housing stock, with a correspondingly high percentage of elderly residents," Morgan says.
Leifer has seen units in estate condition in all types of buildings except new development, she says. "There's a real mix. You have people who have lived in their townhouse or prewar apartment for 40 or 50 years and then you do have some newer buildings or condos where people have downsized."
The Upper East and Upper West Sides are a good place to start the search, according to Morgan. But you'd probably find them in any neighborhood in NYC with a lot of older housing stock.
Hoyt also suggests looking in Morningside Heights, Brooklyn Heights, Park Slope, Forest Hills, and Jackson Heights.
And Leifer says she's seen a lot of estate sales in Bay Ridge and Bensonhurst in Brooklyn, which have "a higher geriatric population."
Hoyt adds that you'll sometimes be able to find them by using the search terms "estate condition," "estate," or "original condition" on sites like StreetEasy.
Do all buyers renovate these apartments?
Most buyers who have purchased an apartment in estate condition will do some level of renovation because the point of purchase price reflects the need to update or renovate, Hoyt says.
But that obviously depends on the unit's specific condition "and the buyer's tolerance for a less-than-perfect home," Morgan says.
You will probably need to live elsewhere while you renovate
Of course, it depends on your tolerance level, Leifer says. "You can certainly live in a space while you're renovating, although if it's a small apartment you may want to live elsewhere. I would say on average, 60 percent of my clients who purchase estate sales live elsewhere while renovating."
Morgan notes that in most cases, new buyers will have to live somewhere else during the renovation of an estate condition apartment, especially if they are installing all-new kitchens and bathrooms. "Depending on how fast they can get approval—and the scope of work—the job could take from a few months to over a year," he says. "Most estate sale properties are priced to reflect this inconvenience."
Hoyt feels that it's most important to be flexible about your expectations when it comes to finishing dates for a renovation. "Most contractors underestimate the timeline for completed work," he says.
You should also "have 25 to 50 percent more cash than planned for any project in case certain unexpected circumstances arise, such as the discovery of asbestos, the need to replace plumbing lines, electrical systems, etc."
Check out these NYC apartments for sale that are in estate condition: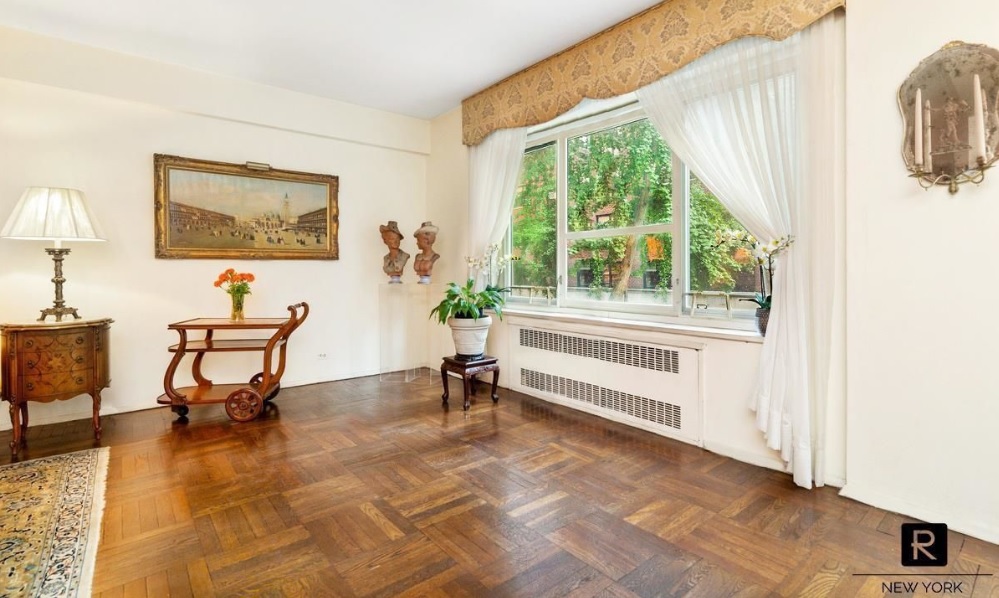 Listed for $795,000, this 1,400-square-foot, two-bedroom (convertible three), two-bath co-op unit (also pictured at top) has bay windows and a windowed kitchen. It is in estate condition and in need of a full gut renovation. It's in a 17-story co-op building with a full-time doorman, a bike room, a gym, a live-in super, and on-site laundry. The building was featured in the Marilyn Monroe film, "How to Marry a Millionaire." Maintenance is $2,483 a month.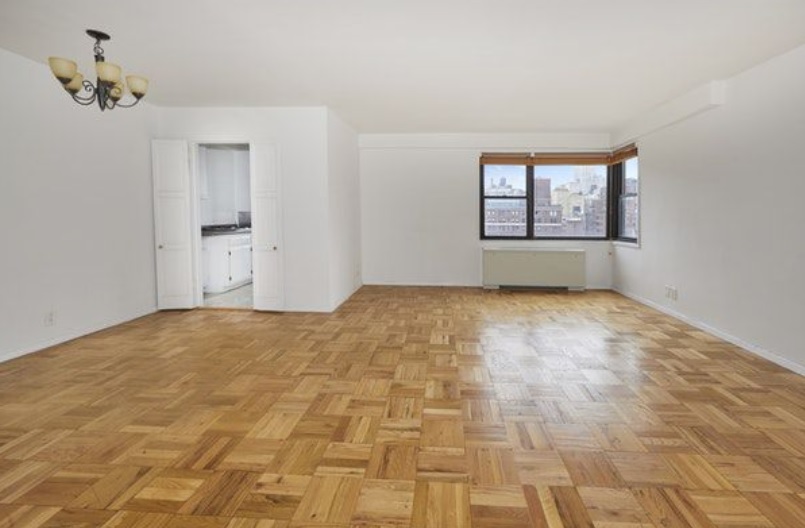 This 900-square-foot, one-bedroom, one-bath co-op unit has a windowed kitchen, a separate dining area, five closets (including one walk-in). The apartment, which is in estate condition, is located in a pet-friendly building with a full-time doorman, resident manager, maintenance crew, planted roof deck, and storage room. It's listed for $849,000. Maintenance is $1,614 a month, and includes cable and electric.
Listed for $525,000, this one-bedroom, one-bath co-op, which is in estate condition and in need of renovation, has a wood-burning fireplace, beamed ceilings, and hardwood floors. It's in a pet-friendly, prewar co-op building with a full-time doorman, resident manager, landscaped roof deck, private storage units, laundry, and bike room. Maintenance is $1,598 a month.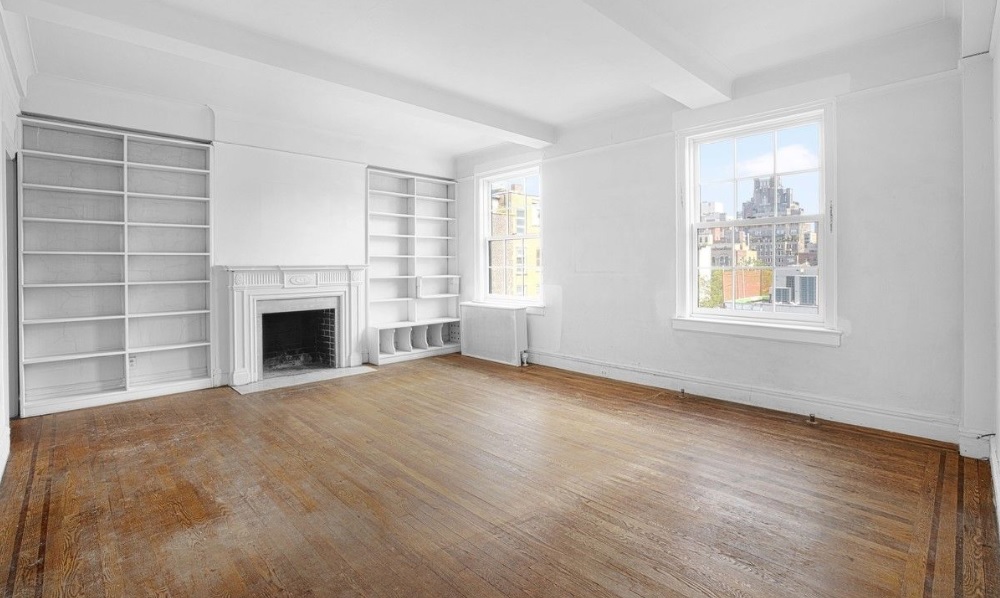 This $1,700,000, two-bedroom, one-bath co-op apartment is in estate condition and will be sold as is. The corner unit has original hardwood flooring, moldings, marble subway tile in the bathroom, and a working wood-burning fireplace. It's located in a pet-friendly co-op building with a live-in super, a part-time doorman, a private garden, and a bike room. It's a sponsor sale, so no board approval is required. Maintenance is $2,988 a month.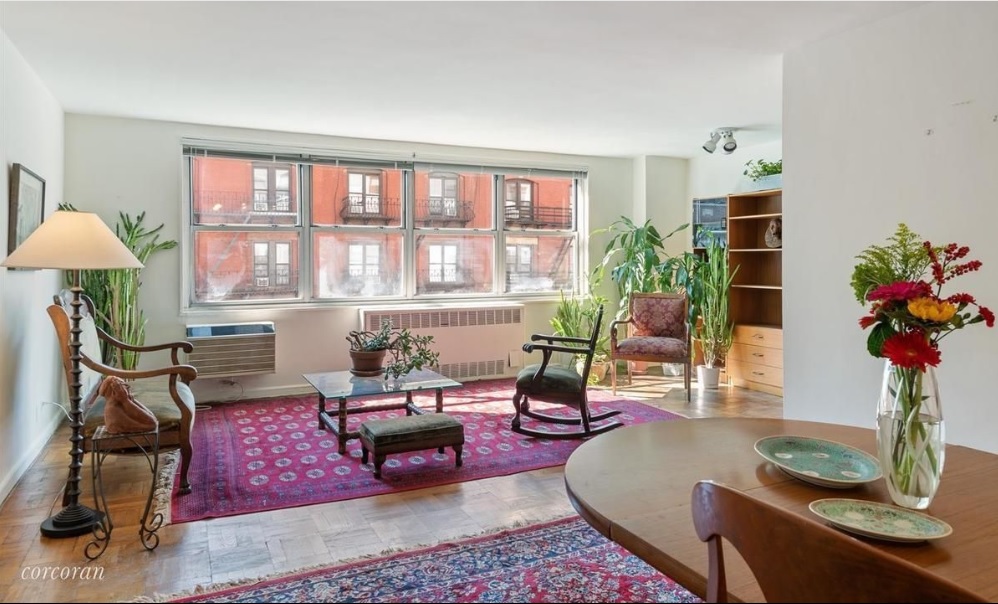 Priced at $1,195,000, this 1,200-square-foot two-bedroom, two-bath co-op apartment is in estate condition, and has a 27-foot living room, multiple dining area options, and five closets (including two walk-ins). It's located in a 24-hour doorman building with a roof deck, newly renovated lobby and hallways, and a garage. There's on-site laundry, common storage, and a bike room. Maintenance is $2,200 a month.
Brick Underground articles occasionally include the expertise of, or information about, advertising partners when relevant to the story. We will never promote an advertiser's product without making the relationship clear to our readers.