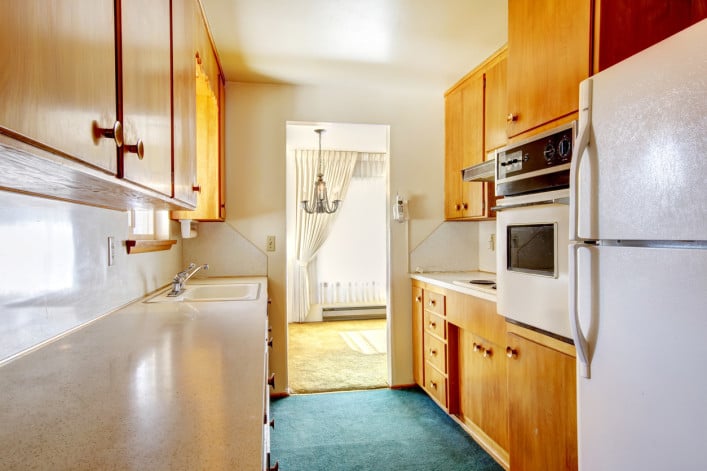 Let's say your Great Aunt Martha died and left you her two-bedroom Park Avenue co-op that hasn't been touched since the 1980s—and you don't want to live there. 
In that case, it's time to brush up on the intricacies of selling what's called an "estate-condition" apartment. You will have decisions to make about legal issues, pricing, staging, and marketing that other sellers don't necessarily need to consider. Here's what you need to know.
What is an estate-condition apartment?
An estate-condition apartment is one that was owned by someone who died and left it to heirs who are selling it for the proceeds. It is generally understood to be an apartment that has not been renovated in a couple of decades and can be in very bad shape.
For that reason, describing an apartment as estate-condition sets up certain expectations: Buyers can expect a deal on the price—but need to be prepared to do the renovation themselves, which is a bigger hurdle these days.
---
[Editor's note: A previous version of this post was published in November 2017. We are presenting it again with updated information for February 2022.]
---
Get the price right
During the pandemic, the spread between the price for an estate listing and a renovated apartment has expanded, says Jonathan Miller, president and CEO of real estate appraisal company Miller Samuel. "Instead of being plus-or-minus 10 to 15 percent," he says, now the spread is in the 15 to 25 percent range.
That's because doing a renovation, including finding a contractor, obtaining appliances and materials, and satisfying a building's Covid safety protocols has added to the difficulty of doing a renovation in NYC. "There's more of premium for something that is finished, whether it is a co-op, condo, or townhouse," he says.
However, Miller says he expects that "over time the premium will diminish as the pandemic is brought under control."
Pro Tip:
If you're unsure how much buyers will pay for an estate-condition apartment that needs work, or how much time and money you should invest in staging or renovating, you can test the waters by "pre-marketing" your co-op, condo or brownstone before you publicly list it. The pre-marketing platform at New York City brokerage The Agency provides a no-risk way to quietly test your asking price and marketing strategy among actual buyers shopping for a place like yours. There's no charge to participate and no obligation to sell or enter a traditional listing agreement if you haven't found a buyer by the end of the pre-marketing period. To learn more, click here. >>
Choose the right broker
You'll need a broker with experience selling estate-condition apartments being sold by an executor.
"While 'estate condition' implies the outdated condition of the property, and the fact that it is being sold 'as is,' it is still the agent's responsibility to help the executors get the highest price the market can bear," says Victoria Vinokur, a broker at Brown Harris Stevens. 
"Representing an estate property is quite a large logistical undertaking. What I am finding is that estate apartments have been neglected even more so due to Covid as they have not been occupied for longer than usual and require more work than in the 'before' times," Vinokur says.
Another complication: The executor of the estate more often than not lives in another state, so the broker has to coordinate between family members, attorneys, and the building's management to accomplish whatever needs to be done, even if it's just minimal staging, she says.
In some cases, there may be valuable furniture, art, or jewelry, which needs to be removed before any work can begin. 
And even though there may be just one executor of the estate, they often have to consult with several family members prior to making any decision—which can make every step take a little longer," Vinokur says.
Ari Harkov, a broker at Brown Harris Stevens, says that he hasn't worked on many sales of estate properties as of late—and the few he has done have struggled to find a buyer. He attributes this to the pandemic, because "buyers are even more focused on the value of fully renovated product," he says.
In addition, "with the continued focus on aesthetic driven by new development, Instagram, and our image-focused society, complete estate sales become harder and harder to unload as time goes on," he says.
They're also fewer estate sales now because "sellers know they need to at least complete a basic cosmetic facelift before going to market," he adds.
To renovate or not to renovate?
Some buyers and investors search for unrenovated estate-condition listings because they want to renovate to their own tastes.
But if you're selling a smaller apartment, like a studio or bathroom, you might want to consider doing a minimal update to the place yourself, especially the kitchen and bathroom, if you can swing it. It doesn't necessarily have to be a gut job—there's a lot you can do cosmetically—such as painting the walls, replacing lighting, and making small repairs—that can refresh a place significantly
The thinking is: A buyer for a studio or one bedroom probably won't have the assets to do a major renovation and may avoid places that look like they need major work.
Consider cosmetic work and staging 
If doing a renovation is out of the question, hire a stager, clean and de-clutter, and consider doing some minor cosmetic work. That means paying attention to unpleasant odors, painting walls white, and cleaning windows until they're spotless.
"Buyers want it light, bright, and spacious," says stager Sid Pinkerton of Manhattan Staging. "Painting an apartment gives the highest return on investment."
Another tip: "Always paint the insides of closets because the buyers are going to inspect them," he says.
Replacing light fixtures can update a tired old room, he suggests, and so can removing the carpeting and putting a shine on the wood floors beneath.
"In the kitchen, paint, and swap out the 1970s track lighting, and get a new flush-mount fixture, new knobs on the drawers, even buy new appliances if you can," Pinkerton says. "Do the same kind of thing to the bathroom. Take out the old furniture, use rentals to make it look new and fresh. Remove the 'special pieces.'" 
Also consider extra touches like painting the front door, changing the hardware on all doors, installing new light fixtures, switches, and outlet covers, and adding new cabinet handles in the kitchen.
Even if you're not going to refinish the floors, getting them cleaned by a professional can make a difference.
Make sure the description is clear
"The listing for an estate-condition apartment needs to be carefully written in order to manage buyers' expectations," Harkov says. "Think, 'beautiful, but needs work' or 'Bring your contractor and architect along.'"
"You want to convey that there is work to be done, but you don't want to go overboard," he adds. 
Legal issues need attention
If you're dealing with an apartment that is being sold by heirs, you'll need to find someone who can take on any probate/estate work that might be necessary, NYC real estate attorney Adam Stone advises.
"The most important thing is to bring all information and paperwork to the attorney as early as possible so that he or she can be fully prepared," Stone says. "That minimizes any risk of last-minute scrambles for missing documentation that may be needed to satisfy the title company or co-op transfer agent."
Dean Roberts, a co-op and condo attorney with Norris McLaughlin, offers the following example of the legal tangles that can ensue with the sale of an estate apartment:
"The husband and wife are tenants by the entirety, meaning both own the property as a single entity. The couple divorces, the husband keeps the apartment, remarries, dies, and leaves it to his new wife," he offers. "Legally, it turns out that the first wife owns half of the apartment—not an easily resolved situation."
A proactive approach can save you more than a migraine-sized headache.
"I have two types of clients," Roberts says, "the ones who hire me before they do something, and the ones who hire me after."
—Earlier versions of this article contained reporting and writing by Marjorie Cohen.
Brick Underground articles occasionally include the expertise of, or information about, advertising partners when relevant to the story. We will never promote an advertiser's product without making the relationship clear to our readers.