Best of Brick
How to get around the supply chain crisis when you're updating your NYC apartment or brownstone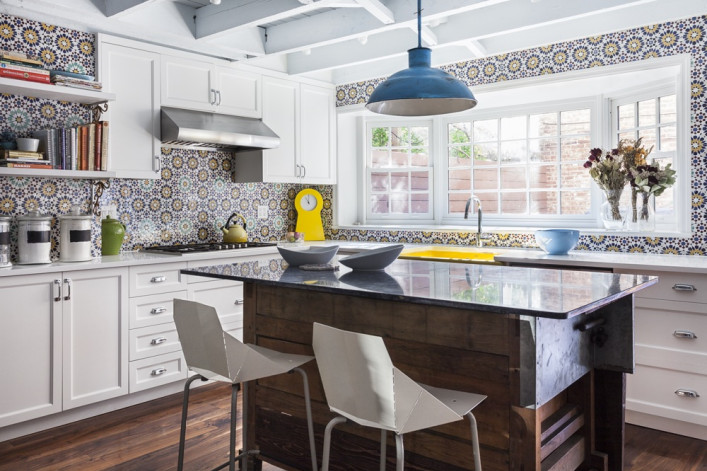 If you are upgrading your New York City apartment or brownstone, then you are no doubt all too familiar with the U.S.'s supply chain crisis: Off the coast of California, container ships full of goods are waiting to be unloaded, and that's causing a whole host of shortages, including renovation products like appliances, hardwood flooring, and basic construction materials. 
Some New Yorkers have stumbled on solutions, like placing orders for new washer-dryers even before their old ones expire. Others are holding onto older appliances for the time being and scrambling to have them serviced (yet another consternation) while waiting out the shortages. Good luck taking delivery on a refrigerator or stove anytime soon—or anything else for that matter. 
---
[Editor's note: An earlier version of this post was published in November 2021. We are presenting it again as part of our winter Best of Brick week.]
---
But fulfillment is not the only consideration when it comes to major appliances. Not only are these hefty, big-ticket items hard to ship, most have parts that are made overseas, further compounding delays.
Even design pros are grappling with getting materials—as in lumber, paint, and so much more—for their projects.
"The delays and shortages are definitely a thing these days," says Yaiza Armbruster, founder of Atelier Armbruster, a New York-based architecture and interior design firm. "Even in-stock items become long lead times after you hit 'order'—Miele is out until February!"
According to at least one forecast, these issues are expected to continue well into 2023. So what should you do if you're looking to renovate? Before you throw in the towel, check out Brick's workarounds. 
How to sidestep delays at popular national chains
It may go without saying, but in-demand brands (think IKEA and West Elm) are just that—in major demand. Same for big-box retailers (Home Depot and Lowe's) that rely on the same suppliers and have the largest customer base. 
Instead, turn to independent stores and custom purveyors. The old adage is true: If you can't find it in NYC, you can't find it anywhere! Sure, you may have to do some legwork, but a little online searching—or literally hitting the streets—can pay off big time in discovering curated gems, with eager owners who can help make those custom shelves—or track down those backsplash tiles—of your dreams. 
After a bit of elbow-twisting, some savvy home decorators and design pros shared a few of their secret faves, aggregated here: BDDW (on Crosby Street), John Derien (East Second Street), From The Source (West 18th Street), Roman & Williams Guild (Howard Street—where else?), and the NYC outpost of Oregon-based M. Crow & Co (ditto). All stores are worth visiting for the aesthetics alone, so even if you can't afford the goods, you can soak up the vibes. 
"I've avoided big-box retailers for lots of reasons, but during this crisis it's proved an invaluable strategy as the delays are mostly happening for larger suppliers," says Maryana Grinshpun, founder of Mammoth Project​​s, a Brooklyn-based design studio."Shopping small and local has enabled us to ward off any massive delays across the board, so we've just doubled down on that strategy in recent months and fill in any gaps with vintage pieces bought mostly at auction."
Granted, design pros like Grinshpun have long-standing relationships with vendors who value their business accounts and are willing to go the extra mile by doing a lot of the legwork on their behalf and prioritizing their orders ("they've been life-savers!"). But you can follow her lead by avoiding the herd mentality. (Tip #2: Hire a design pro, who will know of those alternative sources.)
What to do if you can't find what you want
Now is the time to flex your adaptability muscle. 
"When something goes awry, like a recent tub order that threatened to stall my project, I just changed the spec to something that worked and was available locally," Grinshpun says. 
Likewise, if you have your heart set on Benjamin Moore's October Mist color of the year for 2022 for your bedroom update, be prepared to compromise with something else. Turns out paint is expected to be in short supply, at least for the short term.
Hardwood flooring is something that has been hard to come by throughout the pandemic. Brick's guide to wood-look alternatives includes eco-friendly and durable options that just might better suit your lifestyle these days, what with the extra human and pet foot traffic to contend with. 
Refinishing a floor in decent condition might be the "easiest" answer—that ethos applies across the board. Do you really need to replace your kitchen cabinets? You could instead update them with a new coat of paint (shade depending!) and/or swap out the hardware. And why not remove the fronts of upper cabinetry to create open shelving?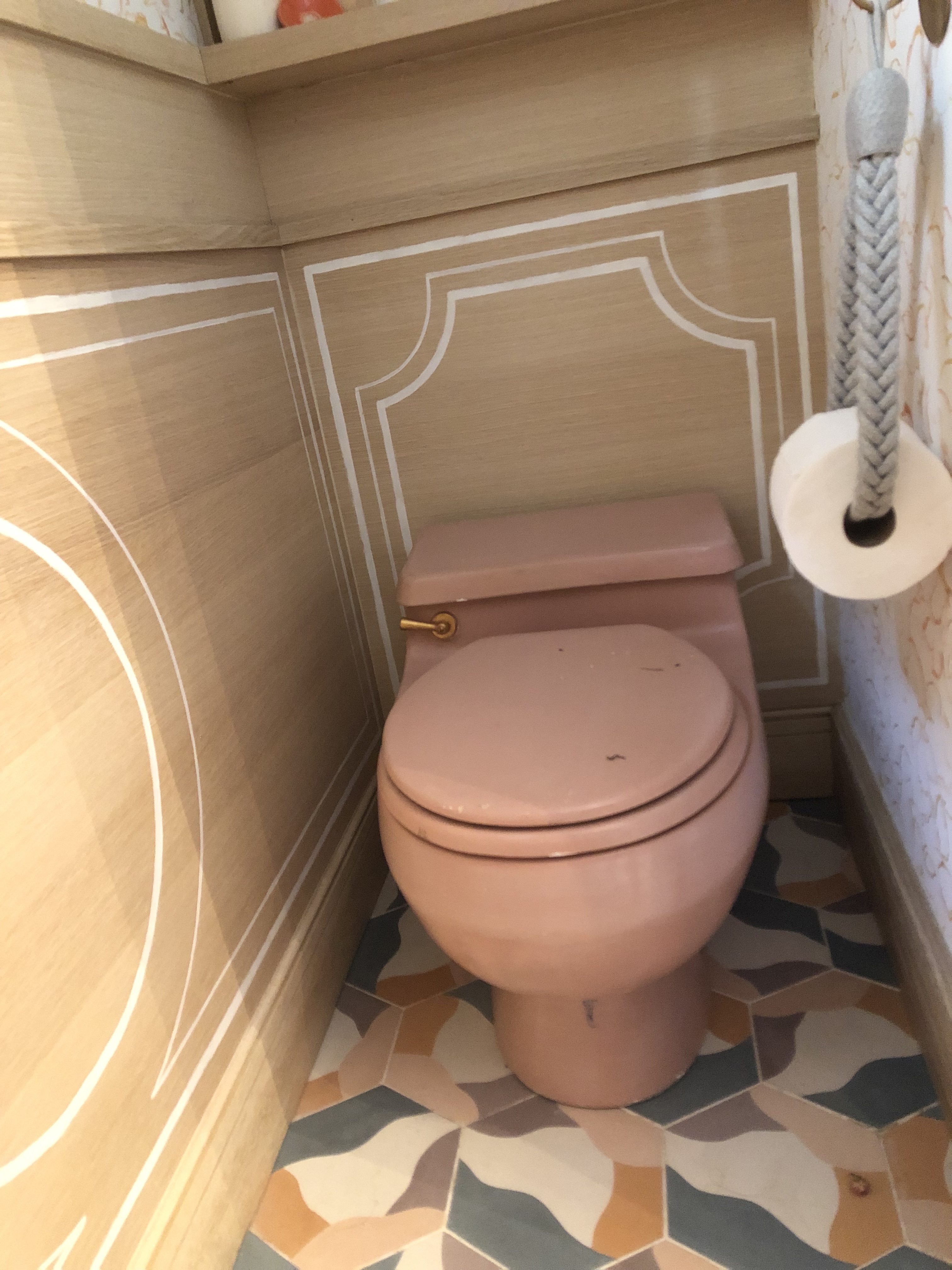 How to find salvaged or second-hand goods
Architects and designers have been scouring salvage warehouses for years as a way to find one-of-a-kind items and to be more sustainable. (Read about some local pros' favorite sources and applications in Brick's guide to using reclaimed materials, aka architectural salvage. Spoiler alert: You can even buy pre-owned kitchens!)
Jennifer Morris, founder of JMorris Design, a Brooklyn-based interior design studio, is one such pro. "I do think the current supply chain shortage provides a wonderful opportunity to resalvage, given the waste in our industry. It's an unsustainable problem." Now more than ever Morris is turning to her go-to resources for vintage fixtures and appliances—including a salvaged pink toilet from Big Reuse (in Gowanus) that she used in a bathroom remodel for a house in Kingston, NY (shown above). 
"I was on the hunt for a pink toilet and knew that Kohler made pastel colors in the 1920s. You can also find them on Etsy!" she says. Indeed, you can still find pretty much find anything, new or old, on Etsy and eBay if you are willing to scan through possibly hundreds of listings.
Apparently, Morris is onto something. A recent New York Times article describes owners going to great extremes to restore a vintage kitchen or bathroom by searching Facebook groups and other online resources for 1950s-era items. Not a fan of retro style? Search online for your own design id, whether that is boho chic or modern farmhouse.
Or stick to local resources like Demolition Depot and Green Depot, where in addition to construction materials like lumber Morris will pick up paints, toilets, tubs, and fittings. "If you can be flexible and creative, it saves money and waste." She encourages her clients to donate their top-of-the-line appliances to Big Reuse and other takers too. 
Morris considers lighting to be a pretty reliable 'found' item—you can get most fixtures UL-listed and they can inject a space with loads of character. (Check out the Brooklyn kitchen at top.) "You will have to pay an electrician to install it, but it will really personalize your space and is an upgrade that you get to take with you when you sell," she says.
And hunting for flea market finds is a longstanding tradition in NYC. Getting the goods at Chelsea Flea and Brooklyn Flea does, admittedly, require fortitude and perseverance—decorators tend to nab the best stuff. But keep at it and be open to new discoveries. You never know. You can sample some tasty food while you are at it.
Why you should shop the clearance section for appliances
In addition to picking up a pre-owned appliance—which probably won't come with the original warranty—here's a tip from Karen Kostiw, an agent for Warburg Realty: When her clients' dishwasher broke just as Kostiw listed their property, they were able to secure a high-end Bosch dishwasher from the clearance section at P.C. Richard & Son.
She has heard similar tales from owners whose appliances have died recently. A few utilized small businesses that were able to assist them with their solutions and others purchased new appliances from clearance. And here's yet another reason to work with a broker: General Electric has a program with the National Association of Realtors. 
"As long as you do not require a particular brand or model, retail clearance sections and online clearance outlets, such as Overstock, Build.com, and even Wayfair, are perfect places to pick up an appliance to meet urgent needs rather than waiting and being inconvenienced for many months," Kostiw says. Black Friday sales promise to further deplete the supply, so act fast!
Where to browse for pre-used furniture 
If you are used to shopping for pre-owned apparel on sites like Poshmark and thredUP, you'll want to hop over to their home-decor equivalents. As with fashion, quality furnishings and accessories never go out of style. You'll also be keeping this stuff from ending up in landfills. 
In an informal survey, lots of folks in NYC and surrounding suburbs swear by AptDeco (serving NY, NJ, PA, DE, and CT in the Northeast as well as the San Francisco Bay area) for new and gently used furniture, rugs, and lighting, including from high-end brands (which you can search by) such as Anthropologie, Crate & Barrel, and West Elm. 
Designer-favorites Chairish and 1stDibs offer a more curated selection of vintage and antique finds at a higher price tag (and forget about selling your own goods on these sites). Plus 1stDibs has launched an auction function to allow you to bid on any coveted items. (These and others are covered in Brick's guide to websites for stylish used-furniture.)
Of course, NYC is chockablock with brick-and-mortar vintage stores that have online portals. Furnish Green, for example, continually replenishes its showroom (near Herald Square) each weekday. 
When it makes sense to go hyperlocal (virtually!) 
Social networking sites like Facebook Marketplace and NextDoor can be a veritable treasure trove—one acquaintance said he scored more than enough original tin ceiling tiles for his Tribeca loft, another bought an antique farmhouse sink for her mudroom in upstate NY. A resourceful neighbor has been refurnishing her entire brownstone by restoring all kinds of used items bought on the cheap. ("Some people have no idea what they are selling!")
You might even luck into choice cast-offs through Buy Nothing groups, which were created out of a waste-not, want-not spirit of sustainability and community building through "hyperlocal gifting." Yep, everything is free.
Brick Underground articles occasionally include the expertise of, or information about, advertising partners when relevant to the story. We will never promote an advertiser's product without making the relationship clear to our readers.