New York City apartments are expensive, so if you are trying to save money furnishing your apartment, you could shop budget options like IKEA or thrift shops—lots of New Yorkers go this route, of course. But if you want pieces that are stylish, last longer than the cheap stuff (and won't wind up in a landfill), and express your personality better than whatever you scrounge up among someone else's cast-offs, there's another way to go. You can shop for second-hand designer furniture, and end up with pieces that are higher quality and discounted from their original out-of-reach prices. 
You've got lots of options when it comes to websites and apps for secondhand designer furniture in New York City, and they vary in terms of selection and services. Brick Underground checked out AptDeco, Chairish, 1st Dibs, Kaiyo, Etsy and Craigslist (yes, Craigslist).
We searched on these sites for a popular and iconic piece: A Herman Miller Eames lounge chair and ottoman. This classic pair makes design types go wild, and is both well-made and comfortable—and has been endlessly copied as well.
For reference, you can get a new Eames lounge chair and ottoman in tall with black leather upholstery and an oiled palisander veneer shell for $8,495, with other upholstery and shell combinations available starting at around $5,000. There are vintage originals from different points in production, starting in 1956, and knock-offs of varying quality.
Plycraft introduced its own chair with a similar silhouette as designed by George Mulhauser in the 1960s, and some people say it's more comfortable than the chair that inspired it. Some people only want vintage; others are fine with a well-made imitator. Some need near-mint condition, others are ok with scuffs and a patina. All of the factors influence price—both asking, and what people are willing to pay for—so the range is quite large. Regardless, while some sites like 1st Dibs actually offer tips on negotiating, it's never a bad idea to see if you can get a bit of a price break when shopping for used items online. 
For our methodology, we kept things local, searching online sites for chairs only in the New York City area. Additionally, a few sites or services didn't make our cut for a variety of reasons, including no results, products unavailable, or listings of mass produced copies at too-good-to-be-true prices. But you never know what you may find because these sites are frequently updated. Sites not on this list include: Apartment Therapy Marketplace, Facebook Classifieds, LetGo, OfferUp, and Sotheby's Home, formerly Viyet.)  
Here's what we found when we went shopping for Eames lounge chairs online.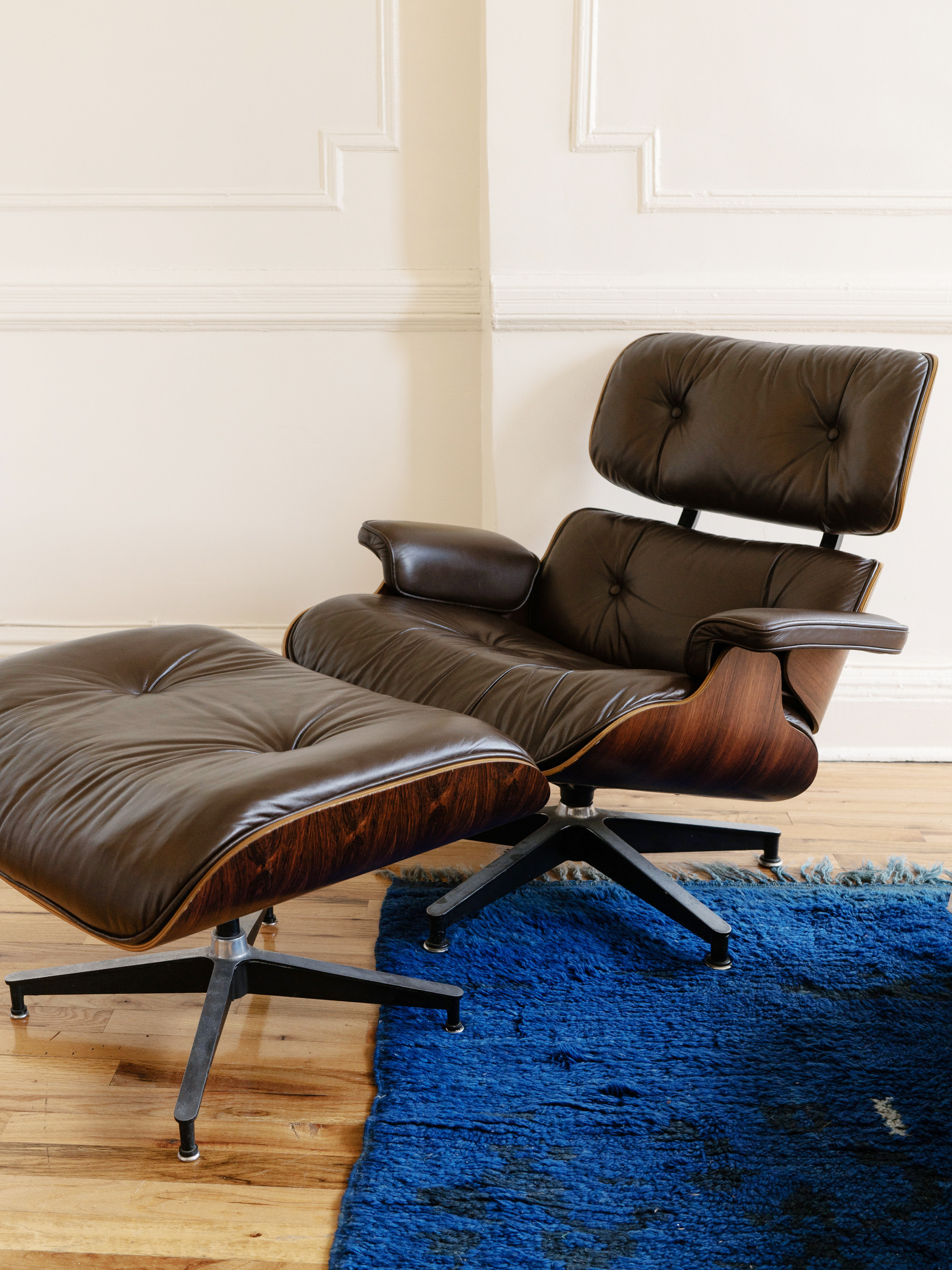 AptDeco verifies buyers and sellers and takes care of delivery for a flat fee of $35, $69, or $119, based on size. (Our chair would be $69.) Sellers sometimes offer free delivery within NYC, and buyers may have the option to handle pickup themselves. AptDeco serves all of New York City, and parts of New Jersey and Long Island. 
To keep its website looking clean, it looks like AptDeco often uses a product image as the main photo, and then seller photos once potential buyers click through. (The site is not alone in this practice, and it does provide a more pleasant viewing/shopping experience.) Seller photos vary in quality, but we didn't see anything off-putting, as can happen with online resales. 
All sales are final. Buyers may request a return or partial refund if the item was misrepresented in the listing, and must report any discrepancies within 24 hours of receiving an item. 
Looking for "Eames Lounge Chair" on AptDeco, we found a handsome vintage model from 1981 with a Brazilian rosewood shell, an option that was discontinued by Herman Miller due to sustainability concerns, so those are harder to find. Condition was described as "good" with minor blemishes and the photos backed that up. Asking price was $5,800 for the chair and ottoman set, with free delivery in NYC. 
AptDeco also has a listing for a brand new, in box "Manhattan Home Design" replica in black leather with plywood veneer, promising "little to no discernible difference between this reproduction and the original design" for $1,619. The same seller also had inventory of similar chairs in white leather and brown leather at prices in the same range. 
Finally, there's also a Plycraft chair in brown, with ottoman, that the owner estimates is from the 1970s, and although he admits he's not sure if the upholstery is leather or vinyl. It also has some scuffs, documented well, and the price is right at $875. 
Upshot: AptDeco had the best mix of vintage and gently-used affordable new imitators. Its sellers provide nice photos and seem legit.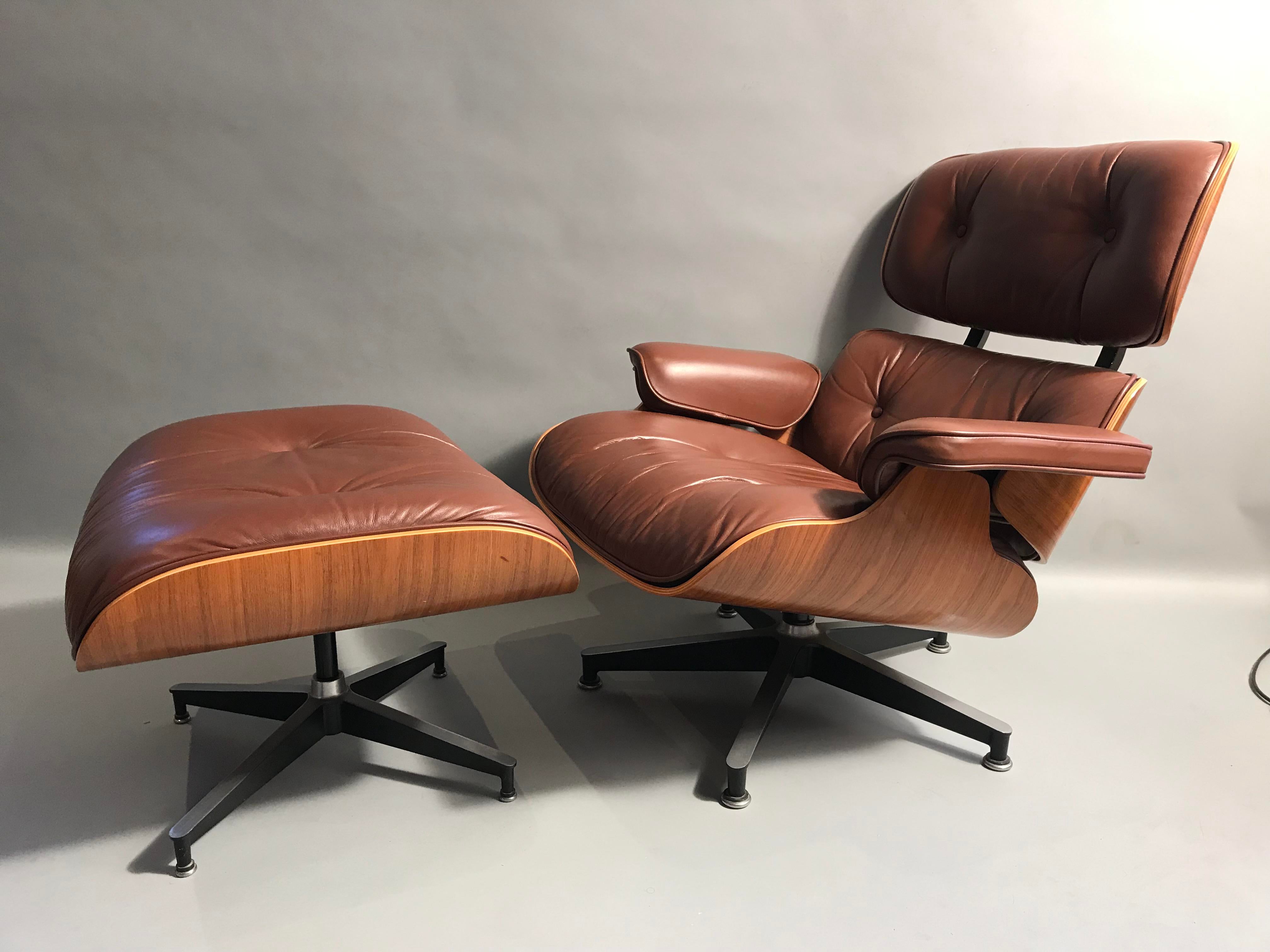 Chairish describes itself as "the leading online marketplace for design lovers to buy and sell chic vintage decor, furniture and art," and claims to be the country's largest and fastest-growing marketplace dedicated to home decorating and design. Items are pre-screened, and Chairish helps spiff-up sellers' photos and item descriptions. You can filter for local searches with pickup a possibility (local items are flagged as such); local shipping, which Chairish orchestrates, starts at $149 and takes up to three weeks. For Chairish in-home and Chairish local delivery orders buyers have 48 hours after delivery to inspect their item(s) and contact customer support, and payment is not charged until after that 48-hour period has closed. Buyers pay return shipping if a return is approved. 
We found a 1960s black leather and rosewood chair and ottoman at with some well-disclosed and photographed condition issues. (A tear in the seat leather, some scuffing on the wood, etc.) The asking price was $4,900, with the option of $299 delivery or free pick-up in Brooklyn. 
We also found a vintage 1990s chair and ottoman in brown leather and walnut for $6,450, with $175 delivery fee managed by the seller, or the option of free pickup in Brooklyn. The set has a few minor flaws photographed well and appropriate for its age. 
The upshot: This is a good place for purists wanting a vintage Eames, and the site does feel curated, and is pleasant to look at and navigate. We wonder if the slick look emboldens sellers to ask for top dollar.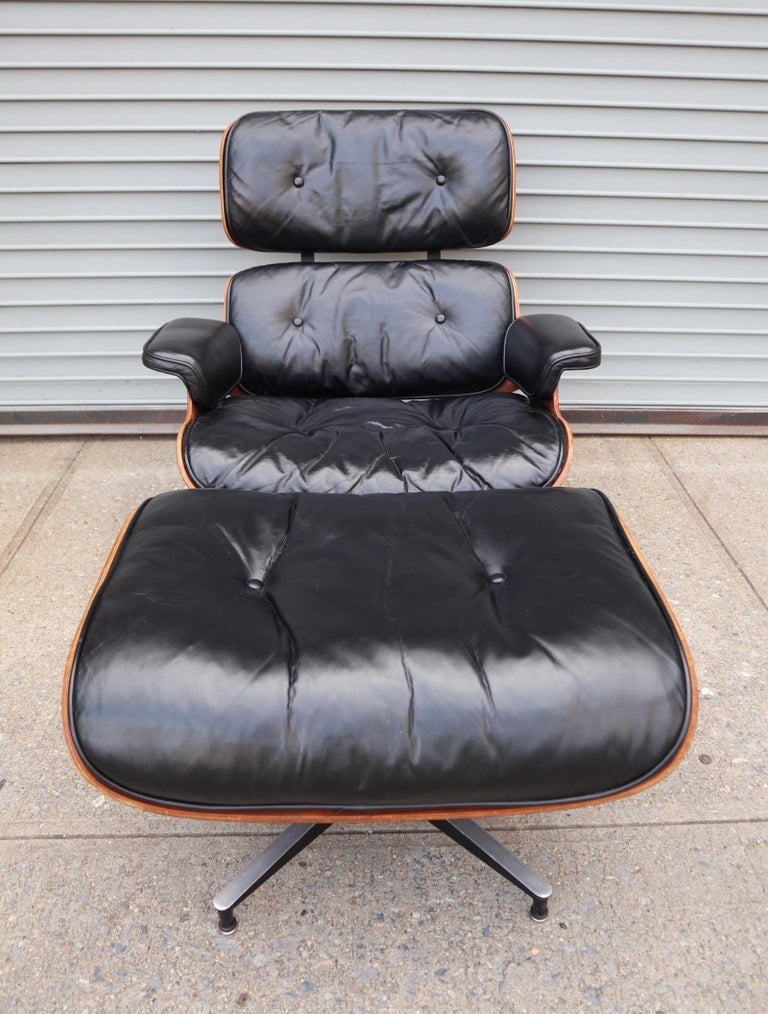 1st Dibs describes itself as a place to shop "the most beautiful things on Earth" from the world's top sellers and artisans, and it certainly feels that way. Yes, you can find a mid-century chair here, but if you're in the market for your own personal Henry Moore statue ($125,000) or a Tommaso Barbi rhubarb leaf brass chandelier from Italy, circa 1970 ($19,400) that's here, too. 
They work with vetted professional sellers and offer buyer protection, and they also have tips on negotiating, FYI. 
Proof that it pays to shop around, we found an Eames lounge chair in rosewood and black leather for $4,999 (on sale from $6,250), and another, similar chair, sans ottoman from the same seller in Brooklyn, for $3,950. (In fact, this seller seems to specialize in these Eames loungers, offering them in all kinds and colors, including white, red, and orange. If you're seriously in the market for one, don't buy without checking out this seller's options first.) Shipping charge varies by vendor and location with 1st Dibs; we did not see a buyer pickup option, although some of this retailer's merchandise did come with free white glove delivery. 
Also on 1st Dibs, an Eames style chair in black vinyl and "hardshell frame." The real deal? No? And no ottoman, either. But it looked to be in good shape, and was a negotiable $1,000 marked down from $1,500. 
The upshot: Another site that feels vetted and is easy and pleasant to use, 1st Dibs far and away had the largest selection, in terms of styles, price, and pedigree.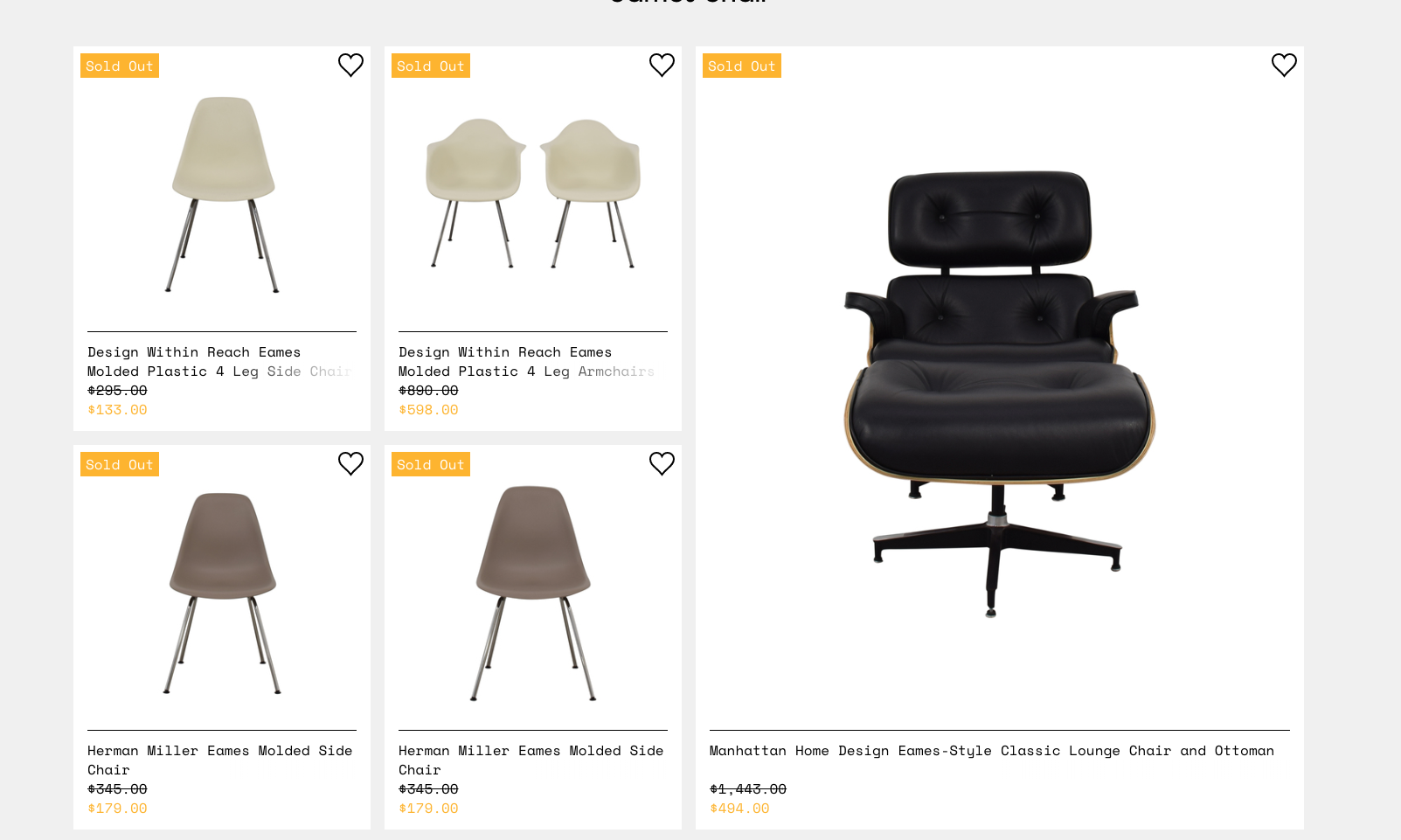 Perhaps you've seen Kaiyo's delivery trucks around town. Kaiyo is different from many other local online second-hand furniture shopping options in that it picks up and stores its inventory (other people's stuff they've determined is sale-worthy) in a North Bergen, NJ warehouse. The bonus for sellers, of course, it that you get your item out of your house, and Kaiyo cleans it, photographs it, and ferries it to its new owner. (You get a cut.)
Kaiyo's delivery fees are determined by zone, with rates for Manhattan and the outer boroughs ranging from $149 to $179. For orders over $1,100 in zone 1, delivery is free, and for orders in zone two over $1,500 there is no charge. (Zones one and two cover all of New York City.) 
Perhaps because they are storing it all, the inventory on Kaiyo does not feel as robust. The site didn't have any Eames, or Eames-like lounge chairs for sale when we searched, and returned 31 results when we search the generic term "lounge chair." (Some of the results were not so lounge-y.) 
And while the photo elves at Kaiyo are clearly doing their best, some of the furniture still looks a little sad. But the prices reflect when something has seen some use, as do the "condition" tags ("fair," for example), and they do make it easy. The site does screen, and does not accept everything submitted. 
While we didn't find any Eames-like loungers currently available, we did see that they do cycle through the site. The Manhattan Home Design Eames-style chair in black with ottoman in gently-used condition sold for a reasonable $494; and a knock-off Charlton chair in brown with ottoman sold for $475. Strangely, the materials used to manufacture the pieces were not identified, so we were not able to determine what upholstery was leather, vinyl, etc. 
The upshot: While not as slick as some of its competitors, we think Kaiyo is a place you could snag a real bargain—you just have to catch it. And its easy and upfront shipping process takes the headache out of buying used furniture.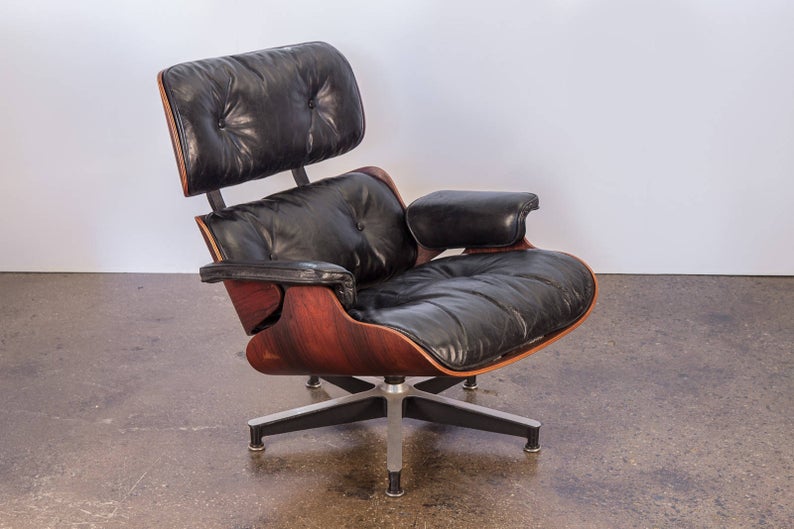 If we didn't know Charles and Ray Eames invented this chair, we'd say Etsy did. (You can even get an Eames lounge chair necklace on the site if you're a super fan.) 
Which is why we were shocked that it was hard to find Eames loungers from local shops on the site. Perhaps they sell out quickly.  But we did find a vintage black leather and rosewood model 670 (without ottoman) in used, but very nice condition for $4,500. The delivery fee was calculated to be $275, but the chair is at Open Air Modern in Williamsburg, so maybe you could pick it up.
The upshot: Although we didn't find much, the chair we did find was one of the nicer, vintage rosewood models we saw, and well-priced. Etsy is also a handy way to find local vintage sellers with storefronts you can go visit and check out the merchandise in person.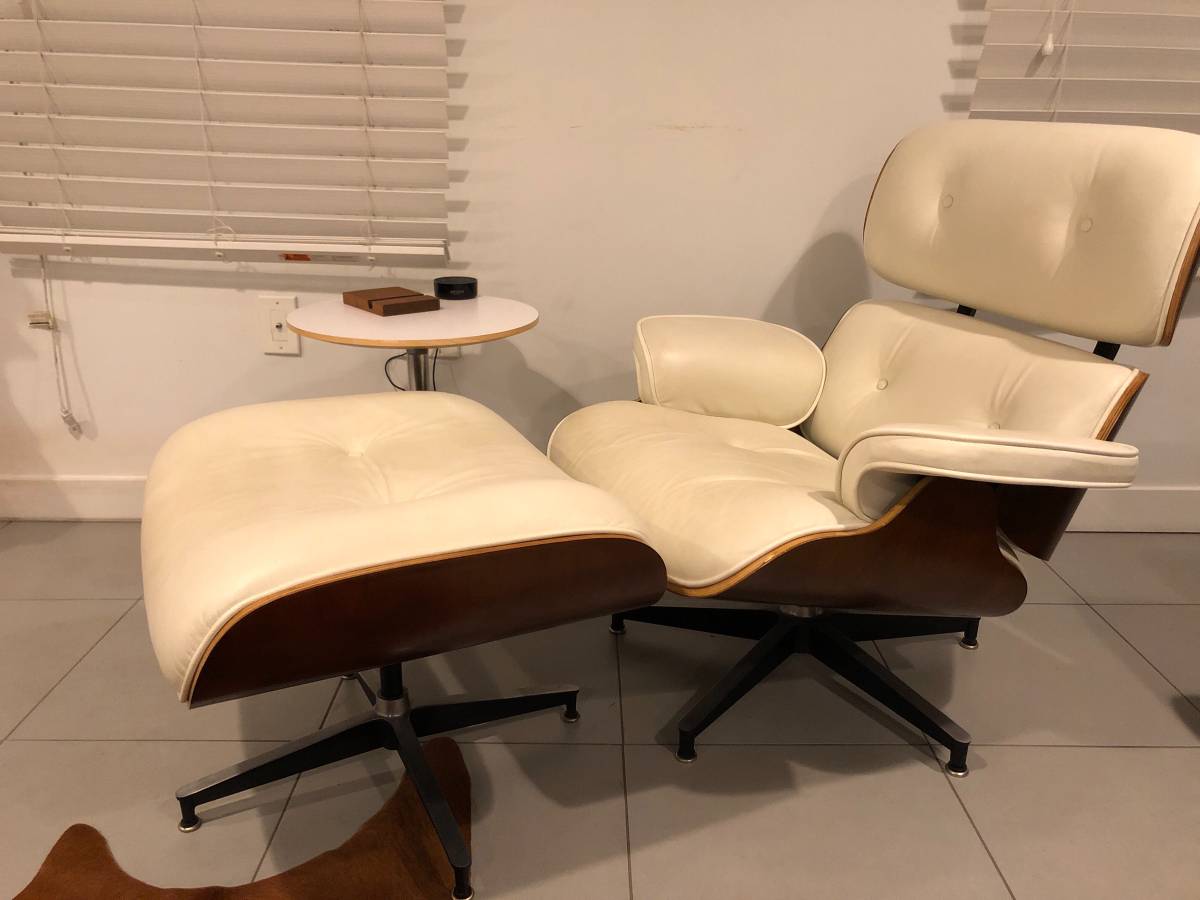 Craigslist may not be the first place you'd think to look for an icon of modern design. But maybe it should be. After all, it does stand to reason that New York, full of design-types, style mavens, as well as collectors, resellers and people on the move, might have some inventory up for grabs. 
Turns out it does. Like this white leather and wood lounge chair and ottoman knockoff in Bushwick for $850. 
Or this authentic set in black leather for $3,200, which we imagine is reduced in price thanks to some damage to the wood/seat. 
Sometimes a seller will offer to deliver for free or for a small fee, but in general, you should plan on picking it up yourself. 
The upshot: Similar to Kaiyo, but you have to do more work on the delivery end, though if you weed through a lot of the garbage, Craigslist can offer up some real gems. And if sellers need to unload items fast, because they are moving out of town or moving in with a partner and need to consolidate, you may be in a position to negotiate an even better price. 
Brick Underground articles occasionally include the expertise of, or information about, advertising partners when relevant to the story. We will never promote an advertiser's product without making the relationship clear to our readers.