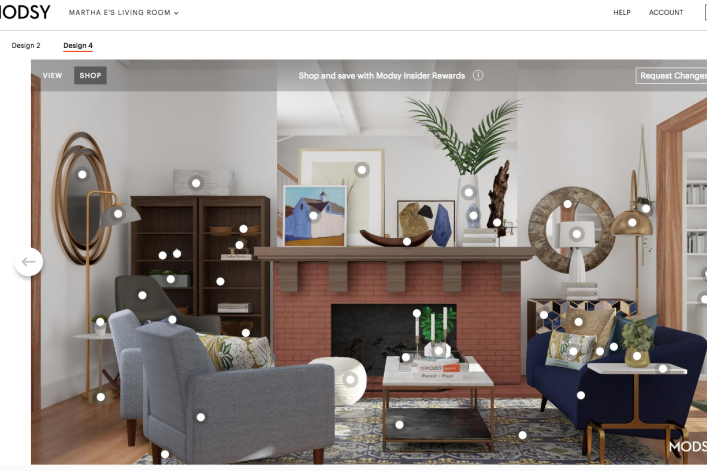 My husband and I moved into an attached house in Kensington, Brooklyn, almost two years ago. As can happen, we did decorate a little, like the room where we lounge and watch TV and our daughter's room, but then we kind of ran out of steam. (And energy, time, and money.)
In addition, I suffer from deep anxiety about making the wrong decision about the purchase of a rug, the placement of a piece of art, or an investment in a serious piece of furniture.
And so, we found ourselves nearly two years later with a living room still untended to. To say that it was empty would be unfair—we had some bookcases, a dining table, a coat rack (also essential), and a giant three-armed arc lamp I'd fallen in love with at Big Reuse and paid a fortune to rehab. (It was worth it. I still love it.)
But this room, which was once the "sitting room" or parlor, remains largely unfilled because it has an awkward layout. We use it as a pass-through space between the front door and the "dining room," now our TV hangout space.
It begs some furniture to complement the beautiful fireplace we paid someone to make sure was functional. (I have fantasies of sipping wine and perusing a magazine by the fire, but have nothing to sit in.) But whatever we put there can't be so big it prevents us from, well, passing through. Plus, I was concerned about plopping some chairs or a couch into what's essentially the entryway of the house and somehow blocking the flow, or chi.  All of these limitations and ideas paralyzed me, and I wanted design help, but hiring a designer seemed a bit much, in every sense.
Enter, digital interior design service Modsy, which offers a basic design package for $59, and Modsy Plus (which pairs you with a designer for one-one-one consult via phone, Skype, etc.) for $149. I opted for the basic package. Here's how it went.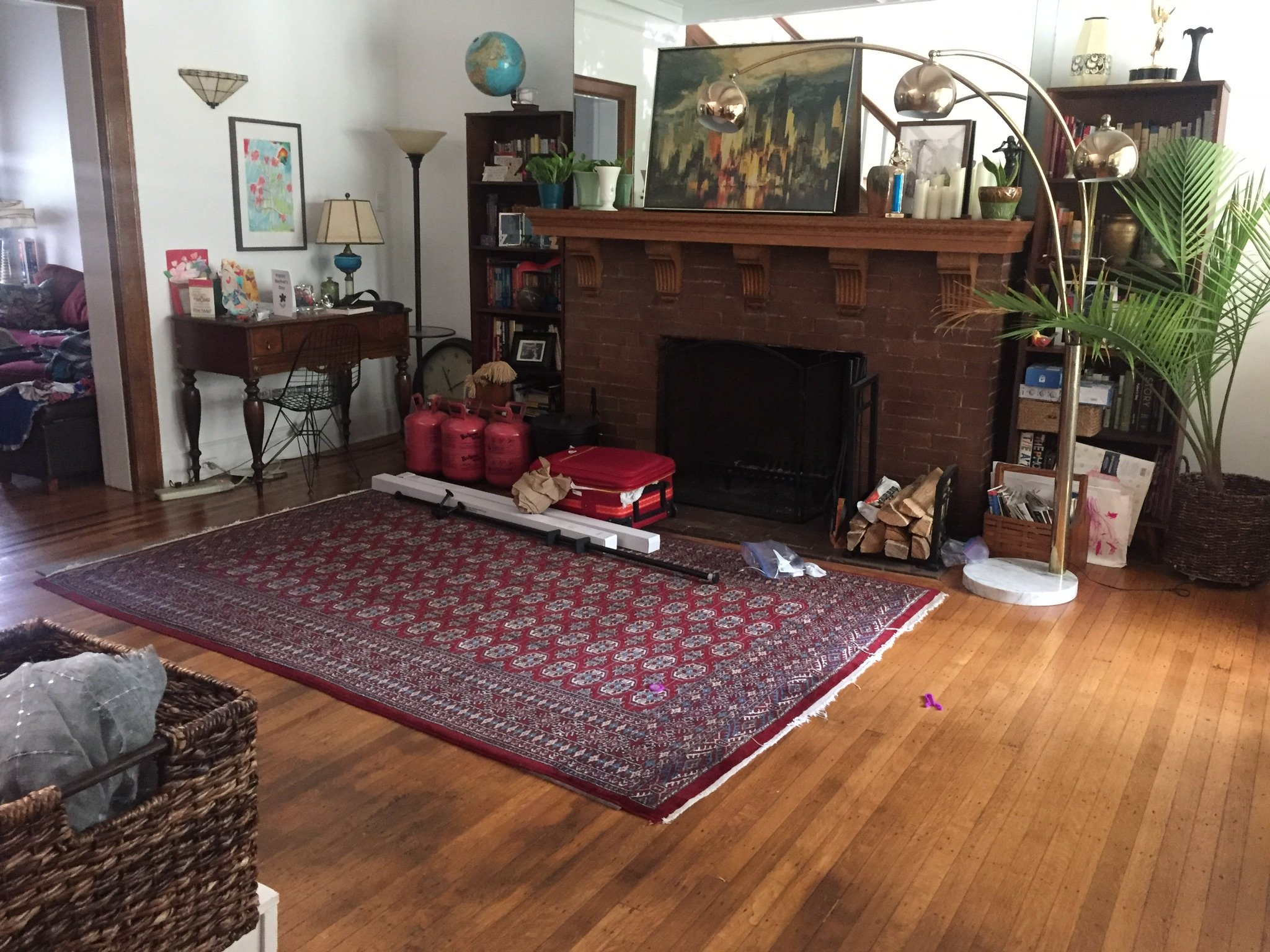 How much help do you need? 
To start, Modsy asks some basic questions about your project: What room do you need help with? Why are you redesigning your space? (For example, are you moving or redecorating?) How finished is your space? (Totally empty or a few pieces?) What's your budget? (Options range from $2,500 and under, to $10,000 or more; I went with the cheapest option.)
Next step: Taking photos and measurements of the space you need help with, and uploading them. This is, admittedly, the drudgery of the process (it took me a while to get around to it), and Modsy knows this—you have the option to skip this step and return to it later.
Note: although not exciting, it's important to get this step right, which means taking clear, well-lit, and in-focus photos from all angles that show the room from floor-to-ceiling. Accurate measurements are important because that will of course, affect the size of the pieces selected. Modsy has helpful visual aids and instructions, and suggests uploading eight to 20 photos and a floor plan if you have one. (I submitted a rough sketch with measurements.)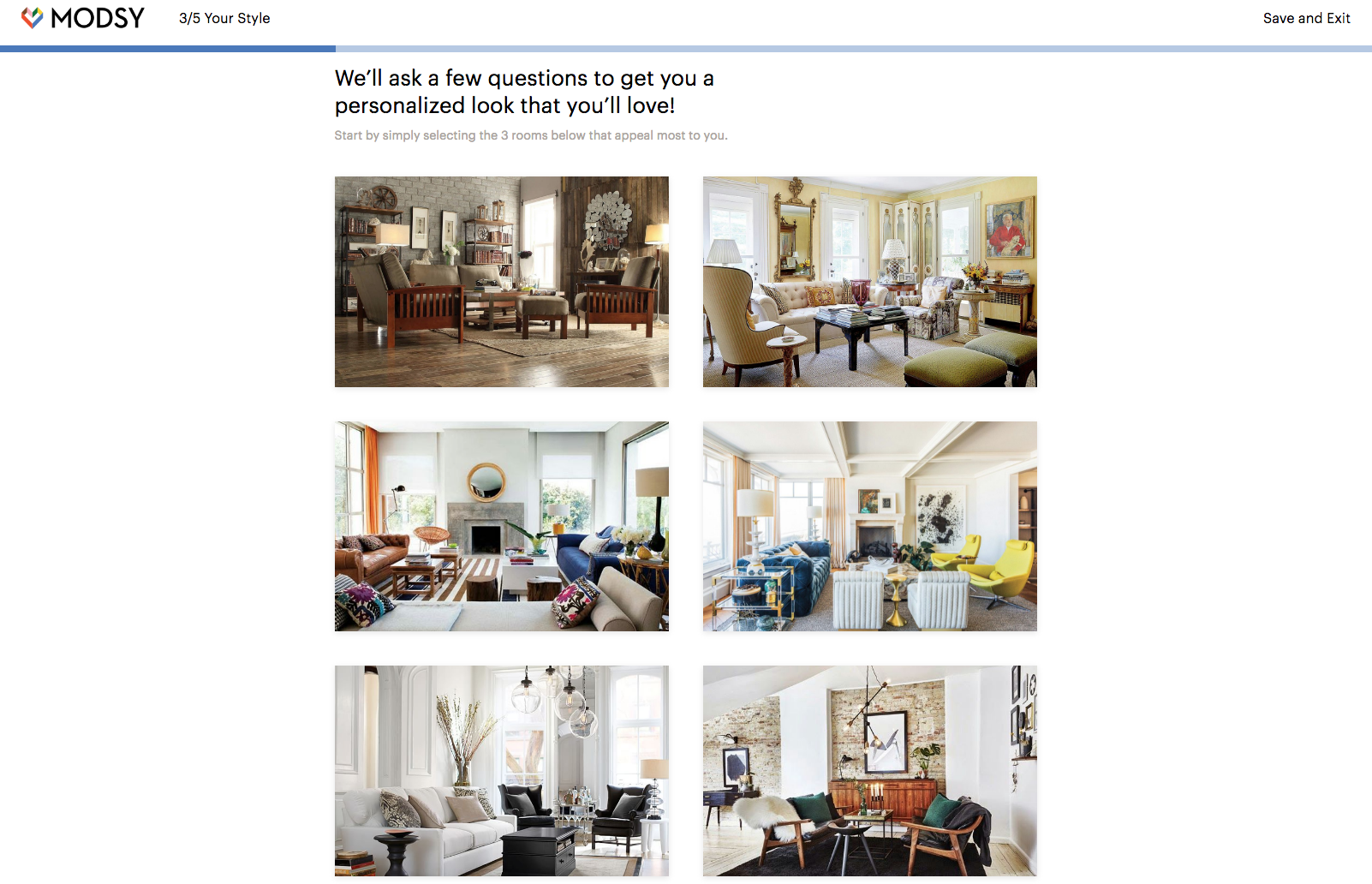 What's your style profile?
Then, the fun begins, as you determine the design styles you're drawn to by selecting the three rooms that appeal to you most from more than a dozen shelter porn interiors. I was told I was drawn to "bright and eclectic spaces" (guilty as charged) and presented with several items inspired by that profile—one of which I actually already owned. Also in my taste profile: a penchant for "rustic and warm" and "dramatic and bold" decor.
In the final analysis, I was dubbed a "chic collector," someone "wild for drama and excitement" with a style that reflected my "unique, spirited personality, great eye, and love for collecting treasures—in every style." (My husband would say I buy a lot of junk, but you know, eye of the beholder, etc.) My profile combines Hollywood glam, eclectic, and a touch of rustic style.
Then, it was on to adding nitty gritty info to take into consideration—who lives there? How will you use the space? Any particular needs? (For us, it is child-friendly, pet-friendly, storage issues). And finally, selecting what brands I was interested in seeing in my space from a predetermined stable such as West Elm, Wayfair, Crate & Barrel, Design Within Reach and Joybird. (I was asked if there were other brands I'd like considered; I added Target and IKEA.)
Other aspects taken into consideration: the use of color, preferred color family (neutral, earth tones, pastels), if you're looking to buy additional pieces or use what you have, and any additional desires or peculiarities about the space. (I expressed interest in a reading chair, maybe some floor cushions, and a place to display photos.)
By the time I'd measured, photographed, uploaded, and determined my style I was pumped to see my results. I submitted it all and received confirmation the Modsy design elves were on the case. (Modsy estimates clients receive their designs in 14-21 days; I got mine in 13.)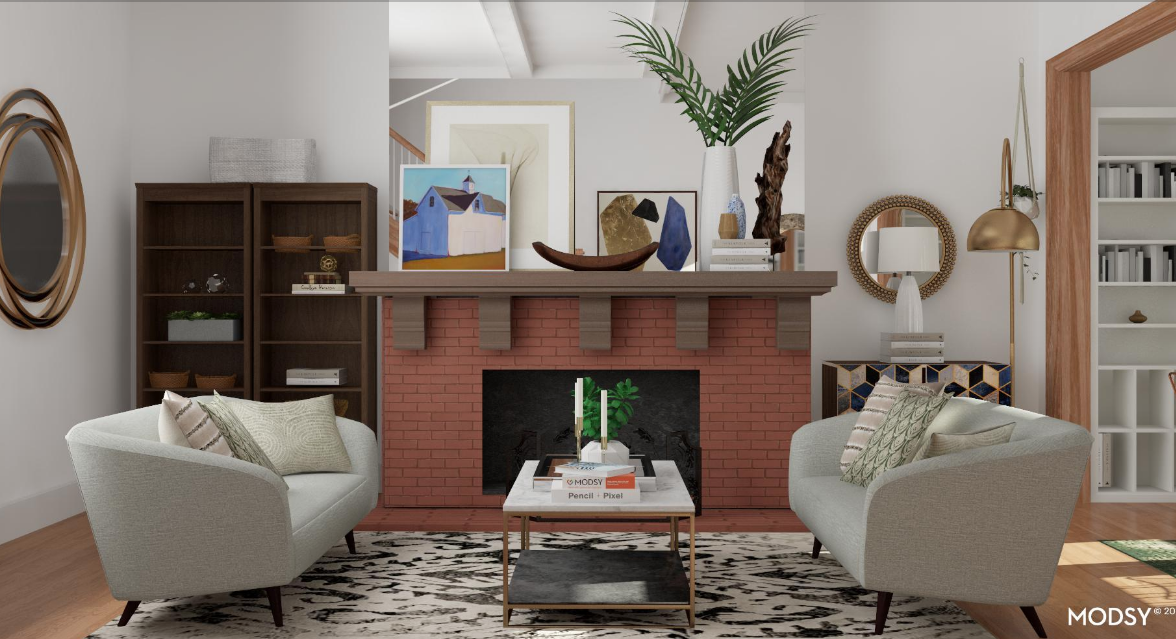 Your designs are waiting!
The results: two designs, both of which looked much better than the room's current incarnation, with a layout featuring two loveseats beating out one with a big sofa, ottoman, and lounge chair. (Both designs came with a note from my designer discussing the choices, noting my requests and preferences, and welcoming feedback and edits.) Modsy invites customers to try out their virtual designer for themselves; I did, and while it's only possible to use items from Modsy's partner brands, i.e., no subbing Target or IKEA products, it was still helpful. 
Modsy provides customers with numerous views of their redesigned space, from several angles, including an aerial view. You can also "walk around" the space with a 360 view, which is a little difficult to use, but is pretty cool.
In addition to providing you with lovely images of your room filled with everything from plants to books to object d'art, Modsy enables you to shop the space. If you're the type of person who just wants to be told what to buy, this is for you! In addition to noting the price and retailer of each item (including current sales) Modsy also offers an Insiders' Rewards Program, which gets you a slight discount on purchases. (Spend $500, get $50 off, spend $1,000, get $100 off, etc.) Given the brands represented, nothing in the designs was a bargain, but some things were on sale, and I felt the suggestions kept in mind my budget. (Decorative items, clearly used to give the space life beyond large pieces, were the most amusing, like the $199 "Root sculpture" from Crate and Barrel, or the $695 "Oblong bow" from Restoration Hardware.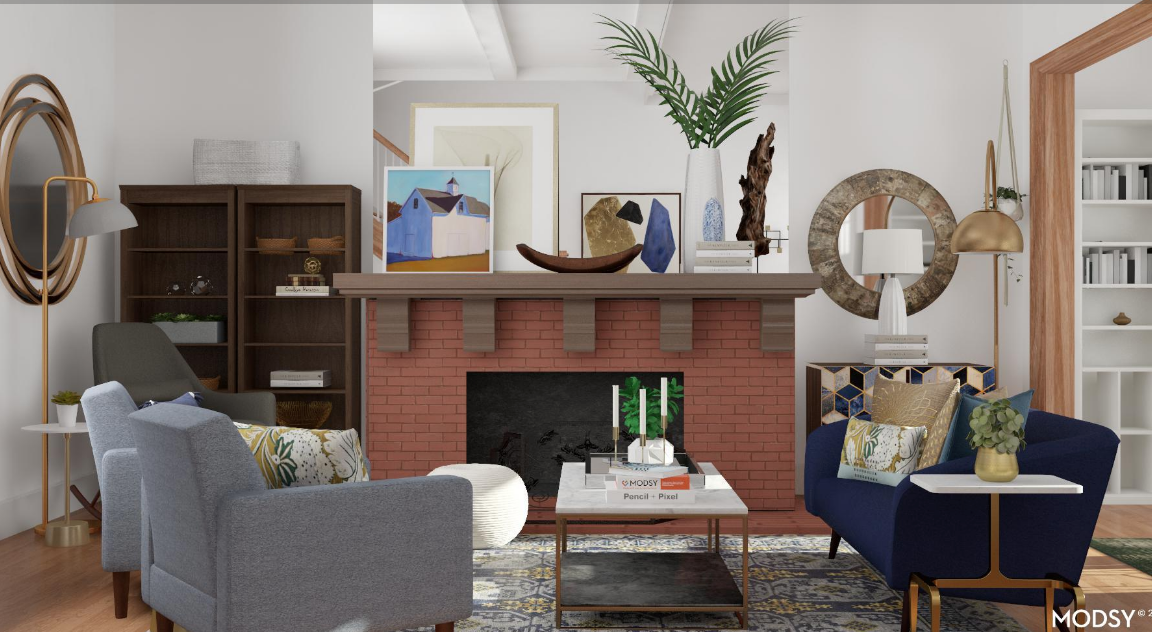 Refining the vision
Seeing these idealized visions of our room was inspiring and motivating—look how nice our house would be if we had some grown up furniture and kept it tidy! This is also when I realized I'd neglected to include the not-so-tidy but essential coat rack in the corner of the room, and that off-white upholstery and rugs were not a good fit for the first-grader in the house. And while I liked the symmetry of the two loveseat design, I thought it was more practical to have a loveseat, and two chairs for additional flexibility.
I sent my revisions off to Modsy, and within a few days, had yet another design, reflecting the edits I'd made—darker colored rug, two chairs, no light-colored upholstery, etc.
A Modsy design specialist followed up with me twice to see if I needed any more assistance and remind me of the Insider Rewards program, which in addition to discounts has an order concierge team to handle orders, shipping, and returns.
We've yet to make any major decisions or purchases—although we did buy a rug, which ended up being too big, despite a size recommendation from Modsy. (I don't really blame them, but it does show that sometimes there's no replacement for seeing something in a space.)
But we have committed to the loveseat and two-chair concept, which is more than we were able to do for about two years. (Totally worth $59 in my book.) In addition to that, Modsy was actually a very effective way to really see what we both were thinking, and what we liked, as opposed to looking at an isolated product picture on a brand's site, or sharing Pinterest boards.
We have a goal of obtaining furniture in time for our annual holiday party, so with any luck, we'll have some place to sit by the time the snow flies. 
Brick Underground articles occasionally include the expertise of, or information about, advertising partners when relevant to the story. We will never promote an advertiser's product without making the relationship clear to our readers.