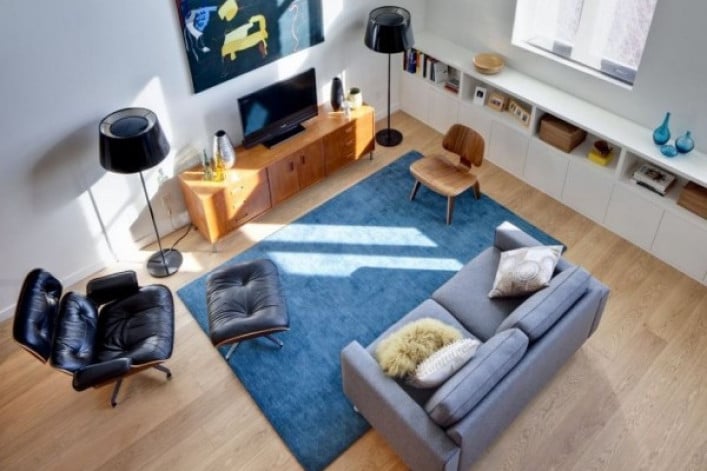 On the one hand, the small size of most New York City apartments makes decorating a fairly manageable endeavor. On the other hand, making the most of a small space requires a certain amount of design savvy. Here, according to Apartment Therapy, are the top mistakes to avoid when putting together a tiny apartment:
Overlooking storage: The key to living in a shoebox? Make the most of every square inch of space with under bed storage, over doorway hooks, lazy susans in cabinets, and shelves, shelves and more shelves (don't let those walls go to waste!). That said, make sure to leave some blank space—a wall, room on the floor— to keep the apartment from appearing too packed.
An abundance of undersized furniture: A small apartment filled to the brim with similarly small furniture just looks, well, smaller. Use proportion as your guide and choose pieces that maximize the room's size (often that means fewer but larger-sized items).
Clutter: A diminutive space is no place to indulge in hoarding tendencies. Instead, edit, reduce, discard and then bask in the neat, spacious, mess-less environment.
A lack of planning: Before filling an apartment with stuff, sit down with a floor plan and consider your specific needs and the few but important pieces of furniture that will allow you to function optimally in your place.
Subdividing: Using room dividers, small rugs, creative painting strategies and the like to split a small apartment into even smaller areas just enhances the clutter and compartmentalization. Instead, enhance what spaciousness there is with unbroken floor and wall surfaces.
Shying away from bold color: Sure, light shades can make small apartments seem bigger and airier, but darker hues and rich furnishings can enhance drama, especially if you commit to a single design direction—deep, sea foam green-blue walls, plus a few large and luxurious pieces of furniture, for example.
Related:
Learning to love your tiny apartment: The internet's best decorating tips for small spaces
Quick decorating tips to beat the post-summer blues
Brick Underground articles occasionally include the expertise of, or information about, advertising partners when relevant to the story. We will never promote an advertiser's product without making the relationship clear to our readers.