Renovation
New one-stop decorating site makes dressing up your space as easy as ordering dinner. (Warning: It's addictive.)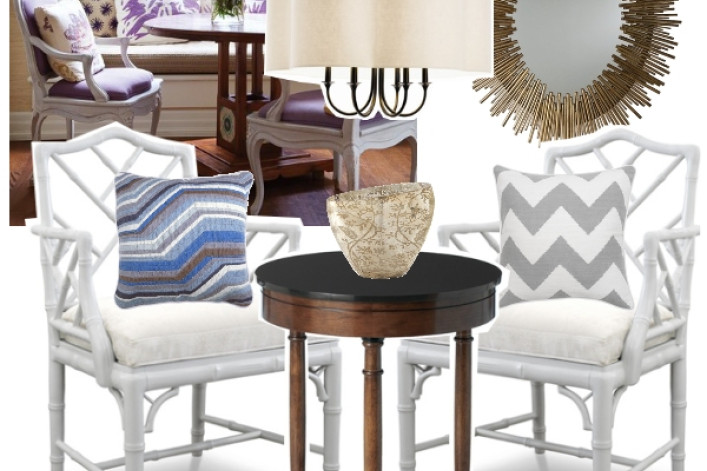 When serial entrepreneur Andy Appelbaum needed to decorate his brand new Upper West Side condo, the co-founder of modern-day-life-altering restaurant delivery website Seamless was overwhelmed by the array of furnishings on the market and the array of sources from which to get them.
"I remember my designer emailing PDFs from so many different sites," he says. He would've loved a one-stop shop for sofas, tables, area rugs, and lighting, where browsing and buying from different designers and vendors could be done under one virtual roof.
"Why not have one website with Knoll, Bernhardt, and Jonathan Adler all in the same room, and then send your favorite pieces to your friends?" he found himself wondering.
About 18 months after Appelbaum moved into his decorated nest, he launched Project Décor, a design site with a focus on social media, with co-founders Cliff Sirlin and Aaron Wallace.
"We wanted people who liked design to be able to play and share with others. Nobody buys furniture without consulting with friends and family," says Appelbaum.
On Project Decor, you can buy everything from a modern sofa from BluDot, to a pair of classic Saarinen chairs, to a custom-sized Odegard rug. You can accessorize your room with prints, photography or sculpture, and then share your selections with your friends.
One neat aspect of the site is that it allows you to mock up rooms to see how different products look together.
"Design needs to be seen in a context – this chair needs to look good next to the lamp, next to the coffee table, and so on," explains Appelbaum. "Project Décor is a great way for anyone to figure out their own style."
How it all works
You can drag and drop furniture images, create idea boards (similar to Pinterest), show your favorite pieces and colors, and make your own design story. You can "tear photos" and place them in a file for later on, share those images or rooms with your friends directly through the site or through other social platforms like Facebook, Twitter, and Pinterest.  The signup is free, but like Pinterest, you need to request an invitation to join.
Project Decor is useful for anyone who's less than design savvy; they can exchange their ideas with others, expediting the decision-making process for each decorating project.
Appelbaum tells us that designers have started using Project Décor too, grabbing images from the site and sharing their selections or entire rooms with clients.
The inventory
Currently, Project Décor showcases about 50 vendors, and expects to increase that number by the end of the summer.
Project Decor buys the items wholesale from the vendors and sells them at retail. The vendors ship items directly to customers.
You can choose by product category (sofas, lamps), color (turquoise, red), or vendor (Arteriors, Marimekko). "Tastemakers" (those who influence fashion and design) like Elie Saab and Todd Klein are featured on the site.
Any of the items may be purchased online, and many are priced in the mid-range such as a leather Danforth Chair for $1,465, and an 8' X 10' Grey Josef Kilim Rug for $995.
Our take

We took Project Decor for a spin and found it to be efficient, easy to use and friendlier than most designer showrooms we've visited.
We especially liked browsing "Top Rooms" for inspiration, and appreciated the ability to select a price range within a certain category, such as "Area Rugs from $1,000-$2,500."
It's also rather addictive--once we started, we couldn't stop, or stop going back almost every day checking for new products.
Appelbaum says he foresees Project Decor as something "you'll keep coming back to again and again. It's like Pinterest for design, but you can actually buy the things that inspire you."
Related posts:
Renovation Q: Ikea vs. Home Depot: That is the question
10 tips from a renter who's lived in a 338-square-foot room for almost a decade
Cool Stuff: A BrickUnderground gift guide
Brick Underground articles occasionally include the expertise of, or information about, advertising partners when relevant to the story. We will never promote an advertiser's product without making the relationship clear to our readers.