The Search
7 features that make ground-floor apartments desirable—instead of dealbreakers
They're as much as 15 percent cheaper than comparable models on average
You don't have to worry about noise complaints from downstairs neighbors
Units in brownstones often have private backyards and separate entrances
New Yorkers fall into two camps when it comes to ground-floor apartments—some prefer them, while others avoid them at all costs.
But choose wisely, and you'll be able to avoid or at least mitigate the possible pitfalls of first-floor living that include lobby and street noise, lack of privacy and natural light, and a greater risk of pest, odor, and flooding problems (though you can never escape those city realities, even in a penthouse). 
On the plus side, ground-floor units generally cost less than comparable apartments—the lower the floor, the lower the price. They can also meet your lifestyle needs (especially in walkups). And some lower-level units have features that make them more desirable—like a yard or other outdoor space—than units on higher floors.
Read on for what makes a ground-floor apartment worth considering.
---
[Editor's Note: A previous version of this article was published in April 2022. We are presenting it here with updated information for May 2023.]
---
1. Lower prices on average
There's no rule of thumb for how much you might save on a ground-floor apartment—it will depend on a variety of factors, including location, exposures, square footage, layout, and outdoor space. That said, the sales price of a first-floor unit is typically up to 15 percent lower than a comparable unit on a higher floor.
"If it's really close to the lobby and facing the front, that could be 20 percent less," says Kobi Lahav, director of sales at Living New York. "If it's facing the back and quiet but there's no light, it may be 10 or 15 percent less," he says.
One real-life example from Lahav is the case of two identical apartments on the Upper West Side. The second-floor unit sold for $1.55 million, while the rear one on the ground floor went for $1.35 million. If the ground-floor unit had been facing the street, Lahav says the price may well have been knocked down further to $1.2 or $1.25 million. 
"Being on the front is really a dealbreaker for a lot of people," he says. "And if it's something where the window is directly facing something like a bus station, that's going to be a 25 percent discount." That's something to keep in mind for resale value, but if you are strapped for cash, these sub-prime apartments might be the only way to get your foot in NYC's real estate market. 
Julia Hoagland, a broker at Compass, points out another upside: "Often the shares in co-ops are lower for lower-floor apartments, which lowers maintenance costs and frees up liquidity for other more interesting expenditures."
What's more, "given not everyone is open to ground-floor living, you're likely going to be competing against fewer buyers, which increases negotiating leverage," she adds.  
Lahav, however, says people are more willing to consider buying on the ground floor when, as now, there's a severe lack of inventory. "I am seeing less hesitation, especially if it has outdoor space."
2. No downstairs neighbors
Being on the ground floor can protect you from noise complaints—especially if you have kids. Gerard Splendore, a broker at Coldwell Banker Warburg, knows first-hand the benefits of living on the ground floor. 
"Our apartment was located over the laundry and storage rooms. My two children, as well as the other two who lived next to us, could—within limits—make as much noise as they liked and jump and run without concern about bothering neighbors below," he says.
3. No elevators or stairs  
Tired of waiting for the elevator in the morning rush hour? Or having to walk 20 flights when the elevator breaks down? Or maybe you live in a walkup and have to navigate the narrow stairwell day in and day out.
Whatever the scenario, being able to step right out your front door can be a huge perk, especially if you have to contend with strollers, scooters, or bikes. The same applies if you do bulk shopping trips at Costco. 
And get this: "You are never subject to the pain of elevator outages when maintenance is being done," Hoagland says. Ditto for summer blackouts. 
4. Fewer missing packages 
Now that online shopping is the new normal, so is the reality of package theft in NYC. 
That's one reason Splendore sees "an updated bonus of first-floor apartment living" as the immediate acknowledgment of package delivery. "Post-pandemic, there are fewer brick-and-mortar retail outlets, with more deliveries—from diapers to groceries—coming directly to the lobby and, in many cases, to first-floor apartment doors. So there's less chance of packages disappearing."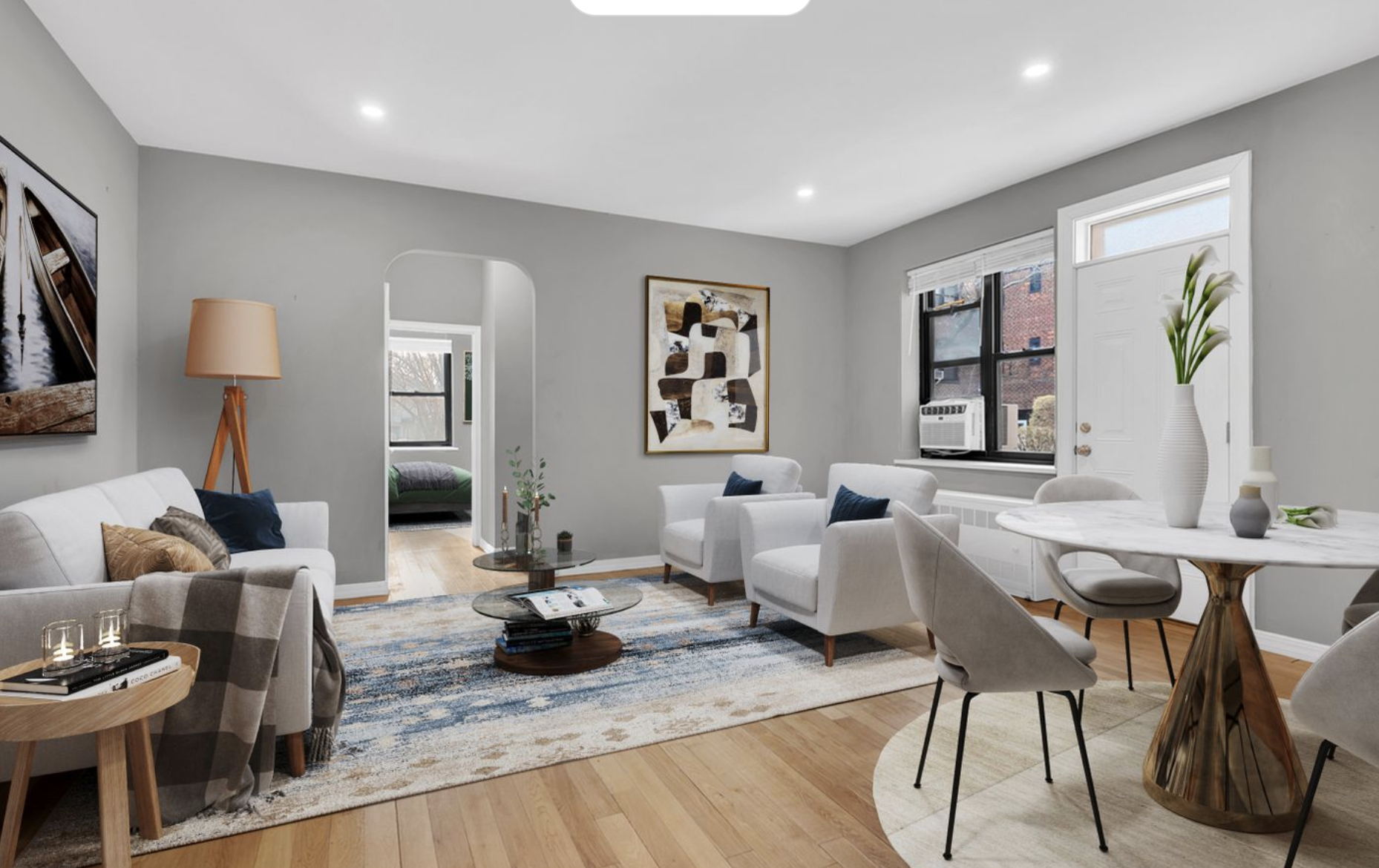 5. Cheaper moving costs 
Don't underestimate this point—even simple moves in NYC add up.
"Movers in NYC will charge by the floor in walk-ups, so ground-floor moves equal cost savings," Hoagland says. 
Or as Splendore explains it: "If the first-floor shareholders do not live in a co-op that requires large deliveries through the basement, first-floor delivery of appliances and move-in/move-outs can be much simpler by not requiring the use of an elevator, requesting elevator protection, or inconveniencing other shareholders."
That would seem to apply to renovations, too, where the meter is running every time workers have to wait for the service elevator. 
6. Outdoor space (maybe)
One of the most common perks to offset the potential downfalls of a ground-floor apartment is the all-important backyard, a coveted amenity in a city with precious little outdoor space. It's also handy if you have a dog. 
In some cases, landlords may renovate the backyard to make it more enticing (though if not, check out how to install low-maintenance fake turf).
And here's a pro tip: If you're hoping for outdoor space on a rental but don't want to overspend, you may be able to score a deal by looking in the colder months—when the nice weather hits, outside space is quickly added to everyone's wish list.
Pro Tip:
If you're not seeing enough places—ground floor or otherwise—for sale in your price range or target neighborhood—and/or you'd like to avoid a bidding war—consider expanding your search to "off-market" listings. NYC real estate brokerage The Agency uses technology to mine public records and identify owners who may be ready to sell, meaning you can meet and deal with owners before their homes hit the market. Click here to learn more
7. Extra space and storage
If you are on the ground floor of a townhouse or brownstone, there's a good chance you'll get access to the building's basement, which could mean extra storage and even your own laundry room. You might also have your own private entrance under the stoop and gain a de facto mudroom via the common hallway that leads down to the basement.
According to Hoagland, sometimes the ground floor of a co-op or condo "has a layout unique from any other floors, and owning a unique asset can help you stand out from the competition in a crowded marketplace."
Even if your purchase doesn't come with these added benefits, she says the math might make sense. "The fact is you generally get more for your money in terms of square footage for the same price, given the cost differentials. Buying real estate involves deciding what one's personal goal priority tree looks like, and if space is number one over light and views, for example, a ground-floor apartment can be a perfect choice."
—Earlier versions of this article contained reporting and writing by Virginia K. Smith and Nikki Mascali.
Brick Underground articles occasionally include the expertise of, or information about, advertising partners when relevant to the story. We will never promote an advertiser's product without making the relationship clear to our readers.