Buy Curious
Considering a ground-floor apartment? Here's what you need to know
These units are typically cheaper and may have private outdoor space or a separate entrance
You need to beware of noise, pests, and safety issues when buying a ground-level apartment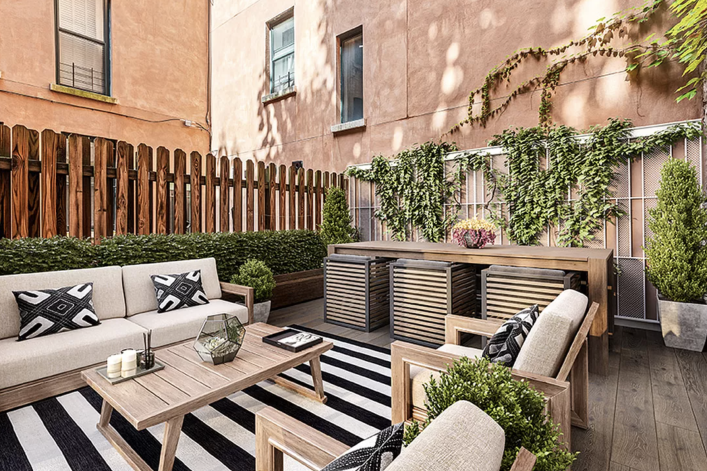 It's not just the fact that you can skip the stairs: Ground-floor apartments have many advantages over apartments on higher floors in New York City. But there are some disadvantages buyers need to be aware of as well.
On the plus side, these apartments are sometimes less expensive than units on higher floors and make more sense for New Yorkers with babies in strollers, dogs, or mobility issues. They also offer more privacy—you don't need to share an elevator with your neighbors— and a backyard or deck provides an opportunity to expand your living space.
Still, the drawbacks can be deal-breakers for some: Ground-floor apartments can be more likely to have problems with insects and rodents. Depending on the location and configuration of your apartment, you may have to worry about passersby peering in. Street noise is also an issue.
In this Buy Curious, Ryan Kaplan, a broker at Corcoran Group, and Bryan Kreider, an agent at Sotheby's International Realty, tell you everything you wanted to know about life on a building's ground floor.
---
[Editor's note: An earlier version of this post was previously published in July 2019 We are presenting it with updated information for November 2023.]
---
The question:
I've heard a ground-floor apartment might be my best bet in terms of value. What do I need to know? 
The reality:
It's true that you can sometimes save money when buying a ground-floor unit, but that's not always the case—it varies widely by neighborhood, building, and layout. 
Still, a ground-floor apartment can offer buyers, especially in high-end buildings, a big discount. 
And at least some of these apartments can be as desirable as living on the top level. "The location, streetscape, and environment around a building have as much to do with the quality of life in that unit as the building's own operational systems," Kaplan says. Is it on a block that's crawling with tourists or club-goers? Proceed with caution.
But if it's on an entirely residential side street with no restaurants or bars to speak of, Kaplan says it can be a European-like experience. 
On a more practical level, "the accessibility is a key feature for someone who may be less mobile, or needs to come and go more frequently," Kreider says. 
Here's what to consider when exploring street-level living in NYC.
How well-kept is the building?
Building maintenance will be even more important to you in a ground-floor apartment. Your place could be the first stop for rodents and creepy crawlies that make their way into your building.
Be sure to ask a few questions about how frequently the super takes out the trash and recycling. And find out if the building is taking preventative measures against bugs and mice. 
In a well-maintained building, however, pests should not pose a problem—whether it's a full-service condo or a smaller co-op. 
"I sold a ground-floor duplex with a basement in a boutique co-op in the West Village that was extremely well-run and clean," Kaplan says. So, the scale of the building is not determinative. "A small building could keep the garbage in the basement and take it directly out to the sidewalk, so it wouldn't matter that you were on the ground floor."
However if you're flanked by restaurants or bars, then the volume of foot traffic and trash on the street has a much greater impact and could end up attracting more vermin, he says, as could your own adjacent neighbors (and that's true on any floor). 
Do your research and pay careful attention when visiting the apartments, both inside and out. 
Pro Tip:
Looking to buy a co-op apartment?  National Cooperative Bank offers competitive rates and easy pre-qualification. With 40 years of lending to buyers in New York City, NCB is the bank for co-ops. After all, Cooperative is our middle name! Call us at (202) 349-7455 or email Ryan Greer [email protected] #507534. Equal Housing Lender.
Will heat be a problem?
Another thing to consider is how you'll stay warm when the weather turns cold.
Heat rises, so if the building has not been well insulated, keeping warm can become a task.
Kaplan has never heard of any complaints about heat. "These days, we have the technology to build skinny towers that are 1,100 feet in the air, so we have the ability to heat ground-floor units. It's about the caliber of the building." 
Should you be worried about people looking in the windows?
You'll definitely need to watch out for looky-loos if you are in a street-facing unit. (Even nosy neighbors may try and sneak a peek.)
If you're in a parlor-floor unit, you're actually raised a bit from the street, so it's better than if you are on the same grade as the sidewalk, Kaplan says. 
He and Kreider point to a number of solutions to help deter wandering eyes. Kreider suggests installing frosted or smart-glass windows or planting trees or shrubs in front of the windows. "Curtains or blinds are a must unless you have an extravagant need for attention," he adds. 
Kaplan recommends using reverse shades that start from the bottom and obscure the lower part of the window while leaving the upper portion open so light can stream in.
He says one of his clients tinted her windows, which makes it hard to see inside from the street but allows you to see outside from within. "There are multiple options," he says, reiterating the ultimate goal of avoiding living on a busy block.
In some cases, a good trade-off is to buy a unit at the back of the building. What you might sacrifice in natural light can be worth the privacy and quiet—and you might score a backyard. 
Will you need to be more concerned about break-ins?
Sadly, safety can be an issue with ground-floor units.
They're the easiest access point—and basement-level apartments may be out of the eye line of passersby, giving thieves an added layer of protection.
If you are on the ground floor of a building with 24/7 security or doorman service, this shouldn't be of concern. 
What's more, Kaplan says metal grates are often on the street-level windows of buildings with ground-floor apartments. "They range from less-attractive jail-cell bars to more architectural wrought-iron ones in historic districts." 
You can also look into installing a smart security system for added peace of mind, which is what owners of brownstones typically do to protect their ground-floor entrance. 
What to know about buying a ground--floor apartment in NYC
Pros

They are typically less expensive than upper-floor units.
Many come with private outdoor space. 
There's no need to wait for the elevator or climb stairs.

Cons

Pests can be a problem for street-level apartments.
They can be noisy, both from the hallway and the street.  
Privacy from passersby is another reality. 

Price

These units are 5 to 20 percent less than comps in the building. 
This discount depends on the type of building and price point. 
Duplexes with outdoor space can cost the same or more than others.
Will people ring your bell doorbell more often?
Probably. In smaller buildings (especially walk-ups), the ground-floor or basement-level apartments are often home to the super, so it's possible that delivery people and new tenants might ring your bell under the assumption that you're there to let them in or help them in case of emergency.
This can be mitigated by clearly labeling your buzzer and mailbox.
Will a ground-floor unit be noisier?
Generally speaking, sure. You are closer to the action than a higher floor unit. 
How much so depends on where your apartment is located within the building. Are you close to the entrance? If so, you may hear the building's front door open and close each time someone enters or exits. If it's close to the elevator, you may hear it ding every time it opens—and be privy to people's conversations as they wait around for it to arrive. Of course, this is more of a concern in a building where the ground-floor unit opens into the lobby, rather than the street.
Street noise can be a very real concern. Kaplan reiterates the need to evaluate the street scene by asking, "Is there something that will attract young people and other partyers?" If so, take a pass.
Units toward the back of the building will be quieter—and, depending on the layout, you may be less likely to hear neighbors opening and shutting the lobby door.
"For anyone with an aversion to street noise, I recommend looking into soundproofed windows from companies like CitiQuiet or Cityproof," Kreider says. (Read Brick's guide to soundproofing windows for more information.)
As for upstairs-neighbor noise, "If you're on the seventh floor of a 20-story building, you're still going to have upstairs neighbors, and how much that matters depends on the quality of the building," Kaplan says. "Prewar buildings tend to be built with better sound attenuation than, say, post-war buildings where the walls might be thinner."
Should you be worried about flooding?
Unfortunately, storms in recent years have caused major flooding in ground-level homes across the boroughs, as well as in amenity spaces that are often put sub-level where apartments aren't zoned to occupy. 
Many new construction condo buildings now have plans to mitigate potential flooding, but not all developers put enough thought into worst-case scenarios during the building process. If you're buying a property that is partially under grade, you should inquire as to whether there's a plan in place for torrential downpours.
Here's the city's flood hazard map if you want to check if the area you are considering a ground-level apartment is at high or low risk.  
Are the prices actually lower?
The short answer is: Yes, but...multiple factors are at play (as with all things real estate). 
According to Kreider, who looked at closed sales market data (pulled from Urban Digs) in Manhattan over the past six months, ground-floor apartments tend to sell at a median listing discount of around 4.5 percent from ask. "Note, this is just the discount observed from what the sale closed at versus what it was originally asking," he explains. "The median listing discount can change significantly with seasonality and the overall market environment."
So, while ground-floor units have conventionally offered a 5 to 20 percent discount from a comparable non-ground-floor unit in the same building, he adds that it depends on factors like whether the building has an elevator or is a walk-up. "You also have to keep in mind the condition of the unit, ceiling heights, and the existence of outdoor space, as well as views, light, and layout—all of which can make it difficult to compare apples-to-apples."
Kreider offers a case study based on two units on the market at 137 East 28th St.: #1A, a ground-floor unit that has just undergone a full gut renovation and has a different, smaller layout but an extra foot of ceiling height, is asking $545,000. In comparison, #5D is also updated but not as recently and is asking $575,000. "Even though these two listings are in the same building, they are two wildly different products, which makes it complicated to compare," he says. 
Kaplan says basement-level spaces sell for one-half to one-third of the price per square foot of upper-floor units. 
What's more, if the space is below ground and exceeds a certain ratio, that square footage will not be assigned taxes or pro rata common charges. (Speak to your real estate attorney to find out the details.)  "That's a very interesting nuance for owning square footage for less than operational costs," Kaplan says. 
Besides price, are there any other pros?
Definitely. Plenty of New Yorkers eschew larger buildings with doormen and elevators but find themselves no longer willing or able to bound up three flights of stairs, whether due to mobility issues or because of strollers. Dog owners also appreciate the convenience of popping in and out. 
Outdoor space is another huge potential perk. Not every ground-floor unit will have any, of course, but many will. Kaplan (who was a developer before switching to sales) says another nuance of ground-floor living with a backyard is that there might be unused air rights. "As a broker, I have used that same logic to work with buyers who buy some of those air rights from the co-op or condo board and then expand the backward unit into the yard, assuming you follow setback requirements." He says this is more common in historic districts because no one is able to knock down existing buildings and rebuild.
And at least when it comes to the lower level of a multi-family brownstone, you are often getting the most desirable spaces. "As the place where visitors were received, the parlor floor has the highest ceilings and the most original character," Kaplan says. 
What's the deal with maisonettes?
If the ground-level unit you're looking at has been dubbed a "maisonette," it will come with a heftier price tag. Such units typically have their own private street entrances (affording you more peace and privacy than most ground-floor units) and multiple floors.
"It's almost like a townhouse carved out of a larger building," Kaplan says. He is currently working with clients who only want a maisonette—they want the private outdoor space, they don't want to walk up steps, but they can't afford a full $10 to $15 million townhouse. They want the best part of townhouse living without the cost." They are also open to buying a ground-floor unit with the possible option of buying the upstairs apartment to create a maisonette.   
You're most likely to find these residences in older buildings in neighborhoods like the Upper East Side, Upper West Side, Washington Heights, West Village, and Brownstone Brooklyn.
Sound like a fit? Check out these five ground-floor apartments on the market.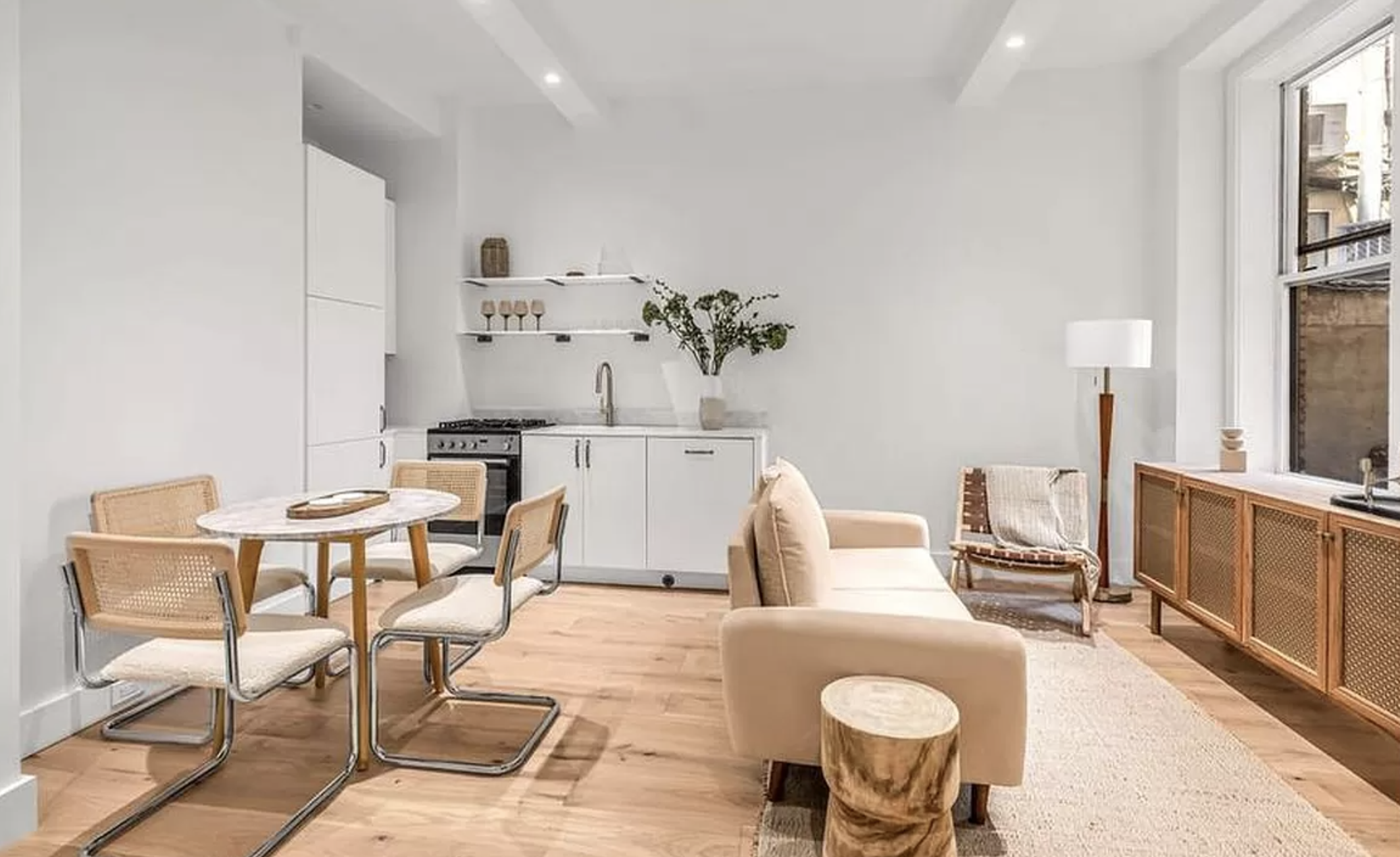 Listed at $545,000, this gut-renovated, turn-key one bedroom with one bath can be offered fully furnished. Features include 10-foot ceilings, white oak floors, recessed lighting within pre-war beamed ceilings, oversized windows facing north and south, and an open kitchen with built-in stainless steel appliances. The nine-story boutique co-op building, in historic Rose Hill, dates to 1927 and has 37 units, a live-in super, laundry room, bike room, storage spaces, and video security. Monthly maintenance is $1,169.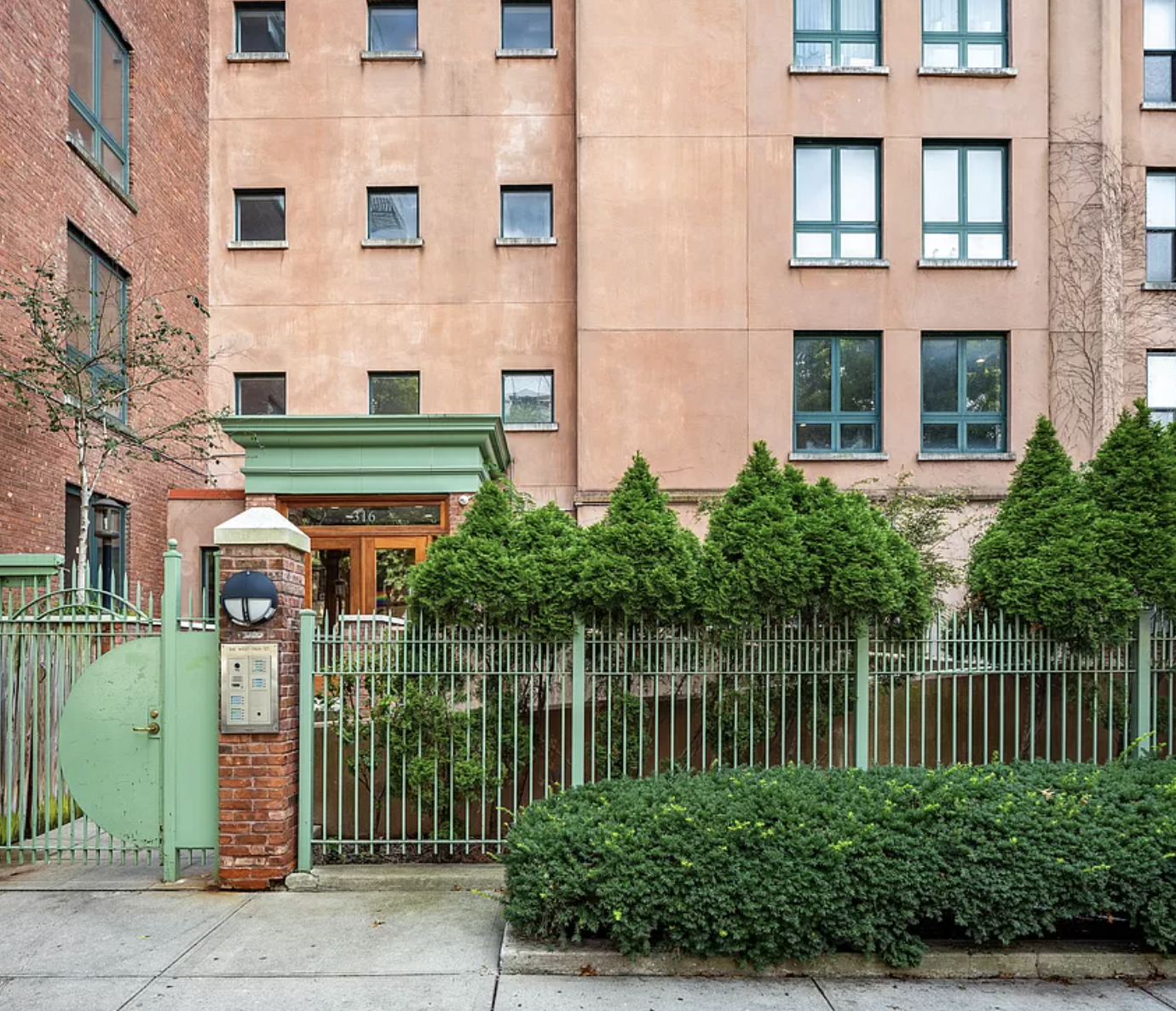 This flex one-bedroom duplex, listed at $1.3 million, has two full baths and one half bath spanning over 1,800 square feet plus two private outdoor spaces totaling over 500 square feet. The first floor has high ceilings, an open living and dining area, kitchen, and a primary bedroom with an ensuite bath. The lower level features a laundry room, a small window room with bedroom potential, and a larger space with nine-foot ceilings. The 14-unit, six-story boutique condo inhabits a 1900 building and has an elevator, a virtual doorman, and locked gate entrance. Monthly common charges are $1,061 and monthly taxes are $518.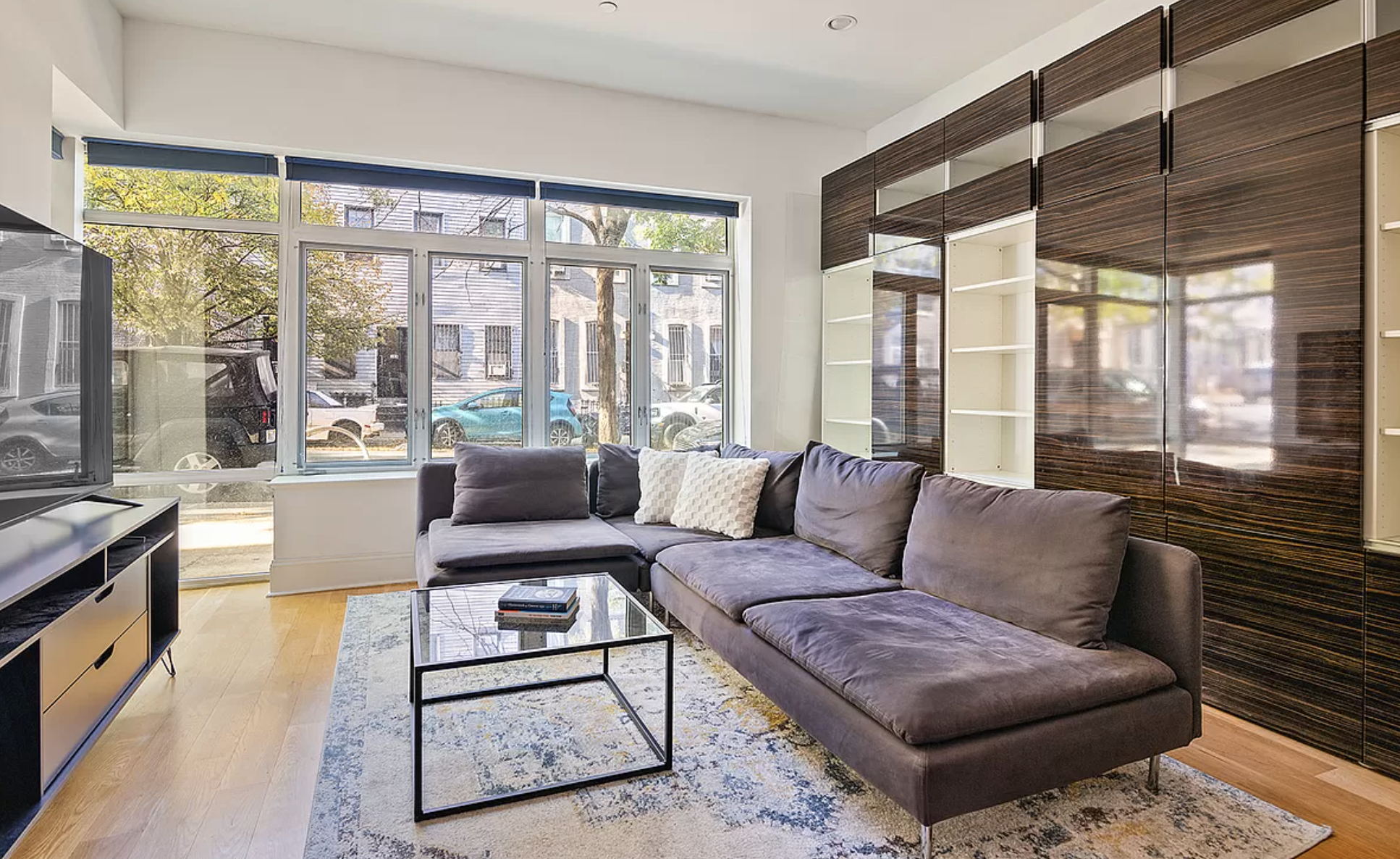 This 804-square-foot duplex studio has a full bath with a soaking tub, a half bath on the lower level, an updated kitchen with quartz countertops and a dishwasher, in-unit washer/dryer, central HVAC, privacy windows on the first floor, and a small private outdoor space. The boutique eight-unit, four-story condo, which dates to 2008, includes a laundry room and shared roof deck. The unit is on the market for $699,000, with $348 monthly common charges and $424 monthly taxes.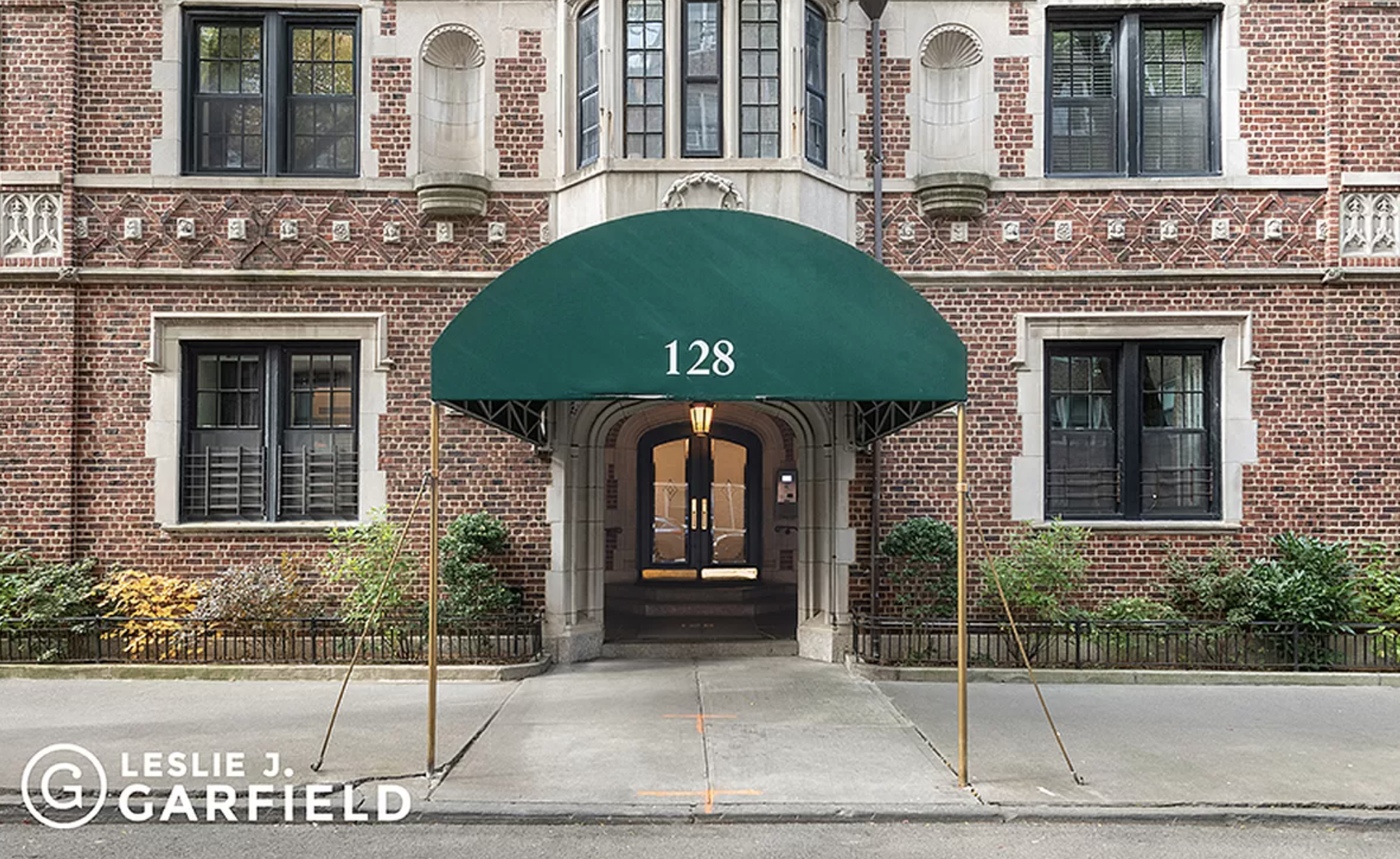 Located on the first floor of a six-story, 48-unit historic building, this one-bedroom, one-bath co-op is asking $925,000. The unit has a large foyer with a closet, an open living/dining/kitchen layout, restored flooring, and large windows overlooking gardens. The chef's kitchen features high-end appliances, an island with seating, and a wine refrigerator. Amenities of the 1925 building include an elevator, shared garden, part-time doorman, live-in super, basement laundry, building storage, and package and bike rooms. Monthly maintenance is $1,238.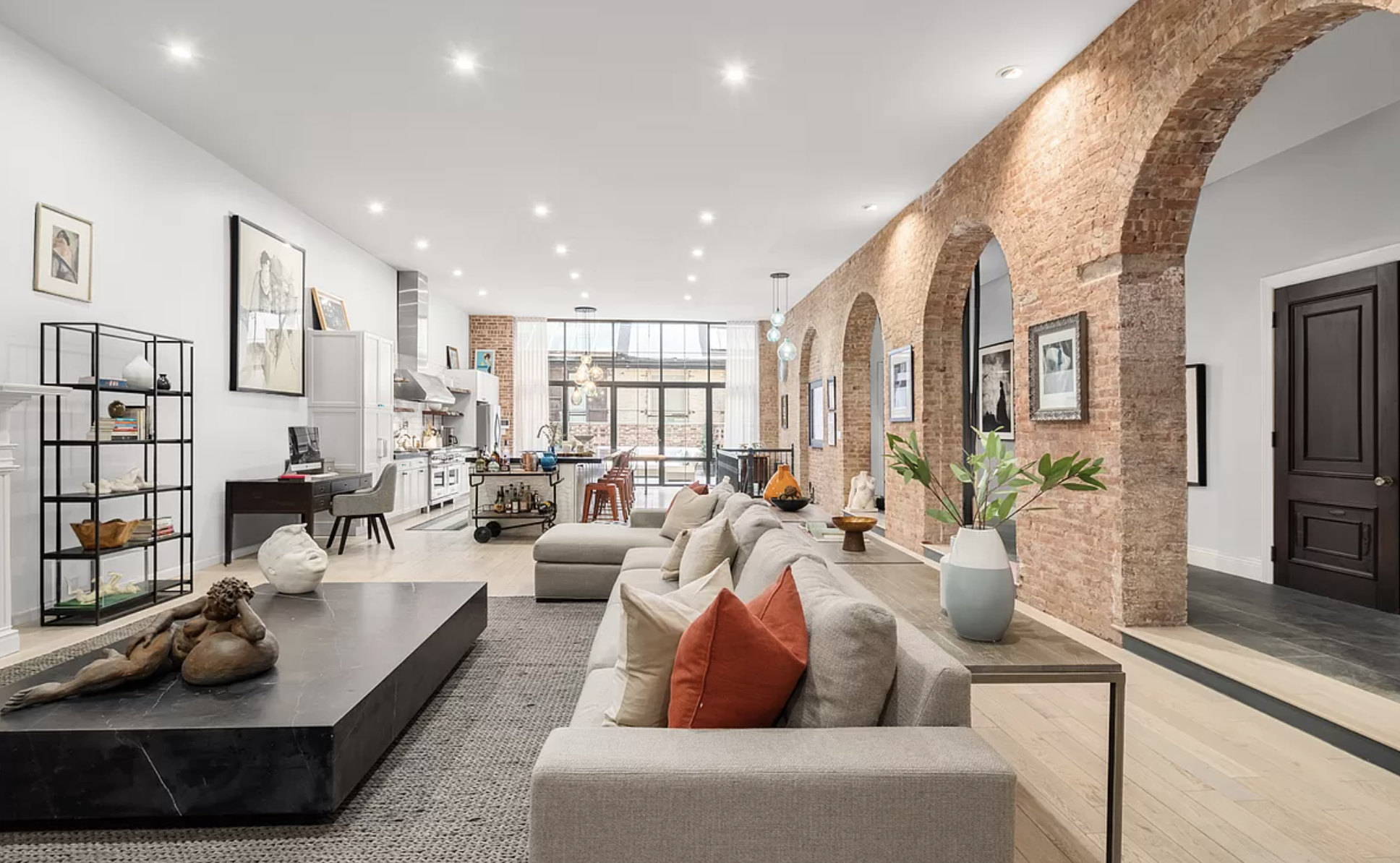 Originally listed for $6.495 million, this 5,228-square-foot loft with two private terraces is now asking $5.995 million. The renovated unit has four bedrooms, three full baths, a half bath, multiple living, dining, and entertaining spaces, an eat-in chef's kitchen, a home office, private gym/yoga studio, laundry room, and two private terraces. Other features include 12-plus-foot ceilings, exposed brick with archways, hardwood flooring, custom details, and central HVAC. The primary suite includes a dressing room, an en suite bath with radiant heat floors and a soaking tub, and terrace access. It is located in a five-story Italianate-style building that dates to 1861 with four full-floor units and two half-floor units. Monthly maintenance is $8,225.
—Earlier versions of this article contained reporting and writing by Leah Hochbaum Rosner.
Articles you may also like...
7 features that make ground-floor apartments desirable—instead of dealbreakers: Ground-floor apartments mean less privacy and natural light. But you may get a backyard and pay less. Here's why you may not want to rule them out entirely. 
Want to buy an investment apartment to rent out? Here's what you need to know: If you are looking to invest in a NYC condo to rent out, you might be able to capitalize on high rents. We walk you through your options.
Buying for the first time in NYC? Be sure to prep your finances first: To buy a co-op or condo in NYC, you'll need a credit score of 680 to 740, enough money for a downpayment and closing costs, and the right debt-to-income ratio.
Discover off-market properties in your dream neighborhood that perfectly suit your needs and budget.  Meet and deal with sellers before their apartment hits the market.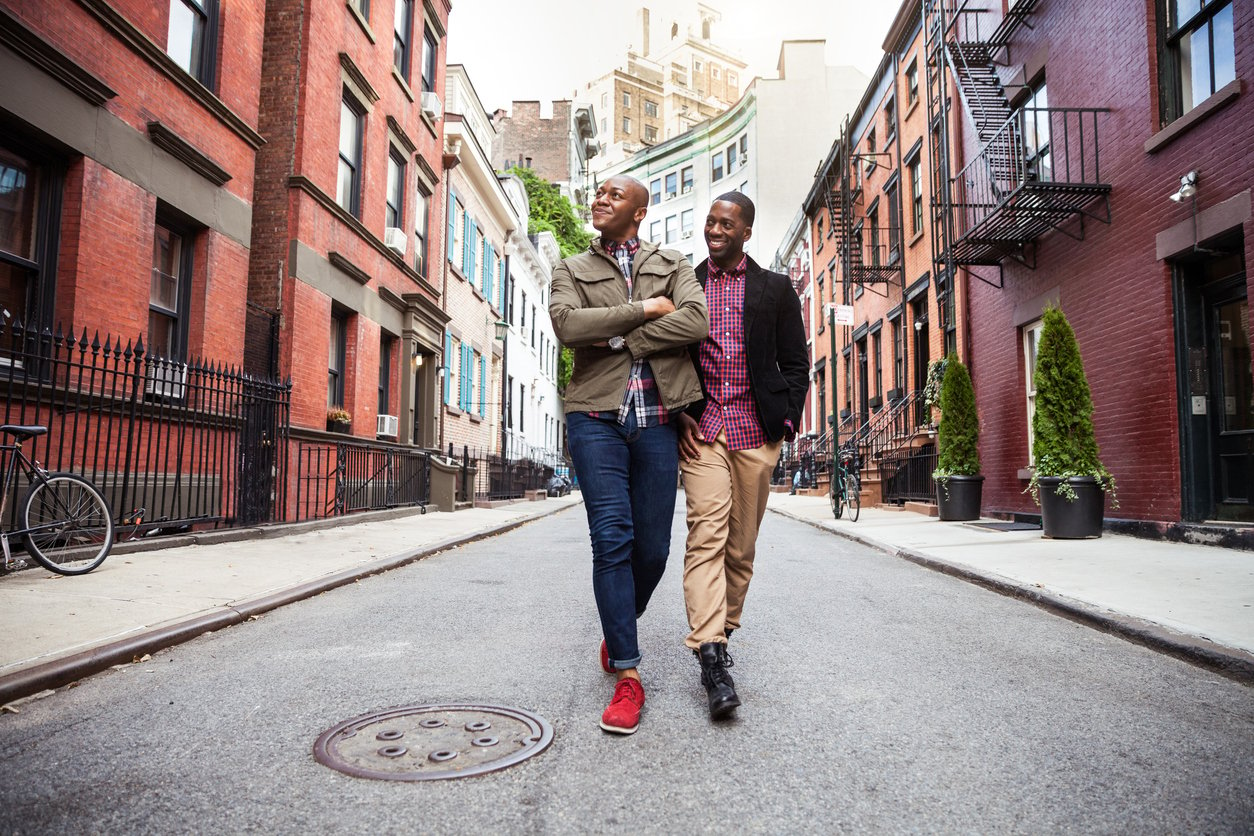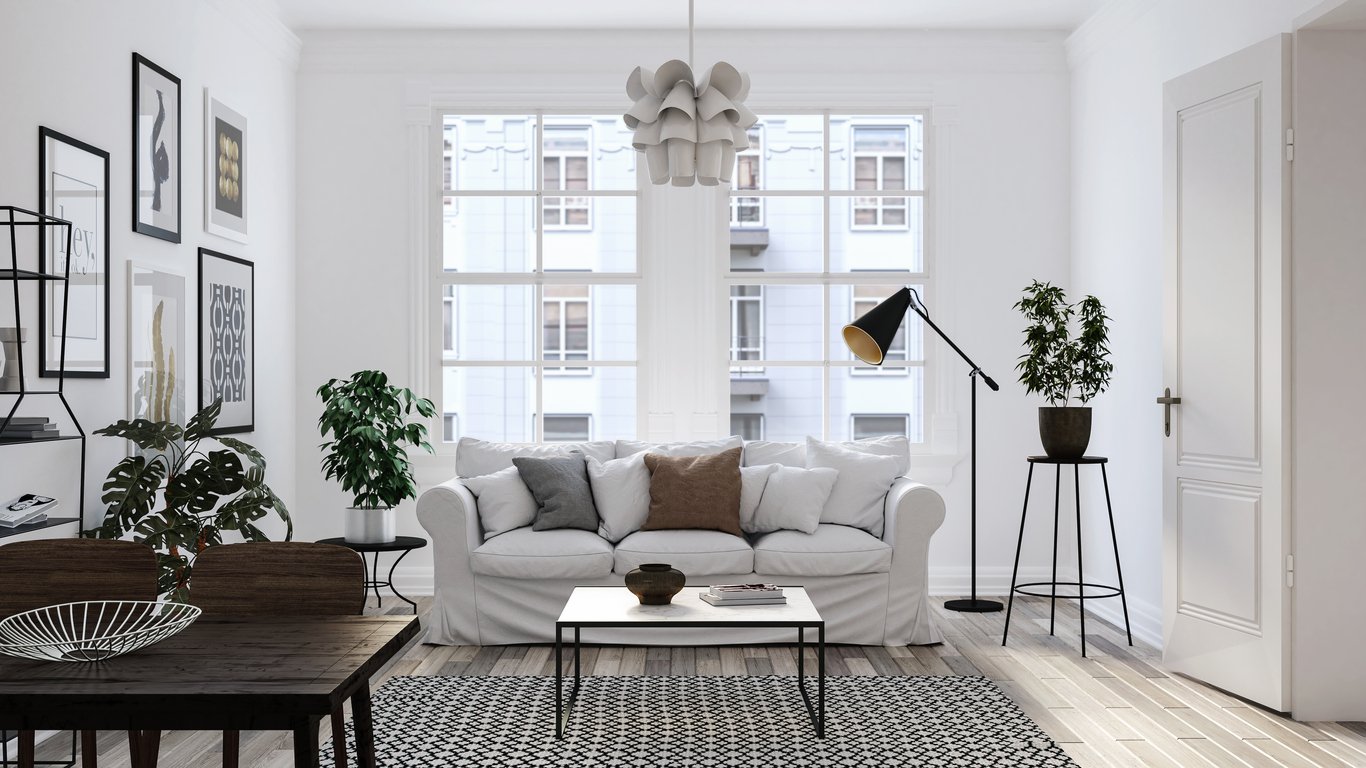 Let The Agency's off-market team give you exclusive access to apartments in your price range and desired neighborhood that no one else has seen. More options, less competition, no bidding wars. 
Brick Underground articles occasionally include the expertise of, or information about, advertising partners when relevant to the story. We will never promote an advertiser's product without making the relationship clear to our readers.