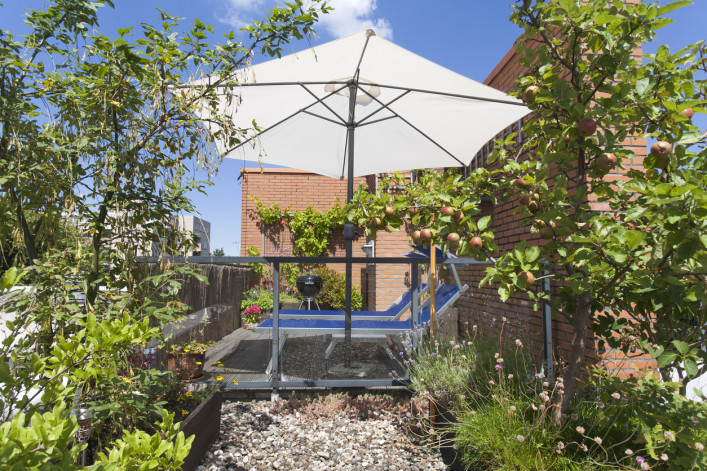 Outdoor space is not all concrete and asphalt in New York City. Many New Yorkers get to step outside for a morning coffee on a landscaped terrace or to dine al fresco in a leafy private backyard. In fact, one in seven residences sold in the city last year included some sort of private outdoor space, according to appraisal firm Miller Samuel.
Of course, access to private outdoor space comes at a price. The good news is that the cost per square foot for outdoor space is generally less than the cost of interior area. As a rule of thumb: One square foot of outdoor space runs about one fourth to one half the cost of a square foot of an apartment's interior space, according to Jonathan Miller, president and CEO of Miller Samuel. And that formula has held despite some attempts in recent years for luxury developers to price outdoor space on a par with that indoors.
"That has not held as a market pattern," Miller says.  

For example, Miller says, if you have an apartment with interior space that costs $1,000 per square foot, then a 500 square-foot private terrace would be worth as much as $500 per square foot (or half the value of its interior space), and the terrace might add as much as $250,000 to the cost of the property ($500 per square foot times 500 square feet). 
But the actual value of any outdoor space in a property "can vary significantly depending on the combination of amenities and time," he says 
Pro Tip:
Did you know you can receive a buyer's rebate from your broker? Buying with Prevu you'll pocket a rebate of two-thirds of the commission paid to the buyer's broker at closing.  On a $1.5 million condo, you'd receive up to $30,000. Click here to learn about Prevu's Smart Buyer Rebate.
Kinnaird Fox, a Manhattan-based broker with Sotheby's International, agrees.
"Every property is unique," she says, "and any formula only goes so far." 
Jason Halpern, founder and managing director of JMH Development, a Brooklyn development company, says, "Outdoor space adds more value in larger, premium apartments than in smaller apartments, where buyers are more concerned with staying under a maximum price point." 
So as you chase your summer barbecuing dreams, consider the following rundown of the three main types of outdoor space available to Manhattan and Brooklyn home buyers.
Balconies and terraces
These terms aren't interchangeable, but rather describe areas with differing construction and user experiences. Balconies jut out from the building they're on. That not only risks discomfort for apartment owners who fear heights but tends to make these spaces smaller. Indeed, they're often so small—50 square feet or so—that they have limited utility as a living space and wind up being used as little more than bicycle storage or a platform for plants. 

Sotheby's Fox says, however, that there can be aesthetic appeal to balconies, including the very smallest, the so-called Juliet type, on the high floors of some buildings. Even if the owner can't use these spaces to hang out outside, Fox notes the "plantings can enhance the experience of being inside and increase the intrinsic value of the apartment." The bottom line: the modest size and more restricted appeal of balconies tend to make these the most budget-friendly option for private outdoor space.
Where a balcony hangs over a building, a terrace recedes into it, which both reduces possible vertigo and allows for a greater range in shapes and sizes. That, in turn, can influence the space's appeal, utility and value. For example, a deep terrace that readily accommodates a table and chairs is more appealing than a long and narrow space with the same area. 

And a terrace can be too big, at least in terms of its relative value. Miller says for terraces that are 50 percent or more of the size of their accompanying apartment, the incremental value "drops off considerably" for the space above the 50 percent mark. Other factors that can push down value include parapets or other obstructions, although Miller says that the overall quality of the view is not appraised for a private outdoor area, because it's already factored into the value of the interior space.   
Also keep in mind what's nearby. Miller points out that a second-floor terrace "overlooking a busy north/south avenue has more noise and soot as well as a lower perception of security." 
Discover off-market properties in your dream neighborhood that perfectly suit your needs and budget.  Meet and deal with sellers before their apartment hits the market.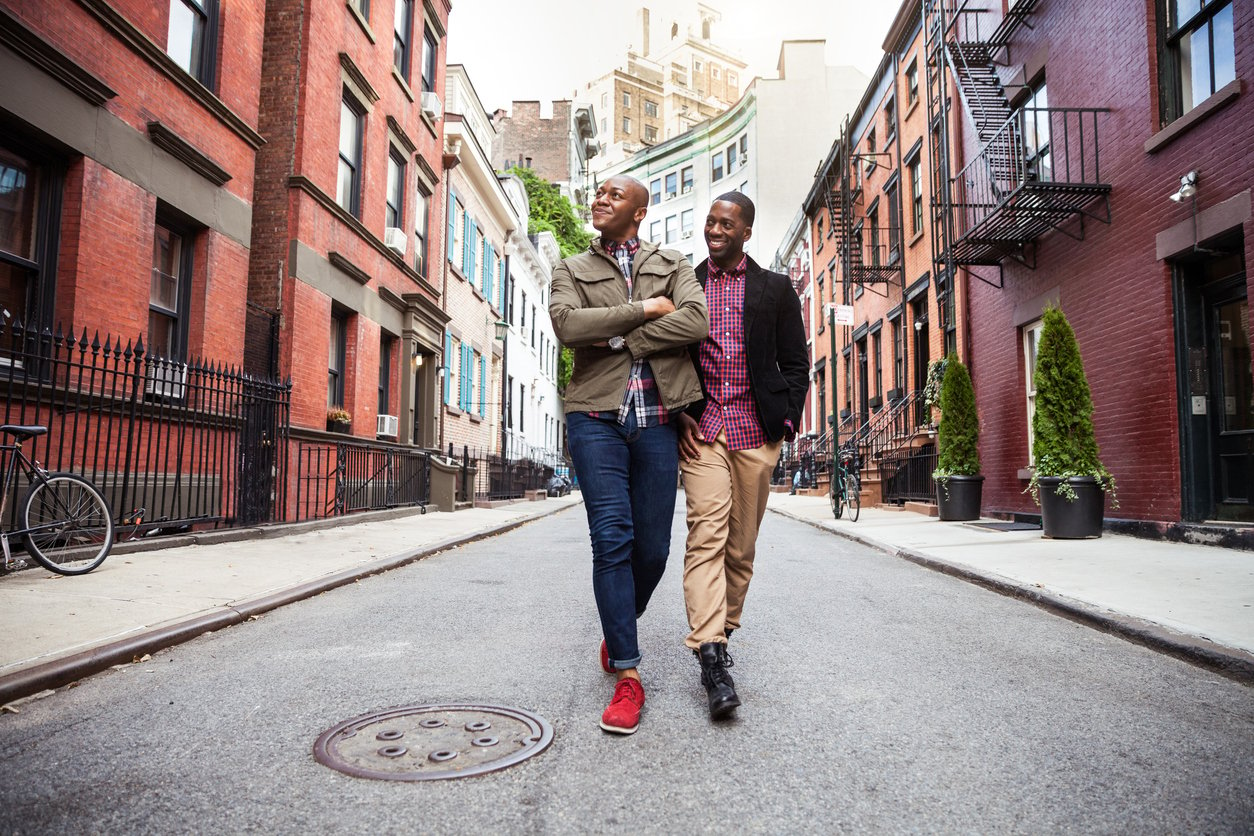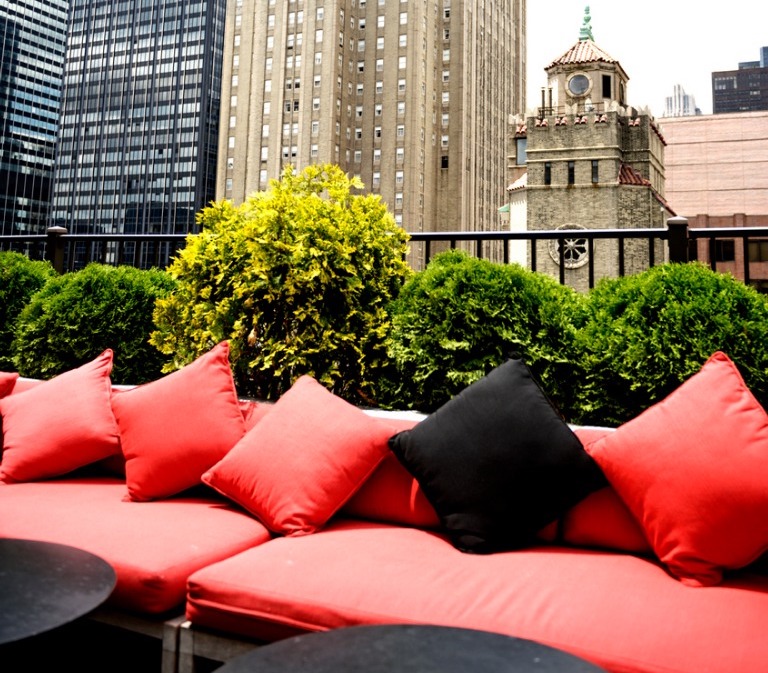 Let Triplemint's off-market team give you exclusive access to apartments in your price range and desired neighborhood that no one else has seen. More options, less competition, no bidding wars. 
Roof decks
Sometimes, private roof spaces may require a climb a ladder or a narrow staircase to access them, potentially reducing their desirability, especially to less mobile tenants. But roof areas can offer an appealing spaciousness and privacy, especially when they are more easily reached. 
When his company developed 70 Henry St. in Brooklyn Heights, for example, Halpern created apartments with a rear yard like a traditional Brooklyn townhouse and a penthouse with a 2,500-square-foot rooftop.
"Yards have the benefit of feeling more private and intimate, while rooftops offer a more open feeling and expansive views," Halpern says
Pay attention when apartments are for sale in a building that will allow you to build your own roof deck. In addition to construction costs, there can be very specific rules about what you can build. For more background, here are some tips on privacy issues and dealing with bad rooftop etiquette.
Backyards and patios
Yards and patios typically offer little or no view, but have the allure of allowing for a real planted garden instead of a container garden. With such space at a premium in Manhattan, buyers should look to other boroughs if a lot of ground-level private space is key. 
Miller's formula also applies to ground-level gardens and patios, but ground-level outdoor space can have some special considerations that other types of outdoor space avoid. For one, you can find yourself too close to other well-used (and potentially problematic) outdoor spaces, as this reporter discovered many years ago. I once rented an East Village townhouse with a charming back porch and patio adjacent to a community garden that hosted an evangelical group on Saturday afternoons. It was hard to use my own space then because of highly amplified testimonials to the power of Christianity to cure addiction.

Indeed, before buying any property with private outdoor space in New York, it's smart to reflect on the nature of the city and its climate. The vagaries of New York's weather (only seven months of the year have average daytime highs above 60 degrees, for example) mean it'll often be too cold or too hot to comfortably use that al fresco footage for more than a brief breath of air. 
Brick Underground articles occasionally include the expertise of, or information about, advertising partners when relevant to the story. We will never promote an advertiser's product without making the relationship clear to our readers.